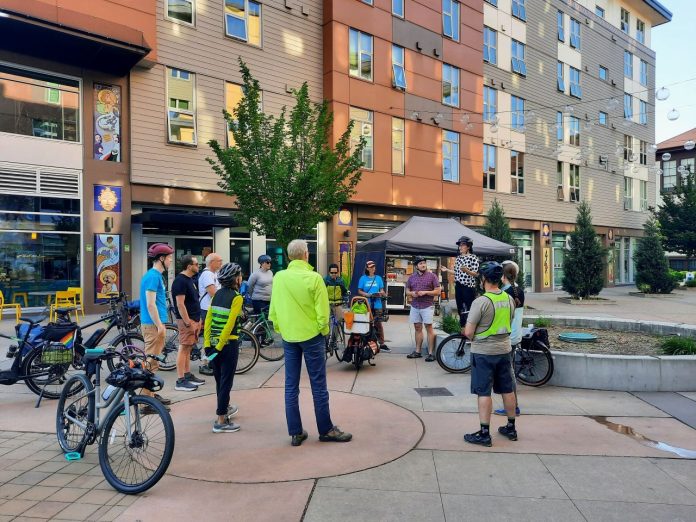 A Seattle Neighborhood Greenways forum pushes the city to heed community-led efforts to remove cars from some streets. SDOT may finally be listening.
During a public forum called "Pedestrianize This!" hosted by Seattle Neighborhood Greenways in April, Jeff Hou, a professor of landscape architecture at the University of Washington, gave a talk about pedestrian-only streets in Asia. Tokyo was one of the cities he described.
"Some of the most memorable places in the city are the ones without cars," Hou told the audience of about 100 people.
Seattle also has an opportunity to create those sorts of memorable places. Unfortunately, the Seattle Department of Transportation (SDOT) doesn't currently have firm guidelines for creating pedestrian-only streets. But if this recent forum and comments from a street design planner at SDOT are any indication, the city's new Transportation Plan may change that.
The "Pedestrianize This" event on April 25 – held at Centilia Cultural Center on Beacon Hill – had been in the works since 2019 and was delayed by the pandemic, says Clara Cantor, a community organizer for Neighborhood Greenways. It was the first of a three-part series of community panel discussions called "Shaping Seattle," aimed at making the city accessible, equitable, safer, and sustainable.
Removing cars from a street, says Cantor, doesn't restrict the flow of people or reduce economic activity, contrary to what critics might say.
"In reality, you're really opening that space up and bringing so much more business to those businesses," she said. "And creating a space where people are going to hang out, and oftentimes spend money." Cantor says these spaces are about "becoming a real neighborhood hub and a destination for people."
The forum, which is available to view online, began with two presentations on what other cities around the world are doing currently to create streets free from cars. Hou, who is also director of UW's Urban Commons Lab, talked about success stories in Asia, looking at a variety of streets that have been transformed to multimodal or pedestrian-only uses.
Also speaking was Mark Ostrow, a Seattle Neighborhood Greenways board member and an outspoken advocate on Twitter and elsewhere for transit- and pedestrian-oriented development.
In his presentation, Ostrow looked to Europe for examples of streets that successfully give priority to people walking, rolling, and riding.
"Once you've seen how cars have radically changed our landscape, you can't unsee it," he said. "But as Brussels is showing, you can undo it."
Ostrow talked about how on a visit to the Belgian city he witnessed firsthand how Brussels has transformed streets in its downtown core from being car-centered to pedestrian-centered. Many of its downtown streets, including major arterials, he said, have been reworked to focus on walking and cycling. "What I saw happening there was remarkable."
Cars create dead space in cities. Brussels is learning it's better to fill that space with life. pic.twitter.com/EBkNHfFovg

— Qagggy! (@Qagggy) April 9, 2022
In the rest of Hou's presentation, he looked at a variety of approaches to pedestrian-friendly streets, including Nakasime-dori in the Asakusa district of Tokyo, a bustling shopping avenue, and Insadong-gil in Seoul, a street that's open to car traffic on weekdays but closes to automobiles on the weekend.
"By opening the street to pedestrians, more activities are accommodated, in turn making the street a more vibrant place for vendors and performers," Hou said.
He also pointed to a variety of other car-free streets in Singapore, Shanghai, and Beijing.
Ostrow's presentation included success stories from Zagreb, Vienna, Eindhoven, Haarlem, and Ljubljana. "Pedestrian zones are wildly popular in cities big and small," Ostrow said.

Seattle could soon learn that lesson. In order to acknowledge that people across the city are energized by the thought of creating car-free streets, the second part of the presentation featured members of community organizations that are leading efforts to pedestrianize streets all over Seattle.
That discussion was led by Aditi Kambuj, urban design manager at SDOT. Speaking for the community organizations were Debi Frausto of the Uptown Alliance, Erin Fried with the Capitol Hill EcoDistrict, and Yes Segura with Smash the Box.
Kambuj, who leads the city's Urban Design Program – which is focused on integrating walking, cycling, and transit into Seattle's street designs, said her portion of "Pedestrianize This" was fun and informative to moderate.
"Seattle Neighborhood Greenways reached out because we've been engaging on the development of the transportation plan," Kambuj said. "And specifically an element within the plan that's going to be focused on people's streets and public spaces."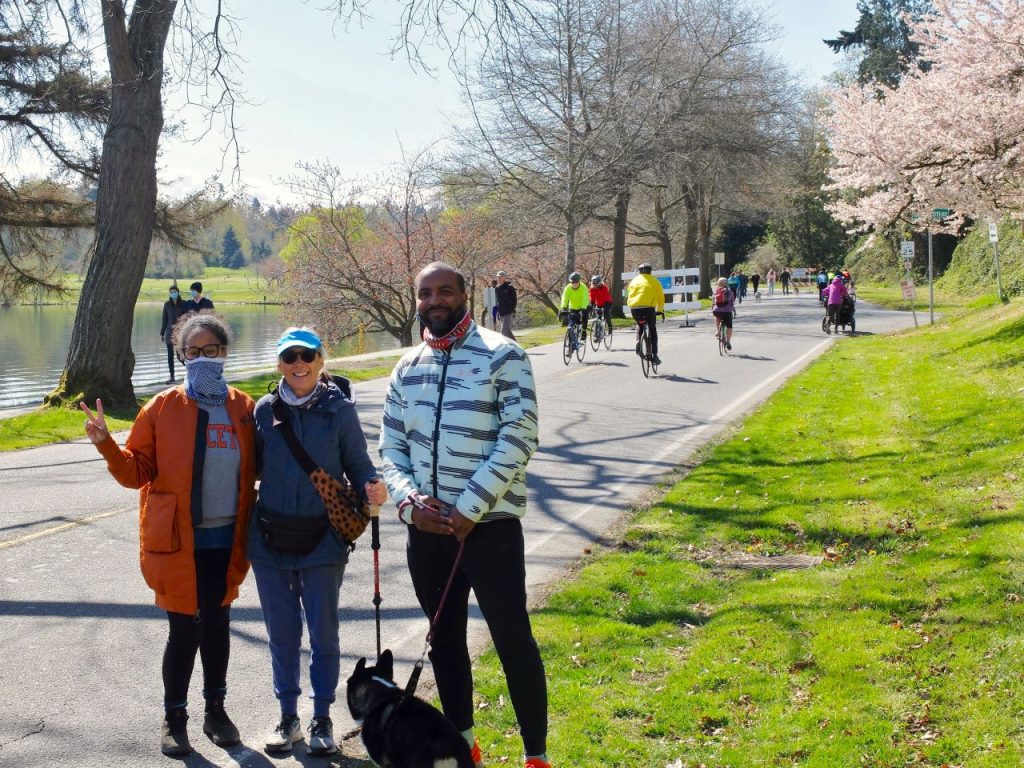 A draft of the city's new 20-year Seattle Transportation Plan will be released later this summer, Kambuj said. She told The Urbanist that SDOT is actively listening to community groups advocating for car-free streets and is developing guidelines and frameworks for creating pedestrian-oriented streets.
"We've included several new elements, recognizing that our streets are used for many more things, including what we're calling people streets and public spaces," Kambuj said.
During the forum, Yes Segura of Smash the Box talked about how his community group is advocating for pedestrian-only plazas and streets all over Beacon Hill. Segura noted he and others have had close calls nearly being hit by cars while walking in his neighborhood.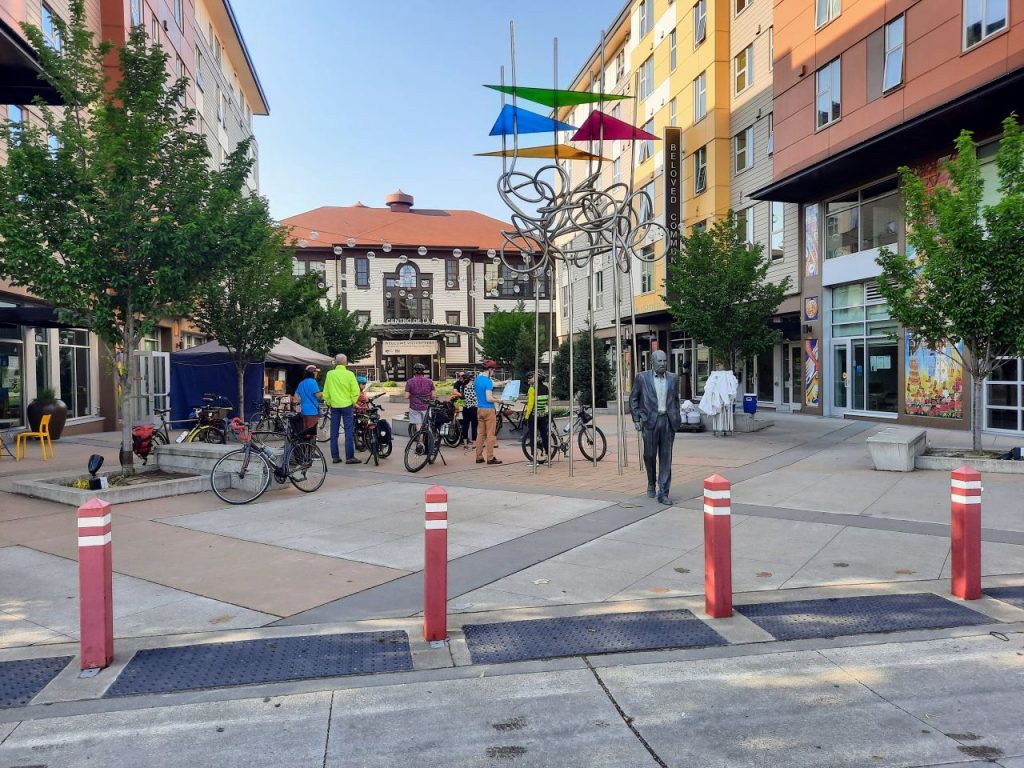 This, and a desire to create a healthy, equitable neighborhood in Beacon Hill has inspired Smash the Box to push for a pedestrian-only plaza on South Roberto Maestas Festival Street.
"Especially seeing what SDOT did during the pandemic to create the Stay Healthy Streets, I think we can take it a step further," Segura said.
Aditi said the SDOT is paying attention and is excited about the group's work. "[Segura] was really thinking about what's next. How can it be more pedestrian-oriented? How do we work with Sound Transit and stakeholders to make it a really comfortable place for people?" she said.
Debi Frausto, representing the Uptown Alliance, talked about Thomas Street Redefined, an ongoing, community-led effort to create a pedestrian- and bicycle-oriented stretch of Thomas that would connect South Lake Union with Uptown and the Seattle Center.
Frausto said that her group quickly discovered that the new Highway 99 tunnel project disconnected neighborhoods for those people walking and biking. Of the area around the highway, she said, "It's really not a nice place to be right now."
A lightbulb went off for the group, Frausto says: "What if Harrison is [for] the cars and Thomas is [for] pedestrians?"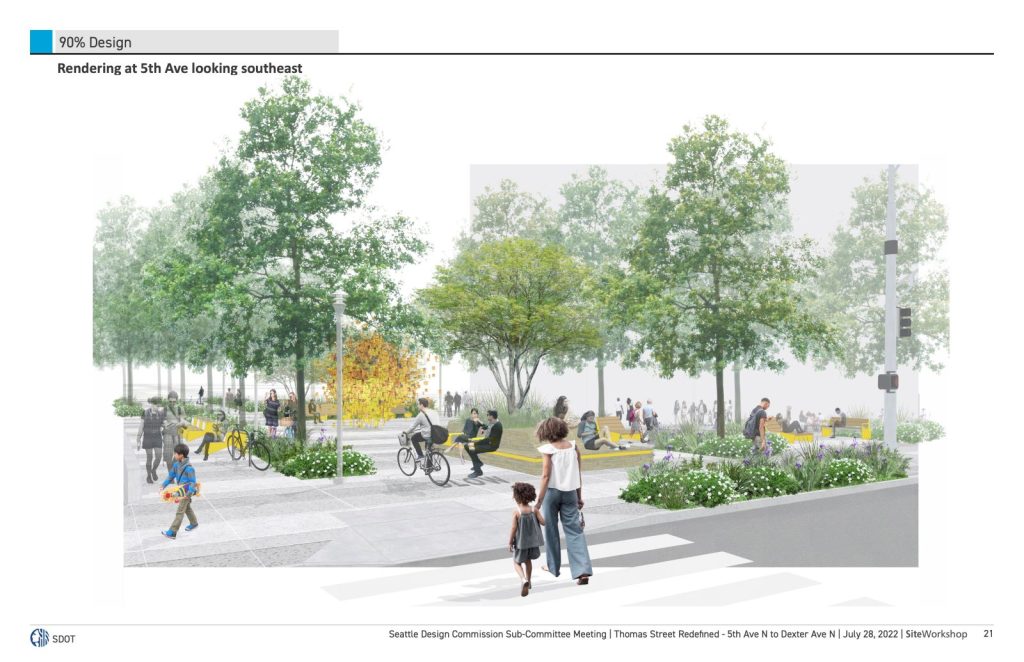 That project has actually been a long time in the works, dating back to 2013. Kambuj says that SDOT is about to finish design work on a section from Fifth Ave. N to Dexter Ave. N and hopes to begin construction in the fall.
"They're envisioning it as this walk that all those people would be taking from public transit to get to Seattle Center events and to get to the arena, passing by all those local restaurants, businesses, and shopping opportunities," Cantor said, "and then a pedestrian plaza as you approach Seattle Center."
Despite funding setbacks last year, Kambuj says the Fifth Avenue to Dexter project is moving forward and will include "a protected bike intersection, and this really big, wide, nice shared path arrangement leading up to Fifth Avenue that will have a plaza and street closure."
Also speaking on the panel was Erin Fried from the Capitol Hill EcoDistrict, which works to increase sustainability, equity, and diversity, on Capitol Hill. Fried said she often hears people say pedestrian streets in her neighborhood wouldn't work because there's not enough transit in the neighborhood. But that's clearly not the case, she says. "Maybe the problem is how they're integrated. Or how wayfinding works. How easy is it to say yes to a car or no to a bus?"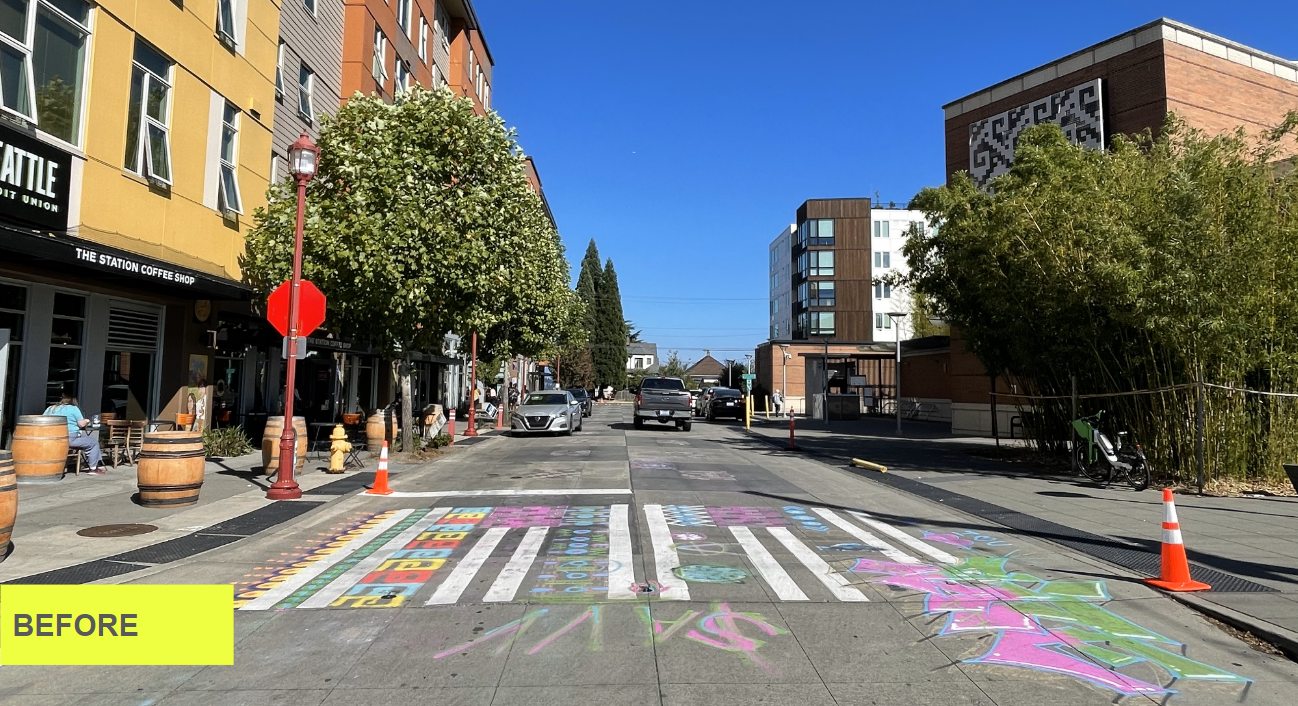 Cantor acknowledges addressing these sorts of questions, including increasing transit service and better integrating how pedestrians and cars interact will be crucial to their success. But ultimately, she believes the city has to rethink how the vast majority of its streets are dedicated to cars. "The amount of street space we have dedicated to cars right now is disproportionate to that need."
She hopes Seattle Neighborhood Greenways' series will continue to focus a spotlight on the need to transform mobility across the city. The next forum, "Mobility Justice," takes place at 6 – 8pm on Thursday, July 20, at Centilia Cultural Center, and it will be focused on how the city can increase equity and overcome systemic racism as it works to improve access and safety for pedestrians.
The third session in the series, "Building a Walkable City" will take place on September 14. More details are forthcoming from Seattle Neighborhood Greenways.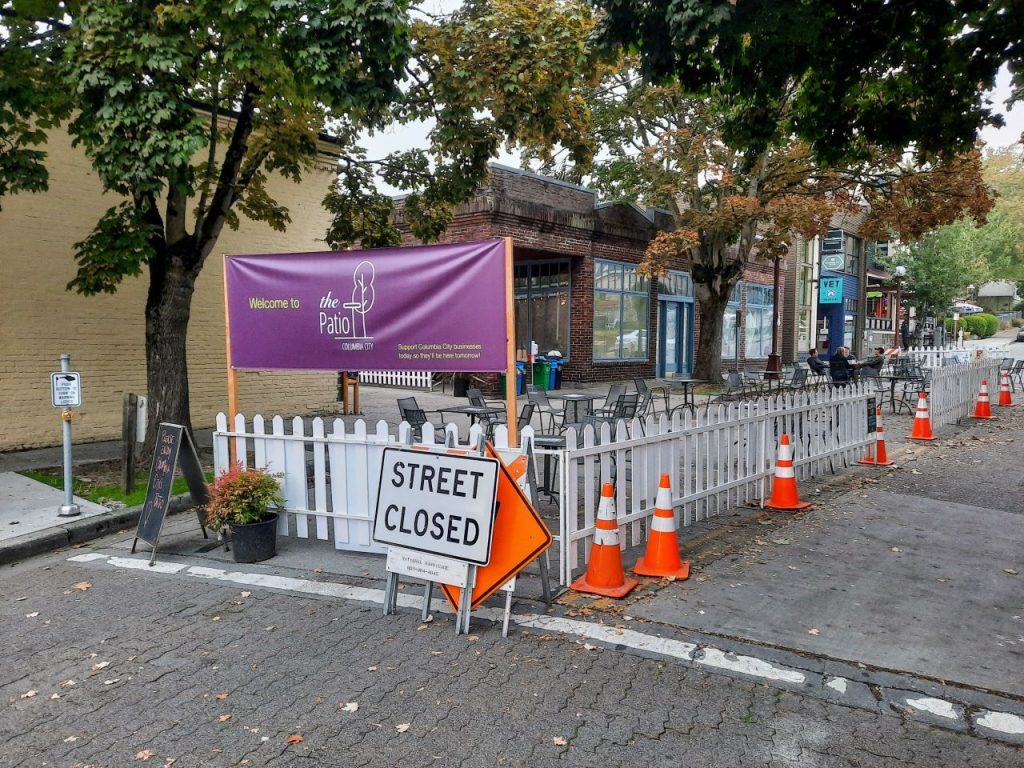 Cantor is hopeful that SDOT is listening to these community groups, and optimistic that projects like The Patio in Columbia City, which proved to be a vibrant community gathering space and boost to local businesses during the pandemic, will eventually be revived and become permanent. But despite widespread community support, the outdoor dining and social gathering space on a section of South Ferdinand Street off Rainier Avenue was closed because the permit expired and there's no formal process for creating a space like it again. Cantor says that's evidence SDOT needs to revamp its guidelines in its next transportation plan.
"It's really sad to me, because all the business owners around there were really excited about it," she said. "The fact that it was so supported and still they weren't able to keep it open is really a testament to how difficult we as a city have made this for people."
For her part, Kambuj says SDOT is listening and recognizes the importance of reclaiming some street space for pedestrians and creating a framework to make that a reality. "We're learning," she said. "It's more art than science. A lot of iterations, lots of experimentation. And for all of these projects it's been really interesting talking to them and learning from the community."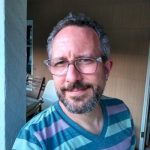 Andrew Engelson is an award-winning freelance journalist and editor with over 20 years of experience. Most recently serving as News Director/Deputy Assistant at the South Seattle Emerald, Andrew was also the founder and editor of Cascadia Magazine. His journalism, essays, and writing have appeared in the South Seattle Emerald, The Stranger, Crosscut, Real Change, Seattle Weekly, the Seattle Post-Intelligencer, the Seattle Times, Washington Trails, and many other publications. He's passionate about narrative journalism on a range of topics, including the environment, climate change, social justice, arts, culture, and science. He's the winner of several first place awards from the Western Washington Chapter of the Society of Professional Journalists.