Spread out across Lake Union Park from August 19 to 24, exhibits and activities for all ages connect Seattleites with urban design concepts and planning for the city's future.
Despite the smoke from forest fires, hundreds of people flocked to Lake Union Park Saturday for this year's Seattle Design Festival Block Party, which kicked off a week of activities that include 60 exhibits, pop-up experiences, and panel discussions citywide.
In a part of Seattle undergoing intense redevelopment, the annual festival explored urban design and its implications through interactive activities and art installations. Displays engaged visitors with Seattle's future and relationships and connections in our communities.
Each year, the festival tackles a wide-ranging variety of topics and concepts at the heart of public life: sustainability, accessibility, city systems and services, connections to one another and to the shared environment.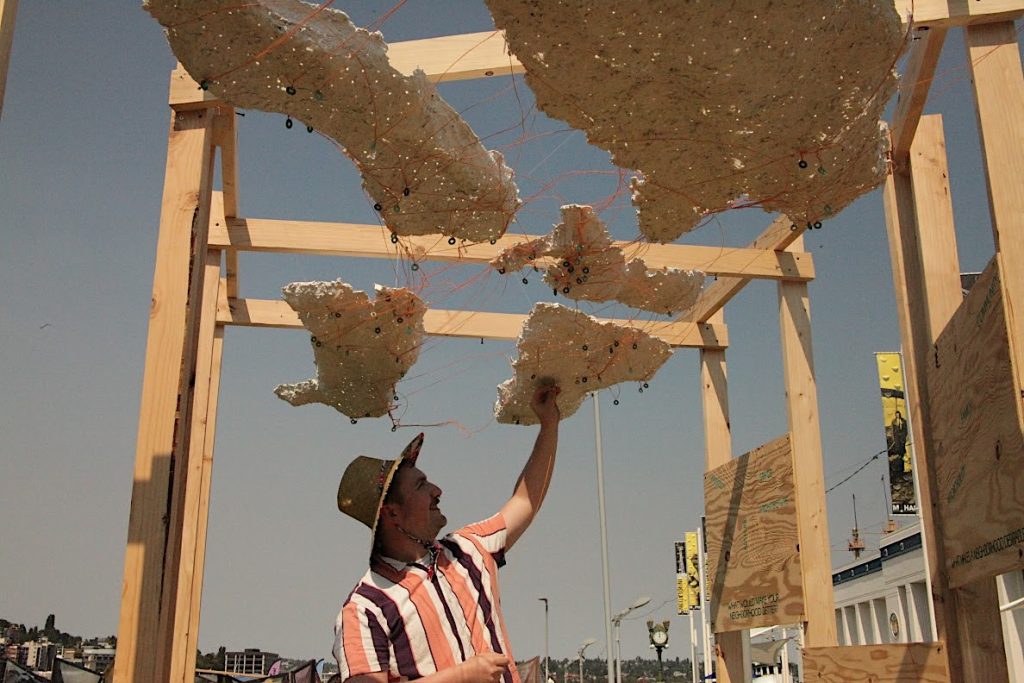 This year, it also explores some of the city's challenges, like the urban heat islands affecting residents disproportionately throughout the summer. The immersive installation, UNFOLD, presented by design firm Perkins+Will and GLY Construction, aims to help visitors visualize the ongoing issue of the heat island effect through long, flowing, coral drapes, proportionate to the experienced heat in Seattle's neighborhoods.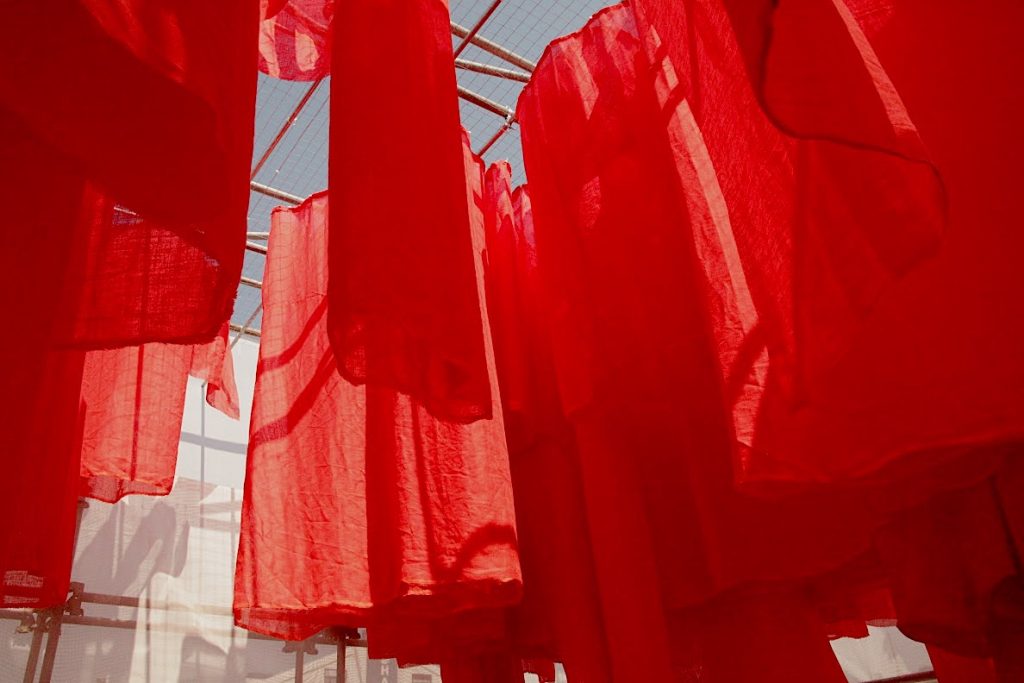 Design Your Town
Near the entrance of the park, visitors were challenged to be "city planners for the day." With simple post-it notes, residents wrote down their ideas and wishes for their neighborhoods and city organizing.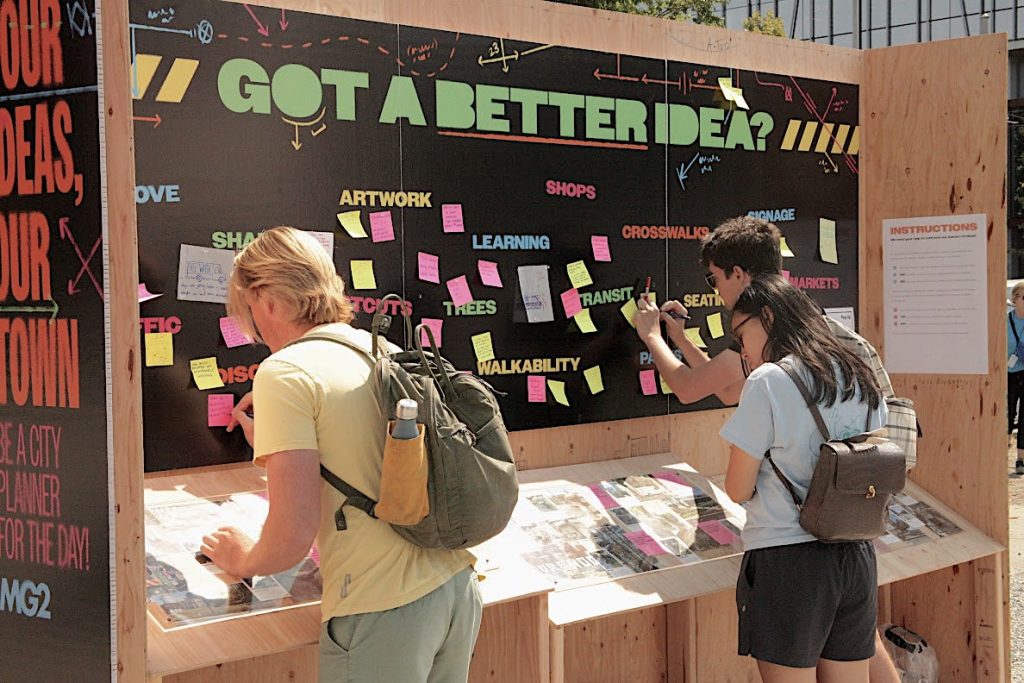 Many of the booths were meant to challenge visitors' perceptions and wishes for the city, in a playful manner, asking them to design their ideal Seattle.
Festival goers immersed themselves in the concept of urban planning through family and curiosity-friendly activities like Environmental Works Community Design Center's Sand Box City, a collaborative tiny town made of found objects.
At Wonderhood, Tyler Quinn-Smith, an urban designer for Framework Cultural Placemaking, which presented the piece, encouraged designers of all ages to create their own neighborhood using 25 units of housing, a few retail buildings and two amenity buildings that could be anything from schools, to libraries, or hospitals.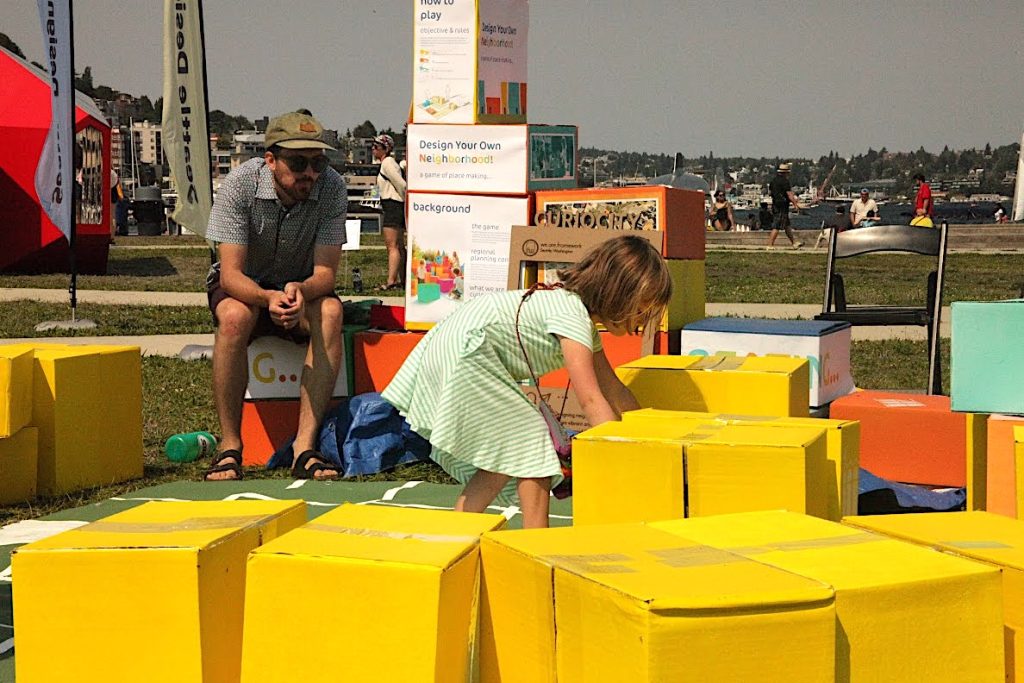 "The idea is to understand the push and pull between building tall and retaining green spaces," Quinn-Smith said.
Following the types of stacking, the neighborhoods were scored through a simple system that evaluated how well they would function and whether they prioritized their natural environments. Quinn-Smith said that the neighborhoods had come in all shapes and arrangements, with some designers vacating the street within the grid, creating a car-less neighborhood with a plaza space of stacked housing fronted with a library and a school. 
"It was very evident that the person knew what some of the ingredients are to make a lively plaza," Quinn-Smith said. "That was really great to see."
A Call to the Public
On Sunday, August 20, the Office of Planning and Community Development (OPCD) opened an informational booth for office-to-residential conversions of downtown buildings, as a call to the public for ideas.
"Seattle's downtown commercial core is currently five times more vacant" than pre-pandemic times, OPCD said.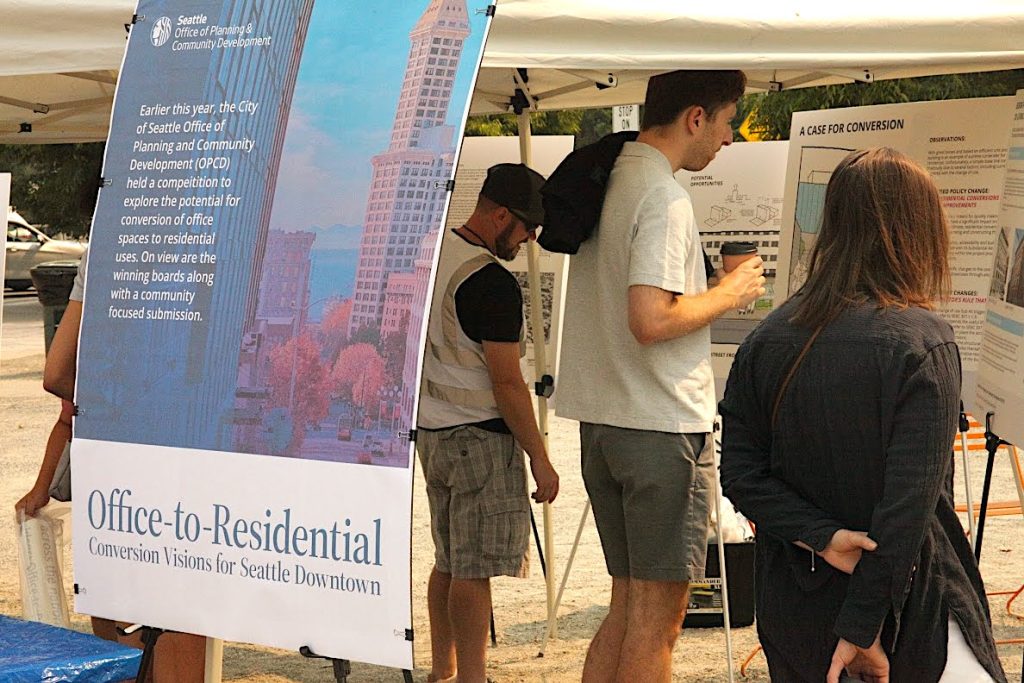 As Seattle looks to maximize its real estate for housing, the city is engaging with the public and private firms to find ways to make Downtown Seattle a vibrant and livable area.
The booth featured proposals from various organizations that offered solutions for infrastructure in Pioneer Square, including the Polson and Western buildings or the Mutual Life building, originally erected in 1890.
With the Public Comment Period for Seattle's Comprehensive Plan opening in October, the City is seeking input and feedback for community projects like the downtown revitalization.
Inclusivity in Design
Quinn-Smith mentioned the special importance of accessibility in the designs of the Wonderhoods. Another booth closer to the entrance of the park took the idea closer to home. Showing household items and amenities made through Universal Design, the exhibition started a discussion about ways for people to make homes and the urban environment inclusive and navigable for people of all abilities.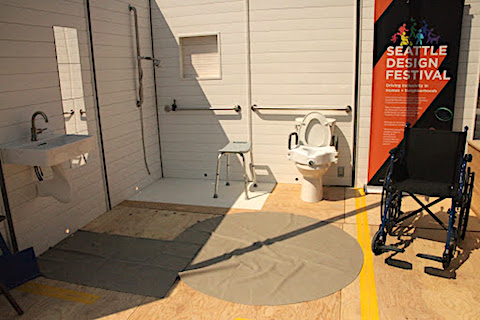 Present at the booth was Joy Jacobson who works for the City of Seattle and specializes in Accessibility Review for the City's owned and leased projects. She works with the city to ensure that all city buildings and properties like libraries and parks are designed and built to be accessible.
Because of Seattle's hilly topography, Jacobson said that "it would be great if more accessible housing was located in areas that are flatter and more reachable."
"My house has 29 stairs to my front door, so I may not stay there forever," she said. "I would say there are plenty of opportunities to create more accessible housing in the flatter areas, and it should definitely be encouraged there."
Jacobson said most of the items shown at the exhibit are easily obtainable for people looking to make bathrooms accessible, inclusive and "visitable."
This idea of inclusivity and visitability is not just restrained to humans.
The festival showcases the connections of our city to the natural world, like the immersive art piece, "Underwater," presented by Olson Kundig and Dowbuilt, or the Cabinet of CuriosiBees, by Site Workshop, inviting visitors to see Seattle through bees' eyes and build homes for these threatened urban species.
The festival, held through August 24, is also hosting multidisciplinary virtual panels and conversations on Seattle Design Festival's YouTube channel.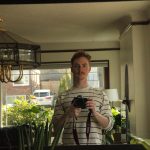 Clifford Heberden (Guest Contributor)
Clifford Heberden (he/him) is a freelance journalist focused on the environment, climate and justice. A French native, Cliff moved to Washington State to pursue his journalism degree and then began publishing articles with Salish Current. Now a Seattleite, Cliff accepts 70 degrees as sunbathing weather. His Twitter handle is @cliffbutonline.