There are three very important things you need to know about taking the Alaska ferry from Bellingham, Washington to Juneau, Alaska. First, the trip is one of the most serene transits through a stunningly beautiful landscape that it is possible to take. Second, this is a boat operated by the State of Alaska, not an Amtrak train or a plane operated by a major airline. Third, there is a Verizon store in Juneau.
On the last Friday of July, me and my two kiddos got on the MV Columbia in Bellingham. It's a significant boat, and one we enjoyed riding for the entire weekend. The kids are old hands at this nonsense level of travel, having endured enough cross country transits by varying modes, making Alaska their 50th state visited. But rarely do you run into something that so perfectly fits and is so appropriately used by the places it serves.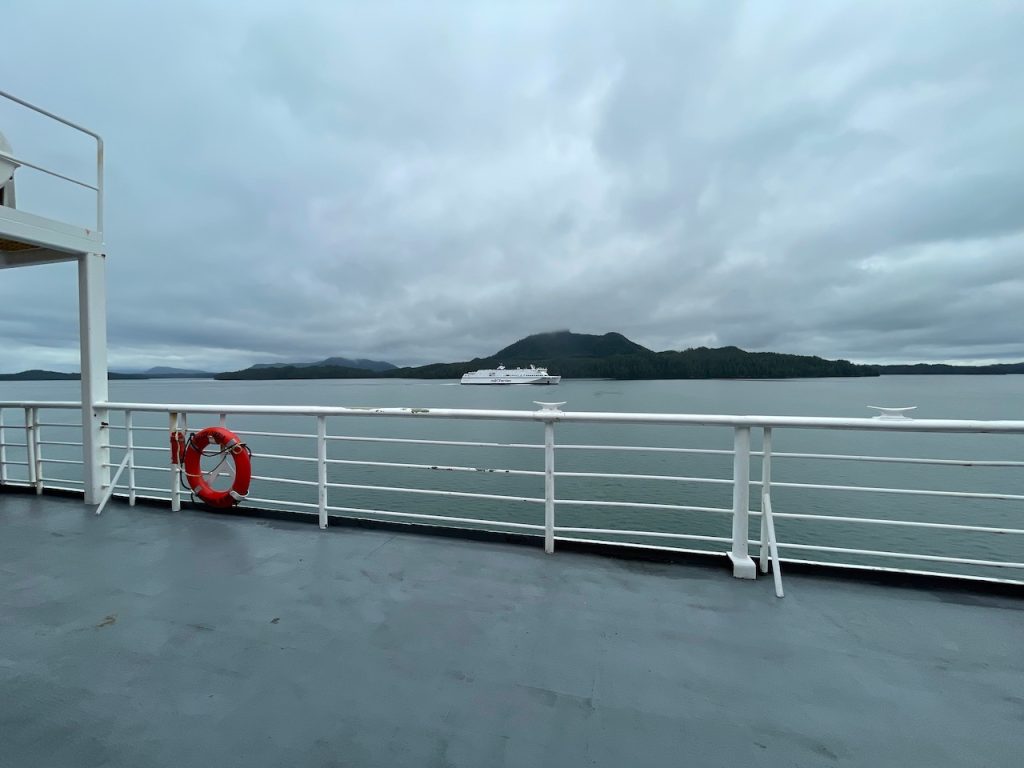 The Days Are Just Packed
Of course, there's no other way to start off a trip like this except wrong. From downtown Bellingham, we pulled up to the sign that said enter here if you have boarding passes. Pulled out all my papers at the kiosk, including the ones that said boarding pass. The clerk sent us over to the other building to actually get our boarding passes.
The Bellingham Cruise Terminal is a perfectly attractive and functional building with a cafe and a gift shop. The folks at the ferry terminal are absolutely nice, printed out the same papers we had, but on official parchment, and sent us on our way. The ferry website says to show up two hours early for exactly this reason, so we were in good shape.
In its week-long loop from Bellingham to Juneau and back, the mainline Alaska ferry route has a dozen stops. Northbound, the ferry visits Ketchikan, Wrangell, Petersburg, Sitka, and then Juneau. (The lone international stop in Port Rupert, BC has been axed.) Then it goes further north to Haines and Skagway before turning and hitting the same places on the run back. We'd be taking a different boat to Haines later in the week, but first to the capital of America's Final Frontier.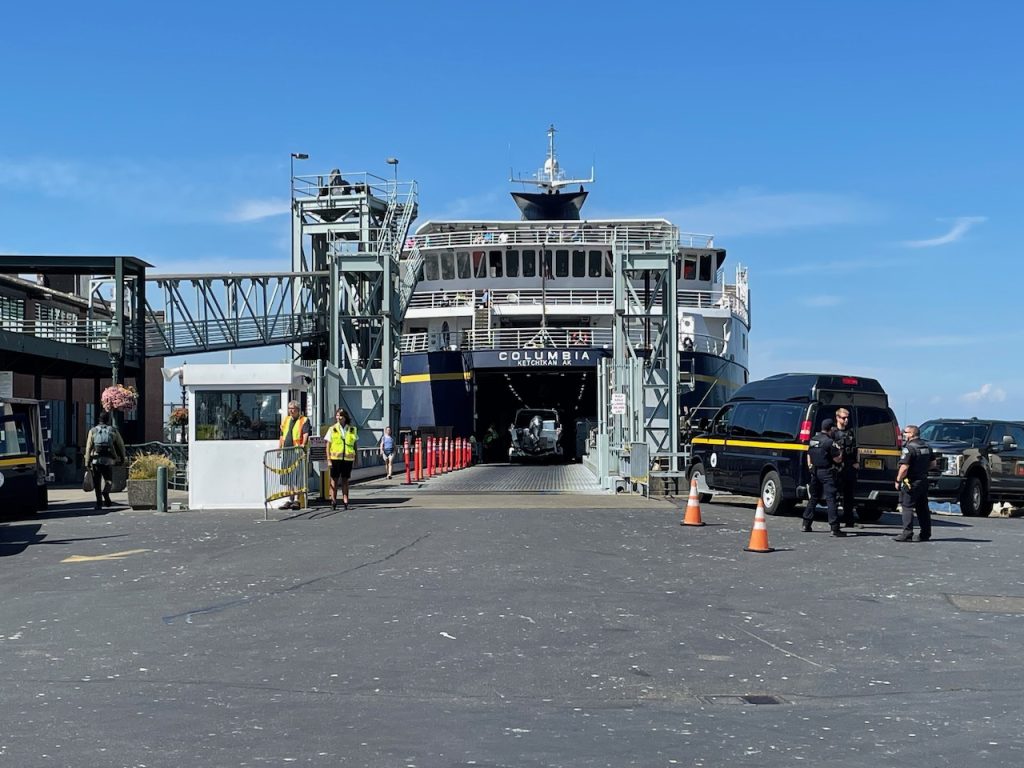 Our ship was the MV Columbia, the largest of the mainline ferries in the fleet, a 50-year-old vessel that can hold some 500 passengers and 130 vehicles. For comparison, the biggest Washington State ferries are 50 feet longer, and can hold 200 cars and 2,500 people. Loading the two types of vessels is pretty much the same, rolling cars into the rear of the ship and settling into the hold.
It's the same, with two exceptions. First, the vehicles headed to Alaska have to go on in the order they're going to come off, organized by port. Second, there's no front entrance or exit from the MV Columbia. The front of the boat is, well, boat-shaped. The other docks served by the Alaska Ferry load and unload from the sides of the ship.
Our modest Subaru was parked and dwarfed by the array of trucks, RV's, and all-terrain camping assault vehicles also headed north. We unloaded a single suitcase of clothes, three bags of stuff to read, and a cooler of food to head to our room.
Above the car deck, there are two floors of passenger rooms. Half have two beds, half have four. All are bunks. First task was to find the purser's desk. I knew the word "purser" existed but never thought it would impact my life in any way. They're the person on board that handles all the money, and they hand out room assignments. They have a cute little desk at mid-deck on the first floor. It's also where we set our clocks back an hour, because the ship stays on Alaska time.
As it was me and two teens, we cannot get away with two-bed operation anymore, so we got a 4-bunk room. Also with two teens, we cannot escape the need to shower regularly, so there is fortunately an in-room bathroom. I don't do well with small spaces, but there was nothing about this room that was claustrophobic. It wasn't huge or opulent, but never felt tight and it had a great window to watch the world go by.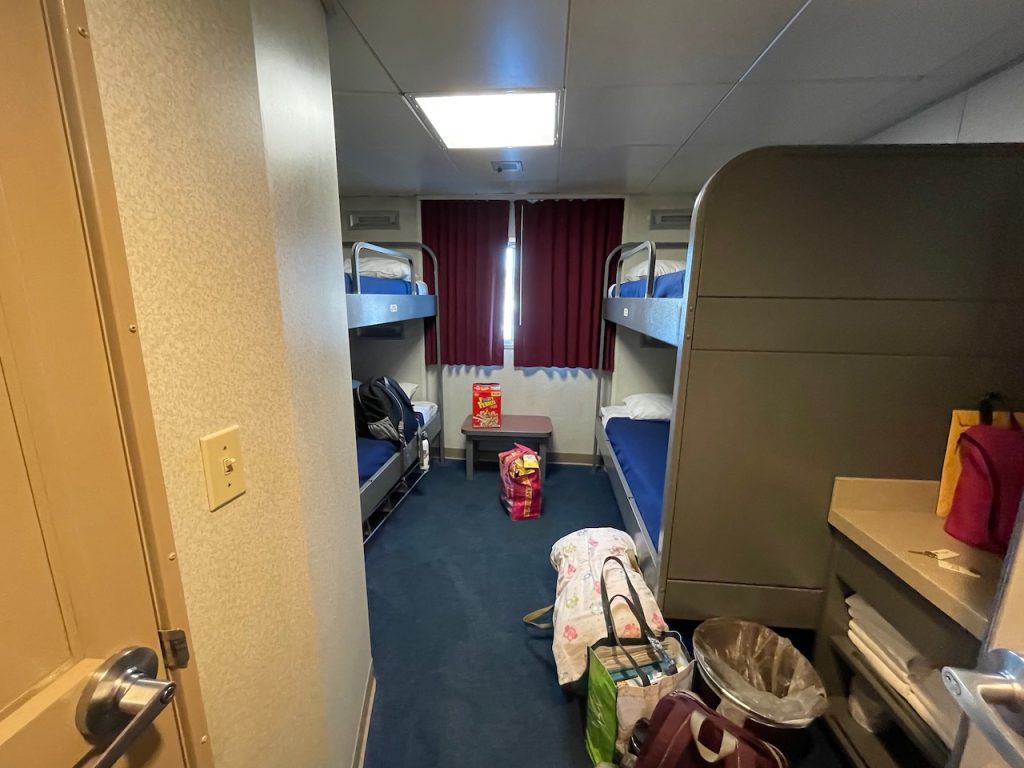 A little after 4pm Alaska Time Friday afternoon, the engines fired up and we were on our way out of Bellingham. We joined most of the passengers on the viewing decks to wave bye to the town, then went inside when the temperature dropped 20 degrees.
The first leg of the journey is Bellingham to Ketchikan, some 660 miles. The top speed of the MV Columbia is 17 knots, or about 20 miles per hour, and a lot less when the walls of the passage get close. In all, that works out to 38 hours to the first stop, so all of Saturday was a boat day. After Ketchikan, the boat would stop every 12 hours or so, having gone another 100 to 150 miles to the next dock. We would get off Monday evening in Auke Bay, the terminal for Juneau, a total of 74 hours and close to 900 miles.
Being on any type of transportation for an entire day, ever moving and shifting and untethered, is a fascinating but exhausting experience. It's not a state of idling that it could be, since something is always happening. Driving obviously requires attention, though it's all sitting and fighting whether the next stop is in 100 miles or RIGHT NOW. Trains are a constant rocking and regular announcements for stops that make a routine a bit difficult. Planes, I have no idea. If I took them, I'd probably not be on this boat.
A day at sea with no imminent stops and even less internet connection requires a level of self-direction that can be hard to muster. Even when the docks started on Sunday, our schedule didn't change. We read books, played Nintendo, and looked out the windows as the high hills passed by. The boat moved through Canadian waters, we lounged, chatted with folks in the observation lounge, and took naps. The ship veered around Prince Rupert, back to American waters and we played cards, ate some snacks, and enjoyed the maritime breeze walking the outside decks.
That's it. That's what it's like to take the Alaska ferry. There is a hum, constant, as the engines push forward. The whole boat shifts when the captain announces that there are whales off one side, and everyone runs to a window to see them. Mountains roll by behind other mountains, and the fog closes in and then retreats. There are announcements four times a day that the car deck is open and people can go down to check on their pets. And the boat moves on. It is awesome.
Transition to Alaska
The Alaska Ferry, technically the Alaska Marine Highway System, is a service of the State of Alaska. Its role is to connect the dozens of towns along the fjords of southeast Alaska as well as the long Aleutian archipelago. Most years, there is also a ship that crosses the Bay of Alaska, connecting Juneau and Anchorage by water. That was scuttled this year due to staff shortages, similar to ones felt by many transit agencies.
Unfortunately, staffing shortages can be felt throughout the fleet. This was most visible in the dining room. We set aside Saturday night for a sit-down dinner. That is, I promised the kids a blow-out meal if we did four shifts of cooler meals (counting the one driving to the terminal).
Food on the boat was a fascinating affair. The dining room opened for meals, and a line formed an hour before each shift. There was a standard list of burgers, salads, and soups as well as halibut and salmon. Both Alaskan, naturally. The ship also featured a separate snack bar that went above and beyond snacks. It's the water station, ice cream station, and full-service short-order restaurant. The prices at both vendors are surprisingly affordable, with breakfasts and lunches around $10 each, and dinner a little over $25 per entrée.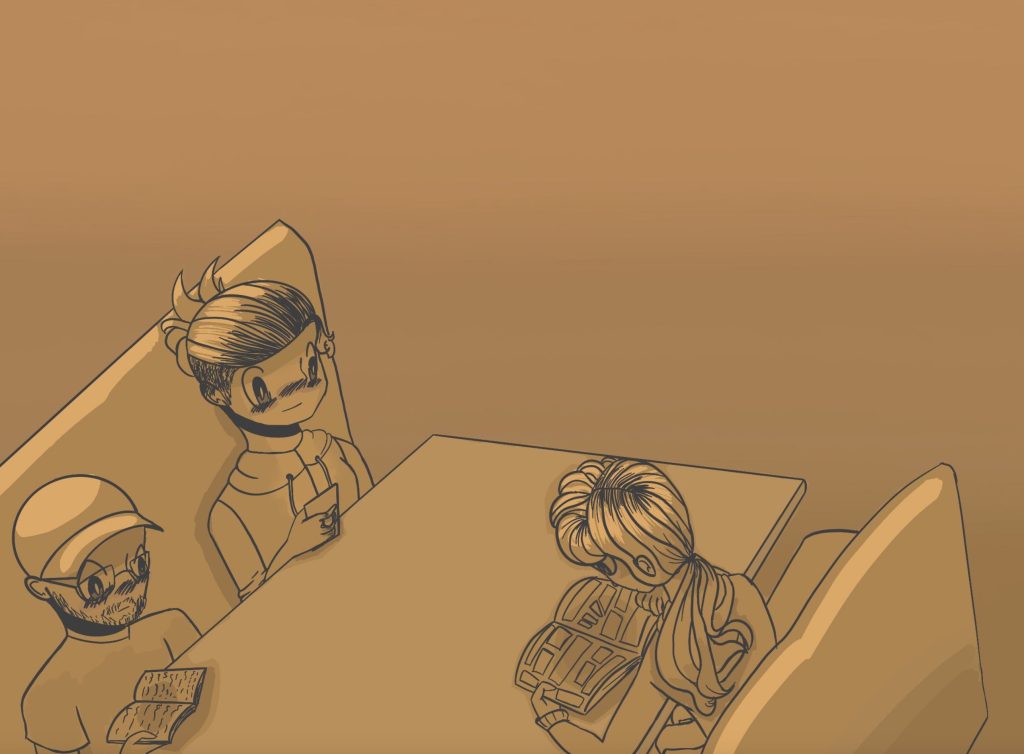 Dining room dinner was not an easy meal. We waited 45 minutes in the line outside, then another half hour at our table to order. None of the specials were available. Half our food got forgotten, then swapped out with an alternate because they'd run out of the chowder. The waiter constantly apologized then forgot to bring another round of drinks. We are an exceptionally patient dining family, paid our bill, and didn't go back. Tipping is not allowed, per Alaska regulations, which are posted everywhere.
The snack bar, on the other hand, made a mean fish and chips, and had plenty of ice cream. 10/10.
Between a sleeping berth and grumbling about the dining room, this is where a bunch of people are going to pipe up and say that we didn't truly embrace the full Alaska Ferry Experience. A good number of intrepid hikers and experienced travelers walk onto the ferry, go to the covered but open-sided solarium, and set up a tent where they will stay for the trip. No stakes allowed, they duct tape the tents to the deck.
As the aforementioned Subaru has heated leather seats, this is obviously not the route for us. But it does illustrate the broad services this fleet must offer. There are the spectator amenities like observation lounges with wide windows and padded seats. There are also laundry rooms and public bathrooms with showers and long recliners where people without rooms sleep. The ice machine and a line of vending machines is along the wall next to the snack bar, which has a Keurig available 24-hours a day.
The ferry itself bares a lot of evidence of repaired utility. It's half a century old, after all, and there are parts that show age. The bar lounge on the upper deck was serving only two beers and three canned cocktails in short shifts after lunch and after dinner bares the decorative weight of an early 90's refresh. The sit-down dining room has an unused salad bar with sneeze guard and wood paneling. That said, the whole ship is clean and well-kept. The carpeting might be out of date, but it's not tattered or dirty.
Modern additions actually stick out, like the flat screen television next to the purser's desk that shows current speed and position of the ship on both close-up and broad digital maps. There's that tendency for men of a certain age to look into the engine of a car and nod or stand on the porch in the run up to a weather event. The map screen was the gathering place for such men. One of whom was me. Love that map.
An Inadvertent Sacrifice
Our end-of-July travel did coincide with some remarkably calm seas. The MV Columbia started unloading in various ports on Sunday morning. We were not awake for Ketchikan, but did see the action in Wrangell and Petersburg. These are much smaller docks than what's in Bellingham. They feature a gangplank that pulls to the side of the boat. Walkers head over, followed by any cars getting off in single file. Fewer cars pull on then get off.
And the water is a shade of blue beyond the capacity for modern digital devices. A little more green and it would look sickly. A little more blue and it would look candied. The water is such a radiant turquoise that it's surprising someone hasn't bottled it and sold it as a tonic for everything.
However, I don't have any pictures of this.
Mid-afternoon on Sunday, we found ourselves reading in the front viewing lounge. Very comfortable, very quiet. After a while, it was time to get up and move a little, so we took the long way back to the cabin. Walked outside, leaned on the rail a bit, watched the hills roll by. Headed back inside.
Then a little ding on my wrist as my Apple Watch notified me that I had left my phone behind. It was the most hollow of feelings, one where you let out a slow groan weighted with the sense that one's own deep stupidity has rerouted the layout of the next few days. I knew immediately that I had not left my phone behind. I had dropped it overboard.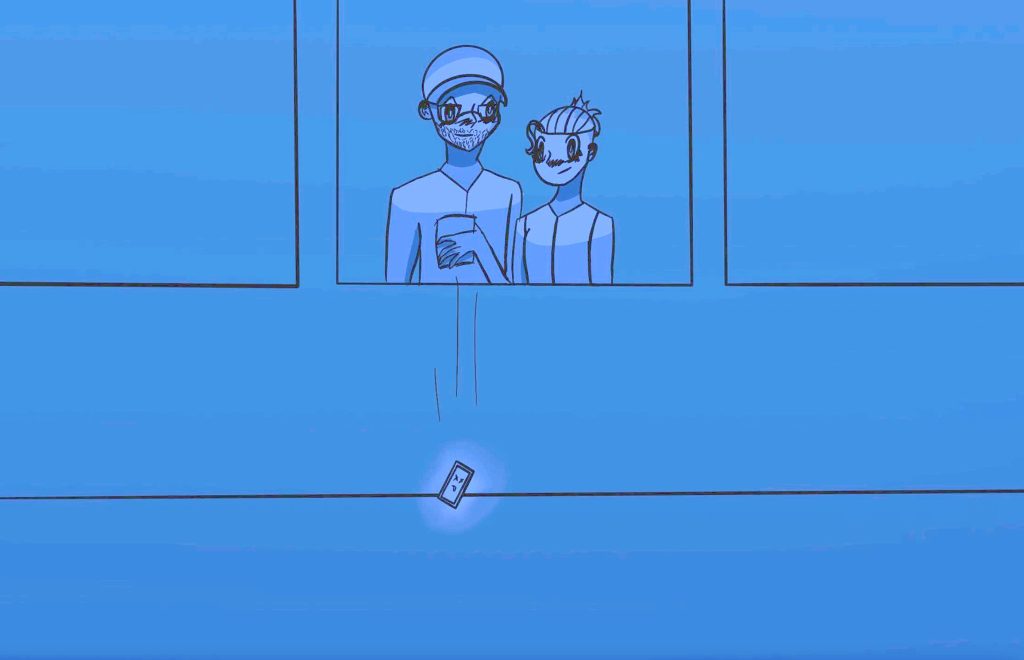 We did the cursory search of the seats where we had been reading. Eldest child was a little anxious about the situation and I have myself to blame for that. Whenever we start on a travel, we check in that each of us are present, with stuffies and books. Then I check in that I have my wallet, phone, and keys. I've emphasized – a lot – that so long as we have each other and those three things, we can get out of a lot of situations. We no longer had one of those things.
At this age, the kids have their own phones. So even if mine was called to eternity with Poseidon, we would still have some contact with the outside world upon disembarking. The kids gripped their phones furiously, not out of fear that they too would drop theirs to the ocean, but that I'd take them. And likely lose them over the railing too.
Which left me to spend Monday finishing my book and talking to the kids, who had plenty to needle me about. Not that I had hauled them back from the railing to avoid dropping their stuff. More than once. Which they frequently reminded me.
So my detachment from the digital world extended past our time on the boat and through the beginning of our time in Juneau. And it was okay. We got in touch with Phil in the Verizon store, who was a gem and set me up with a new device. It took a little while for the new phone to get itself situated with all the apps and because cell coverage was intermittent and the coffee shops have slow Wi-Fi. Nothing three days on a boat hadn't prepared me for.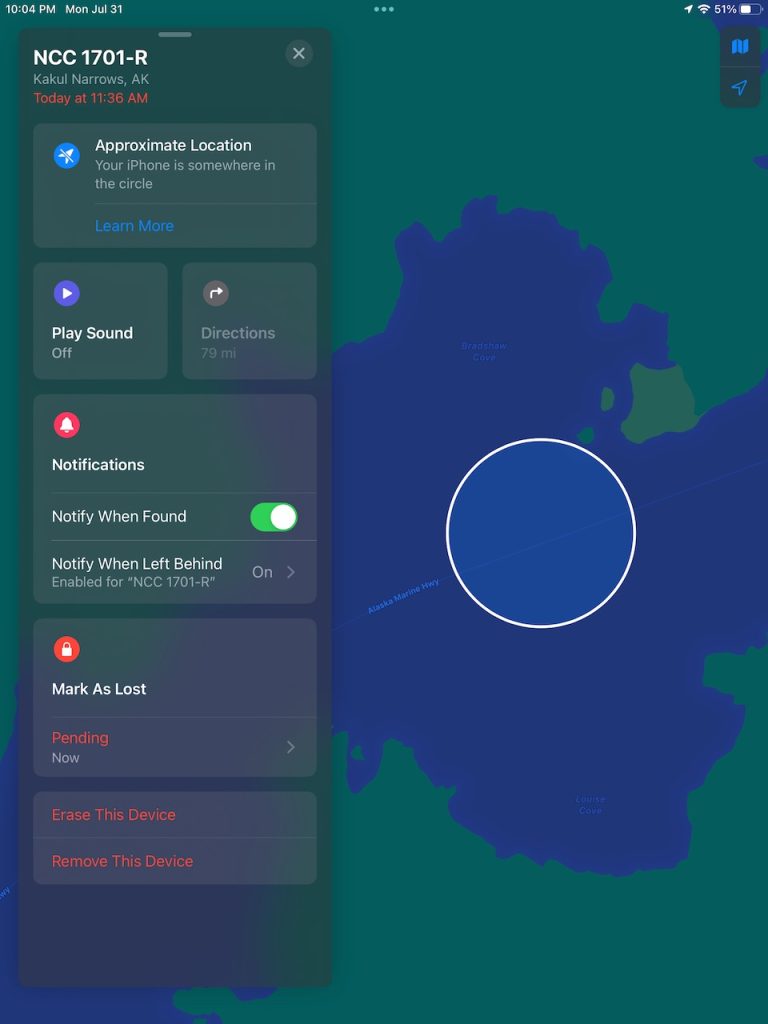 We may have set our watches at the purser's desk before leaving Bellingham, but it took all weekend to truly get on Alaska time. Actions take longer in Alaska, and patience is key. It is prohibitively expensive to move stuff, and people, and avocados, and mail, and new appliances to the 49th State, so things don't immediately jump at being done or move at the speed of the newest version. Items get fixed rather than replaced or get put on pasta rather than zucchini noodles. There is nothing bad about such Alaskaness, or inherently more wholesome. It's just different. And the best way to get ready for it is a ride on this purposeful, serene, and fundamentally functional boat.
Thank goodness that didn't extend to cell phones, though.
There are things that must be improved about the Alaskan ferries, starting with adding more boats and having enough staff that the hard working folks running the ship don't feel the need to apologize. They all deserve raises, and help, and supplies of enough chowder to keep the boat stocked.
But all the things that could be listed as needs for improvement – antiquated styles, lack of onboard Wi-Fi, paltry selection of IPAs – they don't make the ship work. The MV Columbia is a tightly run, well-organized vessel that does every bit of heavy lifting asked of it. Moving a thousand people a week around Alaska is a very heavy lift. The only improvement is doing everything necessary to keep it running. 

And more of the awesome map screens.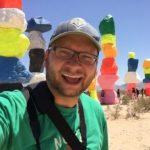 Ray Dubicki is a stay-at-home dad and parent-on-call for taking care of general school and neighborhood tasks around Ballard. This lets him see how urbanism works (or doesn't) during the hours most people are locked in their office. He is an attorney and urbanist by training, with soup-to-nuts planning experience from code enforcement to university development to writing zoning ordinances. He enjoys using PowerPoint, but only because it's no longer a weekly obligation.