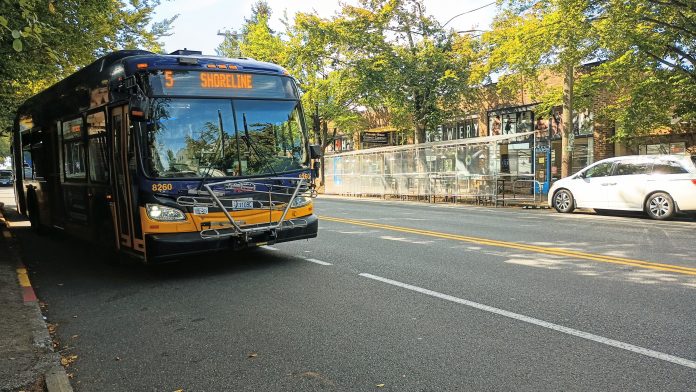 King County Metro is eyeing upgrades to another one of Seattle's workhorse bus routes, as increased traffic on the city's streets continues to impact bus arrival times across the entire Metro system. The Route 5 has not been able to meet Metro's on-time performance goal of at least 80% of trips arriving on time — within 5 minutes of what the schedule says — during any month in the last five years.
Running between downtown Seattle and Shoreline, Route 5 spends most of its time on Aurora, Phinney, and Greenwood Avenues, providing service every 15 minutes throughout most of the day on weekdays, 20 minutes on Saturdays, and 30 minutes on Sundays. It's a fairly frequent route that thousands of riders count on despite it not consistently running on time. Route 5 was averaging about 8,000 daily weekday rides pre-pandemic, but that had already started to dip in 2019.
Improving the route by making physical improvements has been on Metro's radar for a while. A 2022 study on potential speed and reliability projects completed by Metro and the Seattle Department of Transportation (SDOT) concluded that Route 5 was at the top of the list of routes serving north Seattle and Shoreline in terms of regular delays experienced per rider, and in the top ten for the entire county. The data, from fall 2019, showed Route 5 buses were spending an average of 95 extra hours per day on the road due to delays in traffic.
Much of that delay comes from the Aurora Avenue N portion of the route, which Metro is looking at separately, though its work with SDOT on safety, transit, and drainage improvements to the state highway along its entire length within the city limits. That work is poised to be funded by a future allocation of $50 million earmarked by the Washington legislature in the Move Ahead Washington transportation package, but when exactly lawmakers could allocate that funding remains up-in-the-air.
The 2022 report studied the impact of transit lanes along the congested Aurora bridge over the Fremont Cut, and concluded that, along with some other upgrades along the route, bus travel times could be boosted by 10%. But transit lanes on the bridge could prove technically tricky. The structure's width means current travel lanes are fairly narrow, which leads to most coaches straddling two lanes for the extent of the bridge. Creating true transit-only lanes on the Aurora bridge could leave only one travel lane in each direction, a politically dicey proposition.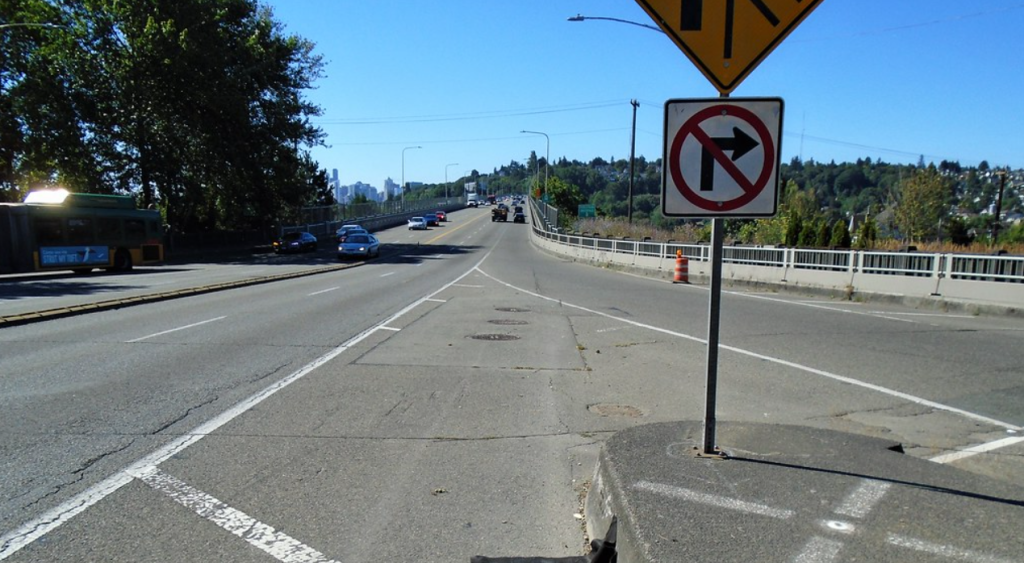 For right now, Metro is currently looking at making significant upgrades along Route 5 in two other areas: at the mess of ramps in upper Fremont where buses enter and exit Aurora Avenue N, and along Greenwood Avenue N. Around Aurora, the changes look to include some upgrades to pedestrian infrastructure in an area that is currently very hostile to people walking, very close to the Center of the Universe that is downtown Fremont.
As it stands, there's no way to cross the street on the south side of the five-way intersection at Fremont Avenue N and N 39th Street: a marked crosswalk would be added and the existing pedestrian island near the slip lane onto Fremont Way N would be expanded.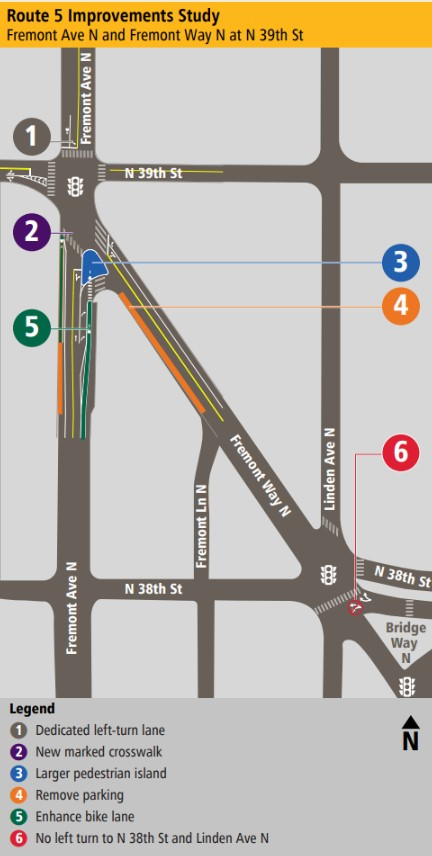 To speed up buses, no dedicated bus lanes are proposed in this area, just removing on-street parking from Fremont Way N, and restricting turns that hold up all traffic including buses.
The painted bike lane on Fremont Avenue N would see upgrades south of N 39th Street, with the door zone lane moved closer to the curb and parking removed on the west side of the street. While not major, these changes, paired with a new one-block northbound protected bike lane being planned with the Route 40 upgrades down Fremont Avenue N, would set up SDOT to be able to more nimbly add protected bike lanes to this entire stretch of upper Fremont within the next few years.
On Greenwood Avenue, Metro is proposing some stop consolidation on the entire corridor while still maintaining many of the route's frequent stops. Dedicated bus lanes are being proposed in two main areas: between N 79th Street and N 81st Street, where traffic backs up around the N 80th Street intersection, and between N 130th Street and N 145th Street.
Around N 80th Street, street parking would be removed, along with the Snapshot Brewing street cafe. The existing paint-only door zone bike lane would be expanded into a bus-only lane that people on bikes could use. This is somewhat of a lateral move for bike safety — not ideal, but an interim stage where other uses win out over street parking. Long term, Greenwood Avenue N needs protected bike lanes and priority space for buses, likely won by removing the street's center turn lane.
SDOT is already setting the stage for that with new bus loading platforms that include space for people on bikes: With these Route 5 upgrades, they would be installed at two more intersections, N 80th Street and N 85th Street. This should make it much easier for the city to come back and add fully protected bike lanes later.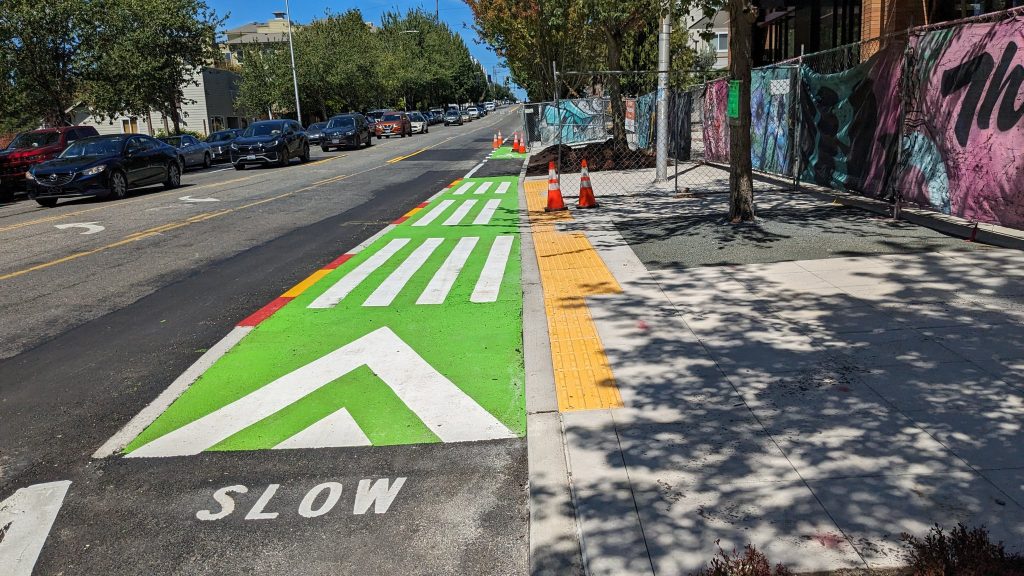 Metro also proposes adding a queue jump around traffic that people on bikes will also be able to use at N 87th Street.
Overall, the upgrades proposed by Metro here are not transformative, but could be a great precursor to more substantive changes down the road that turn Phinney and Greenwood Avenues from being a car-focused, high-speed corridor into one centered around multimodal travel and safety.
Take King County Metro's survey on the proposal by Monday, September 11.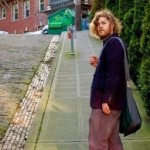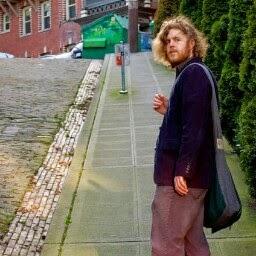 Ryan Packer lives in the Summit Slope neighborhood of Capitol Hill and has been writing for the The Urbanist since 2015. They report on multimodal transportation issues, #VisionZero, preservation, and local politics. They believe in using Seattle's history to help attain the vibrant, diverse city that we all wish to inhabit. Ryan's writing has appeared in Capitol Hill Seattle Blog, Bike Portland, and Seattle Bike Blog, where they also did a four-month stint as temporary editor.