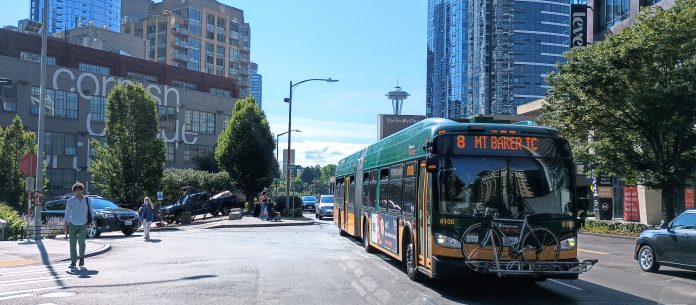 A Route 8 bus stops at Capitol Hill Station and nearly half of the completely full bus gets off and is replenished by new riders. Two minutes later, another comes. Two minutes after that, another! No, this isn't a dream or an interdimensional portal to the streets of Tokyo. It's common for the every-15-minutes route. The catch? The riders on that first bus waited 45 minutes for it. And the next bus probably won't come for another 45 too.
Since May, Route 8 (called 'Route Late' by many) has seen its on-time performance – arriving within five minutes of schedule – plummet. King County Metro sets a goal of 80% on-time, a target most of its routes meet. But the 8 bus is now just 60% on-time overall and 40% on-time during afternoon rush hour, by far the worst in Seattle.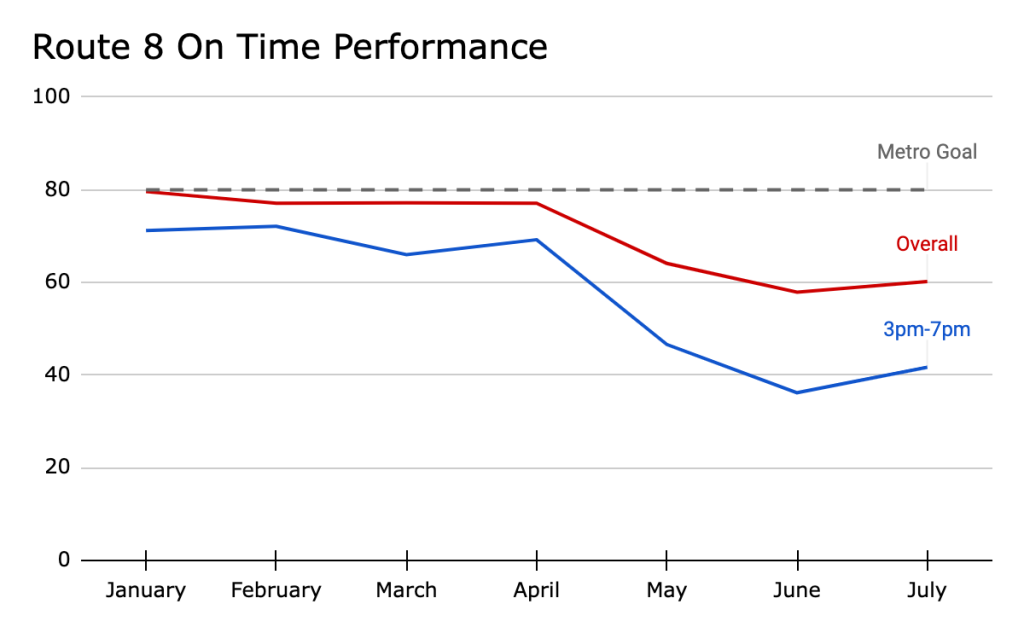 The reason is no mystery: more cars on Denny Way. Following Amazon's return to office and an uptick of events at Climate Pledge Arena, cars routinely clog the artery, delay the buses, and ruin route performance all day. Potential riders can frequently walk faster than the bus during rush hour.
My phone says I'm going 3 miles per hour. We'll see who wins!

This stretch is easy and where I'll need to make the most time. There's a huge hill ahead a a short stretch of bus lane. pic.twitter.com/o3rteLFVzu

— Nick (@NickSattele) June 16, 2023
But there's really no plan to fix this. Major investments in the area give drivers other options: a new waterfront highway, a chronically underutilized tunnel, and a major highway interchange. Unfortunately, bus riders can't use any of those because no buses traverse them. Instead, we're stuck with the worst of both worlds where riders are stuck in the traffic drivers have made because the bus is too slow for them.
That's why at Central Seattle Greenways, we're partnering with the Transit Riders Union to launch our Fix The L8 campaign to get bus lanes on Denny Way in Uptown and SLU. Bus lanes have been found to increase reliability by 25%, increase bus speed by 20%, decrease collisions by 16%, and reduce driver travel delay. All while boosting ridership. And the city has a history of quickly deploying them. During the 2021 Montlake Bridge closures, it took just five days from idea to completion to install bus lanes along NE Campus Parkway in the University District.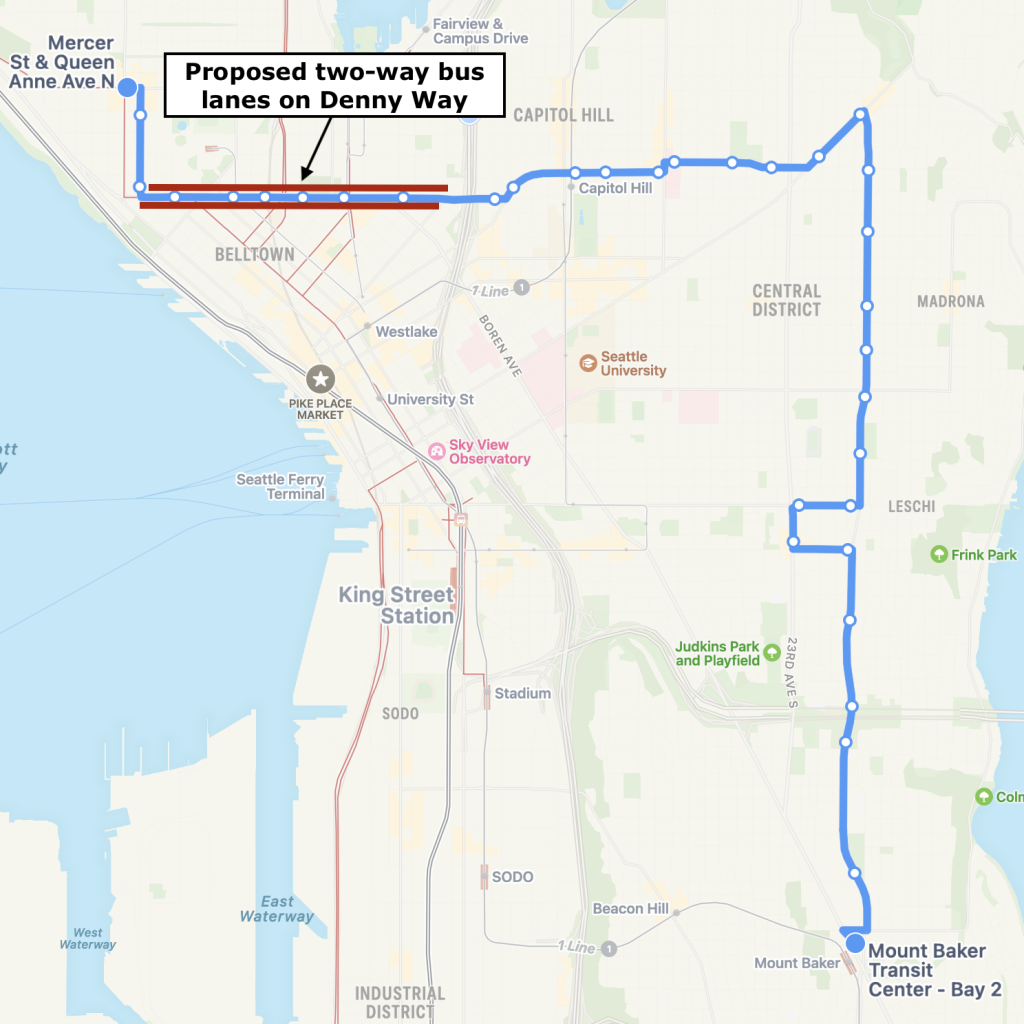 But we need your help. The city doesn't have any plans to fix the 8 and Denny Way. Send a letter to tell elected leaders and the Seattle Department of Transportation (SDOT) to fix this corridor and share your experiences with (or avoidance of) Route 8 and Denny Way.
---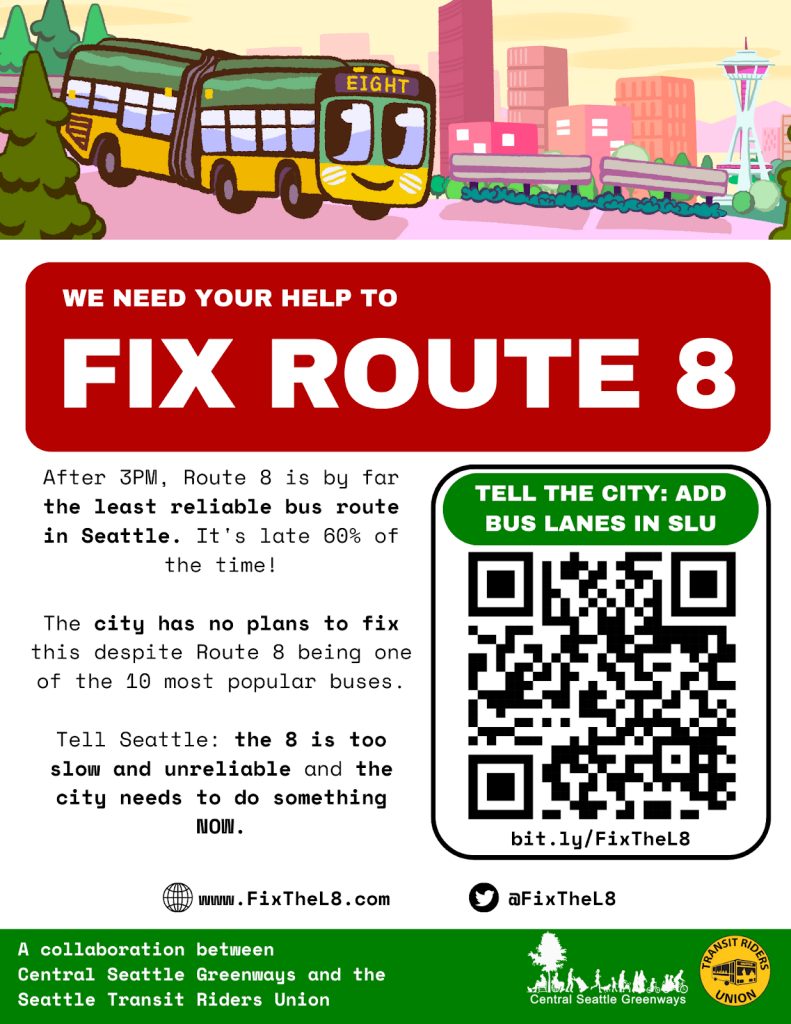 Nick Sattele (Guest Contributor)