In this CityNerd video, Ray Delahanty tackled the various bells and whistles traffic engineers use on street crossings so as to not provide actually safe streets. From Rectangular Rapid Flashing Beacons (RRFB) to High-intensity Activated Walk (HAWK) signals, traffic engineers have a plethora of acronym-based interventions that largely do not seem up to the task of eliminating traffic deaths and (importantly) making it feel pleasant and safe to be a pedestrian. Rather than shortening crossing distances and reconfiguring wide streets where speeding is a perennial issue, transportation departments are hoping some flashing lights will do the trick.
CityNerd host Ray Delahanty was in Seattle this weekend and The Urbanist hosted him for a Lake Washington Boulevard bike ride and meetup. It was a blast, as we got to enjoy the last weekend of 2023 that Lake Washington Boulevard will be closed to cars and open and safe for people biking, rolling, and walking — at least barring executive action by the Harrell administration. More than 200 people turned out to the event and got a chance to chat and take a selfie with Delahanty, who puts out CityNerd videos every week. Subscribe to his channel for more.
I interviewed Delahanty last week and we chatted about a variety of topics; from what drew him to urban planning, to the perils of traffic modeling, to the rapid rise of his YouTube channel, CityNerd, which just crossed the 200,000 subscribers threshold. Delahanty worked extensively with traffic models in his planning career and in both his Urbanist interview and this video he shared how the traffic engineering and planning field has let us down with respect to safety and walkability.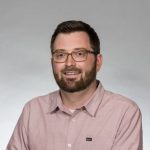 Doug Trumm is publisher of The Urbanist. An Urbanist writer since 2015, he dreams of pedestrianizing streets, blanketing the city in bus lanes, and unleashing a mass timber building spree to end the affordable housing shortage and avert our coming climate catastrophe. He graduated from the Evans School of Public Policy and Governance at the University of Washington in 2019. He lives in East Fremont and loves to explore the city on his bike.