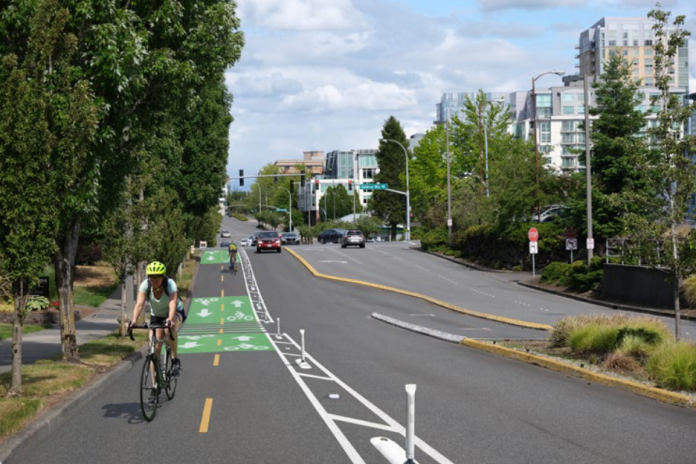 People who bike (or want to bike) in Bellevue now have the opportunity to influence the build-out of a basic bike network in the city's rapidly growing neighborhoods. At a Bellevue Transportation Commission meeting this past Thursday, City staff released preliminary design schematics for more than 15 miles of new bicycle infrastructure to be built throughout the Downtown, Wilburton, and Bel-Red neighborhoods. In their current iterations, many proposals would add physical separation and flexposts with plastic curbs to increase the visibility and safety of people cycling on several high-traffic corridors like Bel-Red Road, Northup Way, and 116th Avenue NE.
City staff are now soliciting feedback from the public to improve these designs within the scope of the Bike Bellevue program, a project City Council initiated in March with their approval of key guiding principles. Residents, visitors, and other interested parties can review detailed schematics for bike infrastructure along all 11 of the planned corridors and leave comments or suggestions for improvements by placing pins on PDF maps. Users can also reply to others' suggestions and upvote or downvote comments to convey their support. The comment portal will accept feedback through November 17th, after which staff will refine the proposed designs for final approval by the Transportation Commission in mid-2024.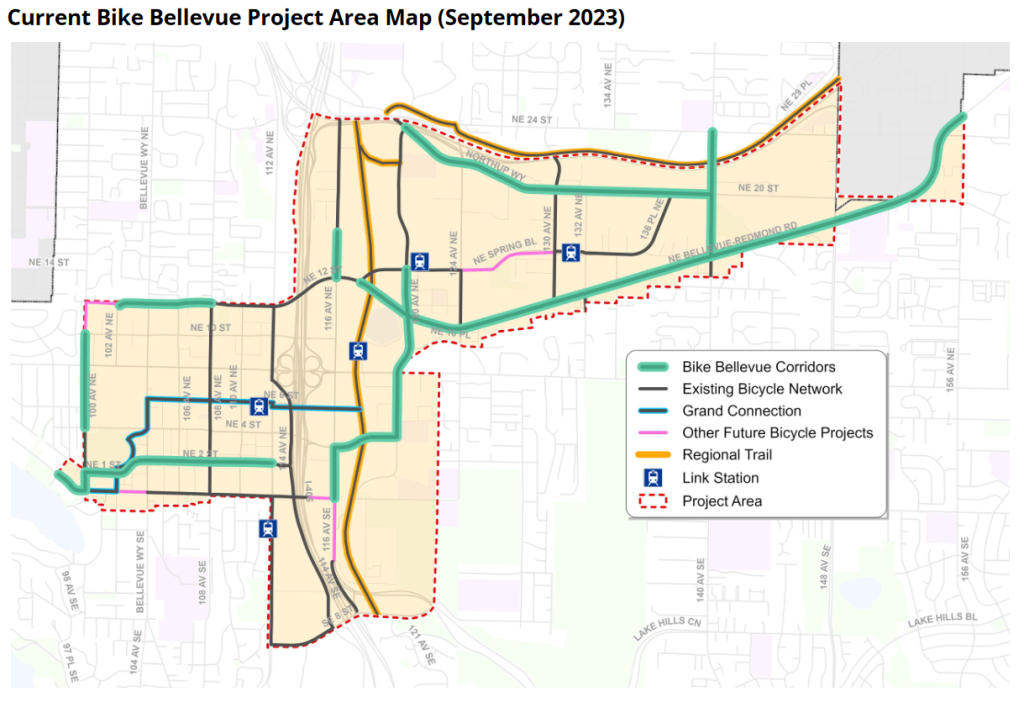 To accompany Thursday's meeting, city staff released a 358-page report outlining a litany of analysis on the program's sustainability, equity, and accessibility merits. It describes how, if fully implemented in its present form, Bike Bellevue would:
reduce annual Vehicle Miles Traveled (VMT) between 1.2 million and 10.8 million miles;
increase the number of bus stops accessible by a low-stress bike route by 45%;
reduce annual citywide greenhouse gas (GHG) emissions by the equivalent of between 240 and 890 cars;
improve access of low-income populations to jobs and schools by 24% and 33%, respectively; and
reduce average vehicular speed on project corridors by 0.2 miles per hour.
Furthermore, approximately 55% of Bike Bellevue infrastructure would be comprised of low-stress facilities, measured by the Level of Traffic Stress (LTS) metric. LTS values reflect that different types of cyclists are comfortable in different infrastructure conditions; a corridor with an LTS score of 1 would have facilities that feel comfortable and safe to people of all ages and abilities, whereas an LTS of 4 would represent a corridor where only the most fearless would be comfortable riding (such as in mixed traffic alongside cars). Under Bike Bellevue, the city would construct eight new lane miles of infrastructure at LTS 1 or 2, and 90% of the corridors would meet or exceed their LTS targets as set by long-range city plans.
This improved infrastructure is expected to pay dividends in helping Bellevue meet its Vision Zero goal to reduce fatalities and serious injuries on city streets by 2030. Staff have modeled that the Bike Bellevue infrastructure could prevent between four and eight fatal or serious injury crashes over the next 20 years.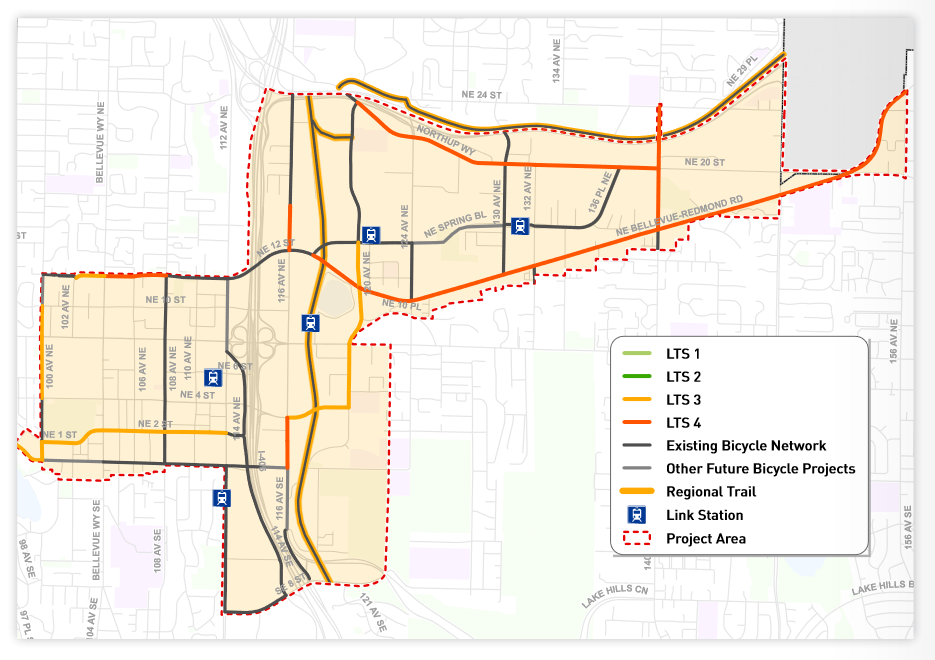 And according to the staff's research, all of this can be accomplished with minimal impact to motor vehicle speeds. Although traffic models themselves are not to be held up as foolproof or even accurate, Council direction required staff to look at Bike Bellevue's impact on the wider road system — a task historically accomplished through use of the city's BKRCast modeling system.
With this software, staff predict that all Bike Bellevue corridors would still meet their vehicle speed targets for the PM peak hour in 2035, despite several corridors requiring a repurposing of traffic lanes to create space for bicycles. Only one intersection within the study area would exceed its volume-over-capacity targets directly as a result of Bike Bellevue. Despite their questionable accuracy, these projections hold sway because opponents of bike infrastructure have previously used predictions of increased congestion to advocate against similar improvements.
Even now, opposition led by powerful interests is using cherrypicked statistics from traffic models to advocate against the project, claiming that Bike Bellevue would only lead to a few hundred more increased bicycle trips compared to a scenario without Bike Bellevue. However, what these observations fail to note is the projected tripling of cycling within the project area by 2035, regardless of the infrastructure built.
According to staff's report, people on bicycles in Bellevue are nine times more likely to be killed or seriously injured in a collision compared with people in cars. The thousands of cyclists using Bellevue streets on any given day (both in the present and in the future) would therefore benefit, both in safety and in comfort, from a Bike Bellevue program that provides more separation and protection from high-speed traffic.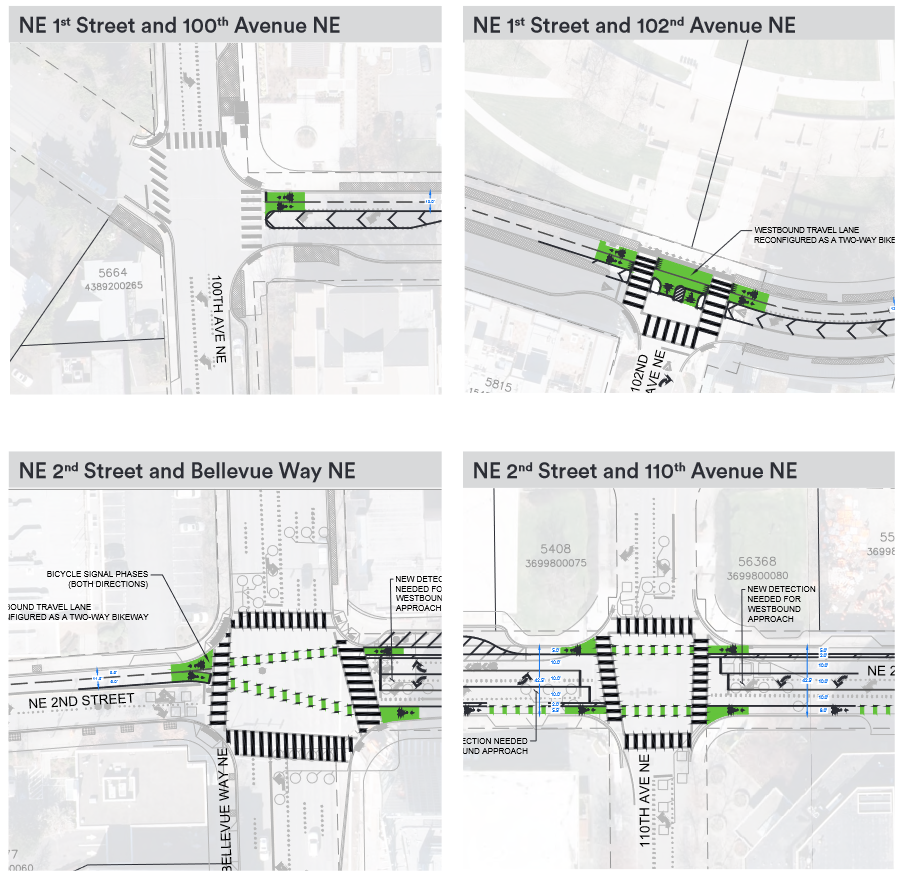 After the designs are refined through public and commissioner feedback, staff will return to the community to determine which corridors should be built first. Only $4.5 million in city funds have been allocated towards the program over the next seven years, but staff estimate that completion of all the Bike Bellevue corridors would cost more than $18 million, with that amount likely to go up further after the designs are amended.
Last year, the city applied for nearly $40 million in federal grant funds that would have built out the Bike Bellevue network and constructed other safe streets improvements like visible crosswalks, trail connections, and better signaling technology. However, the city was not among the list of 17 Washington state jurisdictions to receive funding during this grant cycle. The overwhelming majority of these funds (over $25 million) were ultimately awarded to Seattle's Department of Transportation (SDOT) to fund infrastructure improvements across multiple neighborhoods.
Staff made clear at Thursday's meeting that the Bike Bellevue project intends to break away from previous piecemeal approaches to planning bicycle infrastructure along individual corridors. Historically, the success of such efforts has been mixed; although a protected infrastructure pilot along 108th Avenue NE was eventually transformed into a more elaborate Complete Streets project with safer facilities, significant opposition during a similar effort along Main Street resulted in a pared-back design with painted lanes instead of physical protection.
Even with the more holistic and programmatic approach of infrastructure planning that Bike Bellevue brings, limited funds may still necessitate a corridor-by-corridor rollout of improvements over a longer time period. The comments that staff and the Transportation Commission receive over the next several months — both through the online portal and other engagements like workshops, focus groups, and presentations to community members — will therefore help shape where, how, and when the city makes each set of improvements.
Leave your comments by Monday, November 17th, on the city's Bike Bellevue portal to support better infrastructure and suggest further improvements.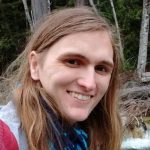 Chris is a UW Environmental Sciences graduate who moved to Bellevue in 2015. When he's not busy being an urbanist fox on the internet, he's working on the Eastside to support efforts reducing greenhouse gas emissions and going to city council meetings to denounce the hegemony of automobile infrastructure. Follow him on Twitter at @Deutski1.