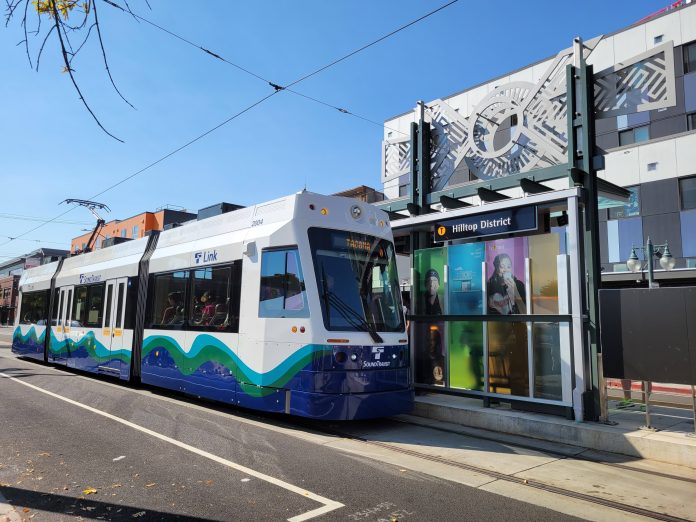 The mood was jubilant during the ribbon cutting, but 12-minute peak frequencies fall short of promises.
On Saturday, Tacoma leaders cut the ribbon on the Hilltop extension of Tacoma's T-Line streetcar, inaugurating service on the long-anticipated and repeatedly delayed project. The 2.4-mile extension will more than double the length of the T Line and allow riders to reach six new stations: S 4th, Stadium District, Tacoma General, 6th Avenue, Hilltop District, and St. Joseph Station.
At the 10am opening ceremony in parking lot of the Tacoma Urban Performing Arts Center (TUPAC), elected officials and community leaders delivered speeches and dancers from TUPAC and NW Sinfonietta performed.
"Connecting our historic Stadium District, Wright Park, medical facilities downtown, and the Tacoma Dome, to the rest of our city and the broader region, these light rail stations represent our ongoing commitment to sustainability, equity, access and mobility for all," said Sound Transit Board Member and Tacoma Deputy Mayor Kristina Walker in a statement. "Today is a big day for Tacoma."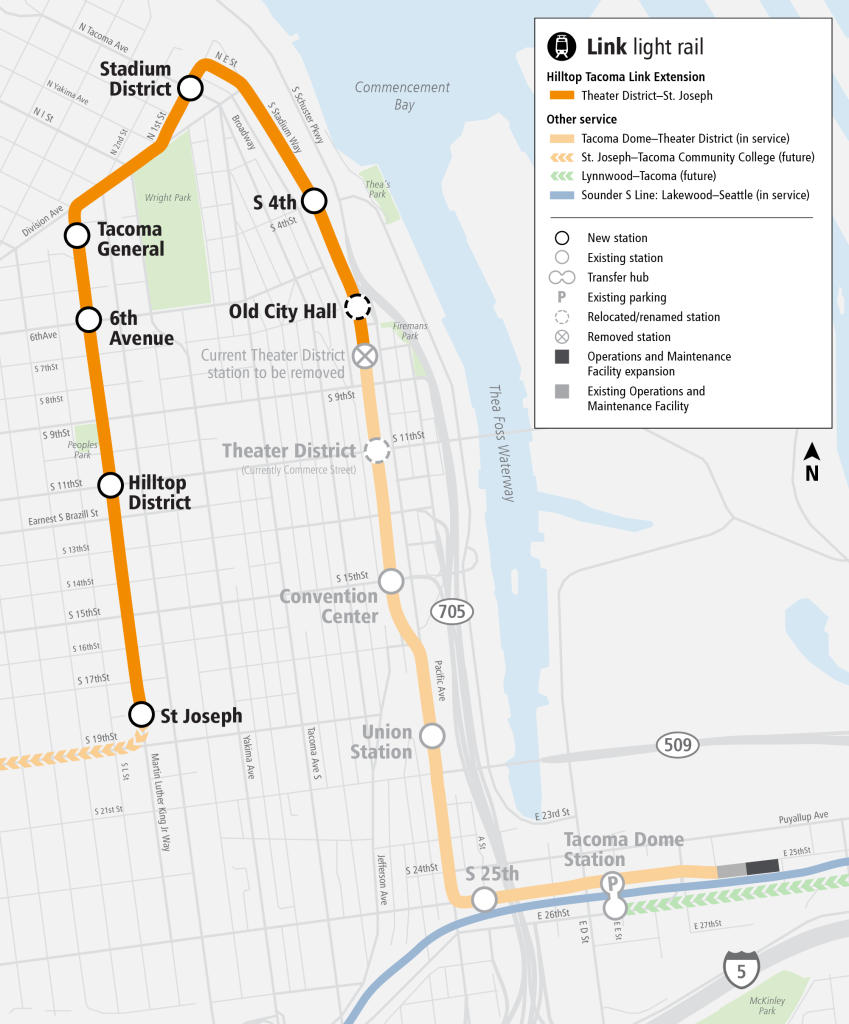 Other than a few bumps and some squeaking in the turns, the ride was smooth. The travel time end to end is about 20 minutes, with some variability due to congestion since the streetcar travels in mixed traffic. The agency announced trains will run at approximately 12-minute intervals during peak periods Monday through Saturday and 20 minutes off-peak and Sundays.
Lower frequencies than promised
This is less than the 10-minute frequencies that Sound Transit promised during planning, which an agency spokesperson attributed to travel times being slightly longer than expected, creating a need for some breathing room for streetcar operators.
"The decision was made by T Line operations because as discovered during testing, 10 minutes proved too difficult (to) maintain due to the challenges of operating in the right of way," Sound Transit spokesman David Jackson told The News Tribune.
Chris Karnes, chair of the Tacoma Planning Commission, noted the 12-minute frequencies are 16% less service than promised to Hilltop, lowering the benefit to underserved populations. Karnes urged Sound Transit to rectify the mistake and find a way to boost service to 10-minute frequencies.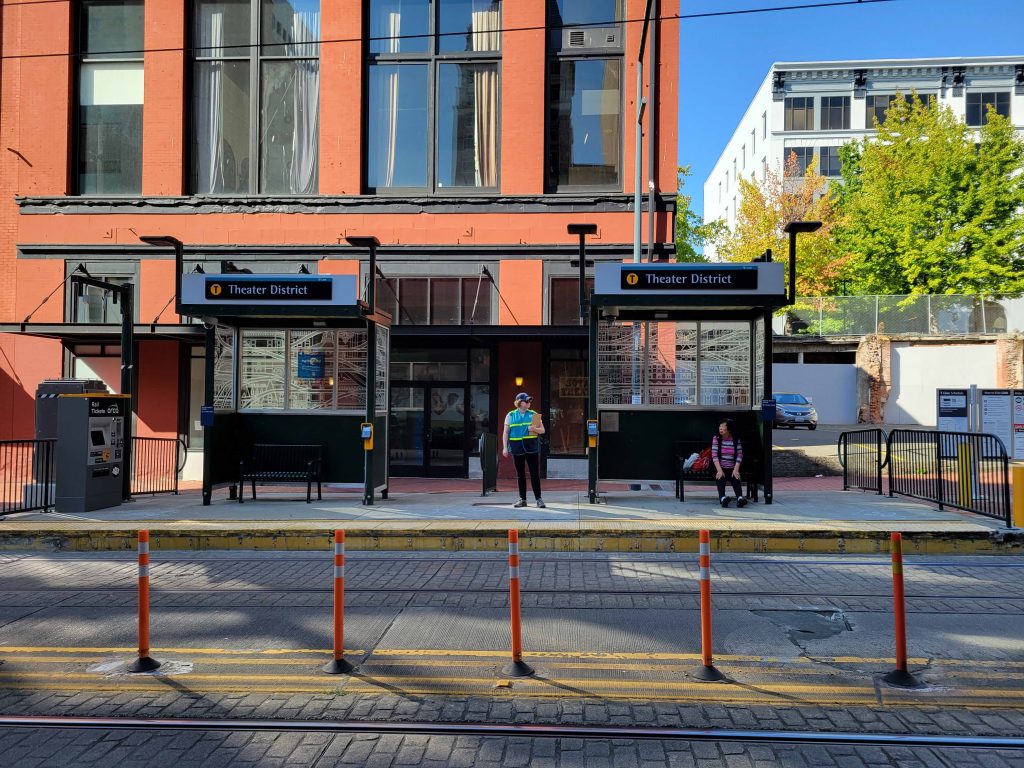 "During a demonstration of the system Wednesday for news media, Sound Transit's CEO Julie Timm said safety for operators, riders and pedestrians was also a factor," Craig Sailor of The News Tribune wrote. "The 10-minute windows were found to be too tight for streetcar operators to take breaks."
Timm pledged that Sound Transit would look for opportunities to get to 10-minute headways. "We'll be working with the city to add reliability in the route," Timm told Sailor.
The agency projects the extension will attract between 2,000 and 4,000 daily riders by 2026 — although those calculations were based on 10-minute peak frequencies.
Sound Transit hopes to open the Tacoma Dome Link Extension in 2035, allowing T Line to light rail transfers at the dome. Transit advocate Troy Serad has argued for extending light rail to downtown Tacoma rather than counting on a streetcar transfer to downtown, but that is not in Sound Transit plans thus far. Until Link arrives, riders can transfers to buses, with Tacoma Dome and Union Station both offering a number of options.
The opening day experience
While many people attended the opening, the streetcars never felt super crowded, and everyone that needed a seat getting one. Many first-timers were on the streetcar, especially children, and some riders expressed how helpful it will be for getting around the downtown area.
As part of the expansion, Sound Transit purchased five new light rail vehicles from Brookville Equipment Corporation of Pennsylvania, doubling the previous fleet. "Each of the 66-foot-long cars is designed to carry more than 100 passengers," the agency said. That gives them more capacity than the typical bus.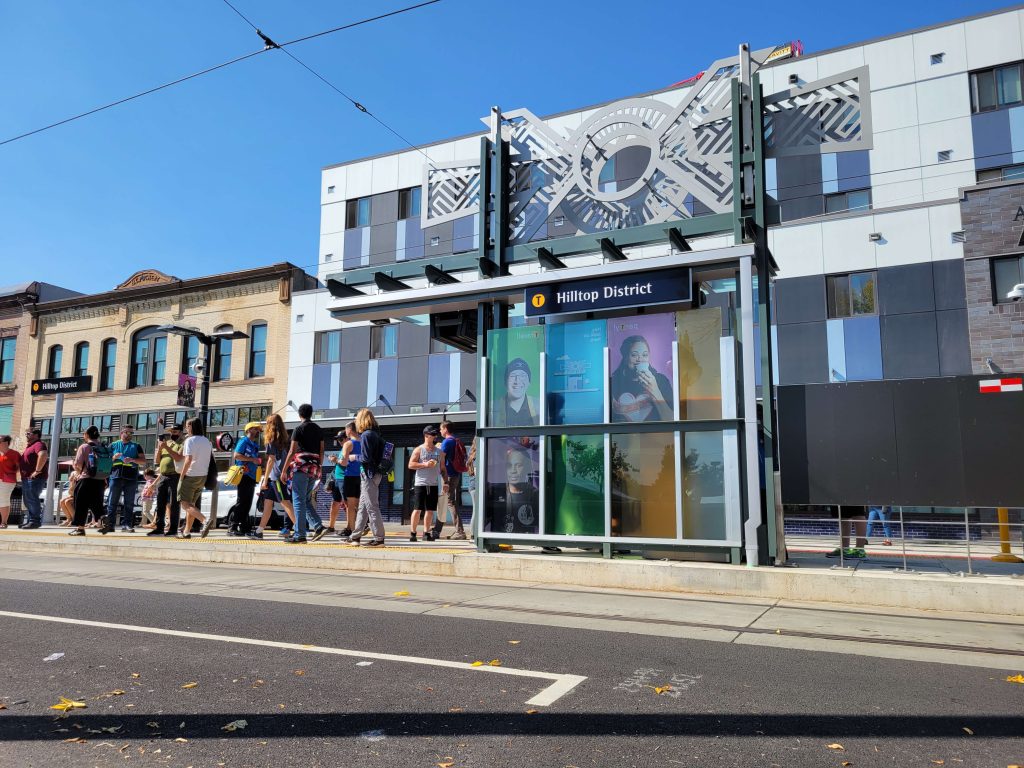 The new T-Line seemed to have plenty of signage and digital media to assist riders, and it felt like the streetcars integrated well with the streetscape. Sound Transit vehicles did follow behind the streetcars making sure nothing went wrong.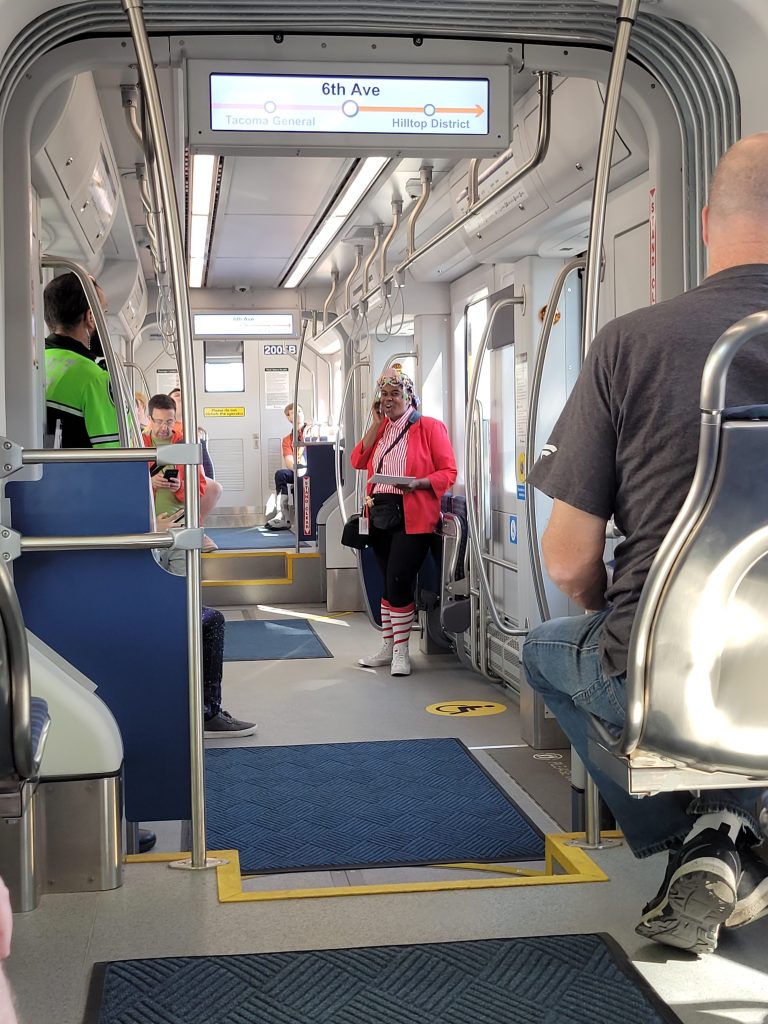 Although the T Line was previously free, starting September 16, adult fares are now $2.00 and $1 for riders who participate in the ORCA LIFT reduced fare program and/or those aged 65 or older or living with a disability. Youth (18 and under) ride free on all Sound Transit services. On Link light rail, riders can get from Northgate to Angle Lake for $3.50. On the T-Line, $2 gets you about 4 miles.
Sound Transit promised the Hilltop community a public transit project that can also help uplift the area economically by connecting it with other parts of the city. While incomes may be rising due to gentrification of the area, adding fares only as the T Line reached the neighborhood may not endear neighbors to the streetcar.
Hoping to counteract the sting of new fares and win new riders, Sound Transit staff distributed free ORCA transit cards preloaded with $10 in credit and handed out flyers on how to use them. Many of the staff attending were enthusiastic and excited to help people learn how to use the system by tapping the ORCA cards on the readers and by getting familiar with the fare schedule.
As far as staffing goes during the grand opening of the line, the streetcars had at least one security staff per streetcar, one tour guide giving facts to riders between stops, fare ambassadors and other community engagement staff at every station and in every streetcar. Many of them were Sound Transit office workers that volunteered to help out and to see the fruits of their work.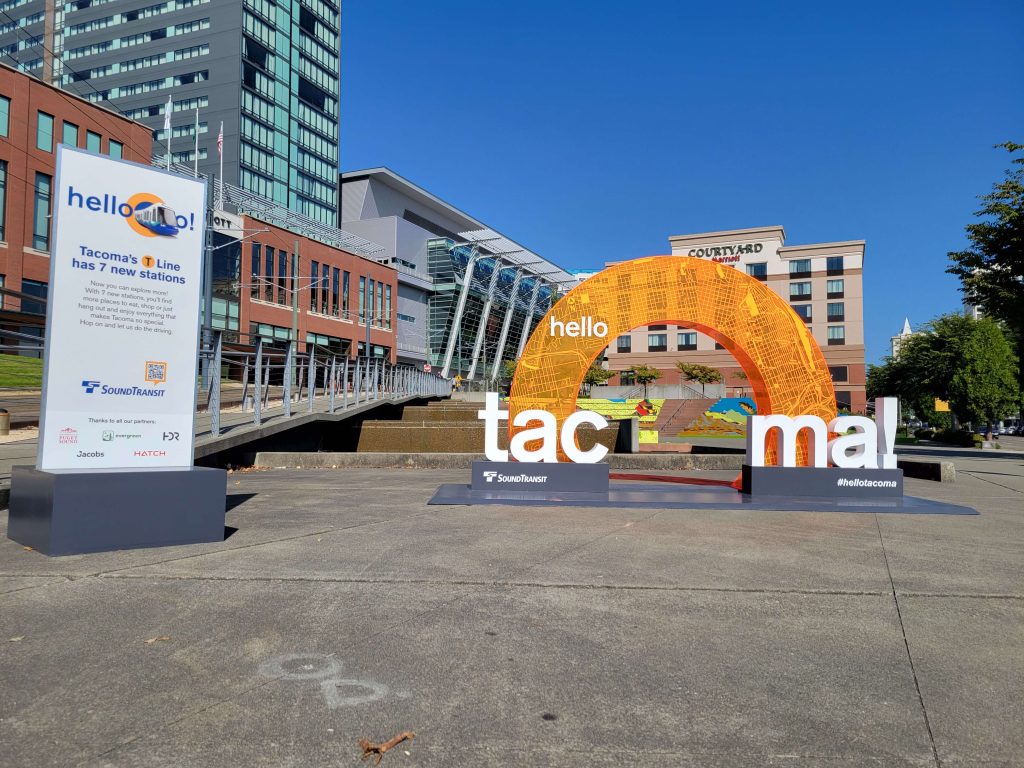 Another notable touch that riders will discover is that each station has a unique art theme with different canopies and public art that is designed by local Tacoma artists.
The agency began construction on the extension in 2018 and originally intended to open the line in 2022, but ran into delays related to track geometry and pandemic-related issues, pushing the opening back a year to the ultimate September 16, 2023 opening date. The extension cost $282 million to build, which was $65 million higher than initially budgeted.
T Line expansion plans to reach Tacoma Community College
Sound Transit plans to further extend the T Line west to Tacoma Community College along S 19th Street, just south of St. Joseph Station. This would grow the T Line to just over 8 miles and to 18 total stations and will be delivered in 2039 or 2041, according to Sound Transit.
Serad and some other transit advocates have pushed Sound Transit to reconsider and route the streetcar extension down S 6th Street instead to better serve riders given the higher number of destinations in that corridor. Advocates have also argued Tacoma will require more investments in public transit, which could come as improved frequencies and getting derailed bus rapid transit plans on Pacific Avenue back on track. Much work remains to improve transit in Pierce County.
As Rubén Casas wrote in his preview of the opening, "Quality, accessible, and well-managed public transit remains one of the most powerful tools we have to address a myriad of interrelated issues facing our region — from achieving affordable and attainable housing, to mitigating climate change risks, to reducing congestion. The T Line Extension is a small step carrying us towards our shared goals and destinations."