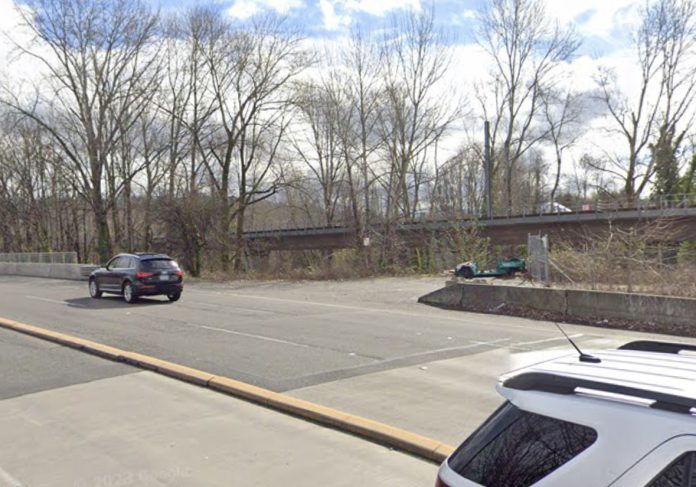 On Thursday, the Sound Transit System Expansion Committee approved a contract to start project development work on two Seattle infill stations. The long-awaited Graham Street and Boeing Access Road stations, which are planned to open in 2031, will move into early planning next year.
The history of both stations goes back a long way. Sound Transit included the station at S Boeing Access Road in its first transit expansion plan, Sound Move in 1996, pairing the idea with a corresponding Sounder infill station at the site to be built as an interchange station.
By 1999, Sound Transit added the station at S Graham Street in Hillman City into the plan and pledged to evaluate it along with S Boeing Access Road station as part of the Central Link Environmental Impact Statement. However, in the early 2000s, the agency ultimately deferred both stations along with the corresponding Sounder station.
Sound Transit resurrected the duo of deferred Link stations by putting them into the Sound Transit 3 package. Voters later approved that measure in 2016, bringing the stations back to the table for completion by 2031 — a completion date that didn't change in Sound Transit's 2021 capital program realignment.
The cost for the two projects is very different, and that has to do with how they'll be constructed. S Graham Street project costs are estimated at $118 million while S Boeing Access Road projects costs are considerably higher at $261 million, but Sound Transit staff have warned that costs are likely to increase given the current inflationary and construction cost environment.
S Graham Street is, in many ways, expected to be a simpler station to construct since it will be another at-grade station on Martin Luther King Jr. Way S, situated just south of the S Graham Street intersection. Existing stations are Columbia City to north, about a mile away, and Othello to south at about a half-mile. The station will provide improved light rail access to local communities and give the 3.8-mile Rainier Valley segment its fifth station, averaging a distance of 0.95 miles between stations. Sound Transit expects to make modifications to the S Graham Street intersection, widen Martin Luther King Jr. Way S, and relocate some utilities.
The S Boeing Access Road station, however, would be elevated and could come with a lot of accoutrements, making it more complicated and expensive to construct. Sound Transit plans to develop a bus transfer and layover facility as well as a 300-stall surface parking lot at the site, and is weighing adding a new traffic signal. Platforms would conform to the current track configuration, placing them at the side instead of center.
The station is billed as a key connection for the SoDo and Duwamish industrial areas, but it would also offer access for residential areas like Allentown, Riverton, and Highline. Connectivity benefits could extend to Georgetown and South Park, two mixed-use districts to the northwest, as well. That's because the station would fill in a station-less 5.5-mile of the line between Rainier Beach and Tukwila International Boulevard stations to the north and south.
The planned location of S Boeing Access Road is a bit questionable though. If the station isn't constructed to accommodate a future Sounder infill station, which the draft Seattle Transportation Plan has identified as a future priority, the value of the location will be a lot less. Route 124, for instance, is the only bus route that passes by the location, and at least a whole block to the west at that on E Marginal Way S/Tukwila International Boulevard. Building a whole bus transfer and layover facility would only make sense if south end express buses, company shuttle buses, or new bus routes were being launched to support the station. Metro Connects suggests some potential bus connections by 2050, but the plan remains unfunded.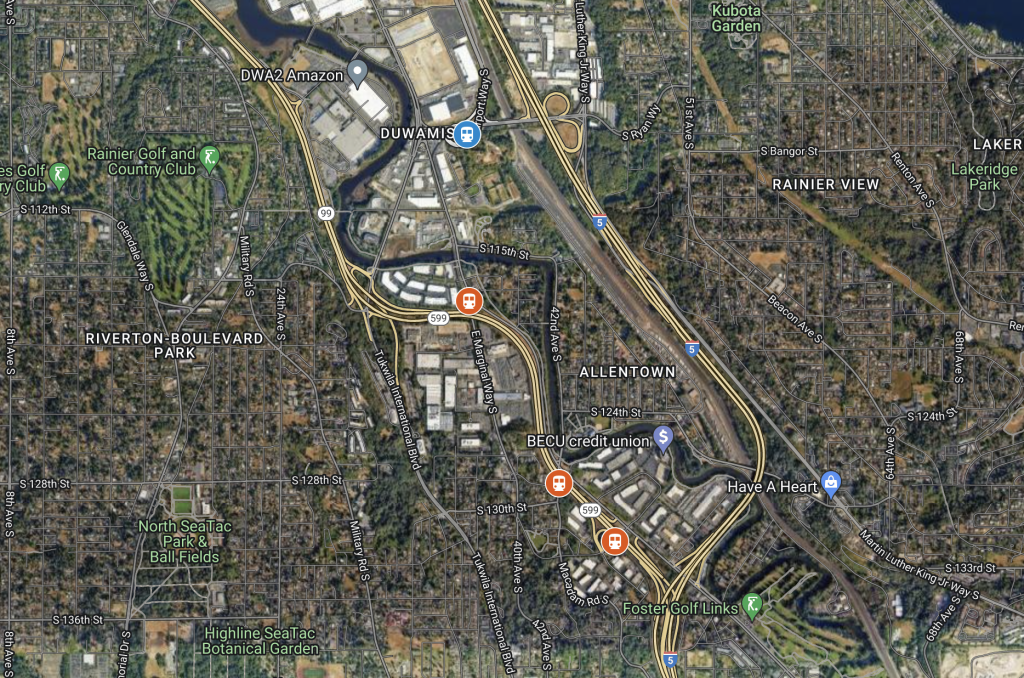 Shifting Boeing Access Road Station to the south a little may be a worthy endeavor to more centrally serve Allentown, Riverton, and some large office parks along the Duwamish River. Plausible station locations might be at Interurban Avenue S/E Marginal Way S, Interurban Avenue S/Macadam Road S, or S 133rd Street/SR 599. That could require a slight reroute of Route 124 to E Marginal Way S/40th Avenue S or Interurban Avenue S to intercept a shifted station location, but that may be better for the area anyway. South End express buses as well as Route 150 would also still be able to reasonably reach such a station.
As for the parking concept, it's such a vintage Sound Transit notion that has no relevance today. Adding 300 parking stalls won't move the needle much on station ridership and will cost the agency significant capital it should be putting to higher use. Eliminating that from the project scope permanently should be a top priority, and perhaps reallocating funding to plan and construct an inexpensive single-platform Sounder station (estimated to add up to 2,000 daily riders) and siding track or support other Link priorities in Seattle.
Ridership levels are projected to be fairly modest. The agency previously estimated up to 2,500 daily riders at S Graham Street and 2,000 daily riders at S Boeing Access Road. Planning work will invariably update the estimates to better reflect new realities and likely ridership, but the clear thing is these stations won't be high ridership drivers.
These stations may attract critics over their ridership levels, but another source of criticism may come from travel times. Adding in the stations will further slow the average speed of trains, particularly in the very fast elevated segment through the Duwamish Valley. Travel times on the corridor could increase around two or three minutes. But adding these urban stations may be worth the tradeoff, especially in the context that Link is going to be slow and a poor end-to-end regional connector whether or not these stations are built.
For now, Sound Transit is bringing on planning, engineering, and design firm Kimley-Horn, which hired former Seattle Department of Transportation Director Sam Zimbabwe last year. The approved contract will task Kimley-Horn with two phases of work initially, at a cost of $6.7 million. Phase 1 will involve screening options to identify a preferred alternative for each station and is expected to take seven months. Phase 2 will involve environmental review and conceptual engineering up to 10% design and is expected to take nine months. Together, the two phases of work will take about 16 months to complete.
A third phase of work, not covered in the Kimley-Horn contract, would follow to proceed with preliminary engineering. That work is expected to wrap up by the end of 2025, if all goes to plan.
Between Phase 1 and Phase 2, the Sound Transit Board of Directors will choose a preferred alternative for each station to be studied further, so it will be important for community and transit advocates to influence the process right from the start to have a chance in seeing their priorities reflected in the projects.

Stephen is a professional urban planner in Puget Sound with a passion for sustainable, livable, and diverse cities. He is especially interested in how policies, regulations, and programs can promote positive outcomes for communities. With stints in great cities like Bellingham and Cork, Stephen currently lives in Seattle. He primarily covers land use and transportation issues and has been with The Urbanist since 2014.