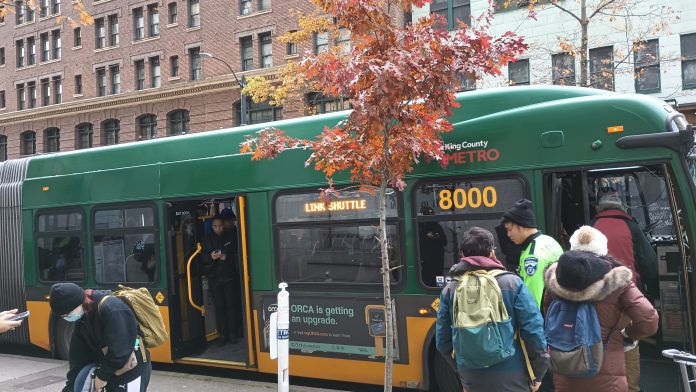 'Future Ready' repairs will disrupt light rail service from January 13 to February 4, but Sound Transit is trying a new strategy to reduce impacts.
Sound Transit plans to move ahead with needed maintenance work in the downtown tunnel early next year. It's one of the last phases of "Future Ready" maintenance and preparation work to be carried out before the Lynnwood Link Extension opens next fall. Worn out rail and obsolete signal boxes will be replaced, but in doing so, the agency will once again reduce Link service for an extended period of time.
Agency staff say that service impacts from the upcoming work are being minimized through an alternative operating strategy. But the service impacts are certain to be painful nonetheless.
Riders are probably familiar with loud grinding sounds on Link's northbound track between University Street and Westlake stations. That track and the concrete it's embedded in will be fully pulled out and replaced to smooth the ride along the 500-foot segment, and reduce wear and tear on vehicles. Less noticeable are about 60 signal boxes tied into tracks throughout the downtown tunnel. Damaged during the period of joint tunnel operations with buses, the signal boxes provide important information for train operations and now need replacing. The agency expected to complete both projects earlier this year, but ultimately delayed the work.
Because of the scope of work planned, Sound Transit is pursuing a mix of single-track operations and full closures of the downtown tunnel over a 24-day period. That will stretch from January 13 to February 4.
Sound Transit's operational strategy is set to look a little different from prior downtown tunnel single-tracking operations. The agency plans to use a two-pronged approach with some through-running tunnel service overlaid upon turn-back service outside of the tunnel. Pamela Wrenn, a Sound Transit operations engineer, detailed how the agency plans to orchestrate it.
"Despite the longer headways, passengers boarding at one end of the system or the other will be able to travel the entire length of the system without transfer," Wrenn said. "Passengers who choose to board the next train regardless of destination, however, may require a transfer in order to travel through."
Frequency for through trips is expected to be about 26-minute headways and save riders on transfer time penalties. But Wrenn suggested that headways could be up to every 30 minutes, which may be a reflection that the agency also promised more optimistic headways in its last maintenance round in the summer and then ended up significantly reducing frequencies.

"On either side of the tunnel, turn-back shuttles will provide service with greater frequency," Wrenn said. "On the north side of the tunnel, service will run between Northgate and University of Washington stations at 13- to 20-minute headways. On the south side of the tunnel, turn-back service also with 13- to 20-minute headways will run between Angle Lake and Stadium stations."
Right now, the agency is touting that combined headways with through-running and turn-back trains will be closer to 13 minutes on the segments between Northgate and University of Washington stations as well as between Stadium and Angle Lake stations. Riders will certainly appreciate frequencies better than 20-minute-plus headways of disruptions past, if it's attainable.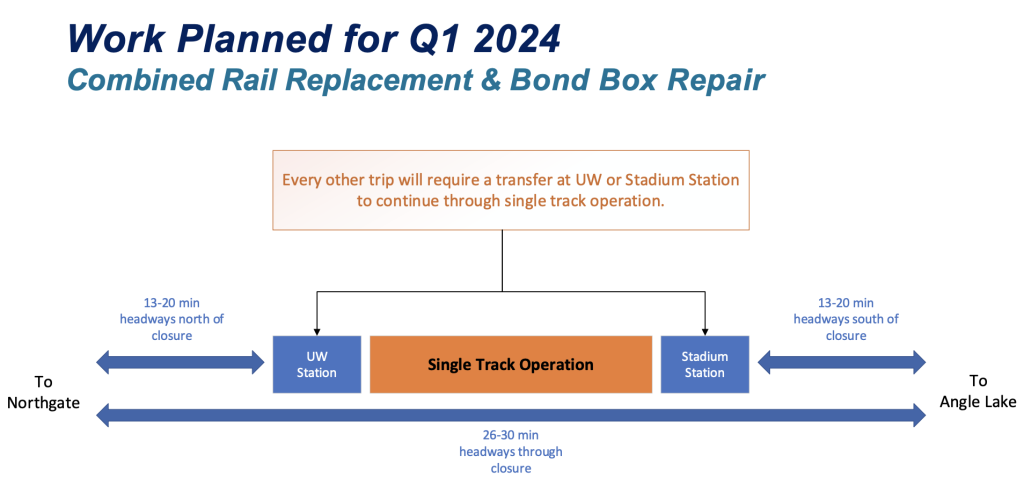 In previous partial tunnel closures, Sound Transit only ran service to a common station for transfers or as a tunnel shuttle train instead of fully through-running trains. So this new approach is an interesting departure from the past, but the overall frequencies are so low that this service strategy could be similarly reviled by riders.
Running trains to schedule will certainly be something many riders hope for so that they can try to trip plan accordingly via apps when needing downtown tunnel and through service. During previous service disruptions for Future Ready work, Sound Transit was not able to provide exact schedules or real-time arrival information due to delays rolling out its passenger information management system (PIMS) overhaul.
Wrenn did mention a technology tie-in that should help make this delicate dance easier on riders. "This work is planned to coincide with a major PIMS update, which will enable the system to display which trains are stopping short to turn back and which will continue through to the end of the system," she said.

On weekends, the full downtown tunnel will close to trains, allowing for broader maintenance activities on both tracks. Sound Transit will also use this closure as an opportunity to do up to five other small tunnel maintenance projects that would require separate closures if not done now.
During the tunnel closures, Sound Transit will operate replacement shuttle bus service between stations without Link service, from SoDo to Capitol Hill stations about every 10 to 15 minutes. Light rail service in the two sections on either side of those closed stations is expected to operate every 15 minutes.
Lower frequencies, curtailed through-running service, and closure of the downtown tunnel are sure to be painful and inconvenient for riders. But Wrenn laid out several reasons why Sound Transit thinks timing of the maintenance work is ideal, all things considered.
"Some benefits of the timing and extent of the service disruption include working during the period of lowest annual ridership, completing all rail replacement and bond box work before Lynnwood [Link] opens in order to minimize the total number of passengers impacted, avoiding home football games and community events, and taking advantage of craft labor on-site to accelerate the work," Wrenn said.
Wrenn did say that the agency and its partners will be engaging about how to improve tunnel maintenance strategies and learning from past planned service disruption events. But what riders can expect once two lines run through the tunnel remains to be seen.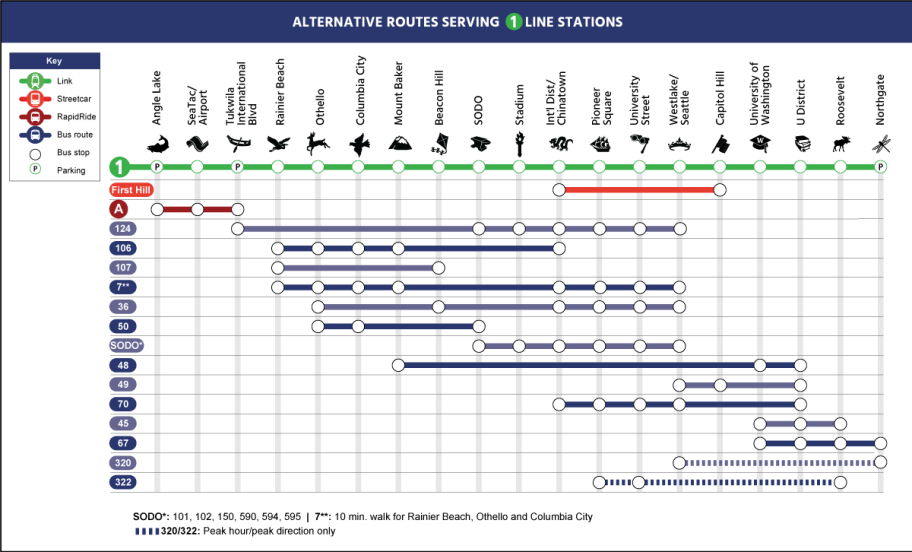 Throughout the service disruption, riders may want to consider alternative bus service between certain destinations. The agency has a handy graphic highlighting those options, which could wind up being faster, especially when the downtown tunnel is fully closed.

Stephen is a professional urban planner in Puget Sound with a passion for sustainable, livable, and diverse cities. He is especially interested in how policies, regulations, and programs can promote positive outcomes for communities. With stints in great cities like Bellingham and Cork, Stephen currently lives in Seattle. He primarily covers land use and transportation issues and has been with The Urbanist since 2014.