Riders are feeling the pain as maintenance work continues to impact Link train frequencies.
Last week, Sound Transit managed only 20-minute frequencies during work to repair sinking tracks in SoDo. That work wrapped on Monday but the agency quickly pivoted to repairing tiles on station platforms at Othello and Rainier Beach — work that is scheduled to last until September 17 and entails single tracking in that section. Despite earlier hopes that 12-minute frequencies would be possible during those repairs, the agency announced late Monday that it is operating at 15-minute frequencies, leading to longer waits for passengers.
"Our Operations team needed to update our headways earlier today across the system to operate the trains every 15 minutes," Abel Pacheco, a community relations director at Sound Transit, said in an email. "Please note the update as my earlier email stated 12 minutes headways. We apologize for any inconvenience this may cause."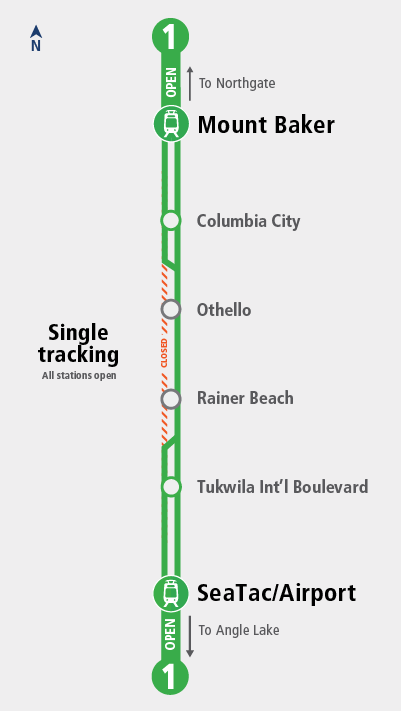 Sound Transit spokesperson John Gallagher attributed the need to the switch to 15-minute frequencies (or headways) on a number of factors slowing trains down from the previously planned 12-minute service during the tile work. Among them is signal timing challenges while trains are single-tracked, particularly in the reverse direction of normal operations.
"There are a series of reasons that combined to make us move to 15 minute headways," Gallagher said in an email. "These include having 10 MPH speeds through auxiliary tracks, having reverse running on MLK with inconsistent signals, and having to request a signal from the traffic signaling system to leave the stations. Add in the construction zones, and we were having a problem maintaining 12 minute headways. For reliability for riders, we've decided to make it clear we're at 15 minute headways, which we can maintain."
Gallagher admitted that all of those factors were known when Sound Transit first set the schedule for the service disruption last month, but the 12-minute frequency schedule the agency thought it could achieve turned out not to be case.
"It was a matter of a series of small delays here and there starting to add up once we moved to this project," Gallagher said. "We're looking for ways to improve the headways, but for now, we're at 15 minutes."
Outside of service disruptions under a normal schedule, Link light rail typically operates at eight-minute frequencies during peak periods and 10-minute frequencies midday and on weekends. Thus, 15-minute headways constitute about half the frequency of normal peak service.
Rider frustrations
Beyond the lesser frequencies, the lack of predictability of just when those reduced headways will line up is also leading to consternation among riders.
"Honestly running trains every 20 minutes without any kind of published schedule is criminal," transit advocate Daniel Heppner said Thursday in a tweet.
Riders also complained of spotty communications making it difficult to ascertain when service disruptions would occur and what exactly they'd entail.
"Hey, @JulieETimm we appreciate you working through the maintenance backlogs, but could there be a website that shows scheduled future service disruptions through 2025? Some of us thought @SoundTransit would resume normal service yesterday after the SoDo work was done. 15 mins=👎," advocacy group Seattle Subway said in a tweet.
Those low frequencies translate into crowding issues at times of high demand. Real Change reporter Guy Oron noted large crowds waiting for trains following the Seahawks preseason game on Sunday, with the added indignity of a double-escalator outage at one station.
Sound Transit is really suffering 😭. Double escalator outages & 20-30 wait times after NFL games pic.twitter.com/TRXRN6paJ2

— Guy Oron (@GuyOron) August 20, 2023
The sinking feeling was greater for some transit advocates since it came on the heels of a July month when Sound Transit smashed ridership records propelled by major events like Taylor Swift's concert series and the MLB All-Star Game. King County Executive Dow Constantine, who also chairs the Sound Transit Board, reported Link ridership exceeded 100,000 on 11 days in July and reached an all-time high of 136,800 on July 23, the second day of Swift's tour.
"Just incredible that we're quietly following up the widely-touted news of a record breaking month of transit ridership with a transit system that is significantly less usable and hoping no one will notice," The Urbanist's reporter and senior editor Ryan Packer tweeted.
A high-riding July giving way to an August speed bump and September swoon is just how it goes for an agency experiencing some growing pains and deferred maintenance issues.
The need for better planning and coordination
Sound Transit faced criticism and pushback after Columbia City tile work in summer 2022 caused major service disruptions that caught riders by surprise. The agency pledged efforts to reduce service disruptions and better communicate plans, which helped lessen the sting for riders for the remainder of 2022 work.
Sound Transit had talked a big game in March as it prepared for its next round of "Future Ready" work, as it brands its maintenance projects — some of which is in preparation of light rail expansions coming in the next few years. At a presentation to the Sound Transit Board, Suraj Shetty, the agency's executive director of operations, pledged a coordinated "passenger care plan" to minimize disruption and confusion.
"For each service disruption, we are planning more lead time for the development of a passenger care plan that serves as a coordinated planning process to enhance passenger experience, navigating service impacts, improve overall communication, reduce confusion, and provide visible resources on our system to help guide passengers on their transit journey," Shetty said.
Given the need to cut service levels midstream both for the SoDo repairs and Rainier Valley tile work, it's not clear that advanced planning and coordination hit the mark. To effectively communicate service disruption plans to riders, the first step is making an initial plan that actually works in practice.
Author's note: We will keep monitoring the issue and update this story if Sound Transit is able to improve upon its 15-minute frequencies before tile work is slated to wrap up on September 17.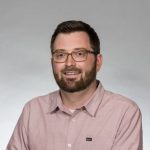 Doug Trumm is publisher of The Urbanist. An Urbanist writer since 2015, he dreams of pedestrianizing streets, blanketing the city in bus lanes, and unleashing a mass timber building spree to end the affordable housing shortage and avert our coming climate catastrophe. He graduated from the Evans School of Public Policy and Governance at the University of Washington in 2019. He lives in East Fremont and loves to explore the city on his bike.