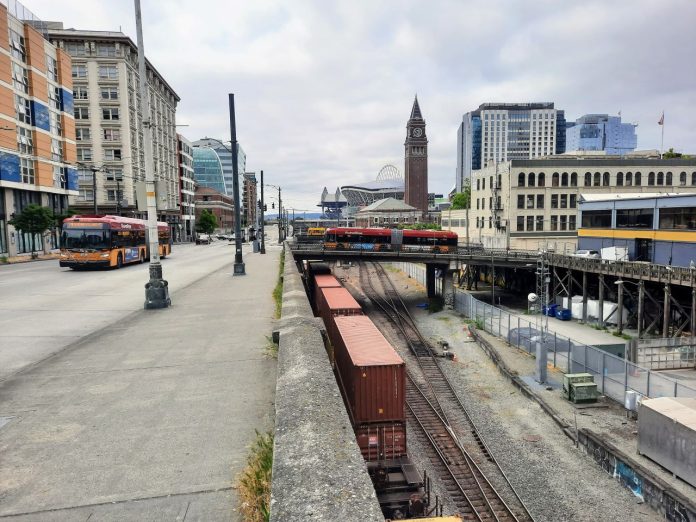 Speak out as the Sound Transit Board prepares to make a generational mistake and skip Chinatown with its new downtown light rail tunnel.
Sound Transit is on the precipice of making decisions that will waste your time, over and over again, forever. In the spirit of setting a better example of how to not waste people's time, we are going to get straight into just how bad the option of constructing the North of and South of Chinatown International District (CID) stations is for riders, and what you can do to help prevent this huge mistake. Seattle Subway volunteers have been working hard to literally walk you through the impacts of the impending choice, so please watch the excellent videos they put together. It will bring them a spark of happiness in these trying times for transit.
For those of you who don't have time to open the videos, here's a quick run down of the shortest walks between proposed station entrances:
Transfer time from the Eastside to South Seattle Link (to Rainier Valley, airport, etc.) via the current International District Station.
South of CID: 8 Minutes and 21 Seconds
4th Avenue: 1 Minute and 3 Seconds
Transfer time from Sounder/Amtrak to Ballard Link (including South Lake Union, Seattle Center, etc.)
North of CID: 11 Minutes and 52 Seconds
4th Avenue: 15 Seconds
The transfer times the North/South of CID station options force on riders are simply too long. These unvetted but obvious bad stations will suppress transit ridership and treat people who don't have other options like they don't matter. Alternatively, transfers as good as a transit hub station on 4th Avenue can make the whole system shine. We are faced with choosing between building the best connected transit hub west of Chicago and north of San Francisco, or totally blowing it because well-connected developers seem to matter more than equity for transit riders and respecting transit riders' time.
Please join us in testifying to the Sound Transit Board today to save the CID station as an essential transit hub, save Midtown Station and its critical connection to First Hill, and save SLU station from deletion entirely.
It's also not too late to join the thousands of people who have sent a letter to the Sound Transit Board and Seattle City Council demanding that they stop the endless planning cycle and deliver the system that we voted for. Don't worry, we have already started the letter for you so you don't have to grapple with writer's block.
Details
Now let's dig into the details on these transfers. It will come as no surprise to anyone following Sound Transit 3 (ST3) planning that we think the option to construct North/South of CID stations proposed by County Executive Dow Constantine and Mayor Bruce Harrell is bad for transit riders. We can say that and trot out a long list of reasons, but it occurs to us that nothing will make our point quite so well as showing you why we're so bothered.
We teamed up with our partners in the CID, Transit Equity for All, and walked some of the common transfers that people will have to deal with if the North/South of CID option is ultimately selected by the Sound Transit Board and built. We then walked the comparable transfer if the station is under 4th in CID, where it should be. We made videos, so you don't have to walk them yourself (hopefully).
These two video examples are by no means a comprehensive list of issues with the North/South of CID option. We didn't get to it, but riders trying to connect from the Rainier Valley and points south to CID or to Lumen Field might be surprised to learn their once direct connection is gone. The North/South of CID also means deleting the Midtown Station which Sound Transit's own planners have identified as the highest ridership non-transfer station in the system.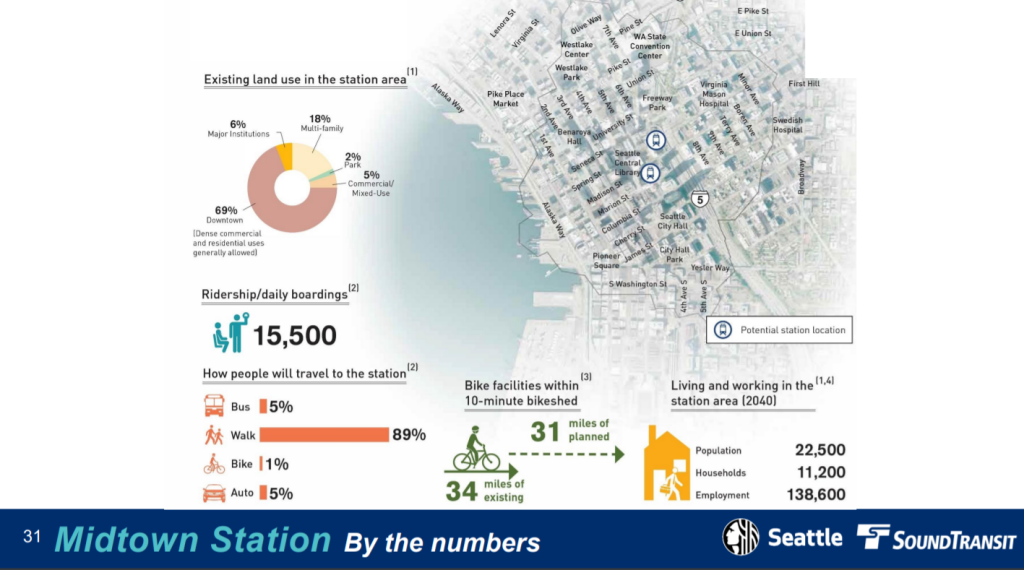 In each of the scenarios, we walked what is likely the fastest and most direct route. An alternate option to either double transfer for a short trip or backtrack after transferring in either Pioneer Square or SoDo will also be available. All these alternatives require waiting for extra trains, traveling extra stops, or a too deep and still not-that-close transfer between Pioneer Square and the proposed North of CID station. We can't show you those because they don't exist yet, but we can confidently say the transfer will be much worse than if the 4th Avenue in CID station is constructed.
We also can't show you waiting for the train or getting to the platform, so we've left platforms completely out of our videos, even the ones we could have shown. The times we're giving are therefore meaningfully shorter than how long it would actually take to transfer. These are pretty much minimum transfer times for able-bodied people.
Walk-through videos
The first video shows what a transfer from the Eastside (which includes Judkins Park in Seattle) will look like if someone wants to travel to points south on the current 1 line (future 3 line) such as the Rainier Valley or the airport.
Now let's look at what the same transfer would look like with a station on 4th:
Next, let's see what a transfer from Amtrak or Sounder heading north to high volume destinations like South Lake Union, Seattle Center, and Ballard will look like if we skip a CID Station.
And the same transfer with a transit hub on 4th Avenue:
Take action
Wasting time out of every rider's life because certain people on the Sound Transit Board want to do some sort of grandiose land deal is unacceptable. Voters did not direct Sound Transit to make Dow's development dreams come true, they voted for a world-class transit system with stations in CID, in Midtown, and in South Lake Union. Please speak up and help us make them do their jobs.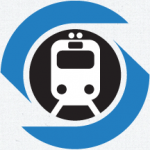 Seattle Subway is an all-volunteer, grassroots organization dedicated to promoting high quality transit for Seattle and the Puget Sound Region on the fastest possible timeline.