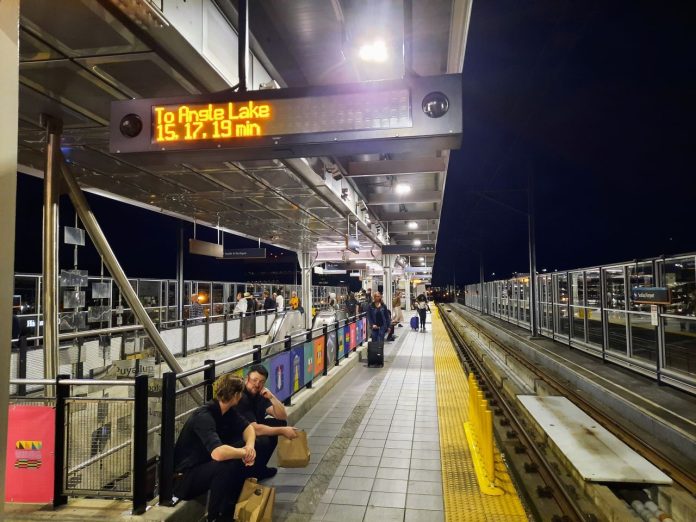 It's looking like an October launch for real-time Link arrivals — after a hectic month of maintenance-related service disruptions.
One lament Link light rail riders have long had is the lack of real-time arrival information for trains. This lack is felt most acutely during service disruptions that lessen frequencies, like Sound Transit is in the midst of right now with "Future Ready" work in the Rainier Valley. Arrival information took a hit during the disruption since Sound Transit has not published an exact schedule during the revision and transit apps, which many riders rely on under normal circumstances, stopped displaying reliable estimates of next arrivals. While help is on the way, it won't be in time for riders waiting it out through this current batch of maintenance work.
Sound Transit does have a project in the works that should finally provide real-time arrival information on display screens in light rail stations and online, dubbed the "Passenger Information Management System" or PIMS. The Urbanist outlined the agency's soft launch of the PIMS program in May. That soft launch turned up some kinks and glitches, such as skipping the most immediate arrival times and instead listing ones farther into the future. As a result, the agency eventually turned off display screens in stations so as not to confuse riders.
While a project website had raised hopes that PIMS would go live in light rail stations by August, Sound Transit spokesperson John Gallagher confirmed in an email that the rollout would be delayed, and the website now says that September 30 would be earliest for real-time arrival screens to display accurate trip data at Link stations.
"We won't have real-time arrival information during the current disruption," Gallagher said. "We turned it off during PIMS testing because a previous code release in mid-July prevented the next several trains from displaying on wayside signage, and what would display was the next train coming in 30 minutes, 38 minutes, 46 minutes, etc. despite the fact that there were actually three trains arriving prior to that 30-minute mark. We made a decision to turn off arrival predictions until a fix could be implemented."
The agency does hope to have a fix soon.
"Another code release occurred on August 15 and early indications are that this problem was resolved, but we're not going to resume testing until the current single tracking is completed in mid-September," Gallagher said. "We expect to be able to turn back on arrival predictions shortly after the single-tracking is completed next month."
While the imminent arrival of real-time information is good news, many riders were quick to point out that such information would have been ideal to have during the current service disruption that is cutting into frequencies. Sound Transit is promising only 15-minute frequencies during the Rainier Valley station tile work that is scheduled to last until September 17, and that makes light rail hard to rely on when no reliable schedule or real-time arrival information is available. It's often a miserable experience for riders, who see longer waits and more crowding.
Today was my first time on Link in a while and, wow…the glacial headways combined with the utter lack of passenger information. It didn't feel like an urban metro system. https://t.co/w6KKuzvHsE

— Qagggy! (@Qagggy) August 29, 2023
"Today was my first time on Link in a while and, wow… the glacial headways combined with the utter lack of passenger information. It didn't feel like an urban metro system," tweeted Mark Ostrow (@qagggy), who is a safe streets advocate and boardmember at Seattle Neighborhood Greenways.
Additionally, a track signal malfunction this Tuesday led the agency to reduce headways further to every 30 minutes, which precipitated even more frustration from riders during the afternoon rush hour. Luckily, the agency was able to repair the signal and switch by Tuesday evening.
The switch malfunction and signal issues highlighted yet another upkeep and improvement project that Sound Transit should embark on. The lack of two-way signals and temporary California switches so trains can run efficiently in the opposite direction outside of normal operations were a big reason Sound Transit couldn't meet its initial pledge of 12-minute headways during this current round of maintenance work. This seems like an easy problem to fix with some foresight and investment.
Moreover, periods of reduced frequencies are precisely when real-time arrival information is most crucial. When Link is at its normal peak headways of every eight minutes, riders can miss a train with less pain. But at 15-minute frequencies, it becomes a serious nuisance, and, at 30-minute frequencies, nearly untenable. Most people just will not wait that long with no assurances of when the train will come.
Once real-time arrival information is up and running, service disruptions will be easier to weather for riders, who could then time their trips to when trains are actually due rather than just guessing and hoping for the best. Unfortunately, that will have to wait for the next scheduled maintenance work since Sound Transit was not able to roll it out before this round of Future Ready work.
In his soft launch preview, Fesler described how comprehensive and effective the PIMS technology ultimately could be.
"[PIMS] is an integrated suite of communications systems that will provide digital rider information across multiple mediums. These include Sound Transit's website, social media, public transit data feeds (known as General Transit Feed Specification or GTFS), personal mobile devices (e.g., apps and text messages), and smart kiosks, in addition to signs and speakers at stations and onboard transit vehicles. PIMS will be able to provide riders with all kinds of detailed information, such as predictive next trip arrival times, service alerts, and vertical conveyance outages. The technology is supposed to be flexible and, in time, could involve implementation of additional features and connect to new data sources."
Fesler also noted how behind schedule the project is, with a soft launch originally scheduled in 2022: "The slow PIMS rollout has been a big black-eye for Sound Transit, especially given that the agency has made multiple promises to deliver and then failed to do so. With Link running so infrequently and transit service in the region faltering in the post-pandemic era, not having accurate real-time information for trains seems an indignity and has invited criticism and stoked rider frustrations."
Sound Transit is promising big things when the repeatedly-delayed PIMS project does arrive.
"What we are building here is not just an off-the-shelf product, but a system we design to meet the needs of our passengers," said David Ginsberg, Sound Transit's head of information technology, at an agency meeting in May. "It will be among the most advanced and capable passenger systems in the Americas."
Until then, riders will mostly be in the dark.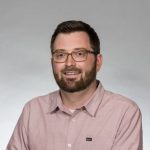 Doug Trumm is publisher of The Urbanist. An Urbanist writer since 2015, he dreams of pedestrianizing streets, blanketing the city in bus lanes, and unleashing a mass timber building spree to end the affordable housing shortage and avert our coming climate catastrophe. He graduated from the Evans School of Public Policy and Governance at the University of Washington in 2019. He lives in East Fremont and loves to explore the city on his bike.