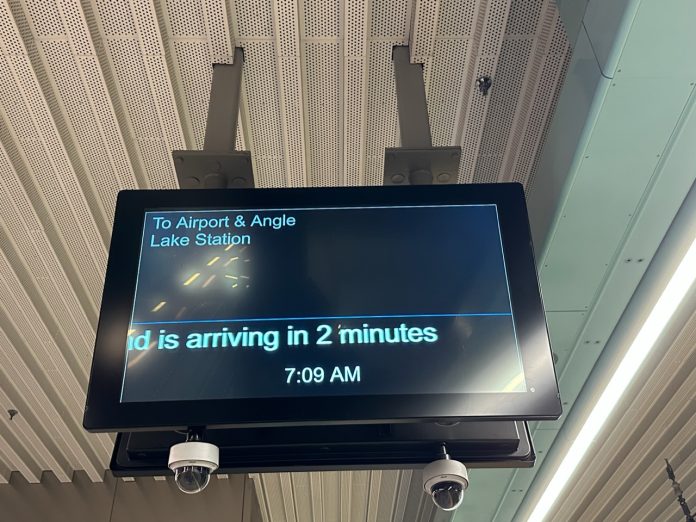 Real-time arrival information may be coming to Link light rail in the next month or so, sorta. Sound Transit has begun testing of a new system at Link stations as a first step to wider implementation of digital information technology to all rail stations and vehicles.
Known as the Passenger Information Management System (PIMS), the technology is an integrated suite of communications systems that will provide digital rider information across multiple mediums. These include Sound Transit's website, social media, public transit data feeds (known as General Transit Feed Specification or GTFS), personal mobile devices (e.g., apps and text messages), and smart kiosks in addition to signs and speakers at stations and onboard transit vehicles. PIMS will be able to provide riders with all kinds of detailed information, such as predictive next trip arrival times, service alerts, and vertical conveyance outages. The technology is supposed to be flexible and, in time, could involve implementation of additional features and connect to new data sources.
"What we are building here is not just an off-the-shelf product, but a system we design to meet the needs of our passengers," said David Ginsberg, Sound Transit's head of information technology, at an agency meeting this month. "It will be among the most advanced and capable passenger systems in the Americas."
Deployment of the system has been mired in one delay after another, but Ginsberg chalked that up to behind-the-scenes design and engineering work. PIMS was originally supposed to soft launch in 2022 and be fully operational this year.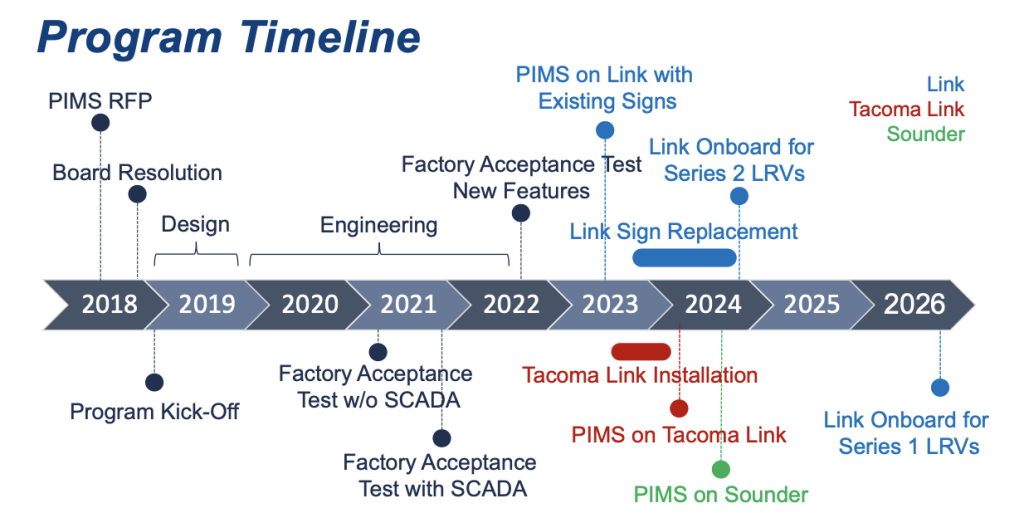 While Sound Transit's targets for implementation have shifted backward by multiple years for full PIMS deployment, riders will begin to see the system bear some fruit very soon. Deployment of the system, however, will look very different for Link, Tacoma Link, and Sounder.
The first phase of implementation will be predictive Link 1 Line arrival times via existing digital screens at stations and mobile apps that are powered by GTFS. That should be coming online in the next month or so. More features are ahead, but Ginsberg cautioned that the more sophisticated PIMS technology will come later and is tied to the East Link starter line schedule.
"New capabilities will be introduced towards the end of summer, including integration with our rider alerts system," Ginsberg said. "Toward the end of the year, you will begin to see our new signs getting installed on the 1 Line, starting with the segment south of the Downtown Seattle Transit Tunnel and moving north over the course of the year."
New signs have already been installed at all new East Link stations, so if the line opens early they will be usable and won't require further replacement.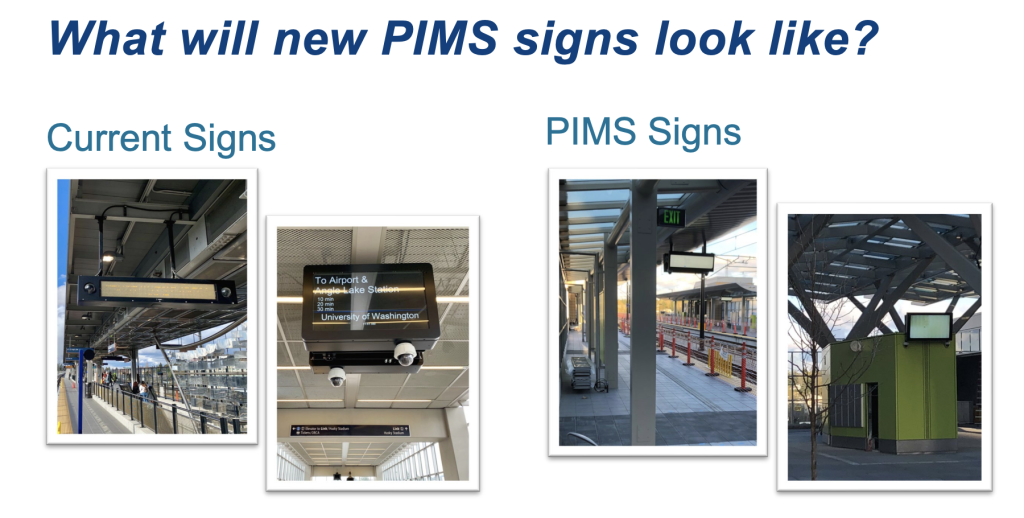 Other PIMS advancements will depend upon replacement of digital signs and screens onboard Link vehicles. The agency plans to pivot to replacing those screens and signs in the latter part of 2024 with the Series 2 (Siemens) vehicles followed by the Series 1 (Kinkisharyo) vehicles in late 2026. Replacing the signs and screens will allow "incorporation of GPS data, which will further enhance the accuracy of arrival predictions, as well as the ability to send messages directly to onboard signs," Ginsberg said.
For Tacoma Link (a.k.a. the T Line streetcar), Ginsberg said design for PIMS on the line is complete, but that engineering work will start this summer. In the coming months, the agency will also begin installation of additional digital screens — new stations on the Hilltop extension already have had screens installed. Formal activation of the system on the service is anticipated early next year.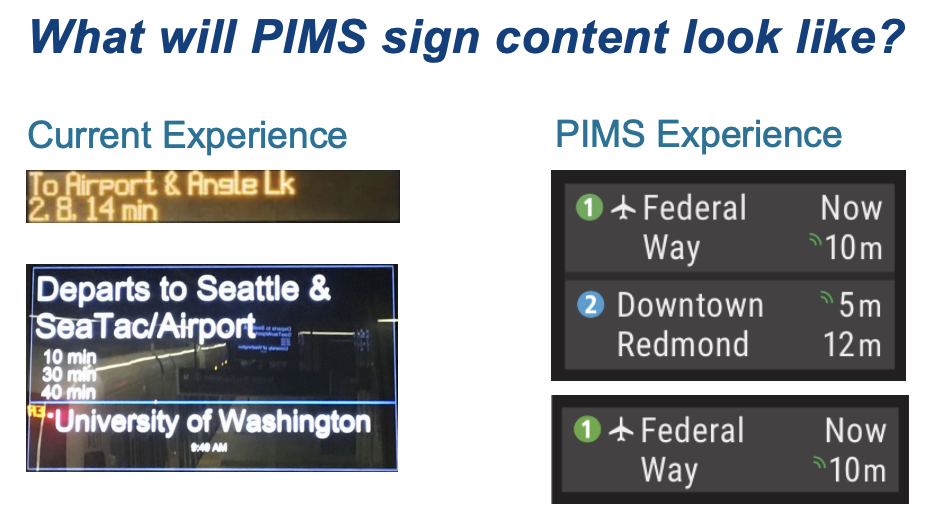 As for Sounder commuter rail, design work for PIMS is already completed but engineering and installation will come in waves. Digital screens are already being installed on vehicles, and the installation at stations will come this fall. The installation process is expected to wrap up before next summer and full activation could come later next year.
Ultimately, this all means that full implementation of PIMS on rail services won't be completed for another three to four years, but the bulk of the most important aspects of PIMS should be fully deployed by late 2024. However, there will be other implementation pieces to the PIMS program in the years ahead.
The agency does intend to roll the system out on the future Stride bus rapid transit network. Stride lines are slated to open in 2027 and 2028, so digital screens will need to be installed at station platforms and possibly onboard. Sound Transit's PIMS contract also suggests that the technology could be integrated with its parking management system. John Gallagher, an agency spokesperson, told The Urbanist that "delivering signage for parking is… not in scope for the PIMS program, though building the capability to support parking signage is in scope." Gallagher added that if the agency did pursue parking signage, it could tie into PIMS and that "envisioned possible uses include listing upcoming arrival times."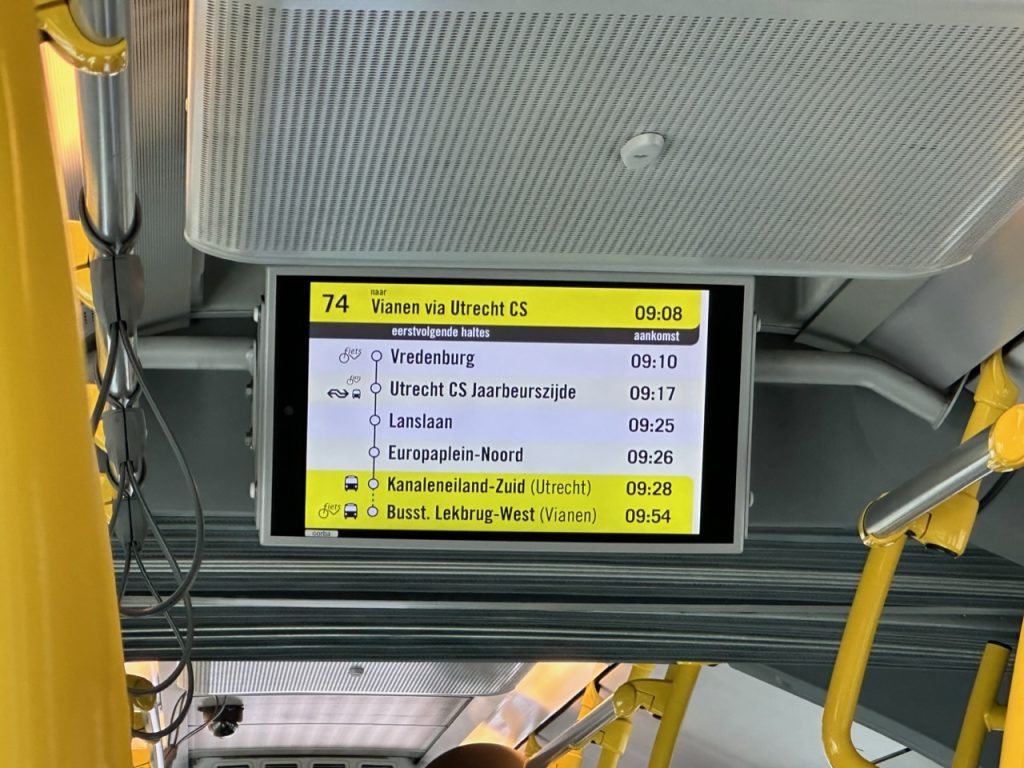 As for ST Express, PIMS serving the bus service brand is not in the project scope.
"The cost of outfitting a large fleet of buses and the impermanent nature of bus stops makes them challenging candidates for the technology," Gallagher said.
However, better onboard stop and connection information that PIMS-powered screens could provide would be a big step up from the single LED dot matrix next stop names that are offered today. Partner transit agency King County Metro is also installing digital information screens at select bus stops, so whether or not there is an opportunity to collaborate there, too, is an open question.
All in all, the slow PIMS rollout has been a big black-eye for Sound Transit, especially given that the agency has made multiple promises to deliver and then failed to do so. With Link running so infrequently and transit service in the region faltering in the post-pandemic era, not having accurate real-time information for trains seems an indignity and has invited criticism and stoked rider frustrations. And it's easy to understand why: Entire regional and national transit systems across the globe have had robust, modern, and operable real-time arrival services for many years. Sound Transit's inability to deliver such a basic transit feature quickly and competently feels, to many, inexplicable.
But if the agency can deliver on the first pieces of PIMS soon, it will likely buy some goodwill with transit riders who want good news and an improved rider experience.

Stephen is a professional urban planner in Puget Sound with a passion for sustainable, livable, and diverse cities. He is especially interested in how policies, regulations, and programs can promote positive outcomes for communities. With stints in great cities like Bellingham and Cork, Stephen currently lives in Seattle. He primarily covers land use and transportation issues and has been with The Urbanist since 2014.