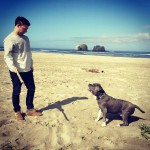 Caelen is a third generation son of Ballard. When he was in high school, his parents moved the family out to beautiful Bainbridge Island where he found himself missing urban life--homesickness for Seattle continued on into his college pursuits. Classically trained in structural engineering with an emphasis in earthquake design, he loves steel, glass, and concrete. He primarily writes about Ballard land use (hopefully home to future TOD) and Sound Transit packages, both emphasizing long-range planning.
If you're interested in the history of Ballard's development, be sure to check out "Ballard: A Walk Through Time" this coming Saturday (March 14th). Caelen Ball, Neighborhood Advocate and contributor to The Urbanist, will be giving a tour starting at the bottom of Ballard Avenue guiding attendees from Ballard's...
https://www.youtube.com/watch?v=MAyzqMhd2i4 It's the NFC Championship fellow Urbanists! I'm sure you've all noticed that the Town has been electric since Thanksgiving when the Hawks started their current 7 game win playoff run. The Green Bay Packers are guests in our house at 12:05 PM today and it's going to be a...
Image: Preliminary schematic of a Market Street and 17th Avenue subway station (Sound Transit's Corridor D) in Central Ballard. Just a reminder that this Thursday (November 6th), the City of Seattle's Department of Planning and Development (DPD) will present their initial strategies to better guide development in the Ballard core. Their...
The mini-neighborhoods that make up Greater Ballard (Central, Adams, Sunset Hill, Loyal Heights, Whittier Heights, and West Woodland) together form an incredible place. Ballard is a neighborhood with beautiful people, parks, markets, restaurants, night life, and supreme views of the Puget Sound and Olympic Mountains. So it's no surprise that...
The NC3-85 and NC3-125 zoning designations (Neighborhood Commercial 3, 85-foot/125-foot height limits) are used extensively throughout Seattle. Ostensibly, the goal of NC3 zoning is to create large, pedestrian-oriented, mixed-use commercial districts. But in fact, these two designations are limiting Seattle's ability to develop, while presenting the illusion that the city has more available building...
Ambitious training--Sound Transit is doing just that and in spades. With the unfurling of the Draft Supplemental Environmental Impact Statement (DSEIS) last week, ST's leadership has given us urban/transit nerds a taste of what may be proposed in a future ST3 package. 2005 Current Plan Alternative To the right, we see...
NW Seattle Residents Prefer Tunnels The Ballard to Downtown High Capacity Transit Study results are in: people that attended meetings and provided digital feedback want Option D! The public identified Corridor D as its favorite corridor with a commanding 76% of the votes. Like the Denver Broncos' 8 points in Super...
Editor's Note: King County 2030 is a series analyzing King County's future through the lens of growth targets for the County's Metro and Core cities. Topics in the series include: density, sprawl, apportionment of jobs and housing, traffic patterns, greenhouse gas emissions, and more. For other articles in the...