Natalie Bicknell Argerious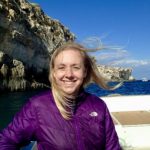 Natalie Bicknell Argerious (she/her) is Managing Editor at The Urbanist. A passionate urban explorer since childhood, she loves learning how to make cities more inclusive, vibrant, and environmentally resilient. You can often find her wandering around Seattle's Central District and Capitol Hill with her dogs and cat. Email her at natalie [at] theurbanist [dot] org.
After months of grassroots effort and volunteer engagement, The Central Hills Triangle Collaborative (CHTC) will present its conceptual designs for lidding I-5 in central Seattle tonight (October 3) at 5:30 PM, at Melrose Market Studios. The event is free and open to the public. RSVP here. The lid designs are the...
Documentary filmmaker and UW Bothell professor Minda Martin was a recent arrival to Seattle when she first stumbled by accident on the Ramps to Nowhere during a walk through the Washington Park Arboretum. "My dog always pulled me into places that I wouldn't explore otherwise and she pulled me into...
"Displaced: Design For Inclusive Cities" Contest Winners Envision Cities That Welcome, Support, And Empower Refugees and Migrants Despite the Trump administration's recent decision to reduce US refugee resettlement numbers to the lowest level since the program began in 1980, we are currently witnessing the highest levels of forcibly displaced people...
At a recent presentation by Shift Zero, a zero net carbon building alliance, mention of Initiative 1631 stirred excitement among the green building professionals in the room. Initiative 1631, otherwise known as the Carbon Pollution Fee, will be on the ballot this November. If Initiative 1631 succeeds, it will be the...
The Seattle Design Festival, sponsored by Design in Public, is moving into its first full week of events, including many related to urban design, architecture, sustainability, and social equity. The entire festival runs until September 23rd, with events occurring at different locations throughout the city. Founded in 2011, each year...
A proposed development in the Central Area demonstrates why Seattle's micro-housing of the present does not offer the affordability of the past. At 159 12th Avenue, plans are moving forward to transform a steep overgrown lot littered with trash into Sound Flats, a seven-story, 78-unit mixed-use building, with a generous...
Within a year, 1,400 new housing units will come online in First Hill, which is already one of Seattle's densest neighborhoods, as well as a major employment center that continues to add more workers and jobs. Since the chances for the expansion of light rail into First Hill appear...
Pioneer Square has the most to potentially lose--but also gain--from the connection of Seattle's downtown streetcar lines. During her daily commute into Pioneer Square on Link light rail, Lauren Davis, who is assistant director of ArtXchange Gallery, noticed a change in ridership after the completion of the Capitol Hill and...