Natalie Bicknell Argerious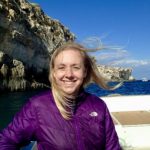 Natalie Bicknell Argerious (she/her) is Managing Editor at The Urbanist. A passionate urban explorer since childhood, she loves learning how to make cities more inclusive, vibrant, and environmentally resilient. You can often find her wandering around Seattle's Central District and Capitol Hill with her dogs and cat. Email her at natalie [at] theurbanist [dot] org.
Pioneer Square has the most to potentially lose--but also gain--from the connection of Seattle's downtown streetcar lines. During her daily commute into Pioneer Square on Link light rail, Lauren Davis, who is assistant director of ArtXchange Gallery, noticed a change in ridership after the completion of the Capitol Hill and...
Former Seattle city council member, Nick Licata is holding a salon on Design and Citizen Activism on August 8th with UW Professor Karen Cheng. Licata, who served five terms on the city council, has published a book called Becoming a Citizen Activist. I met up with him at Café...
This is the second part of a two-part series. The first part is here. When we live in an environment which is dominated by ideas and actions that are contrary to our well-being, then we have to design spaces and places that are conducive to and promote our well-being. --Wyking...
A year has passed since Africatown Community Land Trust acquired a twenty percent ownership stake of the land parcel at 23rd and Union in the Central District, and during this time Africatown has been busy designing its future. Fundamental to Africatown's design approach is the creation and facilitation of...
Despite having origins in practices that contributed to segregation and exclusion, community resident preference policy has recently become a rallying cry amongst residents of high displacement communities in Seattle and the nonprofit organizations who advocate for them. At its heart, community resident preference policy aspires toward achieving a goal...
At 6525 Ellis Avenue in Georgetown a typical summer block party is in full swing. The street, closed to traffic, bustles with people standing in the shade of tents and leafy trees. A barbecue grill sizzles with hot dogs and hamburger patties. Children chase past, glistening with sunscreen and...
One year after the passage of Mandatory Housing Affordability (MHA) rezones in the Chinatown-International District (CID) neighborhood, the community is contemplating its difficult present and striving to preserve hope for its future. As the crisis of housing affordability continues to escalate across Seattle, displacement is no longer a concern reserved...
This July a packed events schedule in the Chinatown/International District provides extra incentive to become better acquainted with this historic neighborhood's evolving streetscape. Home to numerous small businesses and unique cultural and historic landmarks, the CID is one of Seattle's most invigorating neighborhoods to explore on foot. "The neighborhood...