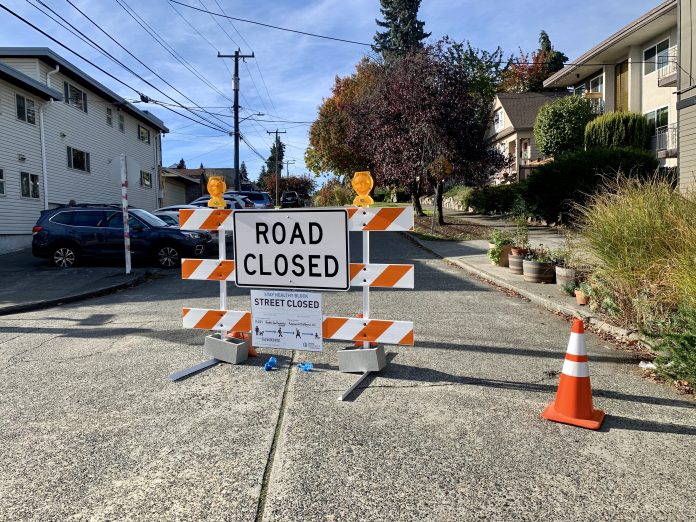 The future of the pilot, which relies on community sponsorship to open residential streets to pedestrians and cyclists, remains uncertain beyond the end of the November.
Twenty years ago, when Sheila Cloney moved from walkable Capitol Hill to steep-sloped Phinney Ridge an unpleasant surprise awaited her. Despite being situated on a residential street, traffic whizzed past her home at all hours of the day, often at speeds exceeding the speed limit. It didn't take long for Cloney to realize that N 73rd Street was a residential street in name only, a discovery which launched years of community organizing through a group called Restore Our Residential Streets (RORS), which advocates for traffic calming measures for residential streets in Seattle.
As part of this effort, RORS convinced the City to install speed bumps along N/NW 73rd Street. However, the Ballard construction boom and rise of ridehailing apps like Uber and Lyft led to an increase in traffic onto the street that effectively negated the traffic calming effects of the measures taken. According to Cloney, in 2018, about 18,000 vehicle trips took place daily on N/NW 73rd St. Cloney believes the number of vehicle trips should be closer to 500.
I went out recently to assess the situation myself at N/NW 73rd Street recently on the same day that RORS celebrated a major victory: the inauguration neighborhood sponsored Stay Healthy Blocks that extend for about mile on one of the busiest stretches of N/NW 73rd St. While standing at the corner of Linden Avenue N and N 73rd Street, it didn't take long for me to observe a succession of drivers prepare to turn onto N 73rd St and then halt and reroute at the sight of the barriers marked with "do not enter" signs. My husband, who decided to walk our dogs further up the hill, later recounted to me how he watched a man storm out of his house and scream at a driver who had plowed past a barrier at full speed. Our visit to N/NW 73rd Street may have been short, but it conformed perfectly to the narrative of a residential neighborhood embattled by traffic that Cloney had described to me.
According to Clara Cantor and Jenn Charoni of Seattle Neighborhood Greenways (SNG), many of the neighborhood groups seeking SNG's assistance in obtaining Stay Healthy Block permits have, like RORS, been organizing for traffic calming measures on their streets for a long time. There are also newcomers who are delighted to have new a means by which they can make their neighborhood safer for people of all ages and abilities to walk, bike, and roll.
Demand for Stay Healthy Blocks permits has been high. "After the roll out of the Stay Healthy Streets, we had tons of people reach out to us saying, 'I want one,'" said Cantor, who works as a community organizer for SNG. "SDOT has been overwhelmed–they've been doing so much. So they created the Stay Healthy Block pilot to give people the chance to create their own."
Cloney actually first learned of the Stay Healthy Block pilot after realizing that a Stay Healthy Street effectively terminated near her street. "I was devastated," said Cloney, who immediately after her discovery began working to figure out how to bring similar traffic calming changes to N/NW 73rd St. Enter SNG, who Cloney describes as a "fantastic group who are very helpful and understand the problem."
While some might expect that disagreements among neighbors could arise around the implementation of a Stay Healthy Block, Cantor and Charoni said there have been no reports of strife from the groups they've partnered with. The fact that traffic remains open to local-access seems to be a big selling point–in general many Seattleites seem thrilled at the idea of limiting outside traffic on their residential streets to make them safer for people.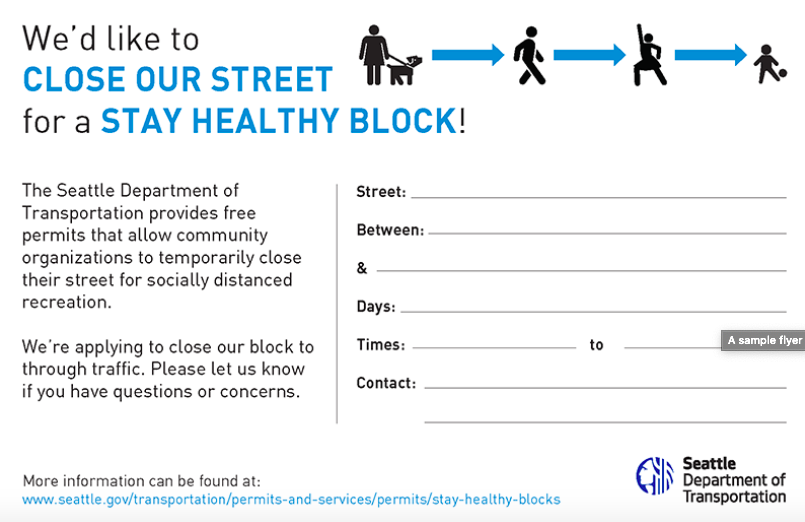 What exactly is a Stay Healthy Block?
As of right now, you might be thinking that the term "Stay Healthy Block" sounds awfully familiar, but the details around the pilot remain fuzzy. It can be tough to immediately identify what makes the Stay Healthy Block pilot different from similarly named initiative from the Seattle Department of Transportation (SDOT) like Stay Healthy Streets or Keep Moving Streets.
The signature element of Seattle's Stay Healthy Block pilot is that it relies on community sponsorship. More than a dozen neighborhood groups applied to SDOT for permits to install barriers and signage that open up their residential streets to pedestrians and cyclists via the Stay Healthy Block pilot.
Seattle residents seeking to create a Stay Healthy Block need to petition SDOT for a permit, distribute flyers or emails that notify other nearby residents of the planned traffic changes, and install and maintain barriers and signage. The length and duration of the Stay Health Blocks has varied–some community groups have chosen to apply for permits that last for a single night, while others like Cloney's RORS plan to maintain their Stay Health Block for as long as the program will allow. The initial evaluation period for the Stay Healthy Blocks program is slated to end on November 30th; however, the program has already been extended once by SDOT and advocates like Cloney are hopeful that it may be extended again, perhaps one day even becoming a permanent addition to Seattle's traffic calming tactics like Stay Healthy Streets. (Mayor Jenny Durkan declared the Stay Healthy Streets designation as permanent back in May.)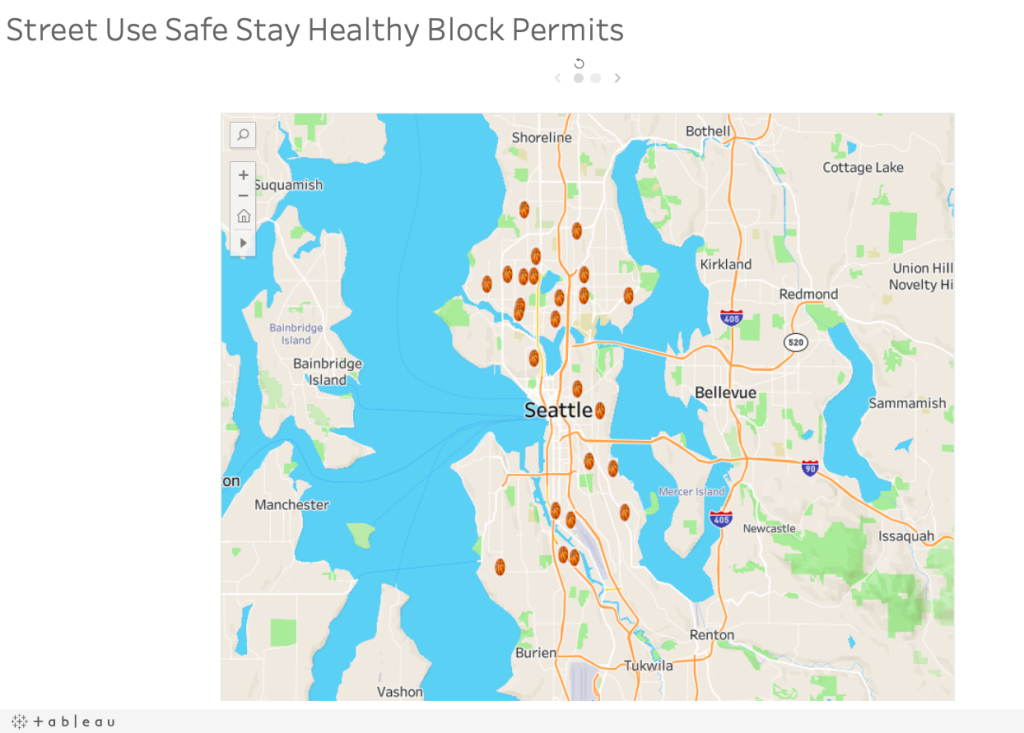 Winter blues for Seattleites who want to open more streets to people
Seattle has a long history of opening some streets to pedestrians and cyclists for limited periods during the summer months, but the situation changes once the temperature drop and the days get shorter. However, just as the Covid epidemic has led to an increase in repurposing of public right of way, it has also heightened questions around the wisdom of approaching how we use streets in a seasonal perspective. The Urbanist, for example, has endorsed Seattle Neighborhood Greenway's petition to permanently open segments of Lake Washington Boulevard to people who walk, bike, and roll year-round. Residents of West Seattle have created a petition calling for SDOT to make Alki Point, which was designated as a Keep Moving Street, permanently designated as a Stay Healthy Street as well.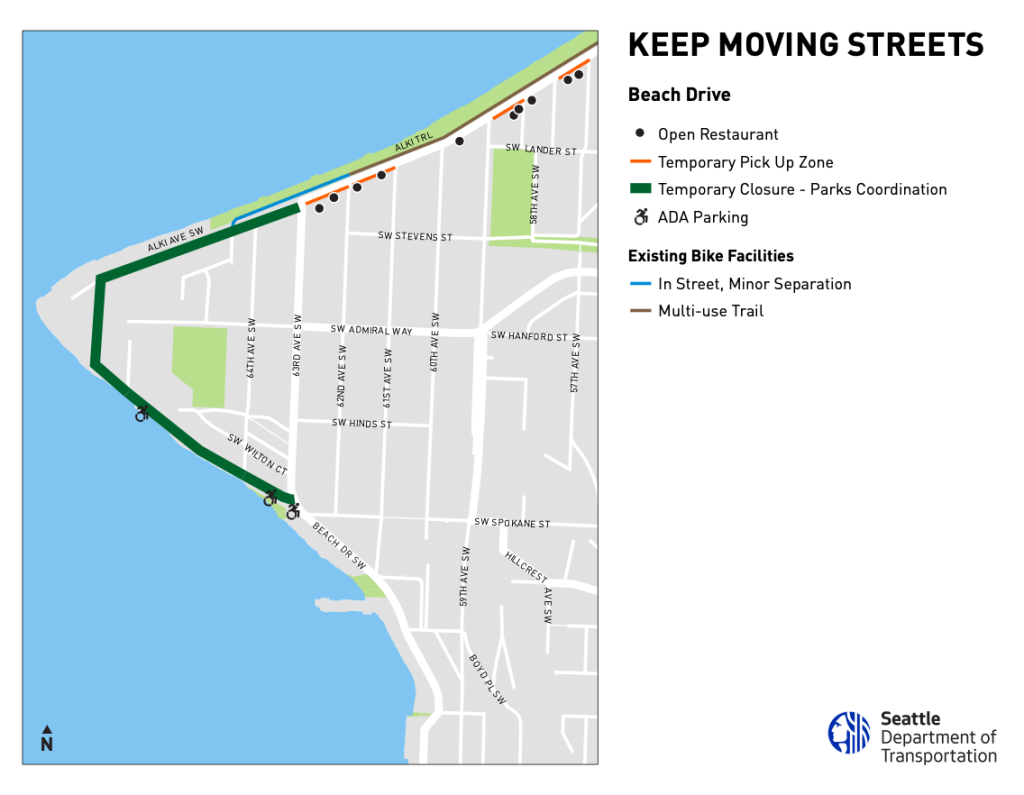 As with the Stay Healthy Blocks pilot, uncertainty also lingers over SDOT's popular Cafe Streets pilot, which has allowed for businesses to apply for temporary permits to use public right of way for outdoor dining and retail. Even as winter approaches, demand for these outdoor dining spaces remains high—and will likely increase given Governor Jay Inslee's declaration of new restrictions to curb the spread of COVID-19, which includes a 30-day ban on indoor dining. The old "wisdom" of shutting things down for winter becomes harder and harder to defend.
But Seattle's decision to focus on opening streets to pedestrians and cyclists during summer months has always been questionable. For one thing, making the changes seasonal emphasizes the recreational aspect of walking, biking, and rolling and continues a narrative in which active transportation is downplayed or outright ignored as a vital part of our urban transportation system. Continuing the Stay Healthy Blocks pilot during the winter months would recognize an important fact—people need their residential streets to be safe for active transportation all year round.
Support Streets for People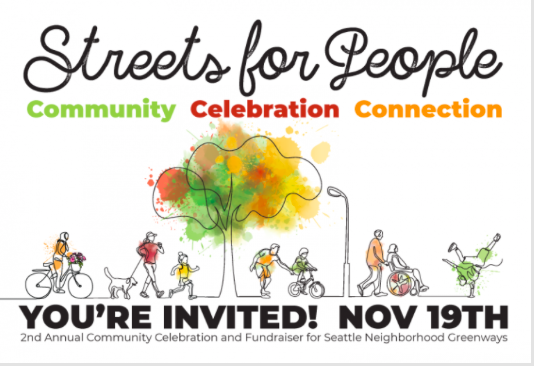 Creating a Stay Healthy Block is not a small feat. RORS, for instance, had to fundraise over $2,000 to pay for the SDOT approved barriers necessary to make their Stay Healthy Block a reality. To expand access to the pilot, SNG has hosted volunteer work parties to build barriers for low-income communities and communities of color. SNG has also provided assistance with completing permit applications, printing flyers for distribution, and a host of other activities aimed at expanding streets for people.
Communities who are willing to put forth the investment, sweat equity, and ongoing maintenance efforts to calm traffic on their streets should continue to receive the permitting from SDOT necessary to do so beyond November 30th. The Covid epidemic shows no sign of abating. If anything, we are all preparing for a difficult winter ahead, and providing participating neighborhoods with a means to keep their streets safe through the Stay Healthy Block pilot would represent a win for both public safety and public health.
Do you want to advocate for supporting more streets for people in Seattle? Take a moment to share your feedback on the pilot with SDOT through the Stay Healthy Block Survey online.
Additionally, support Seattle Neighborhood Greenways efforts to make our streets safer for people of all ages and abilities by attending and donating to SNG's virtual Streets for People Fundraiser on November 19th.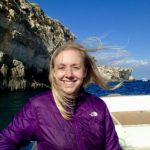 Natalie Bicknell Argerious (she/her) is a reporter and podcast host at The Urbanist. She previously served as managing editor. A passionate urban explorer since childhood, she loves learning how to make cities more inclusive, vibrant, and environmentally resilient. You can often find her wandering around Seattle's Central District and Capitol Hill with her dogs and cat. Email her at natalie [at] theurbanist [dot] org.