Last night, the Seattle Department of Transportation (SDOT) held an open house on the Roosevelt HTC project. It was revealed that the overall project aim has shifted from the earlier stages. SDOT neither plans a streetcar extension nor implementation of full bus rapid transit (BRT). Instead, the transportation agency is planning "targeted enhancements" to Metro's RapidRide service, what they're calling "RapidRide+". Essentially, this will be better than RapidRide, but without all of the bells and whistles of Madison BRT, the region's next gold standard for BRT. SDOT hopes to have the new BRT corridor up and running some time around 2020.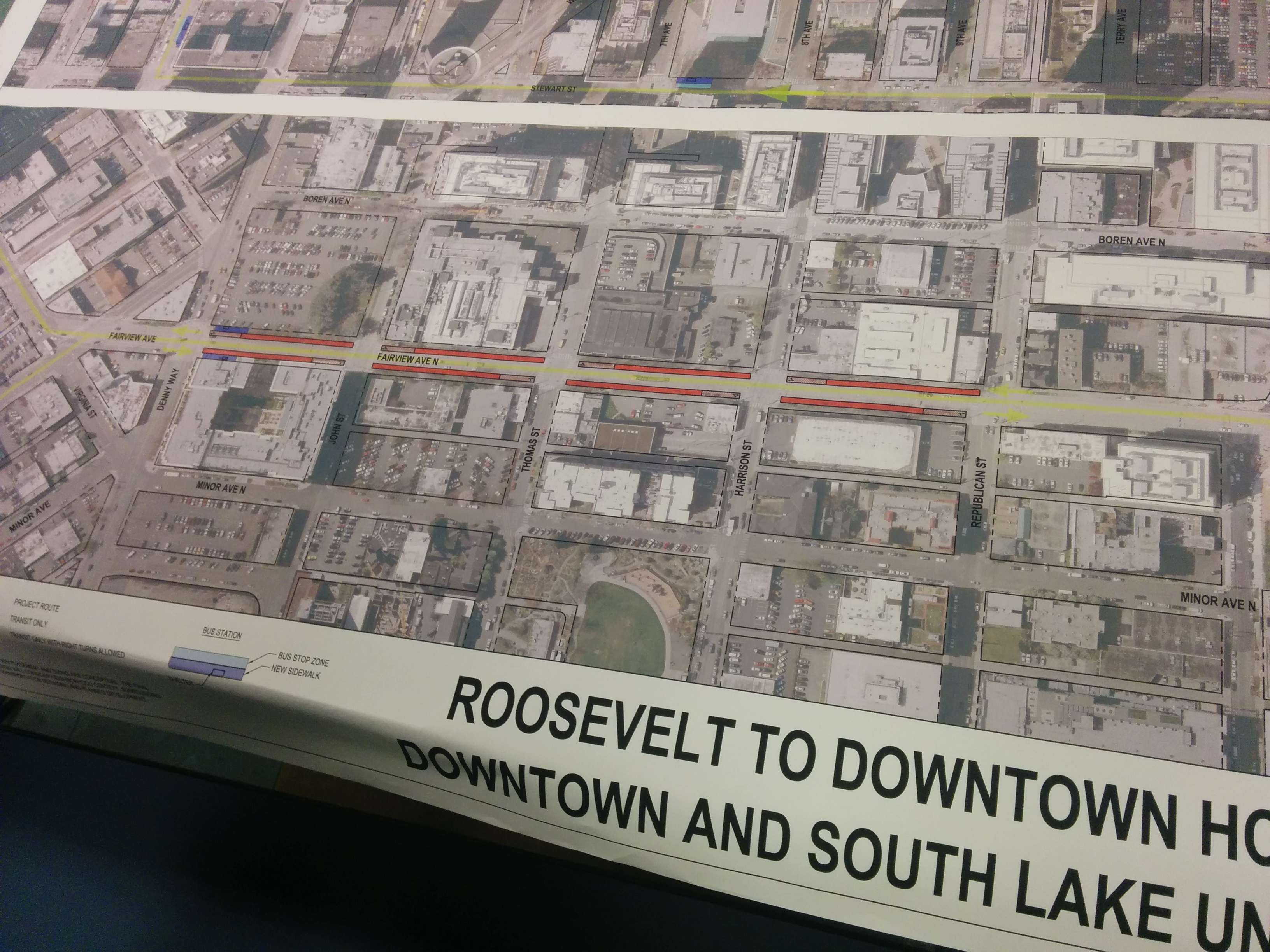 Among the enhancements Roosevelt RapidRide+ will receive are:
Exclusive lanes or BAT lanes in South Lake Union;
Queue jumps and signal priority for much of the route;
Electrification from South Lake Union to Northgate.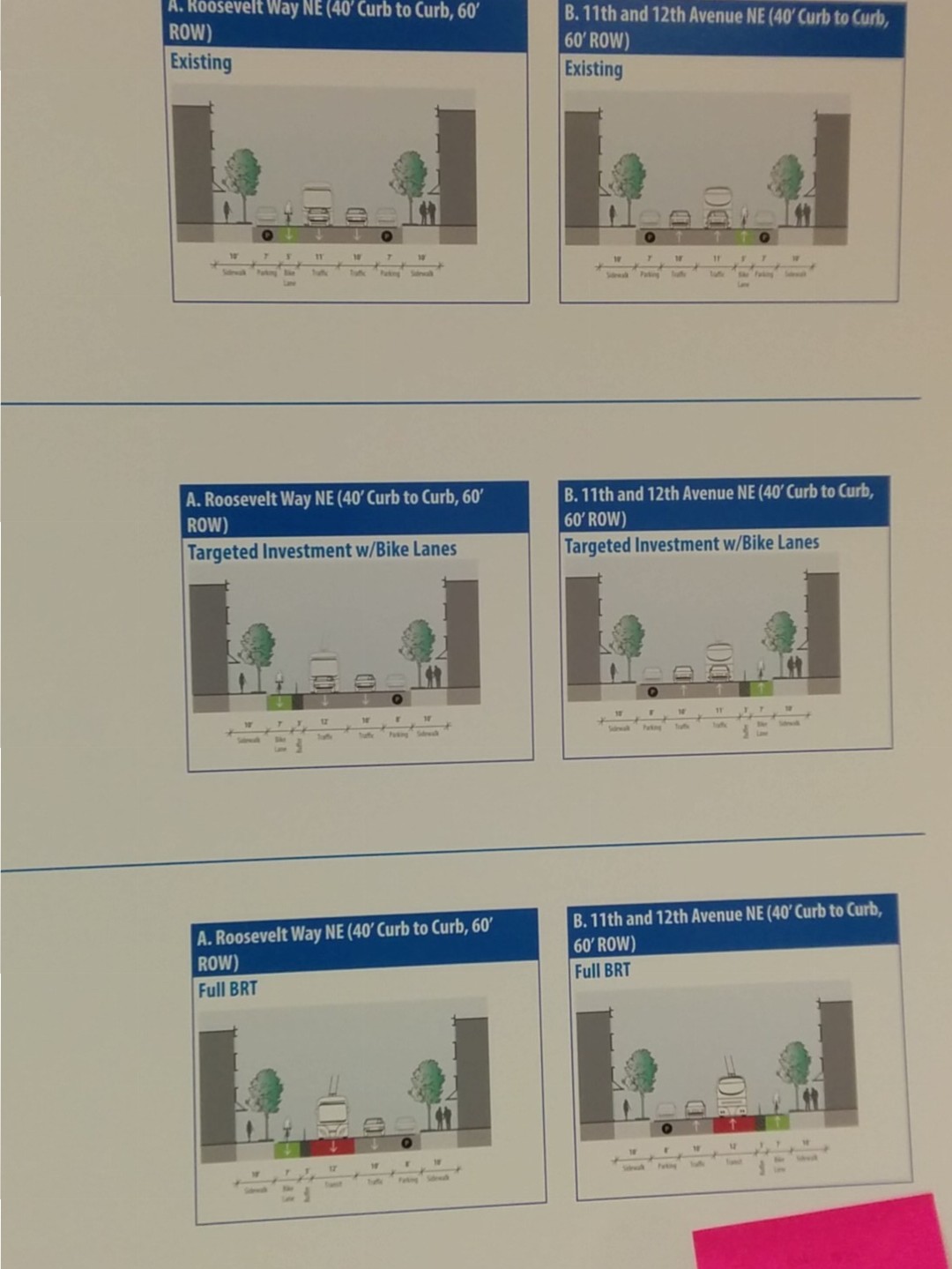 SDOT is still teasing out other options for the project. At the top of the list are bicycle lanes. Some options included them, some didn't. Many of the audience members present were clearly bicyclists, and they were out in droves to push SDOT to provide better biking facilities along the corridor, in the spirit of the Bicycle Master Plan. Ultimately, a final plan will almost certainly include new bicycle lanes, but the issue comes down to the degree at what cost to other modes.
Two other primary issues that SDOT is hashing out are exclusive lanes elsewhere and a shared bus fleet with the Madison BRT project. SDOT staff think that other parts of the route may necessitate exclusive bus lanes. Indeed, adding these at chokepoints and throughout the corridor would speed up overall bus service and encourage more riders. Pinning down where to make this happen will be key for the next phase of the project. Meanwhile, there's a very real possibility that Roosevelt BRT buses could be shared with its sister corridor on Madison. Those buses will be electrified with doors on both sides, opening the potential for calling at stops to the left or right; one possibility even includes serving stops along the South Lake Union Streetcar corridor.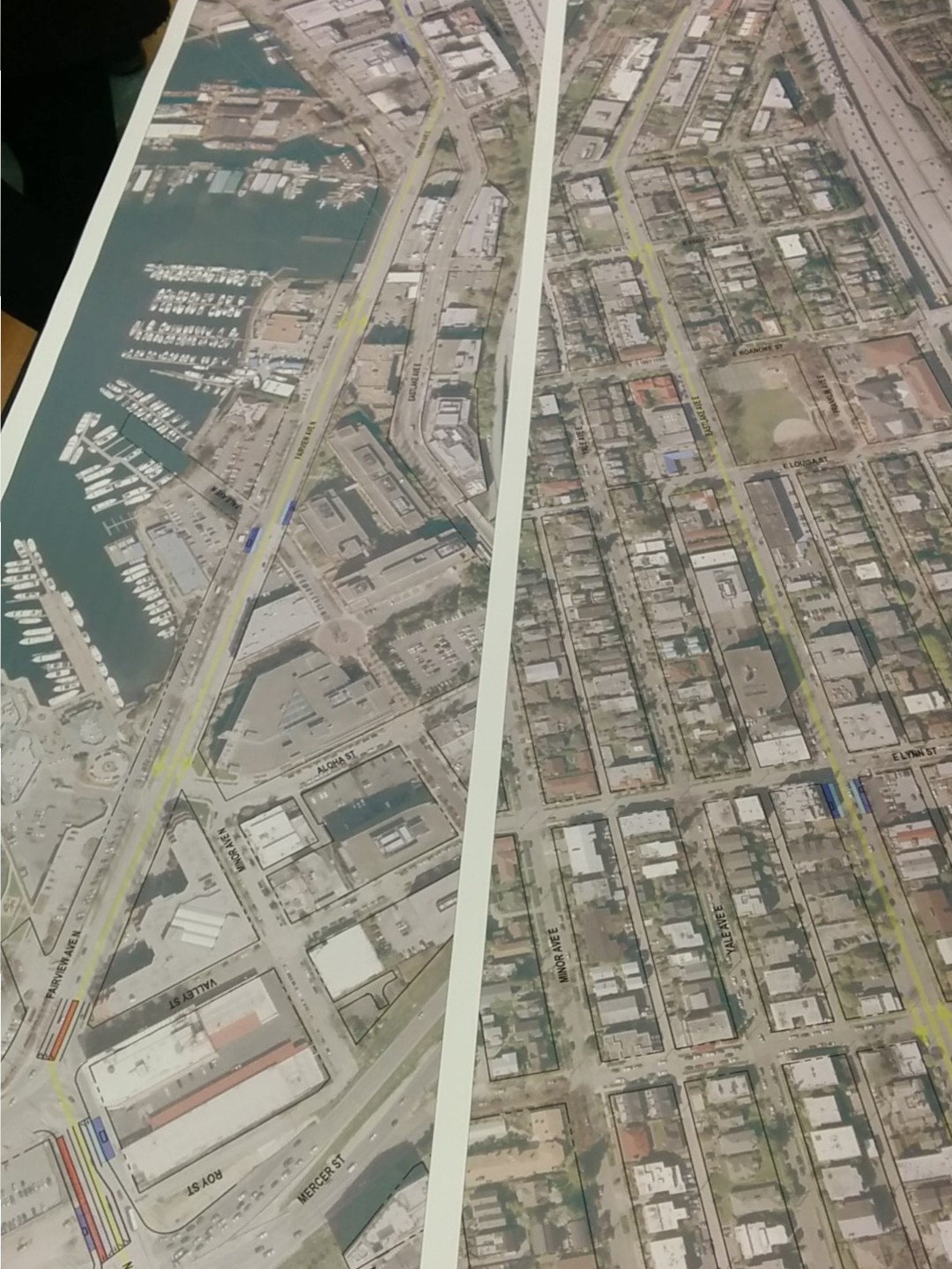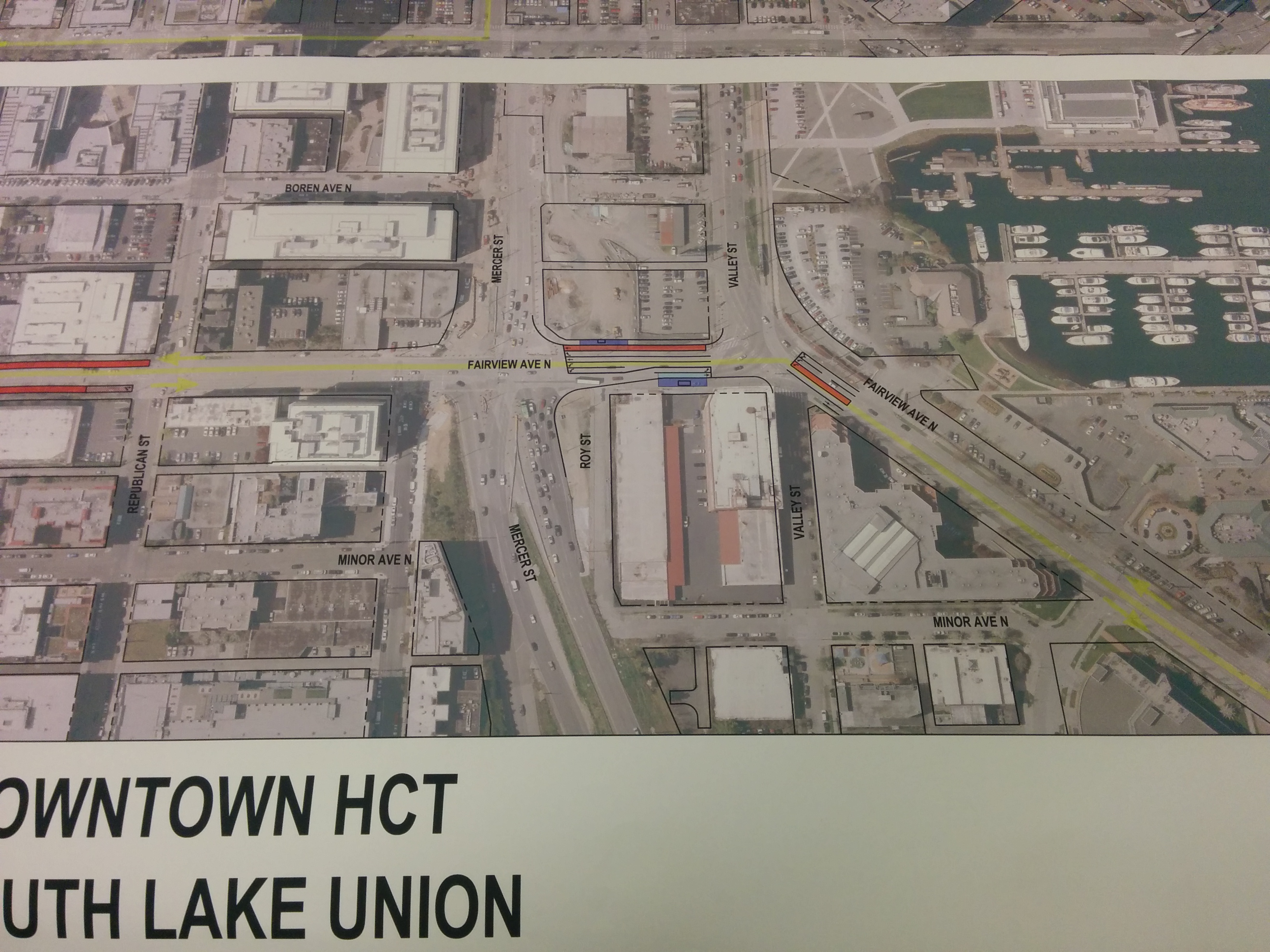 Yet, SDOT staff are facing some challenges, including:
Very limited funds for the project;
Narrow right-of-way (five lanes wide) on Eastlake meaning that difficult choices will have to be made to fit cars, bikes, and buses; and
Difficulty getting exclusive lanes through the intersection of Eastlake Avenue and Mercer Street.
Get Involved
The potential "exclusive lanes" issue is where fellow urbanists, bicyclists, and transit riders come in. SDOT is open, more or less, to priority for bicycles, buses, or bicycles and buses, depending on demand from the community. We need to work together on this to demand bus and bicycle priority for the entire route, insofar as it's possible to do.
There is one more meeting tonight (December 10th) at UW Tower in the University District. If you care about bus and bicycle access in Northeast Seattle, and want to make the most of our Proposition 1 dollars for bicycle and transit priority, please come to the open house and make yourself heard. And if you can't do that, fill out the online survey.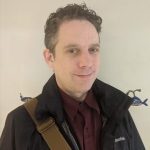 Charles is an avid cyclist that uses his bike as his primary mode of transportation. He grew up in the Puget Sound, but is currently overseas living in Japan. He covers a range of topics like cycling, transit, and land use. His time in Tokyo really opened his eyes to what urbanism offers people and has a strong desire to see growth happen in Seattle.