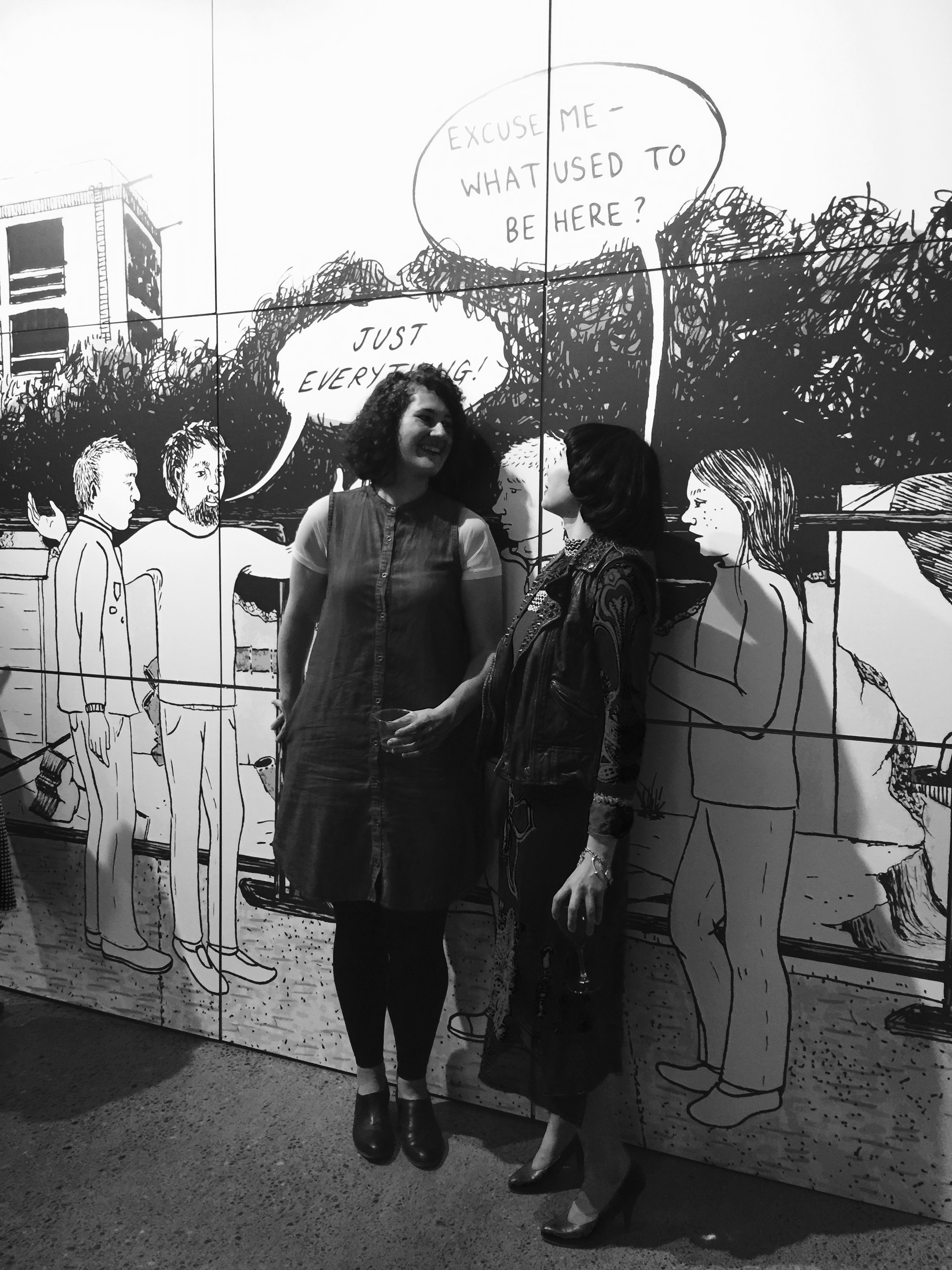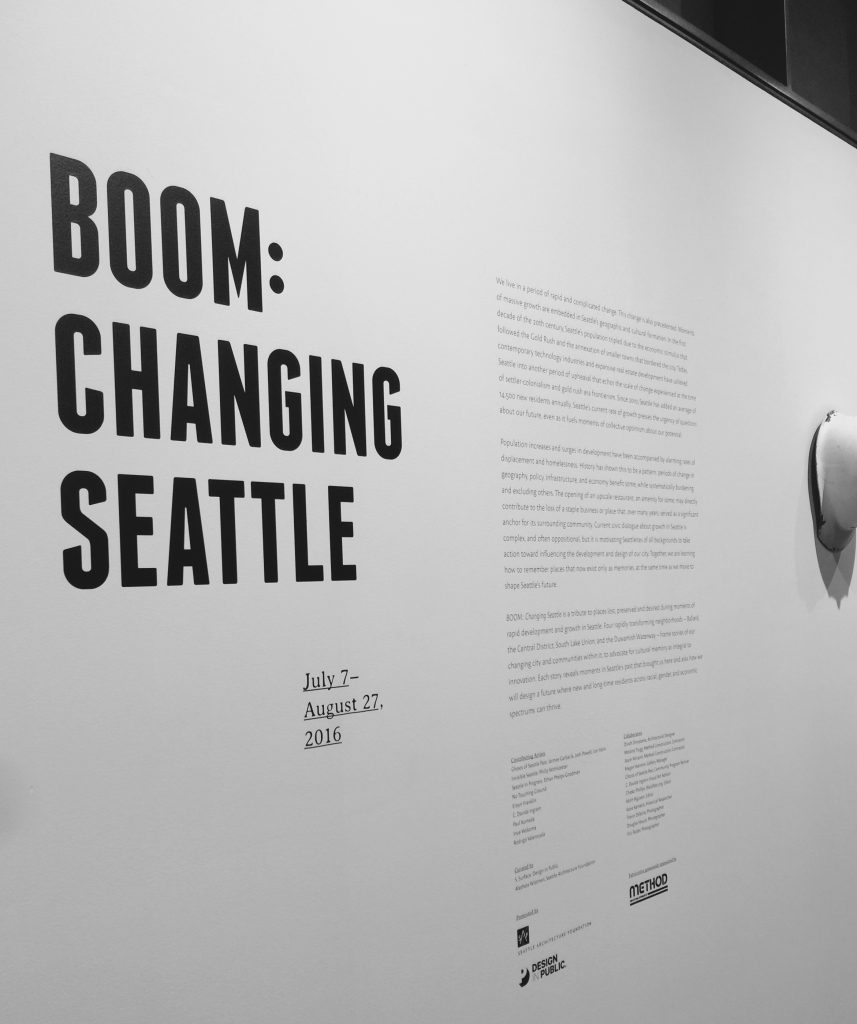 At the BOOM: Changing Seattle exhibition Seattleites interested in shaping Seattle's future began by looking backward. Rapid change is nothing new to our city. The Urbanist checked in with three Seattleites involved in the must-see exhibit. Together, they have made connections that will appeal to a broad swath of Seattle communities. This exhibit has the potential to critically inform future decision making around land use policy.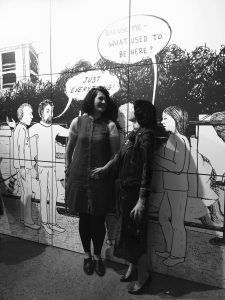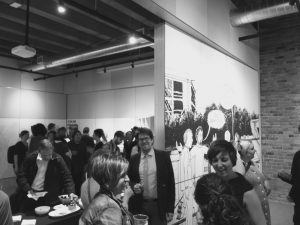 Jaimee Garbacik is an artist and anthropologist from Ghosts of Seattle's Past. She gathers important qualitative research to inform the design of future cultural and communal gathering spaces. Ghosts of Seattle's Past want developers and planners to gain important insight into what shapes people's shared cultural experiences. Data driven decision making will only go so far towards making cities livable and inclusive. Ghosts of Seattle's Past qualitative research booklets are beautifully illustrated. Interviewees have provided a great deal of information in the form of relatable, actionable nostalgia.
Aletheia Wittman wants Seattleites to have a sense of the language of design. She wants Seattle Architecture Foundation (SAF) to lead better civic engagement with ongoing discussions about growth and development throughout our city. Aletheia is the Exhibit and Public Programs Manager at SAF & co-curated the exhibit. S. Surface, Design In Public, understands exhibits like BOOM will enable citizens to become more engaged in the design process.
The Exhibit: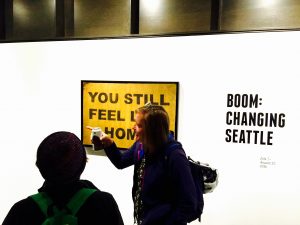 The impacts of past waves of displacement shape our current conversations around land use, housing policy, and design guidelines. The Invisible Seattle archive is being exhibited for the first time. (Click here for this cool yet unrelated video about the Invisible Seattle collective). Whitney Rearick, Seattle renter and Executive Director of Housing Resources Bainbridge, attended the opening reception. She explained how the Invisible Seattle archive demonstrates that Seattleites have been discussing "the death of Seattle character for decades". Attendees are encouraged to bring an item that reminds them of Seattle to contribute to this shrine of objects. Paper and pen are provided if you'd prefer to illustrate your memories.
The Center for Architecture and Design (1010 Western Ave, Seattle, WA 98104) is Free and open Tuesdays through Fridays from 10 a.m. to 6 p.m., Saturdays 1 p.m. to 5 p.m. Definitely make plans to visit the BOOM! exhibit before August 27th.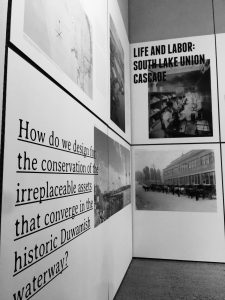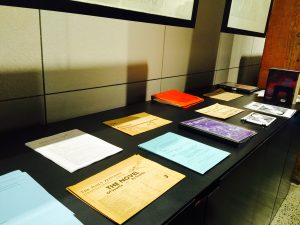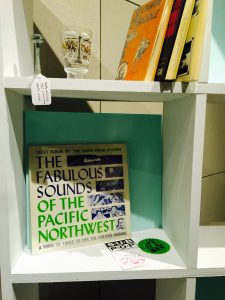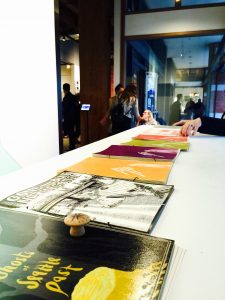 Related Event:
Residents' Podium for Seattle Legacy Spaces
Hosted by Ghosts of Seattle Past
with Seattle City Council Member Lisa Herbold
Thursday August 11, 6:30 p.m. to 8:30 p.m.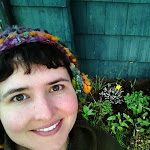 Laura Loe (Bernstein) is an educator, musician, and gardener from Colombia/NY/LA/Chicago who has lived in Seattle since 2009. Her writing has appeared in Data for Progress, The Urbanist, The Seattle Globalist, South Seattle Emerald, and International Examiner. She is passionate about womxn urbanist voices, climate justice, community ownership, equitable community development and renters' rights. Laura founded Share the Cities with like-minded folks and performs civic matchmaking that leads to unlikely allyships. She tweets as @sharethecities and @lauraloeseattle and is supported by 90 monthly patrons on Patreon.