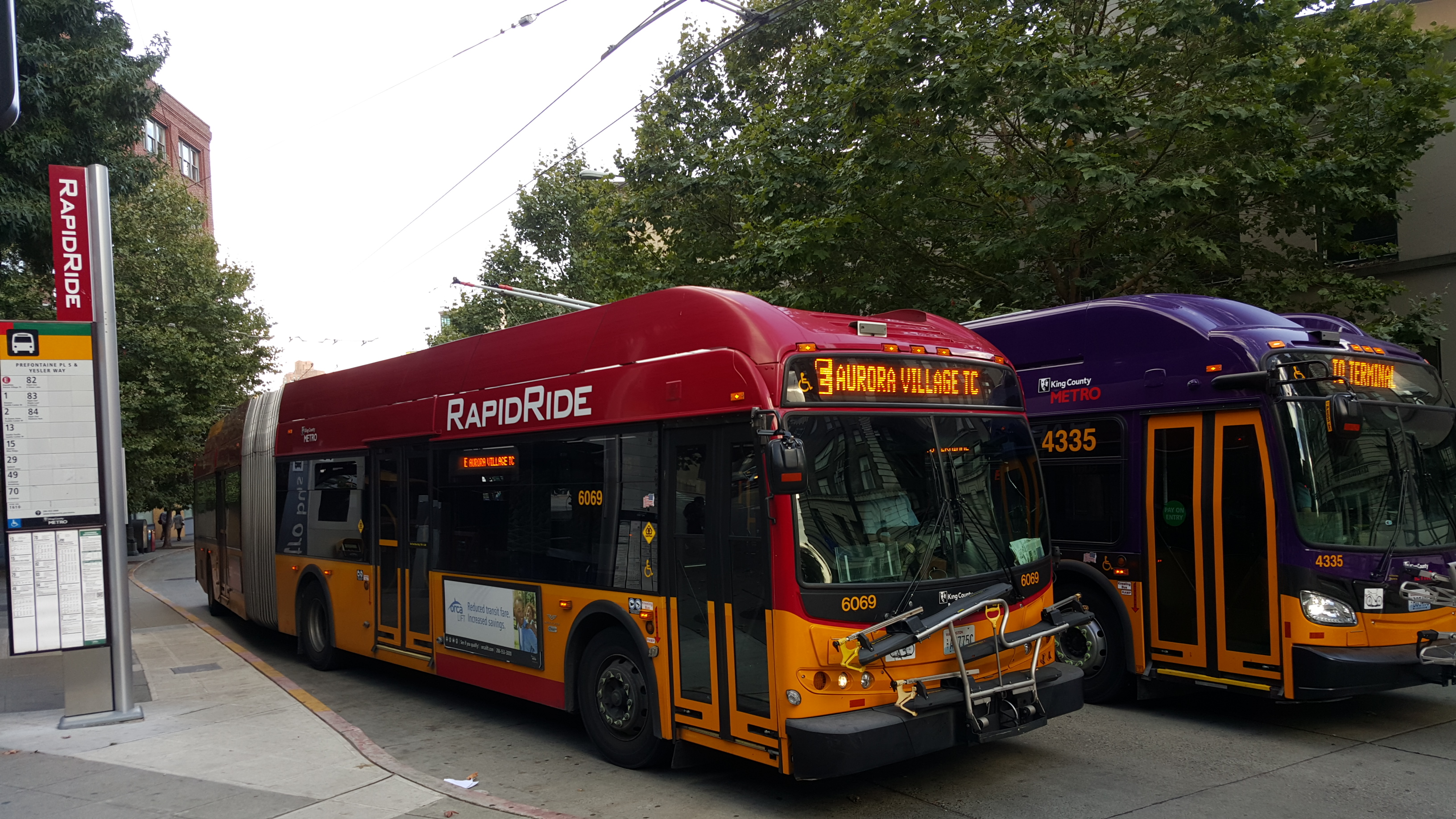 The Seattle Department of Transportation (SDOT) revealed on Saturday its preliminary timeline for rolling out the seven RapidRide+ lines promised in the Move Seattle transportation levy. Madison and Delridge come first in 2019, whereas the 23rd Ave E upgrade isn't slated until 2024. Seeing the timelines makes the bus improvements seem real and that's exciting. But some big unanswered questions still loom.
Here is the timeline they released:
2019:
2020
2021
2022
2024
Can We Unclog The 44?
Biggest in my mind: how can any bus running on the N 45th St corridor be rapid? There may be a way to thread the needle somewhat but it involves queue jumps and taking out a lot of parking and that still wouldn't solve the I-5 interchange. Ultimately, it seems like a reliably rapid 44 would hinge on taking a lane away from motorists through this congested I-5 section or the shinier new bus will simply get stuck behind on-ramp backups in 2021 when this opens just like it happens today. That will require SDOT to wage a tough fight, but it could turn 44+ into a true asset. If not, it could be just putting window dressing on the same old tortuously slow bus.
Shadowy Shadow Service Along Roosevelt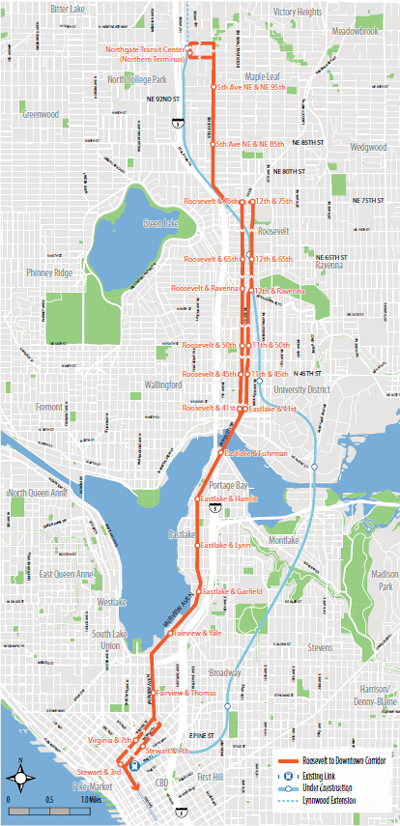 Will a shortened Roosevelt RapidRide+ terminating at Roosevelt or U District rather than Northgate still be a great line? Will Roosevelt be ready if Northgate Link is well ahead of schedule like U Link was? Roosevelt is shaping up to be a big improvement for bicyclists with protected bike lanes, but the transit service ideally would roll out even if the next light rail expansion is early and offer connecting service all the way to Northgate.
I can understand SDOT choosing protected bike lanes but cutting dedicated transit lanes for the Eastlake section. It's inexcusable that they would split the line north of the Ship Canal and still not come up with space for dedicated lanes. SDOT is calling the package "targeted improvements" but they need better aim.
Mystery Line: Delridge?
Meanwhile, the Delridge line is scheduled for a quick roll out in 2019 but so far very few details have been revealed. It is not found anywhere on SDOT's transit projects page. Madison, by comparison, is very far along in the planning process and could be funded in ST3 if passed. Now this might be because Delridge is an easier line to plan. SDOT could upgrade the stations and change the color of the buses on the Route 120 bus and call it good. This line is notable in that it is the only route planned to travel outside Seattle, that is if the Burien terminus remains.
Sound Transit studied this corridor for possible high capacity transit several years ago, and included a Delridge routed 120 replacement BRT line, which they estimated would cost around $2 billion despite only having 26% exclusive right-of-way. This also, I should note, included a segment extending the line from Burien to Renton as a way of serving more of South King County, adding to its cost. But not even Sound Transit saw much need for dedicated right of way along the corridor.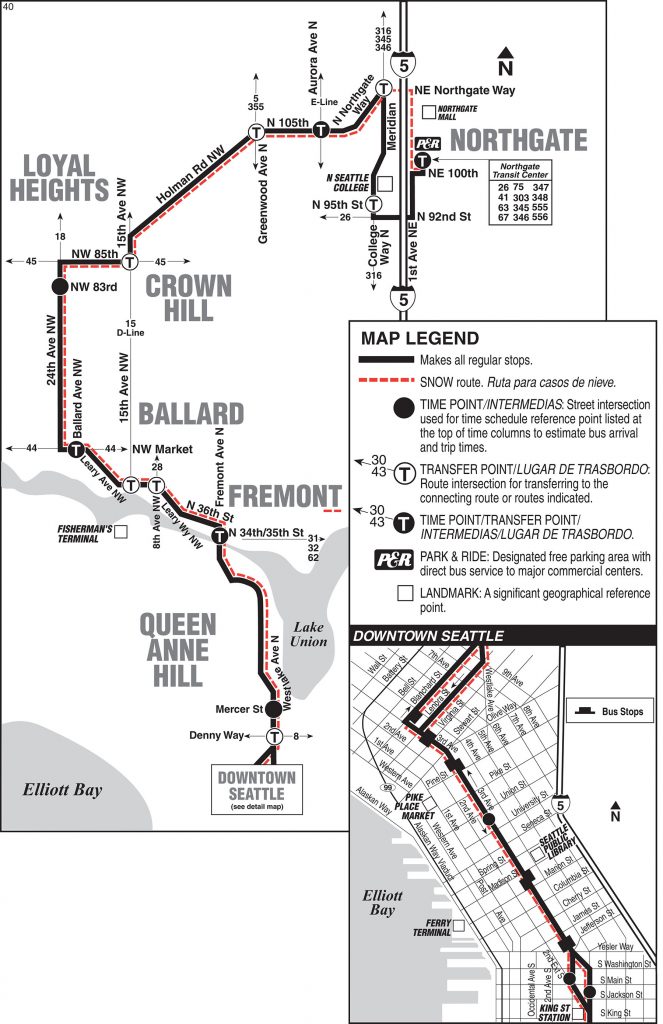 Will The 40+ Reach Northgate?
2022 is dedicated to rolling out RapidRide+ service to Fremont and Northgate, apparently by upgrading the Route 40 bus. That will make for a rather long line snaking through South Lake Union, Westlake, Fremont, Ballard, Loyal Heights, Crown Hill, and Northwest before finally reaching Northgate Transit Center. The line, if SDOT doesn't cut it short like it did the Roosevelt line, will feed the Northgate light rail station which goes on line a year earlier. When the Ballard-to-Downtown light rail goes online circa 2035, it could also feed that line.
The line has great possibility if a dedicated lane can be guaranteed along most of its path. The 40 already has the benefit of exclusive lanes in South Lake Union on Westlake Avenue. If it's done right, it will help Fremont feel less excluded from Sound Transit 3 (and 2, and Sound Move). And from not having a RapidRide E stop.
Rainier Roll-out With Vision Zero
Rainier Avenue has the distinction of being Seattle's deadliest street. It's slated for RapidRide+ service in 2020 which could catalyze the traffic calming and design improvements. That's in an ideal scenario. It's be great to see safety improvements even sooner to get the corridor more in line with Vision Zero safety principles before another road death takes place. The Route 7 bus, which the RapidRide+ would likely replace, is already a very busy bus so we can expect heavy ridership. Greater frequency alone is going to be a boon. BRT transit speed and reliability might be out of reach barring the unlikely addition of center running bus lanes. But if Rainier RapidRide+ infrastructure helps to cement road safety features then it will still be warmly welcomed.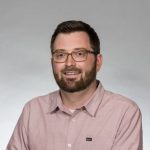 Doug Trumm is the executive director of The Urbanist. An Urbanist writer since 2015, he dreams of pedestrianizing streets, blanketing the city in bus lanes, and unleashing a mass timber building spree to end the affordable housing shortage and avert our coming climate catastrophe. He graduated from the Evans School of Public Policy and Governance at the University of Washington. He lives in East Fremont and loves to explore the city on his bike.