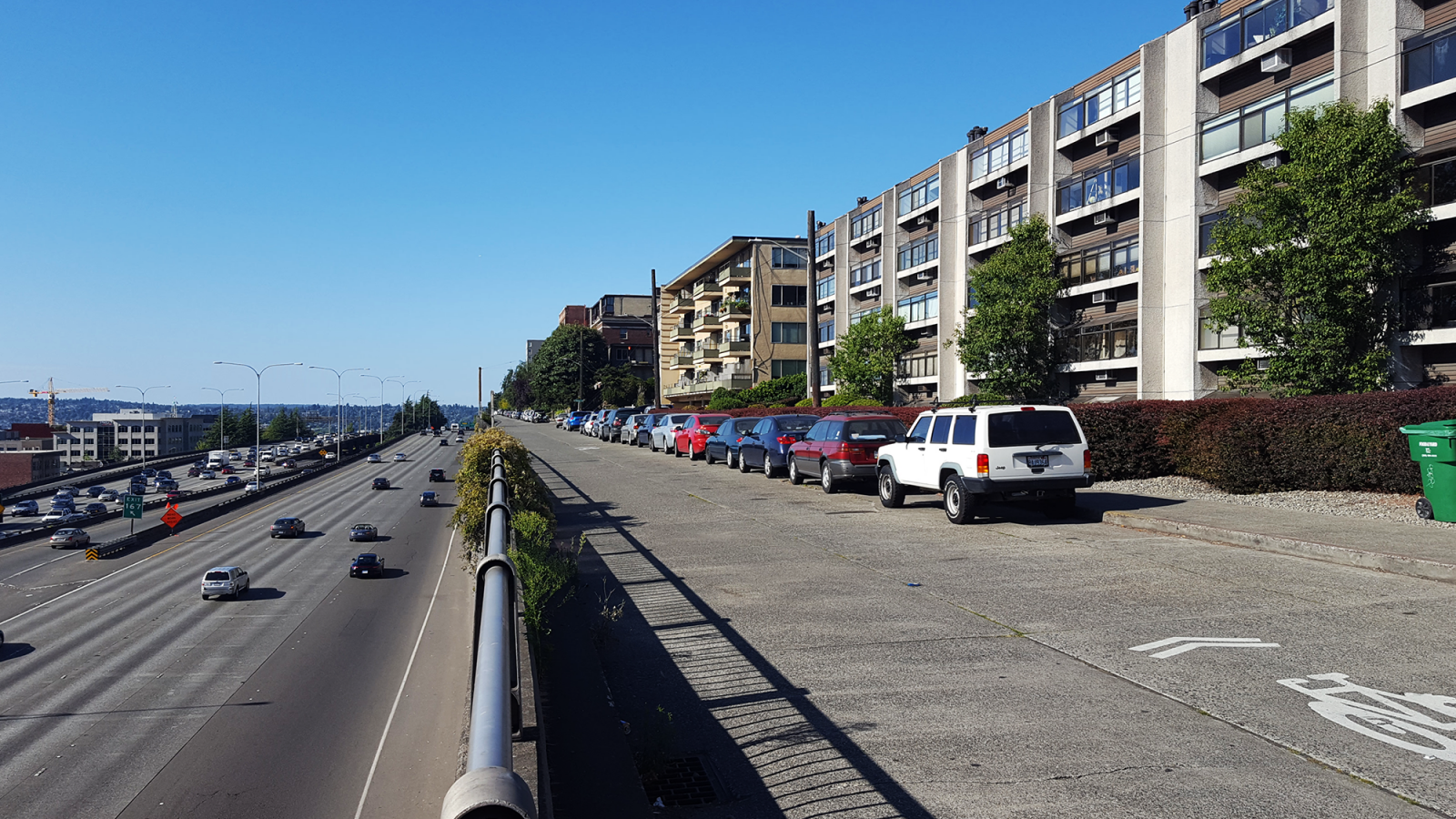 Last week, the Puget Sound Regional Council (PSRC) released its recommendations for hundreds of millions of dollars in federal transportation funding. We recently provided a rundown on the most high profile local projects, including improvements for Denny Way and partial funding for the 1st Avenue Streetcar, but there are many smaller awards throughout the region. A significant result for Seattle's Capitol Hill neighborhood is a $3 million grant for the Melrose Promenade, a greenway and public space project that seeks to transform an underutilized street.
Melrose Promenade is a citizen-led initiative to transform Melrose Avenue East, a narrow, mile-long street at the base of Capitol Hill which borders the eastern edge of Interstate 5. The street runs through a mix of districts, starting with intersecting the Pike-Pine retail corridor in the south, fronting large apartment buildings to the north, and terminating in a trail running through Bellevue Place Park. As one of the flattest streets in the area it's a popular route for bicyclists getting around the hill.
Today the street is bombarded with the roar of freeway traffic and has a narrow sidewalk on only one side, offering not so much as a street tree or bench in this high density neighborhood. But the street also offers stunning views of the city skyline and the Olympic Mountains beyond. Urban planner and local resident Mike Kent saw a disconnect between Melrose Avenue's poor conditions and its views of the city. Six years ago he started recruiting friends, neighbors, local organizations, and business owners to advocate for safety changes and public space improvements.
In 2012, a $20,000 grant from the City of Seattle enabled the Melrose Promenade Advisory Committee to hire design consultants and host several public workshops. These helped shape the community's vision for what Melrose Avenue could become. The work led to an 88 page concept plan (PDF) which includes site analyses, public feedback, and schematic renderings.
Billing itself as "the front porch to Seattle's Capitol Hill", the concept plan has a variety of elements that support a mix of street users:
Part of the "active urban" south of Denny Way is envisioned as a curbless festival street with adaptable furniture and lighting elements. The area between Pike Street and Olive Way has a number of retail establishments that draw foot traffic day and night.
The "overlook" north of Denny Way may have elements like curb bulbs, seating, and translucent panels on the edge of the freeway to make Melrose more inviting for people walking and to enhance the skyline views. The hill climb at Harrison Street, which consists of a narrow stairway today, is widened into a larger gathering and viewing space (see the next image below for a comparison).
The "park" section would enhance the multi-use trail running through Bellevue Place Park and potentially create new retaining walls and terraces to make the park more useable and attractive as a gathering space.
In the concept plan, it appears most of the 191 on-street parking spaces are preserved, though the parking lane north of Denny Way may be relocated to the west side of the street to accommodate a widened sidewalk or planter strip. Kent said, "The conceptual plan discusses widening sidewalks, which might require narrowing the roadway and possibly reducing traffic to one-way, but SDOT [Seattle Department of Transportation] must determine whether this is feasible and worth pursuing through additional community engagement and planning."
Despite SDOT's $215 million annual capital budget and the recent passage of the $930 million Move Seattle Levy, funding for human-powered projects like these are few and far between. That's why the City applied for a grant with PSRC, which is the regional clearinghouse for several sources of federal transportation funding.
In describing the project, the grant application (PDF) notes:
"Currently, 37% of households in the Melrose Promenade corridor are car-free. Constrained parking supply and the existing density of housing and employment makes owning a car expensive and challenging. Improving bicycle and pedestrian performance will make a car-free and car-light lifestyle more attractive and convenient for a broad cross-section of the community."
Kent affirmed that SDOT took some liberty in defining the bounds of Melrose Promemade, using the project as "inspiration for its proposal" for bike lanes and sidewalk upgrades beyond Melrose Avenue itself. However, Kent is optimistic that the grant money will help pay for other improvements such as crosswalks, signage, lighting, and landscaping.
A portion of the grant will fund protected bike lanes on Melrose Avenue south of Denny Way and on Minor Avenue between Pike Street and University Street–these routes are not designated on the official Bike Master Plan map because of a technical error when the map was made. In addition, to the north on Lakeview Boulevard the grant will fund unprotected bike lanes between Belmont Avenue and Howe Street, where Lakeview Boulevard passes underneath I-5. See below for a project map.
On Melrose Avenue itself, between Denny Way and Roy Street, the street will be upgraded to a greenway. In practice this means speed bumps–and possibly other treatments like raised intersections and curb bulbs–that will slow traffic and make walking and bicycling more comfortable.
Altogether, these upgrades could be considered "phase 1" of Melrose Promenade's implementation. More artistic features, upgrades to public stairways, and improvements to Bellevue Place Park will presumably come in later years if funding can be acquired. Additional coordination with the Washington State Department of Transportation–which owns the retaining wall that Melrose Avenue abuts—and the Seattle Parks Department will take time.
The $3 million PSRC grant only partially funds the proposed project, which is estimated to cost $4.7 million in total. Funding from the Move Seattle Levy will cover the gap. Preliminary engineering is expected to cost $470,000 and be completed by 2019. Construction is expected to wrap up by 2020. And although the grant is only "recommended"–and requires final approval from the Seattle City Council and federal authorities–Kent noted that that recommendations typically go through as allocated.
Hopefully there will also be another look at the intersection with Olive Way, where there are ramps to and from Interstate 5 and frequent vehicle collisions. I previously wrote about a number of safety improvements, and below is a map of possible changes to traffic flow for the area in question.
Ultimately, Kent is happy that progress is being made. He touts the bottom-up character of Melrose Promenade, explaining the project has required "…hundreds and hundreds of volunteer hours from our entire team. Projects that are so ambitious require not just hard work but creativity, cooperation, flexibility, and persistence." Kent believes Melrose Avenue will soon be a Seattle street that is safer, better designed, and more enjoyable for "…pedestrians, cyclists, our neighbors, and our visitors."
This article is a cross-post from The Northwest Urbanist.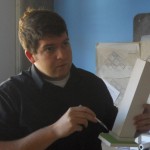 Scott Bonjukian is a car-free urban designer with a passion for sustainable and efficient cities. With degrees in architecture and urban planning, his many interests include neighborhood design, public space and street design, transit systems, pedestrian and bicycle planning, local politics, and natural resource protection. He primarily cross-posts from his blog at The Northwest Urbanist and advocates for a variety of progressive land use and transportation solutions.