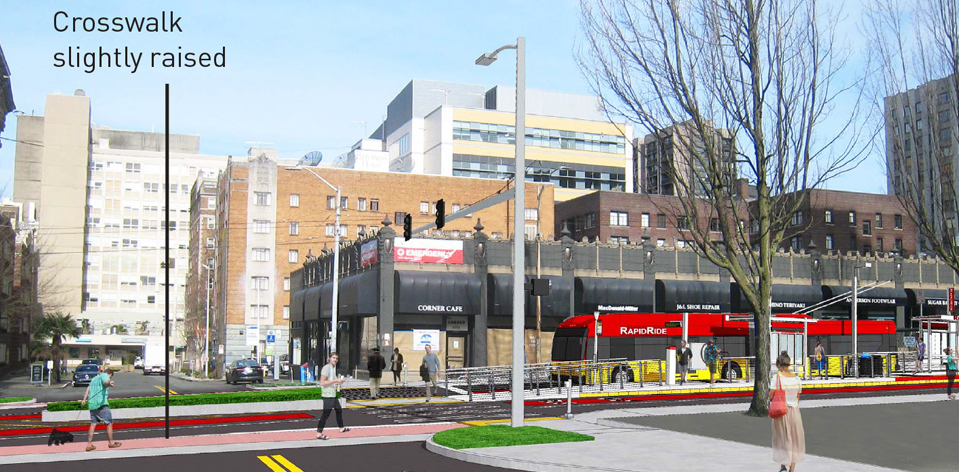 This week, in an online open house, the Seattle Department of Transportation is presenting the latest update to the plans for the $120 million Madison Street improved transit corridor, recently announced as the RapidRide G line. The plans show a block-by-block design with several highlighted features that have changed since we last saw them at the 30% design stage.
The bike component of the RapidRide G project has always been up in the air in terms of what projects are considered "in scope" and paid for in the project budget directly. Because no bike facilities will be on Madison itself, all of the bike components are considered "parallel" facilities despite the fact that there aren't any parallel streets to Madison, except in Downtown.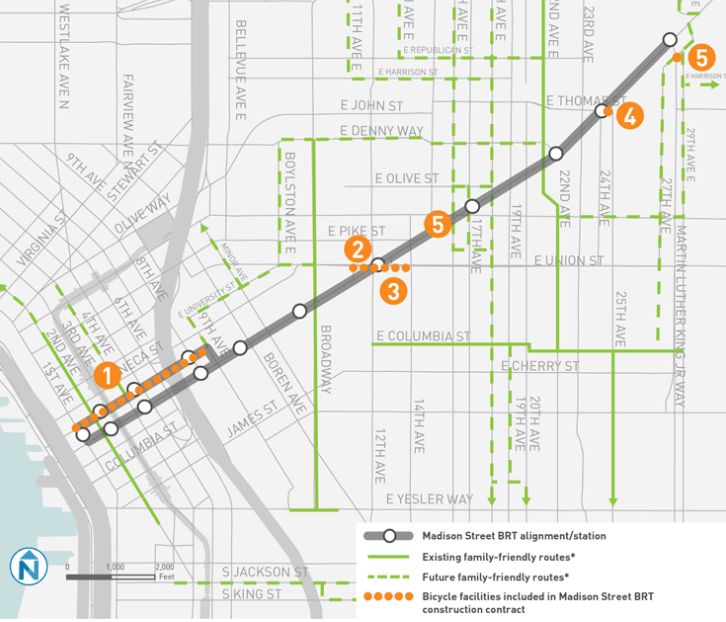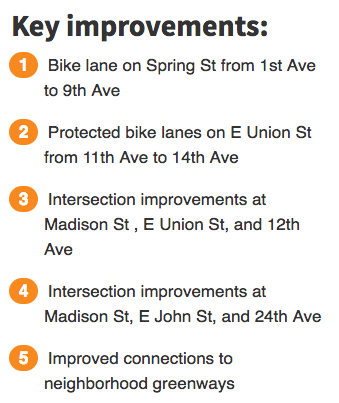 Downtown Bike Lanes
Original plans only included a bike lane in Downtown on Spring Street between First Avenue and Fourth Avenue, next to the curb. After hearing from the public that going to Fourth Avenue would not be enough, the bike lane has been extended in the plans up Spring Street to Eigth Avenue. However, there are a few clear problems with the design of this new extended lane from a safety standpoint.
Starting at Fourth Avenue going uphill, across from the Central Library, the bike lane moves into the door zone opposite the parking lane and remains there on three of the next four blocks. There are minimal protections for people on bikes as they travel through intersections, with the exceptions of painted markings across some of the intersections.

At Ninth Avenue, where Spring Street hits a steep hill and turns from a one-way into a two-way street, the bike lane disappears.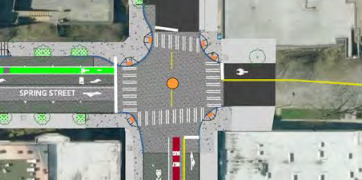 The Spring Street bike lane is only one-way uphill, so bike users heading downhill will need to find another route, either on Seneca or on Madison.
E Union Street Bike Lanes
The other major bike component has always been protected bike lanes on E Union Street, which is currently a well-used corridor for bikes between Broadway and the Central District, due to its low grade. Now it's clear that the RapidRide G line will only be paying for a protected bike lane on E Union St between 11th Avenue (two blocks shy of the Broadway Cycletrack) and 14th Avenue. Additional funds to extend the bike lane would have to come from and be prioritized to coincide with investments from Seattle's bike master plan.
The intersection of 12th, Madison, and Union is a dangerous intersection for all users. The first phase of design for the RapidRide route showed the protected bike lane in the roadway on the east side of Madison but by the time the design had reached 30%, the portion of the lane between 12th Ave and Union Street was moved to the sidewalk due to the trouble that Metro's Route 2 would have getting around the bike lane. It remains there. You can see the 10% and 30% designs side by side here.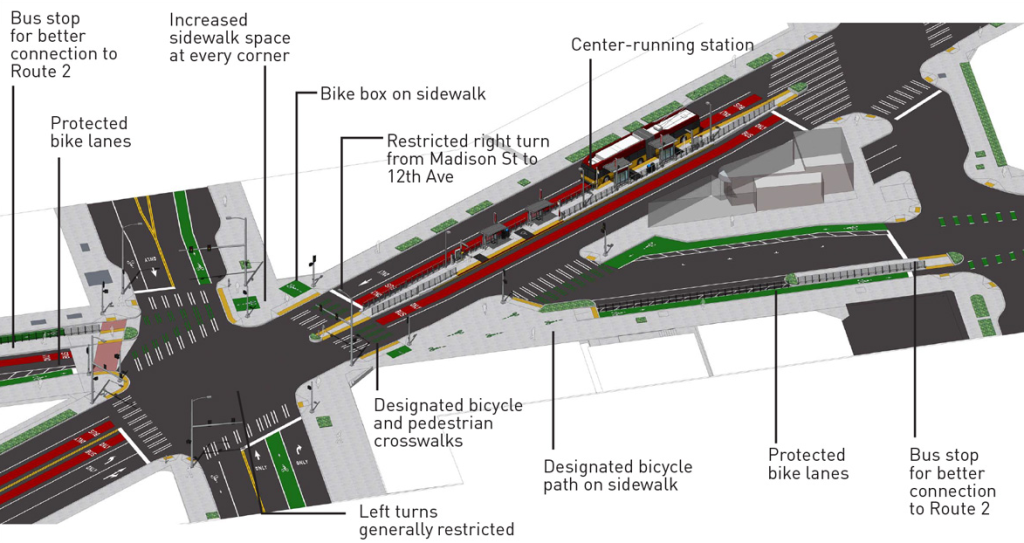 The concept illustration for 12th Avenue and Madison Street below illustrates the potential conflicts between bikes and pedestrians on a limited amount of sidewalk at that intersection, not to mention the potential for conflicts with drivers in vehicles. Right turns will be restricted from Madison onto 12th Avenue where the two directions of cyclists will be crossing, which will absolutely be required for this configuration to meet any minimum standards for safety. The intersection will be getting beefed up curb bulbs at almost every corner, a huge improvement for people walking, but placing a bike route that is supposed to become one of Capitol Hill's most heavily used routes on the sidewalk at a major intersection remains a disappointment.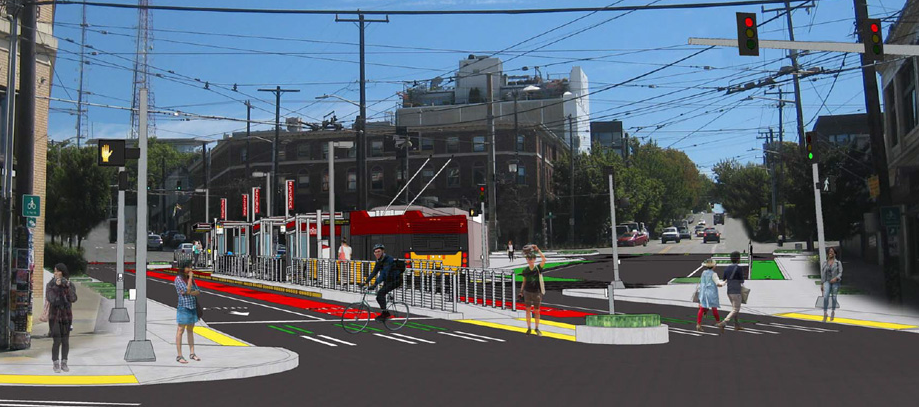 24th Avenue & Madison Street Intersection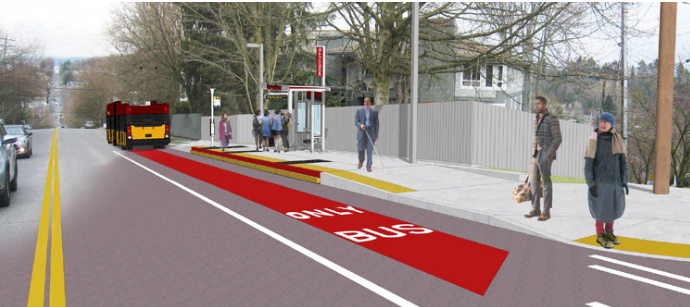 The other major intersections are around 23rd Avenue and 24th Avenue at Madison. Original plans for stops had the RapidRide stops in both directions close to 24th Avenue, which would require a steep uphill transfer to the planned RapidRide route along 23rd Avenue. In this phase of design, the westbound stop has been moved closer to 23rd Avenue.
However, as in the 30% design, a connection across Madison at 24th Avenue remains very tricky for someone on a bike, with the sidewalks and crosswalks remaining the primary infrastructure mode for people on bikes to utilize. 24th Avenue was considered as a possible future north-south greenway, but in the last few months it has been taken off the table, so it will be all-but impossible to cross on a bike, even though it's the most likely path for someone to take on a bike while avoiding 23rd Ave.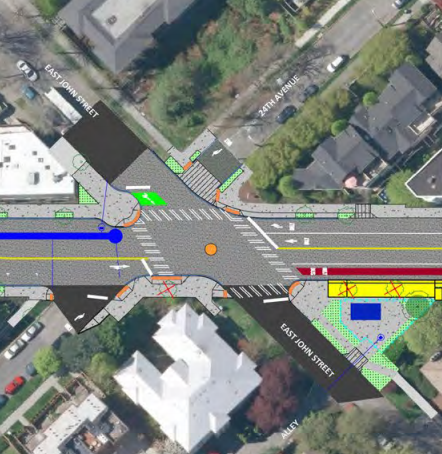 As the plans for the RapidRide G line become finalized this summer in order for construction to start next summer, I remain hopeful that the designs for bike plans at the key intersections outlined here can be improved, making a better experience for all users.
Particularly worrying is the inclusion of a door-zone unprotected bike lane and the lack of protection for people on bikes at intersections on Spring Street. The RapidRide G team needs to coordinate with the Vision Zero team in order to plan infrastructure that is safe for all users, and at all ages and abilities. We have been waiting for our Downtown bike network for a long time, but if it arrives in an unsafe form it will not be worth it. Our large investments in our transit network have the potential to make complete streets a reality, but these plans currently fall short of that vision.
Related Articles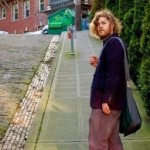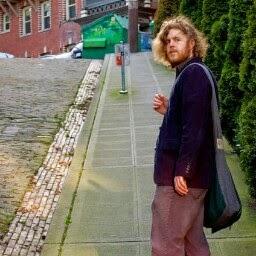 Ryan Packer lives in the Summit Slope neighborhood of Capitol Hill and has been writing for the The Urbanist since 2015. They report on multimodal transportation issues, #VisionZero, preservation, and local politics. They believe in using Seattle's history to help attain the vibrant, diverse city that we all wish to inhabit. Ryan's writing has appeared in Capitol Hill Seattle Blog, Bike Portland, and Seattle Bike Blog, where they also did a four-month stint as temporary editor.