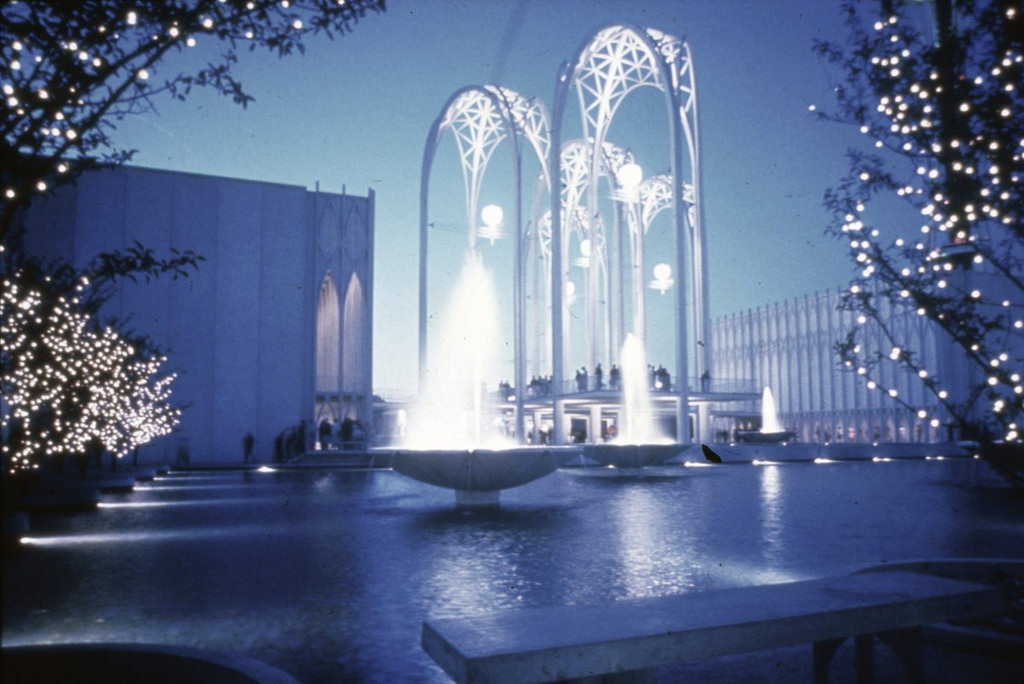 Seattle Center, the city's central playground of culture and engagement in Uptown, could be headed for an update to its governing master plan. Future redevelopment of property owned by Seattle Public Schools has injected a renewed interest in comprehensively planning for the cultural district, which could significantly change its future course of evolution and reinvention. Created in the early 1960s out of a residential neighborhood for the 1962 World's Fair, Seattle Center has constantly been redefining itself ever since then, with many iterations reflecting the Seattle around it.
The last master plan of the main campus and district, known as the Seattle Center Century 21 Master Plan, was adopted in late 2008. Some aspects of the Century 21 Master Plan have subsequently been realized like the Seattle Center Parking Garage on 5th Ave N and redevelopment of former Mercer Arena–which is now underway.
However, much of the plan has not been achieved and there were some significant deviations from implementation. For instance, an amphitheater opposite the Space Needle and a view corridor and pedestrian connection from Broad Street to Fisher Pavilion were planned. Those plans though never came to fruition because the Chihuly Garden and Glass Museum was built right in the middle of those planned features. The August Wilson Way connection, an open field in place of Memorial Stadium, replacement of the Seattle Center Exhibition Hall, and new buildings just north of KeyArena (Seattle Coliseum) also all remain to be realized.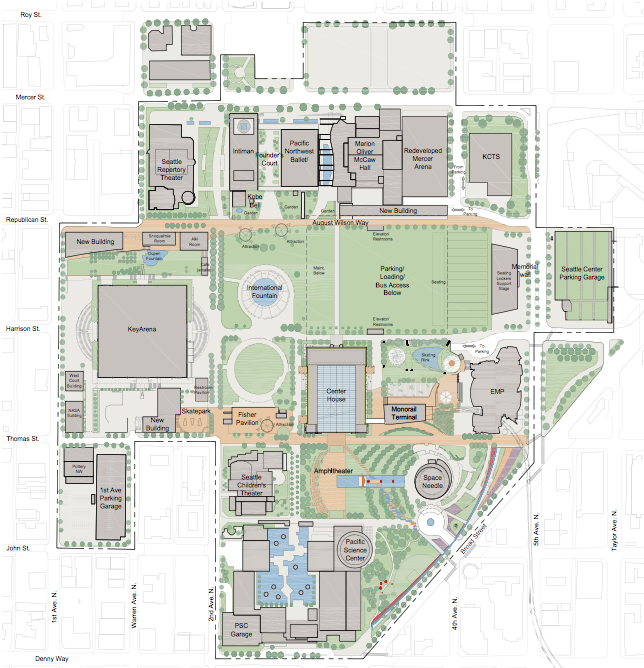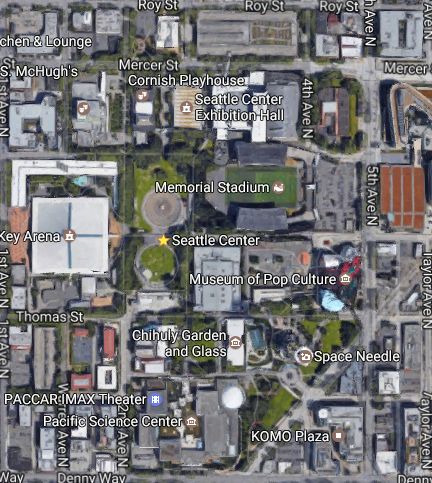 Seattle Public Schools operates an alternative high school geared to education in the arts at the Armory as well as Memorial Stadium. The school opened in 2001, about 20 years after the closure of Queen Anne High School–which was shuttered for about five years before being sold as condominiums. Last year, the school district expressed an interest in rebuilding Memorial Stadium and constructing a new high school at Seattle Center to serve growing student enrollment in Queen Anne, Magnolia, and Downtown.
The school district owns a total 14 acres at Seattle Center, which comprise the area around Memorial Stadium and the adjacent parking lot on 5th Ave N. A new stadium and high school would likely be built on the same property.
Interest by the school district to redevelop their properties necessitated a public process to gather feedback and direction from the public on how to align the overall vision for Seattle Center with new objectives from the school district. In September, the City of Seattle and Seattle Public Schools held a joint workshop to do exactly that. More than 100 individuals participated in the workshop developing differing approaches to how Seattle's cultural civic center should once again redefine itself as the city and region boom.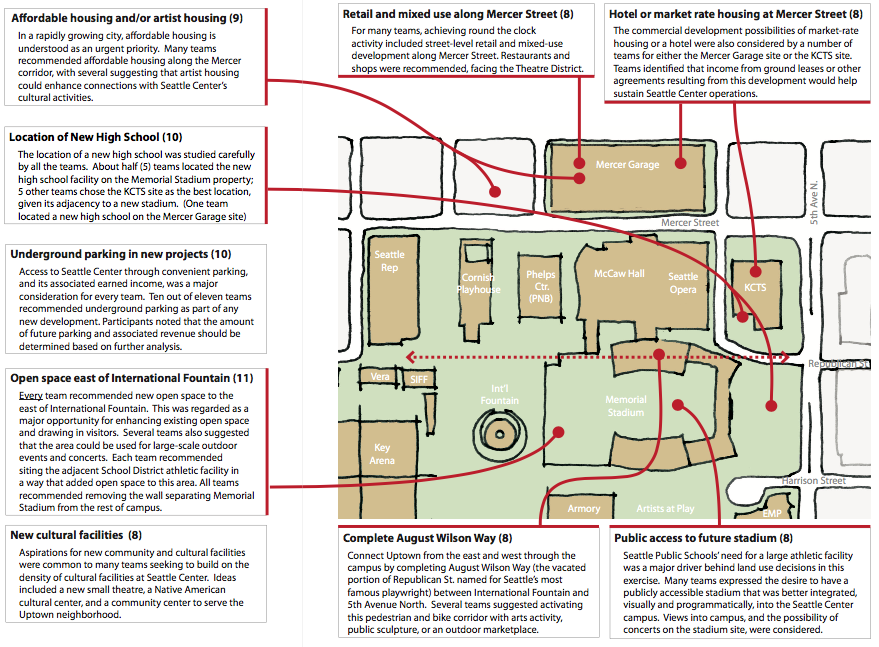 As a planning exercise, participants were asked to break out into groups to develop specific plans for the northeast quadrant of Seattle Center. Participants presented a variety of ideas to recreate and improve the area, which, among others things included "new community centers, a market promenade with music, art, and food; shared use of new buildings for education, community, and cultural uses; and even a new dog park," according to the Seattle Center What's Next report. "Participants tried to balance civic and cultural uses with revenue-generating development." Key planning themes were largely backed by multiple groups, including:
Building underground parking as part of all new development (a major change from the past with above-ground structured parking);
New housing set aside for resident artists on Mercer Street (a means to realize the arts district concept north of Seattle Center);
Additional cultural facilities dedicated to the performing arts, local community, and Native Americans; and
A brand new recreation and open space to the east of the International Fountain (in the area of Memorial Stadium).
But other changes are on the way for Seattle Center. KCTS, the local public television broadcaster, will vacate its studios in the northeast quadrant of Seattle after its lease expires, which will be soon. The Mercer Arena is already undergoing redevelopment as an extension of the Seattle Opera's presence at McCaw Hall. The Mercer Garage could eventually be redeveloped from a structured parking garage to more active and vibrant uses. And a partial block of land west the garage has active development interest; the City of Seattle and private developer are locked into two separate projects that would result in three-quarters of the site to be development as market-rate mixed-use and another quarter of the site as affordable housing.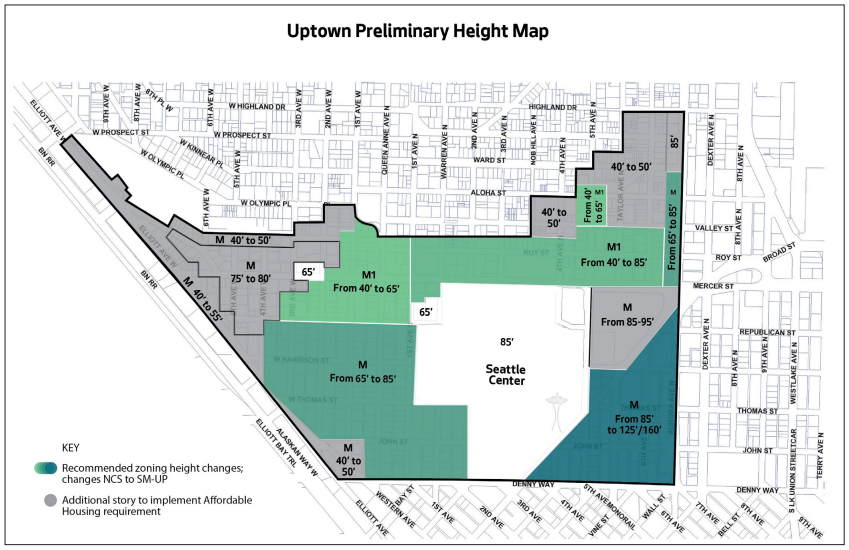 Under the Uptown Mandatory Housing Affordability rezone and urban design framework process, rezones could occur around the core Seattle Center campus. That includes Seattle Center properties north of Mercer Street and southeast of 2nd Ave N and Thomas Street. The main campus is intended to remain outside of that rezone and urban design process with zoning left at NC3-85, which allows a mix of commercial, cultural, educational, and residential uses and buildings up to 85 feet. However, future rezones for additional capacity could be requested through contract rezones or another comprehensive planning process.
Later this year, further plans providing more specificity on the trajectory of Seattle Center's future will be released for public review and involvement.
Seattle Center – What's Next Final Report – 2016
Featured image: Pacific Science Center, 1960s, courtesy of the Seattle Municipal Archives.
Uptown Development Regulations Push Affordable Housing And Open Space

Stephen is a professional urban planner in Puget Sound with a passion for sustainable, livable, and diverse cities. He is especially interested in how policies, regulations, and programs can promote positive outcomes for communities. With stints in great cities like Bellingham and Cork, Stephen currently lives in Seattle. He primarily covers land use and transportation issues and has been with The Urbanist since 2014.