When Sound Transit proposed a dogleg light rail alignment to Everett in order to pick up Paine Field on the way, many–present company included–expressed doubts. Would dreams of a second major airport in the region materialize and would it be at Everett's Paine Field? Were we building a rail dogleg to nowhere?
Those second airport dreams got one step closer to fruition last month as Alaska Airlines announced it would begin regional commercial air service to Paine Field in mid-2018. Yesterday, Propeller Airports broke ground on the new passenger terminal at a ceremony attended by Snohomish County Executive Dave Somers (who is also Chair of the Sound Transit Board) and Lieutenant Governor Cyrus Habib.
Alaska Airlines' chief commercial officer Andrew Harrison cited congestion both at the Sea-Tac International Airport and on area highways as motivating the expansion.
"Our region has seen tremendous growth in recent years, especially in north Puget Sound," Harrison said. "With Sea-Tac Airport near capacity and I-5 gridlock the norm, the time is right to give residents living in north King and Snohomish counties the option of flying closer from home. On behalf of Alaska Airlines and our 7,000 employees who call this region home, we're thrilled to join Propeller and Snohomish County in bringing commercial air service back to Paine Field."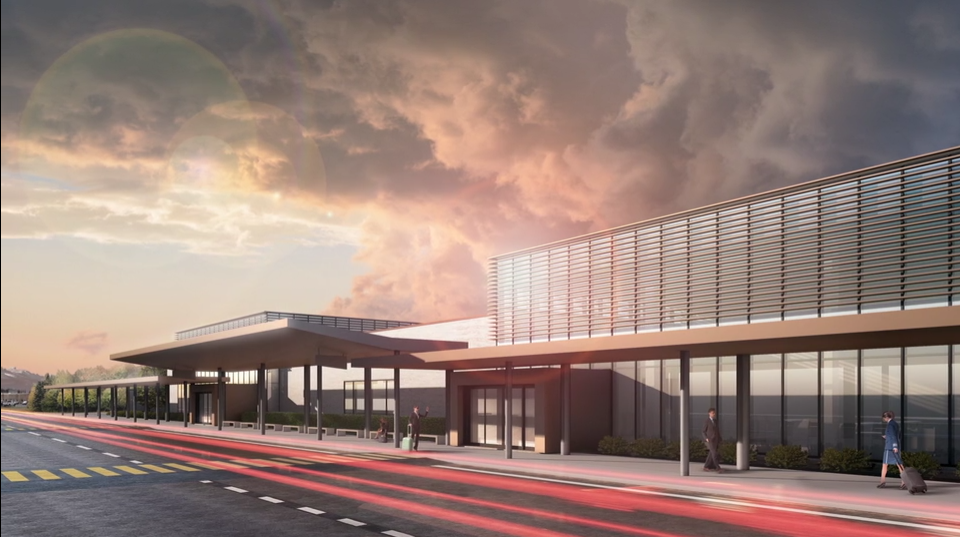 Alaska will start with service to nearby cities only, meaning Paine Field has a very long way to go to rival Sea-Tac, a behemoth airport that has climbed to ninth busiest in the nation and is also adding more terminals. "More than a million North Sound travelers will enjoy shorter commutes to the airport and up to nine daily departures," Propeller said in the press release. "Many travelers who live north of Seattle spend more time getting to an airport than actually flying to destinations as close as Portland, Oregon."
Executive Somers is proud to host groundbreaking for new passenger terminal at Paine Field. Big things are happening in @snocounty! pic.twitter.com/l75iXj6I9w

— Snohomish County (@snocounty) June 5, 2017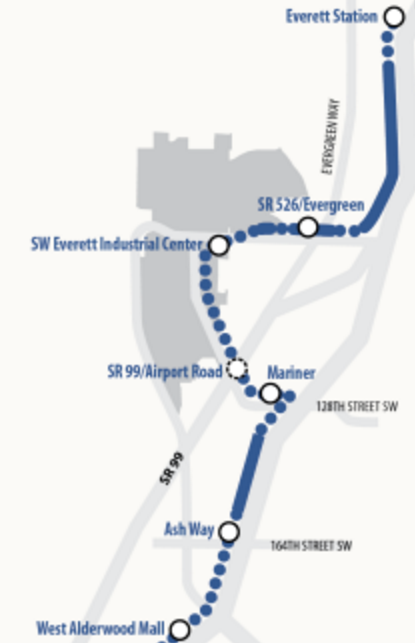 Propeller will rent the land for the two-gate terminal and revert the land back to County ownership after the lease:
In March 2017, Propeller entered into a public-private partnership with Snohomish County to develop the passenger terminal at Paine Field with private financing. Under a long-term lease, Propeller is responsible for building and maintaining a state-of-the- art, two gate terminal, which would revert to County ownership at the end of the lease. Propeller will make annual rental payments to the County. Estimated rent payments total more than $25 million over the term of the agreement, in addition to the County share or terminal revenues.
The small terminal could get the ball rolling and lead to Paine Field growing into the second major airport that regional leaders envisioned when they pushed to invest an additional billion dollars on the Paine Field alignment and delay light rail travel times to Everett by an estimated seven minutes over a SR-99 alignment. Needless to say, Sound Transit would be happy to have plane loads of customers to serve when they begin light rail service to Paine Field, which is expected by 2036.

One catch: no light rail station is planned right at the passenger terminal–although travelers are already used to a long walk through the parking garage at Sea-Tac. This walk would be more than a mile, probably not reasonable for a luggage-laden traveler. Particularly if Paine Field airport has grown by the time light rail opens, a shuttle could link the terminal to the nearest light rail station, which is called "SW Everett Industrial Center" at this juncture but hopefully not permanently. Or if Paine Field really grows in importance, an infill light rail station could solve the problem and go in near the terminal at 100th St SW and Airport Rd.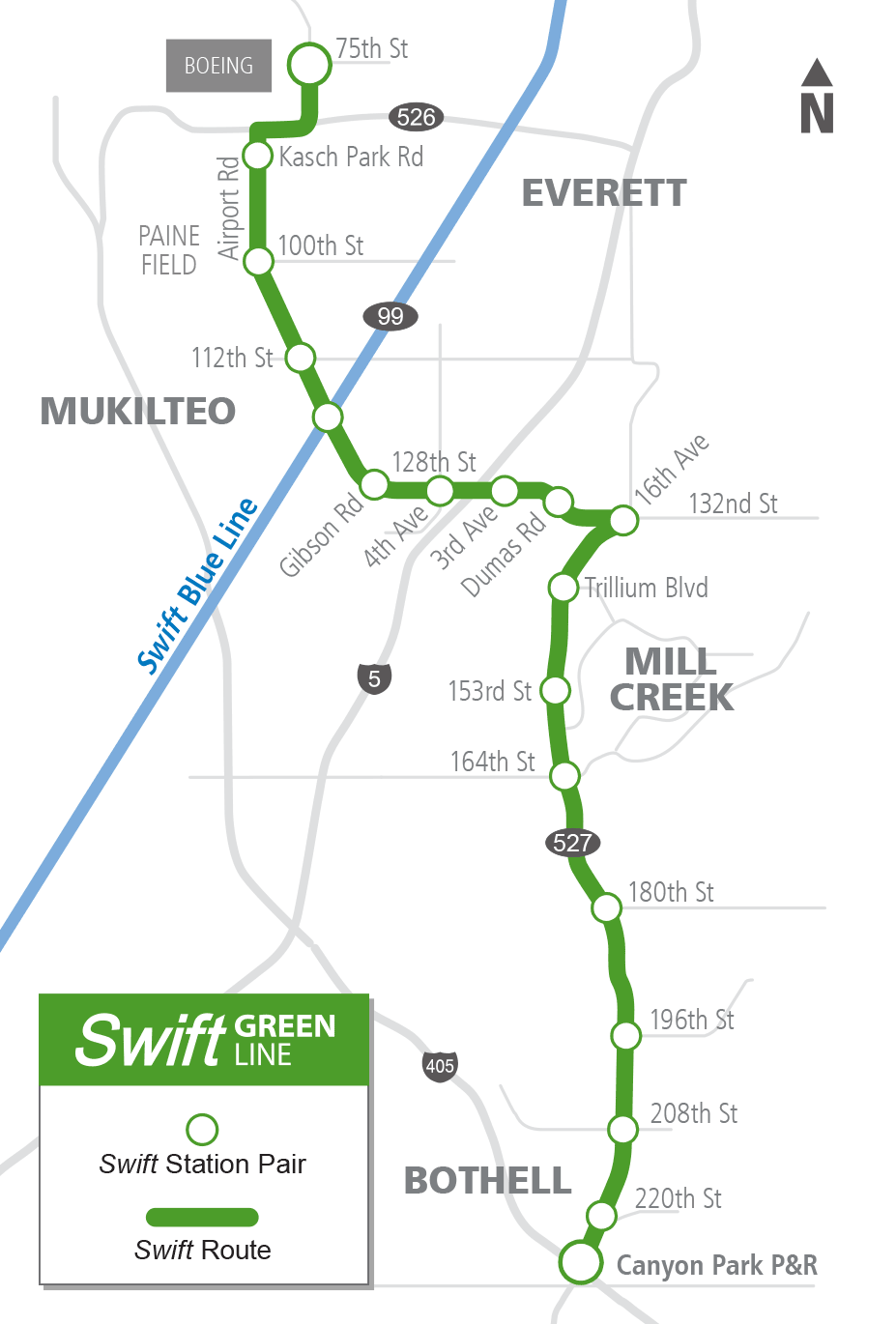 In the meantime, buses will serve the airport. That service will get an upgrade with Swift II's Green Line, which is schedule to go live in early 2019. The 100th St SW station will almost serve the terminal directly–stopping a quater-mile short. At the SR-99 station, the Swift Green Line will offer transfers to the Swift Blue Line, which runs along SR-99 from Shoreline to Downtown Everett and boasts of being Washington state's first bus rapid transit line (opened in 2009).
Anyway, with big airport and transportation plans, maybe big things are happening in Snohomish County.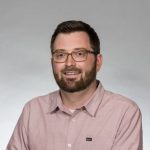 Doug Trumm is the executive director of The Urbanist. An Urbanist writer since 2015, he dreams of pedestrianizing streets, blanketing the city in bus lanes, and unleashing a mass timber building spree to end the affordable housing shortage and avert our coming climate catastrophe. He graduated from the Evans School of Public Policy and Governance at the University of Washington. He lives in East Fremont and loves to explore the city on his bike.