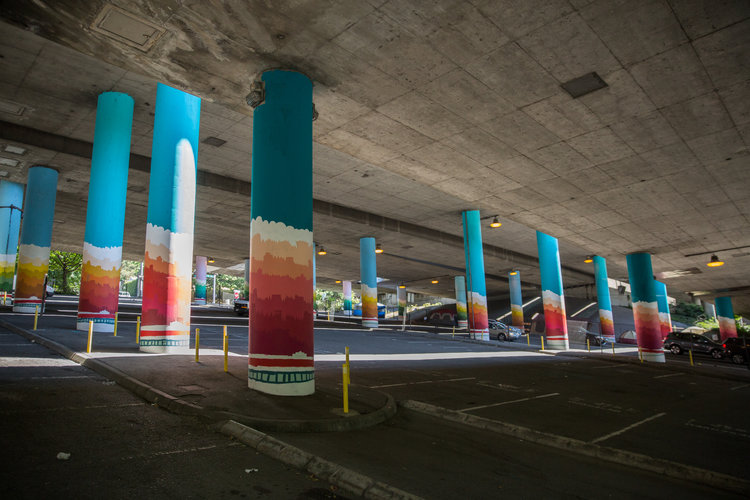 While we are a big proponent of lidding I-5 to cut off the sights and sounds of freeway traffic (or even removing it) and creating new public land out of a thin air, it's a big idea that will take sustained effort to realize. Fortunately, there also are a number of ongoing community efforts addressing the freeway's impact in the short term.
Finding Freeway Park
Freeway Park is Seattle's largest downtown public park and one of the first parks built over a freeway. The 5.2 acre park opened in 1976, bridging Seattle's Downtown and First Hill neighborhoods. Freeway Park Association (FPA) partners with Seattle Parks and Recreation on stewardship and public programming.
While FPA's work has brought a significant increase in positive activity, the space remains underutilized for two critical reasons: 1) Poor visibility into the park from its edges and entrances mean that many people don't know it exists and others don't feel safe entering it; and 2) The meandering and often disorienting landscape, though lovely, compounds the sense that the space is unsafe.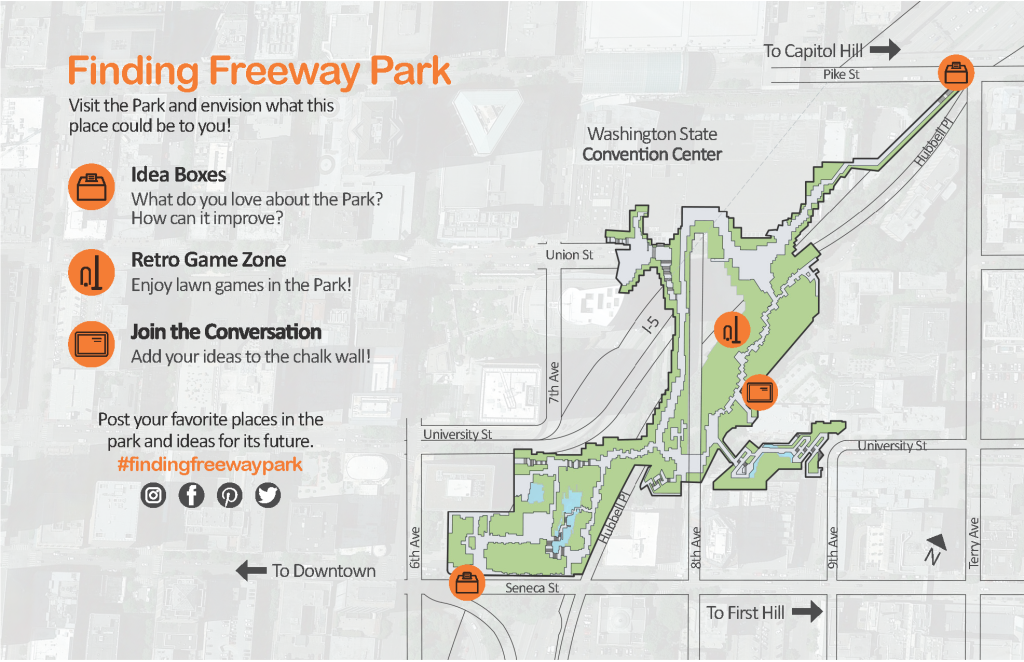 The Finding Freeway Park design initiative is now re-evaluating the park's position in the urban landscape and how it can better serve Seattle's rapidly growing population. Click here to read more about the project, see what the ideas are so far, and take an online survey about how you use the park and how it should be improved.
Schematic design will continue through the end of the year, and FPA hopes to get funding for further design and construction from the Convention Center Addition's public benefits package. Learn more at the Community Package website.
First Hill Column Painting
Walking or bicycling below the freeway on James and Cherry Streets can be a dreary experience compounded by shadows, the steep hill, and acres of parking lots. But the First Hill Improvement Association and Urban Artworks just completed a spectacular collaboration that is lighting up the space with bright and cheery colors.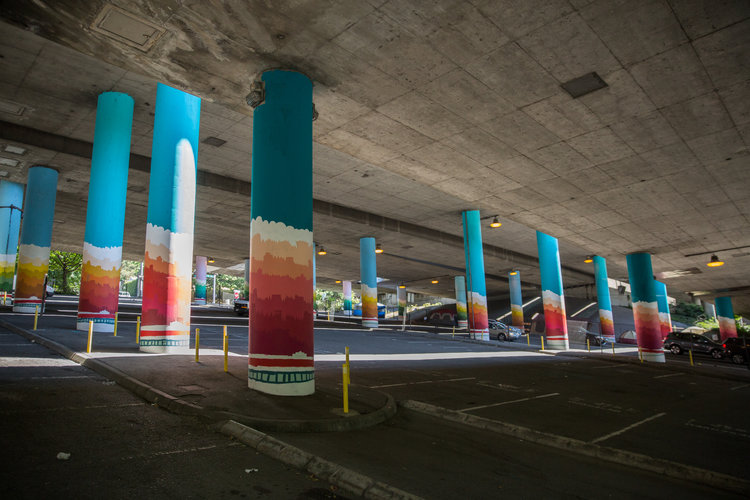 "Sunlight Over First Hill" by Nathan Watkins was selected by 3,000 voters and took over 1,000 hours to complete. Painting the 72 columns required permission from the Washington State Department of Transportation, and funding was provided by a $40,000 Only In Seattle grant from the Office of Economic Development. The concrete tubes now stand as a welcoming gateway between First Hill and Downtown.
C/ID Underpass Interventions
In the Chinatown/International District (C/ID) there is a community process to improve the I-5 underpasses at Jackson Street and King Street. The nonprofit Interim CDA and landscape architecture firm Site Workshop are hosting public charrettes to collect ideas on making these area more safe, functional, and attractive.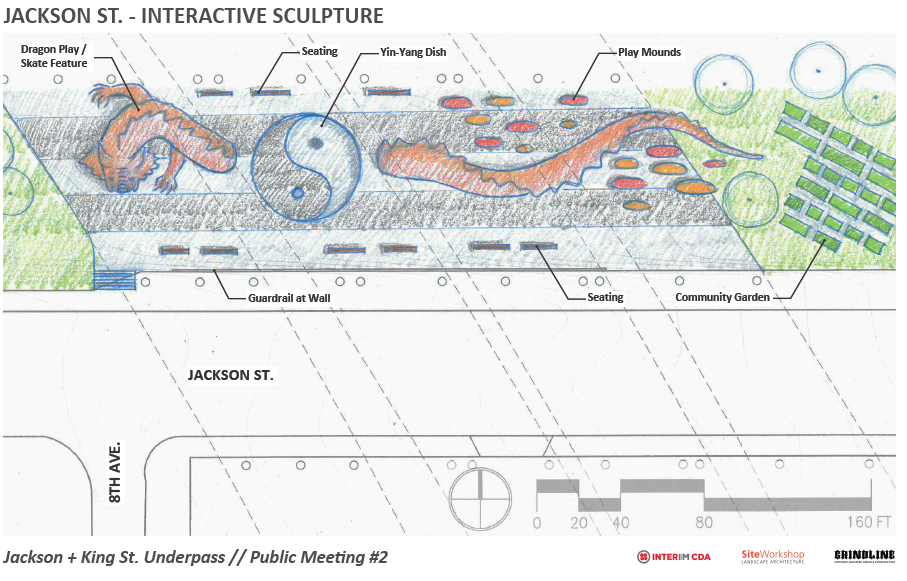 The focus is on the two embankments where I-5 meets ground level to the north and south, as the parking lot in the middle must remain in use. Above is one iteration of the many ideas that came out of the two design charrettes that have been held so far. Public art, dog parks, seating areas, and play features are among many of the possibilities. The image below shows one opportunity for enhancing the underside of the freeway structures.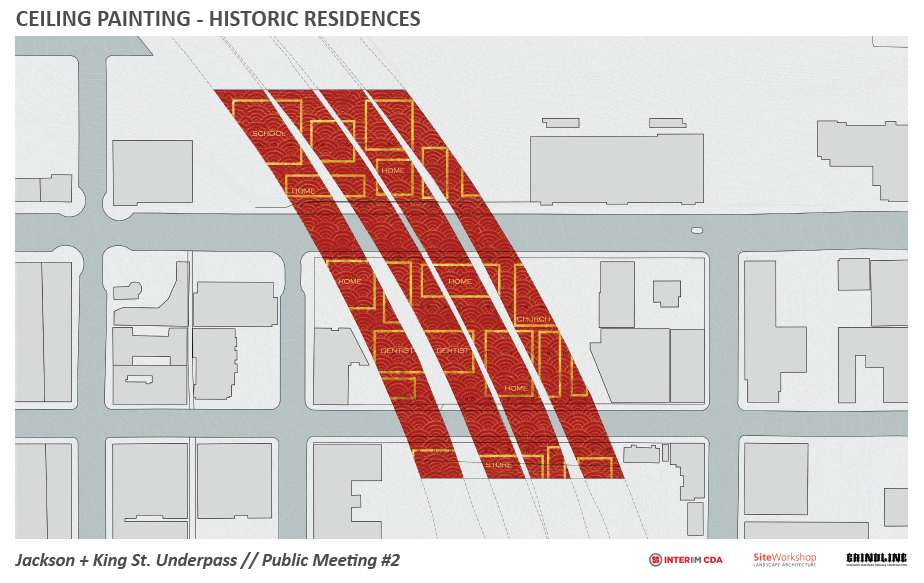 The creativity and fine-grained nature of all these projects illustrate that our city is built one brick at a time. We're excited that so many community groups and nonprofit organizations are working to enhance the areas around I-5.
Lidding I-5 in Downtown Seattle: Site Analysis and Interim Solutions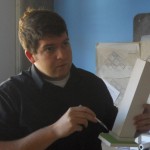 Scott Bonjukian is a car-free urban designer with a passion for sustainable and efficient cities. With degrees in architecture and urban planning, his many interests include neighborhood design, public space and street design, transit systems, pedestrian and bicycle planning, local politics, and natural resource protection. He primarily cross-posts from his blog at The Northwest Urbanist and advocates for a variety of progressive land use and transportation solutions.