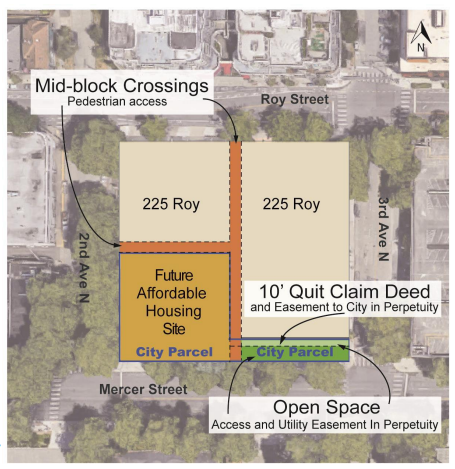 Yesterday, the Seattle City Council signed off an ordinance that could bring up to 100 more affordable housing units to Uptown. The city council also approved a five-year implementation plan for pedestrian infrastructure throughout the city.
Uptown Affordable Housing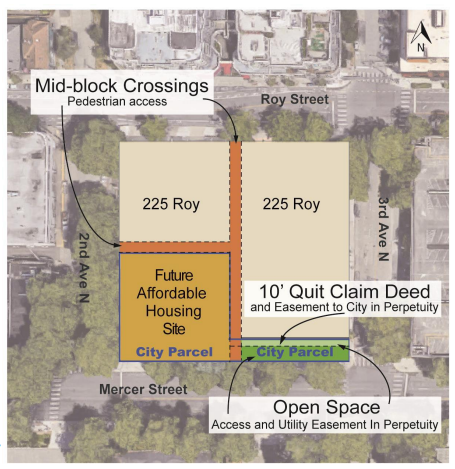 The city council also approved a property transfer from Seattle Center to the Seattle Office of Housing (OH) for a site located on the northeast corner of 2nd Ave N and Mercer Street. The purpose of the transfer is to eventually construct affordable housing on the site, which could accommodate between 70 to 100 units. OH says that 100% of the units would be rented at affordable rates preferably to homeless households. Prior to development of the site, OH would go through a community planning process and solicit proposals from nonprofit affordable housing developers. The selected developer would be eligible for city grants to help fund a project. Specific priorities for development would include:
Developing a project that primarily serves homeless households but could include other populations in need;
Development of ground floor uses that provide cultural space; and
Compliance with the city's Community Workforce Agreement.
Adjacent properties surrounding the site are already planned for redevelopment by a market-rate housing developer, which was acquired the properties last year from the city with the understanding that the affordable housing site would be set aside for future development.
Last year, the city council also approved a significant zoning on the affordable site housing site, allowing buildings up to eight stories (SM-UP 85 (M1) zoning) and requiring higher urban design standards. Formal transfer of the property could occur later this year if a successful developer is chosen to take on the affordable housing project. But an integrated plan could result in a cohesive full block redevelopment.
Pedestrian Implementation Plan

The city council also approved a resolution accepting the Seattle Department of Transportation's (SDOT) five-year pedestrian implementation plan. Specific actions are detailed in the plan spanning crossing upgrades, new and repaired sidewalks, construction of new curb ramps, and other improvements. Areas throughout the city are slated to see improvements made by the plan. SDOT also provided a progress report on pedestrian projects develivered in 2016 and 2017. The plan suggests a fairly aggressive schedule for pedestrian investments despite a very constrained budget. The five-year budget tops $88.1 million, but with hundreds of blocks missing sidewalks and thousands of curb ramps required under court order, the needs are great. The first implementation will at least provide a good starting point to scrutinize progress.

Stephen is a professional urban planner in Puget Sound with a passion for sustainable, livable, and diverse cities. He is especially interested in how policies, regulations, and programs can promote positive outcomes for communities. With stints in great cities like Bellingham and Cork, Stephen currently lives in Seattle. He primarily covers land use and transportation issues and has been with The Urbanist since 2014.