On Monday, a new advocacy organization called Cascadia Rail announced itself to the world, piquing interest with their spiffy map by maestro cartographer Oran Viriyincy. Cascadia Rail's vision is to connect every major city in Cascadia, which is a colloquial term for the states and provinces along the Cacade Range–namely Oregon, Washington, and British Columbia, but sometimes broadened to include Northern California and Idaho.
From a Washington state perspective, what makes this map and this vision so exciting is how elegantly it connects major urban centers across the state. Washington's Stampede Pass corridor brings in Ellensburg, Yakima, Tri-Cities, and Spokane–the last three being the largest metropolitan areas in Eastern Washington. Yakima and Tri-Cities boast access to some of best wineries in the state, opening up huge tourism-expanding potential, not to mention attracting talented people to Eastern Washington's booming industrial and business sectors. The inland corridor might not see bullet train style service, but even 120 mph conventional higher-speed rail could be a gamechanger. There could be big benefit in transport through the pass that is relatively immune to inclement weather, unlike driving I-90.
Cascadia Rail does envision ultra high-speed rail (250 mph!) for the densely populated corridor between Vancouver, B.C. and Portland (perhaps extending to Eugene). This opens up local commuting options just as surely as intercity ones. Imagine if downtown Everett and downtown Tacoma were about 15 minutes away from downtown Seattle instead of at least an hour in traffic. High-speed rail could also cut transit times to Olympia to 30 minutes. Today they're close to two hours.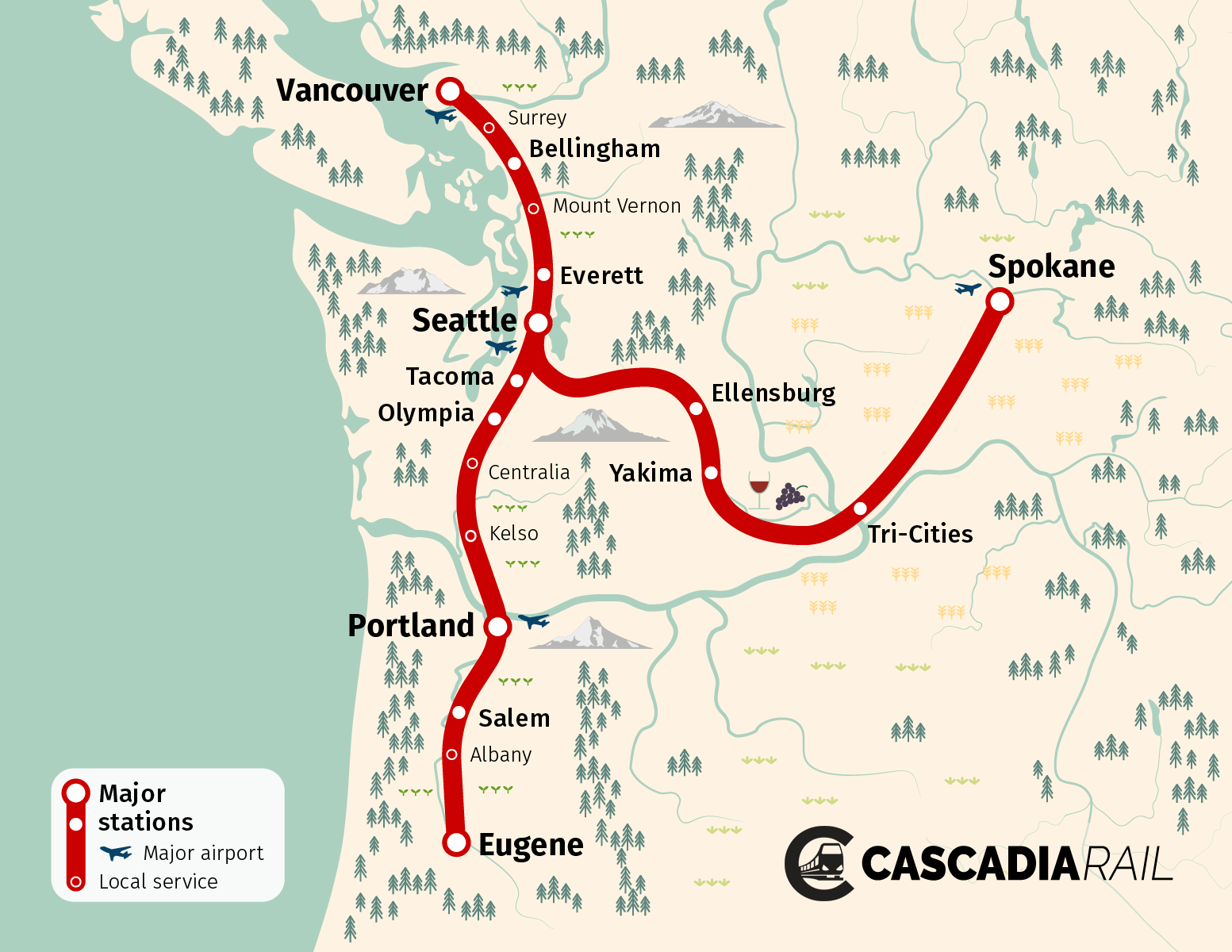 For Portland, high-speed rail could put Kelso, Salem, and Albany within 30 minutes, and Olympia and Eugene could be less than an hour away. For Vancouver, Surrey would be a blink away and Bellingham less than 30 minutes.
Lightning fast commutes means Everett and Tacoma could be much more attractive places for Downtown Seattle workers to live. Same goes for Portland and Vancouver and their neighboring cities on the line. Given the afforability crisis facing the entire Cascadia region, greater connectivity opens up more housing options for people seeking work in the expensive center cities. Thus, high-speed rail helps people economically displaced from a center city avoid being sentenced to a horrenous commute.
A bullet train can travel 250 mph; that is five times the speed of a Sound Transit light rail vehicle and three times as fast as the Cascade Amtrak line that currently runs from Vancouver, B.C. to Portland. https://t.co/wAnIiBVWin

— Cascadia Rail (@CascadiaRail) February 4, 2018
Critics will say high speed rail is expensive. But let's remember that just a few short years ago the Washington State Legislature authorized a $16 billion transportation package focused mainly on highway expansion. I dare you to name a signature project from that bill. While my idea that highway widening projects are almost never worthwhile can be debated, the fact the projects are so forgettable suggests we can do better. Imagine how captivating a campaign would be promising 85% of the state's population would be connecting by high speed rail often cutting travel times in half or better? That message seems like it could win legislative support.
Largest Metro Areas in Washington State
| Rank | Metropolitan Area | Population |
| --- | --- | --- |
| 1 | Seattle-Tacoma-Bremerton | 4,000,000 |
| 2 | Spokane | 557,000 |
| 3 | Vancouver (Clark County) | 467,000 |
| 4 | Tri-Cities | 284,000 |
| 5 | Olympia | 275,000 |
| 6 | Yakima | 250,000 |
| 7 | Bellingham | 217,000 |
| 8 | Wenatchee | 115,000 |
| 9 | Longview-Kelso | 105,000 |
| 10 | Walla Walla | 64,000 |
The above table show's that eight of Washington top 10 most populous metropolitan areas would be connected by the Cascadia Rail map. That's 6.15 million of Washington state's 7.29 million residents, even before counting smaller cities like Ellensburg, Centralia, and Mount Vernon that are also identified in the map. These two corridors easily connect 85% of the state population with easy access to high speed rail.
That we flushed the better part of $16 billion into highway expansion in 2015 suggests that high speed rail asking for money on that scale in a few years is not so farfetched. Rail advocates should be ready when the roadbuilding lobbyists come knocking for some more mostly futile highway expanding projects. We should either force highway projects be replaced with more scalable, efficient, and economically beneficial high speed rail, or, failing that, demand the investment in highway expansion be matched with intercity rail funds.
Washington State Department of Transportation's recently released economic impact study suggested building ultra-high-speed rail would boost the state's economic growth by an additional 2% and provide an average of 157,200 to 201,200 jobs per year during construction. What are we waiting for?
The Washington State Legislature is considering $3.6 million in funding to do a fuller study making a comphrehensive business case for high speed rail. Cascadia Rail made a handy tool to send a letter to your legislators to urge them to support this funding.
Ultra High-Speed Surface Transportation Feasible in Washington, State Report Suggests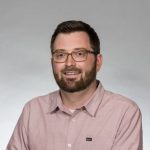 Doug Trumm is publisher of The Urbanist. An Urbanist writer since 2015, he dreams of pedestrianizing streets, blanketing the city in bus lanes, and unleashing a mass timber building spree to end the affordable housing shortage and avert our coming climate catastrophe. He graduated from the Evans School of Public Policy and Governance at the University of Washington in 2019. He lives in East Fremont and loves to explore the city on his bike.