The confluence of three streets in the heart of Ballard has long been a community concern. Technically a five-way intersection, Leary Ave NW meets 20th Ave NW in two places and one leg of NW Vernon Pl. The Seattle Department of Transportation (SDOT) instituted some modest changes several years ago to aid pedestrian crossings across Leary Ave NW north NW Vernon Pl. These included a relocated crosswalk, signage, and striping. This week, however, SDOT implemented much more significant changes with the installation of brand new marked crosswalks, rechannelization of lanes and painted "curb bulbs" on Leary Ave NW, stop signs, and overhead flashing beacons indicating the fully controlled nature of the intersection.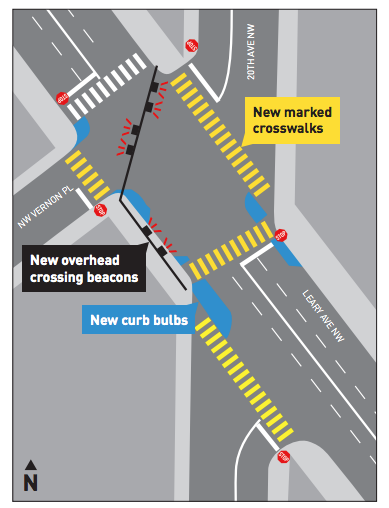 In 2014, The Urbanist documented in a YouTube video the confusing and dangerous nature of the intersection. At the time, it was observed that people driving vehicles tended to fail to yield to pedestrians and to speed. The primary marked crosswalk had also been moved northwest forcing pedestrians to awkwardly walk around the whole intersection if intending to cross Leary Ave NW or risk their lives at unmarked crossings.
The new marked crosswalks are a welcome addition to the street. These more clearly formalize the preferred ways pedestrians want to cross the complex street network. People driving tend to pay better attention to pedestrians crossing at intersections that are marked. But other features also reinforce this expectation, including the stop signs at all crossing approaches, flashing traffic control lights, stop strips, and painted "curb bulbs."
The painted "curb bulbs" is a technique that SDOT has been using for several years now to artificially trim down the width of streets as a way to discourage people from driving on certain portions of the roadway surface. This has typically been achieved with colored paint and flexible posts. SDOT has used a very classy painted brick pattern for curb bulbs.
The changes should improve the overall experience for all roadway users, including people driving and biking since the previous version emphasized vehicular throughput on Leary Ave NW as opposed the ability to cross it. Speeding and collisions will also likely see a drop as a result while people walking and biking may begin to see the street as a more welcoming options to move through the neighborhood.
This kind of investment, while small, should deliver significant, measurable benefits that could warrant more serious permanent changes to the street, such as eliminating a general travel lane in each direction on Leary Ave NW, converting them to bus-only or on-street parking, expanding sidewalks, and extending curbs to trim down this overly-wide street. Route 40's upgrade to a RapidRide would present an opportunity for transit lanes or a four to three lane rechannelization on Leary Way NW.
The project is the result of community advocacy. The hard work of transportation advocates got it selected amongst many worthy grant proposals to improve accessibility and safety. The total project cost was $5,000, which was funded through the 2017 Your Voice, Your Choice grant.
UPDATE 6/14/18: This article was updated to reflect the paint patterning later installed.
Leary Way is an accident waiting to happen, Ballard can do better

Stephen is a professional urban planner in Puget Sound with a passion for sustainable, livable, and diverse cities. He is especially interested in how policies, regulations, and programs can promote positive outcomes for communities. With stints in great cities like Bellingham and Cork, Stephen currently lives in Seattle. He primarily covers land use and transportation issues and has been with The Urbanist since 2014.