Last week, an upgraded bike lane rolled out and several other changes overnight on NE Pacific St in the University District. A new right turn lane and turn restrictions to University Way NE were imposed to improve safety as vehicles approach University Way NE from the east. This could enhance some bus movements heading from NE Pacific St to University Way NE since they won't have to queue a general purpose lane. The Seattle Department of Transportation (SDOT) rechannelized the street from University Way NE to just west of the Brooklyn Ave NE intersection, primarily in the westbound direction.
NE Pacific St Improvements
The upgraded bike lane now includes a full buffer with four parking spaces next to it. SDOT restripped the street, added flexible posts to delineate the bike lane from other portions of the street, and provided a crossbike across the Brooklyn Ave NE intersection. Another set of improvements to the street–which included buffered bike lanes and new sidewalks–were installed last year near the University Bridge. The bike lane (and its companion on the south side of the street) is an important way for people biking to circulate between other areas of the University of Washington campus, the upper portion of the University District (bike lanes are on Brooklyn Ave NE and partially on University Way NE), and areas to the west without having to navigate to and from the Burke-Gilman Trail.
This slideshow requires JavaScript.
For right-turning vehicles on NE Pacific St at University Way NE, a new turn lane has been added and an LED sign will light up with "no right turn" when the pedestrian crossing phase is activated. This should improve safety for pedestrians, reducing the potential for collisions.
The rechannelization also means that there will only be one westbound lane west of University Way NE. This is consistent with the street design that was already in place just west of Brooklyn Ave NE.
"We'd heard concerns from the surrounding community who were worried about the safety of people biking at the corner of NE Pacific Street and University Way NE," said Dawn Schellenberg, an SDOT spokesperson. "People biking can cruise westbound at a fairly high speed and we wanted to reduce the chance of conflict between people biking and people driving, including those operating buses."
SDOT and King County Metro Transit partnered together to deliver the project. The cost for the improvements comes in at $43,000 with part of that being paid through SDOT's Transit Spot Improvement program. Metro is also contributing through their Speed and Reliability program.
West Seattle Bridge Crossbikes
Further south, SDOT will install new bicycle facilities and upgrade pedestrian crossings in West Seattle where the spaghetti interchange and intersection where several different streets converge below the West Seattle Bridge. The project is funded by the community-driven Neighborhood Street Fund program and was chosen as one of 12 qualifying proposals in 2016. The total project cost should come in around $1.33 million.
The project will include two new crossbikes (stripped bicycle crossings), bike ramps, and a bike signal to help people riding bikes reach the Alki Trail. This trail is heavily used for people heading between West Seattle and Downtown Seattle. Locally, it's also a popular recreational trail to reach Alki and connect riders between West Seattle neighborhoods. Last month, the trail logged more than 37,900 bike trips–the largest monthly total since Viadoom back in 2016 when the trail topped 40,900 trips with the full closure of the Alaskan Way Viaduct for two weeks.
The diagonal crossbike will be located across the Harbor Ave SW/SW Spokane St/30th Ave SW intersection. Several bike ramps will be installed here to make the transition to sidewalks and trails easier for riders. On the west side of SW Avalon Way, SDOT will install another bike ramp at the SW Admiral Way intersection and a full crossbike across SW Manning St.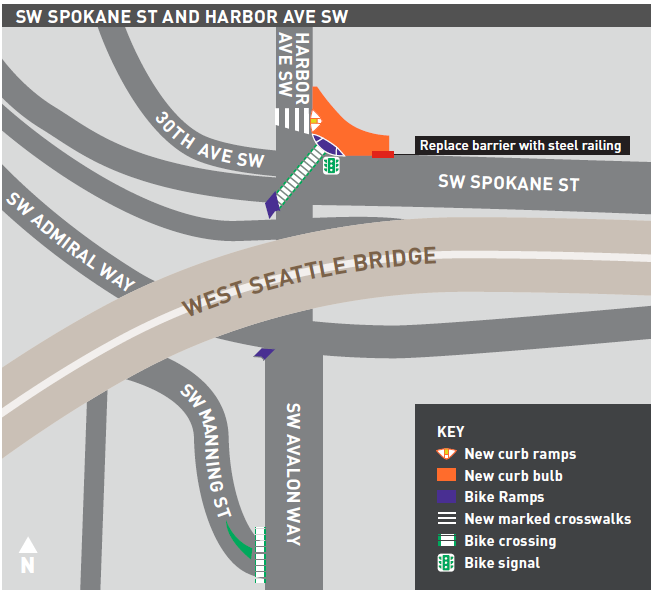 Pedestrian improvements will be provided north of the SW Spokane St intersection on Harbor Ave SW. This will include a change to the existing marked pedestrian crossing and an extended curb bulb to remove the large turning radius. The extended curb bulb should provide for a better mixing zone for people walking and biking on the Alki Trail and approaching the intersection. Work on the project should wrap up next month.
35th Ave SW Safety Project in West Seattle Will Not Be Expanded
Let's Make #Homes4WA
Washington faces a very deep housing availability and affordability crisis that has only worsened in the past several years. It's time for Washington to face this crisis head on. It's time to take action to house Washington. Let your legislators know we need their help to house everyone.

Stephen is an urban planner with a passion for sustainable, livable, and diverse cities. He is especially interested in how policies, regulations, and programs can promote positive outcomes for communities. With long stints in great cities like Bellingham, Cork, and Seattle, Stephen currently lives in Kenmore and primarily covers land use and transportation issues for The Urbanist.