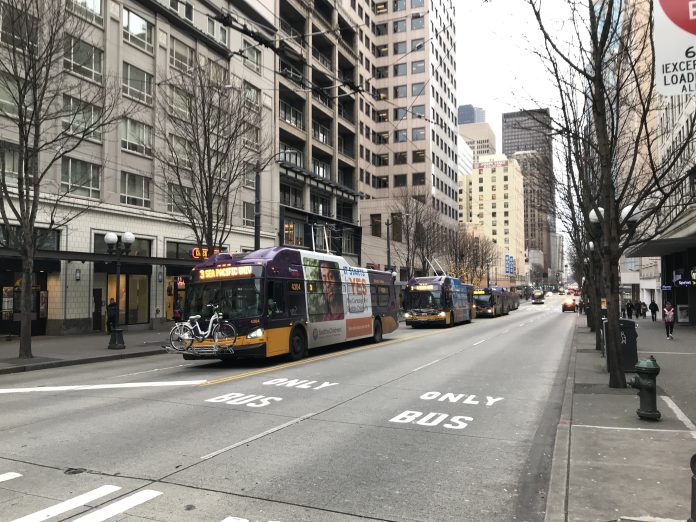 The Seattle Transportation Benefit District (STBD) wrapped up its third full year of transit service improvements and riders programs. The results continue to show progress, particularly by boosting overall bus ridership and access to very frequent transit service.
The STBD was expanded in 2014 when voters in Seattle elected to impose an additional $60 car tab fee for the exclusive purpose of transit. Voters passed the measure by a wide margin (62.4% saying yes to the measure) to save what was then a transit system on the cusp of deep cuts due to falling sales tax revenues. The additional funding had the good fortune of not only saving existing service, but greatly expanding it.
However, the car tab funding will run out at the end of next year without some sort of reauthorization. Seattle and King County are said to be in collaboration on a countywide measure that could serve to raise all boats, so to speak, for transit. A measure of that sort likely could go far in realizing the Metro CONNECTS long-range plan. While the details of that measure are still forthcoming, there is a key threat to that effort.
Tim Eyman has successfully gotten his anti-transportation initiative qualified for review by the state legislature is likely passed on to voters this November. His initiative would strip local funding options like the STBD from state law, creating chaos on how to even fund existing transit service. The danger is voters won't pay enough attention to the threat the initiative poses and it will slip through to wreak transportation havoc.
STBD continues to provide high value for revenue
Money going into the STBD is highly productive in service delivery. For every dollar put into the system, $0.91 goes directly to funding better transit service and access. A small sliver of funding, two cents for every dollar, goes into program and service planning as well as program analysis. That is a very low administrative cost. The STBD also boasted a surplus, which put seven cents of every dollar into a reserve fund. Material changes to the STBD last year mean that much of this reserve balance will be spent down for new programs in the remaining time of the STBD car tab fee charges.
Ridership continues to grow as more service is deployed
Between June 2017 and June 2018, ridership on Seattle bus routes, Link light rail in the city, and regional partnership bus routes grew by 9,900 daily riders (+2.8%) to 365,300 daily riders. Surprisingly, only a small slice of this was fuelled by ridership growth on light rail. Link trains in Seattle saw an additional 1,400 daily riders. Most of the additional daily trips were on Metro bus routes, which grew by 8,500 daily riders (+3.1%).
The original Seattle routes funded by the STBD saw a very small share of the ridership growth with only 700 new daily riders (+0.3%). The bulk of the growth in ridership came from regional partnership routes, most of which will now be considered Seattle routes. These include Routes 106, 120, 124, 345, 372, and 373 and the RapidRide E Line, which primarily see their ridership driven by destinations in Seattle.
Adding in the new Seattle routes means that the STBD will start off with a baseline of 272,300 daily riders that partially benefit from service investments from the STBD.
Over the reporting period, five routes saw weekday ridership grow by 500 or more daily rides:
RapidRide C Line grew by more than 1,100 daily weekday rides;
Route 65 grew by more than 800 daily weekday rides;
Routes 60 and 67 grew by more than 700 daily weekday rides; and
Route 40 grew by more than 500 daily weekday rides.
In part, these ridership gains were the result of service improvements that the STBD has been making. Purchase of additional service hours has translated to some 6,780 extra weekly bus trips across the citywide network.
Urban Centers and Urban Villages throughout the city have been particular beneficiaries of the bus service improvements. Areas with the highest level of investments (more than 1,000 additional weekly trips) have naturally been very dense business and housing districts like Uptown, Capitol Hill, Downtown, and University District — all of which are Urban Centers.
Unsurprisingly, areas near the edges of the city appear to have lower levels of investments. This is primarily due to the fact that the STBD had only funded trips on routes with a high proportion of their stops being located in the city. This has since changed and the next reporting period will likely show increases for areas like Othello and South Park, which are served by Routes 106 and 124, respectively.
Still, many Urban Village cracked 500 additional weekly trips on routes, such as Bitter Lake, Ballard, Wallingford, and the Junction. And despite the close proximity to the city limits, the Urban Village in Westwood and Highland Park has even seen more than 900 weekly trips added. In short, neighborhoods rich and poor are receiving critical transit service improvements.
Frequent transit access progress
Since 2015, the STBD has been instrumental in helping to add very frequent service to corridors across the city. That has helped more households be within a 10-minute walk of frequent transit. For instance, only 25% of households were within a 10-minute walk of service as frequent as every 10 minutes. That number has soared to 67% of households as of year. The pace of increase, however, is slowing in large part due to Metro struggling to provide more storage for bus equipment and to hire bus drivers fast enough. The city has a goal to provide 72% of households access to 10-minute or better service by 2025.
The geographic change of 10-minute or better transit service is remarkable when mapped:
Last year's frequency service improvement to every 10 minutes or better largely only added small pockets in and around Pinehurst and Eastlake. Routes 41 and 70 were the beneficiaries of the new very frequent service levels.
Aside from high ratios of households benefiting from 10-minute or better service, the STBD now touts that 96% of households in urban villages have access to 15-minute or better service by one or more routes. And for basic 30-minute or better service, 100% of all bus routes identified in the Frequent Transit Network meet the standard. Virtually all households are within walking distance of this type of service.

On-time performance improved
While it may be hard to believe, the on-time performance of bus routes in Seattle improved. The STBD saw on-time performance increase by 1.3% on weekdays, rising to 77.9% on-time. There were some periods that saw worsening performance. Perhaps surprisingly, these periods were late at night and early in the morning, not at peak-of-the-peak commute times. Whether or not that holds during Seattle's Period of Maximum Constraint remains to be seen, but some people are already reporting better travel times as people ditch their cars.
ORCA Youth program sees growth
The growth of the ORCA Youth program was a bit slower last year, in part because the program temporarily capped out at 3,000 transit passes. Still, the program continued to boost trips taken by another 73,000 (513,000 total) over year prior. Families also saved a substantial sum of money, topping $776,000 for the year ($259 per student). A small increase in trips per passholder was noticed, too, rising from 3.9 per week to 4.1 per week.
Next year, the program will add thousands of other students since it was expanded in the fall. The program performance data from that fell outside the reporting period, so it will be interesting to see how the performance measures change with so many more students.
Trailhead Direct contributions
Beginning in the spring last year, the STBD joined a partnership with King County Parks, King County Metro, and several outdoor sponsors to launch weekend and holiday bus and van service to hiking trails in the Issaquah Alps and North Bend. Two routes from Capitol Hill and Mount Baker were launched. The results of the second year pilot indicated high demand for service. The STBD funded nearly 50% of the service cost.
2018 changes to the STBD
Since its latest iteration in 2014, the STBD has been primarily concerned with maintaining existing transit service levels. The measured passed by voters required STBD funding to first ensure that service levels on bus routes with 80% of their stops located in the city were spared cuts. After that, the STBD stipulated $3 million per year could be used on other routes with regional partners, $2 million per year could be used to provide subsidized transit access to low-income riders, and then any remainder of funds on addressing bus overcrowding, reliability, and service growth.
Last year, the STBD received several material changes to the scope of the district authority. The changes broke down into four categories: authorizing funding for capital improvements and free ORCA transit passes for students as well as providing more flexibility for regional partnerships and investments in RapidRide.
Through December 2020, the Seattle Department of Transportation will be able to spend up to $10 million in additional revenues on capital improvements for transit. These investments could include transit-only lanes, queue jumps, transit signal priority, and other strategies to improve speed and reliability. Capital investment funding could also be used on enhancements to the passenger experience, such as off-board fare payment and stop improvements.
The ORCA Youth program was expanded to offer free ORCA transit passes to all Seattle Public Schools high school students in addition to some middle school and college students. Each year, the STBD will set aside up to $7 million per year for the ORCA Youth program. It will serve approximately 10,200 high school students in concert with Seattle Public Schools, which will continue subsidizing 6,200 of the passes. The OCRA Youth program will also help another 500 middle school and 300 Seattle Promise community college students obtain free transit passes. The city had been funding 3,000 free transit passes for qualifying high school and middle school students prior to the program expansion. Seattle Public Schools will continue to provide transit passes for another 1,800 middle school students.
The STBD will also allow for more regional partnership opportunities to cost-share service improvements on routes that only have 65% of stops within Seattle. This reduces the minimum requirement from 80% of stops within Seattle, allowing many other routes to become eligible for additional service hour investments, including Routes 106, 120, 124, 345, 372, and 373 and the RapidRide E Line–routes that tend to operate in underserved areas of the city.
Finally, all existing and future RapidRide services will be eligible for additional service hour investments regardless of geographic operation (i.e., wholly or partially operating in Seattle) or performance metrics.

Stephen is a professional urban planner in Puget Sound with a passion for sustainable, livable, and diverse cities. He is especially interested in how policies, regulations, and programs can promote positive outcomes for communities. With stints in great cities like Bellingham and Cork, Stephen currently lives in Seattle. He primarily covers land use and transportation issues and has been with The Urbanist since 2014.