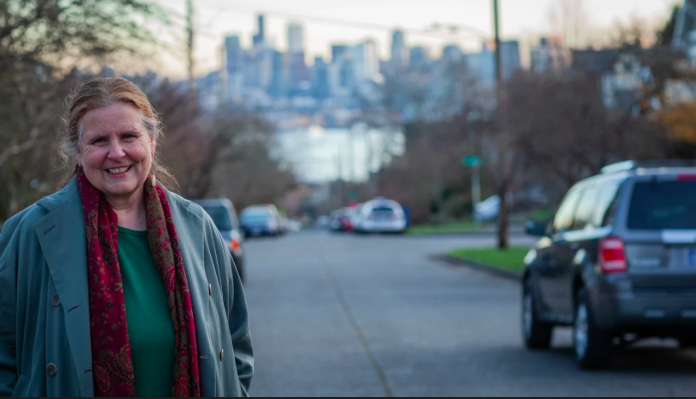 For the last year and a half, Seattle City Council candidate Cathy Tuttle has been traveling the world and consulting on topics related to urban planning. Major projects included a stint in Hawaii, where Tuttle spent two weeks on each of the four major islands studying the problem of pedestrian fatalities, particularly among elderly Hawaiians.
Hawaii has one of the highest fatality rates for elderly pedestrians in the US. During her time as a consultant, Tuttle brought together four different mayors and city councils, encouraging them to share data in order to better understand the factors contributing to the high rate of pedestrian deaths. Her work helped result in the adoption of a Vision Zero plan by the Metropolitan Planning Organization of Maui.
If Tuttle's work on Maui sounds like the apex of many urban planners' aspirations, just wait. She also recently spent a revelatory two months in Spain studying how infrastructure design can result the creation of healthier and more sustainable cities.
Tuttle, who holds a PhD in urban design and planning and over the past decades has been at the helm of various grassroots environmental non-profits, is one of Seattle's best examples of a grand dame for sustainable urbanism.
Thus it is difficult to imagine that an encounter with a new city could be revelatory for Tuttle; however, Pontevedre, a city of about 85,000 inhabitants on Spain's northwest coast, proved to be the case. What was initially planned as a short visit fanned out into weeks–and ever since leaving Pontevedre, Tuttle has been eager to return.
"Pontevedra has the largest pedestrian area I have ever been to," said Tuttle, "It is dense, lively and beautifully maintained. And because it has existed for twenty years, they have been able to perfect all the small details, like where to place the benches, what kind of lighting to have, where to locate green space."
The brainchild of a pediatrician turned politician Miguel Anxo Fernández Lores, the Pontevedre's expansive pedestrian area was created because Fernández Lores felt it was the "healthiest thing we could do for our kids."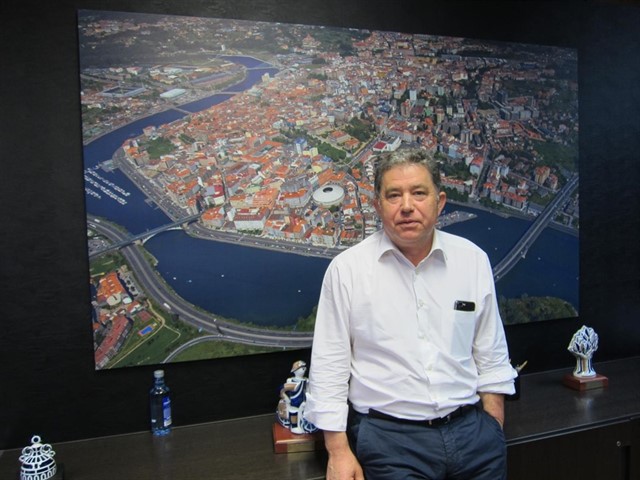 Concern for the health of future generations is also what has steered Tuttle away from world travel and toward Seattle politics, with the escalation of climate change serving as a major motivating factor for her council campaign.
"In ten years we have to cut out our carbon footprint in half," Tuttle said. "We are almost out of time. There is no margin for error.
Tuttle's history of activism, particularly in the area of climate change, dates back to Dr. James Hensen's 1988 Congressional testimony on global warming. In fact, concern about climate change inspired Tuttle to travel to Sweden after completing her PhD at the University of Washington, since it was the "most greenest place" she could find. It also led Tuttle to found Seattle 350, a climate justice organization.
If elected to City Council, Tuttle pledges to prioritize climate policy. Not shy about putting the environment at the front of her campaign, Tuttle's media release states she will "center the environment in all decisions." One of the ways Tuttle aims to accomplish this goal is by getting the city to measure the climate impacts of the all the policies it implements. "We cannot understand what we do not measure," she said.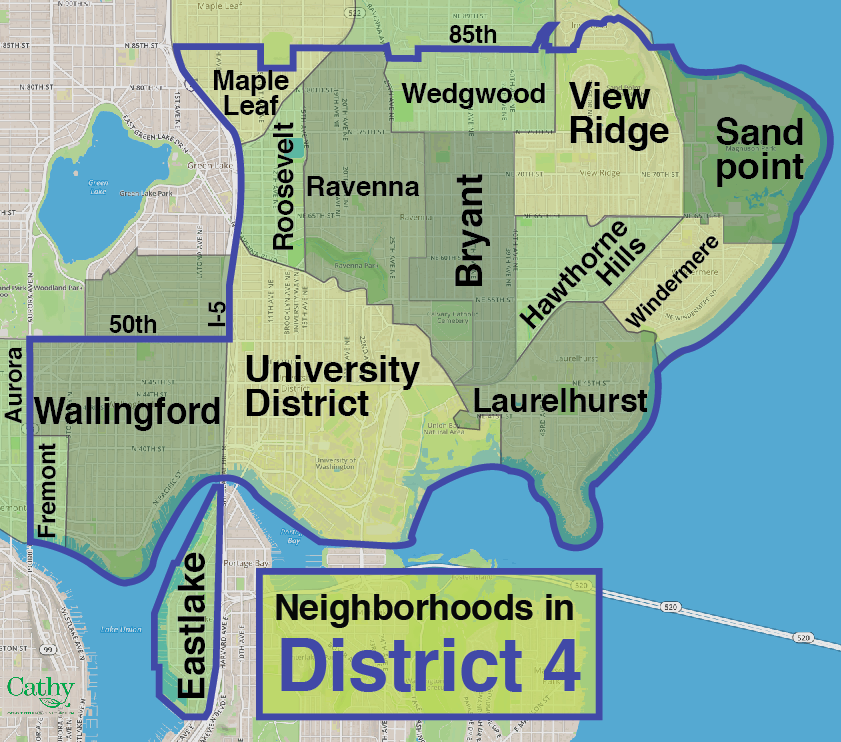 A Wallingford single-family homeowner who is also a vocal advocate for density
One of the organizations Tuttle founded was Sustainable Wallingford. A longtime Wallingford resident, Tuttle lives in a craftsmen single-family home on a lot zoned for fourplexes. She is acknowledges the irony this presents to her position as pro-density advocate, but also hopes that it could also help her build bridges on what as proven to be a contentious issue across District 4.
Many of her Wallingford neighbors who have fought the city polices aimed at increasing density, such as Mandatory Housing Affordability upzones and Accessory Dwelling Unit (ADU) reform, have done so because they fear the loss of the communities they had cultivated over decades, Tuttle said.
Back in the late nineties, Tuttle was hired by the City to undertake the daunting task of analyzing the "starry-eyed neighborhood plans that represented hundreds of hours of work" and reconciling them with the realities of city policy and governance. It was an arduous task, and Tuttle admits that many elements of neighborhood plans were impossible to implement then and are even less realistic twenty years later. Nevertheless she believes it is crucial to engage communities in planning decisions.
"You have to start with really good policies, but then you have to back it up with action, and how you back up that action is with community buy-in," Tuttle said.
When it comes to the necessity of embracing density, Tuttle believes it is essential and not only as a solution for Seattle's housing affordability crisis. "We absolutely need density because it addresses climate change," said Tuttle, who cited how increased residential and commercial density also make it possible to implement better public transit, a key factor in reducing carbon emissions.
Tuttle is hopeful that compromise can be struck between single family homeowners like herself and what she sees as an urgent need to increase density across Seattle.
"We have an obligation to the next generation. I think homeowners need to understand that we are not coming for their houses. We are not coming for their communities," Tuttle said.
Tuttle believes that a lot of the current angst stems from "growth that has gotten ahead us" and fear of change among some longtime Seattle residents.
"Change is difficult because you don't know what's going to happen, and don't have good examples of it yet," said Tuttle, who suggested that Seattleites look to other cities like nearby Vancouver, BC, as inspiration.
Former Seattle Neighborhood Greenways leader does not want to be pigeonholed as a "bike candidate."
These days Tuttle might be best known as the former Executive Director of Seattle Neighborhood Greenways (SNG), an organization that advocates for safer streets for pedestrians and cyclists. Because SNG's work to promote bike lanes has garnered more attention than its other efforts, Tuttle is concerned that her campaign might get pigeonholed as focused on expanding bike infrastructure, which can be a contentious topic in Seattle.
At the same time, Tuttle acknowledges that many the problems that first inspired her to create SNG have not been resolved.
Tuttle began SNG because she wanted her son to be able to safely bike between where they lived in Wallingford and places where he wanted to play and visit with friends in Roosevelt. That was back when her son was eight; now he is twenty-one and a safe bike connection still does not exist. The sting of that absence will be made more pronounced by coming expansion of light rail into Roosevelt and the growth of the neighborhood along with it.
Creating safe connections for pedestrians and cyclists to access the light rail station that will open in both Roosevelt and the University District in 2021 has been identified by Tuttle as one of her key priorities for District 4, and Tuttle is dismayed by the slow roll out of protected bikes lanes in Seattle.
During her time in Spain, one her main focuses was learning how cities, like Seville, have been able to implement protected bike lane networks quickly and cheaply. In contrast to the approximate seventy-five miles of protected bike lanes that exist in Seville, Seattle implemented less than two miles of protected bike lanes in 2018. Seattle's numbers improve a bit when Neighborhood Greenways are taken in consideration (nearly eight miles of Neighborhood Greenways were completed); however, Tuttle has acknowledged that actual impacts of greenways have been less substantial than she hoped for because of some of the compromises that have been made along the way.
Tuttle believes there is a lot Seattle could learn from Seville in terms of how to rapidly implement a bike network. From dumpsters, to parked cars, to poles embedded into concrete, Seville used whatever options were at hand to create a physical barrier between cyclists and cars.
However, Tuttle also acknowledges that the plan succeeded because of the level of community support it received.

One way Tuttle believes that Seattle could inspire increased community buy-in around the issue of safer streets would be to emphasize our shared experience as pedestrians. "Nearly all trips, including those that happen in cars, begin and end with walking," said Tuttle, who does not identify as a cyclist and cites safety concerns as the primary reason she does not bike often.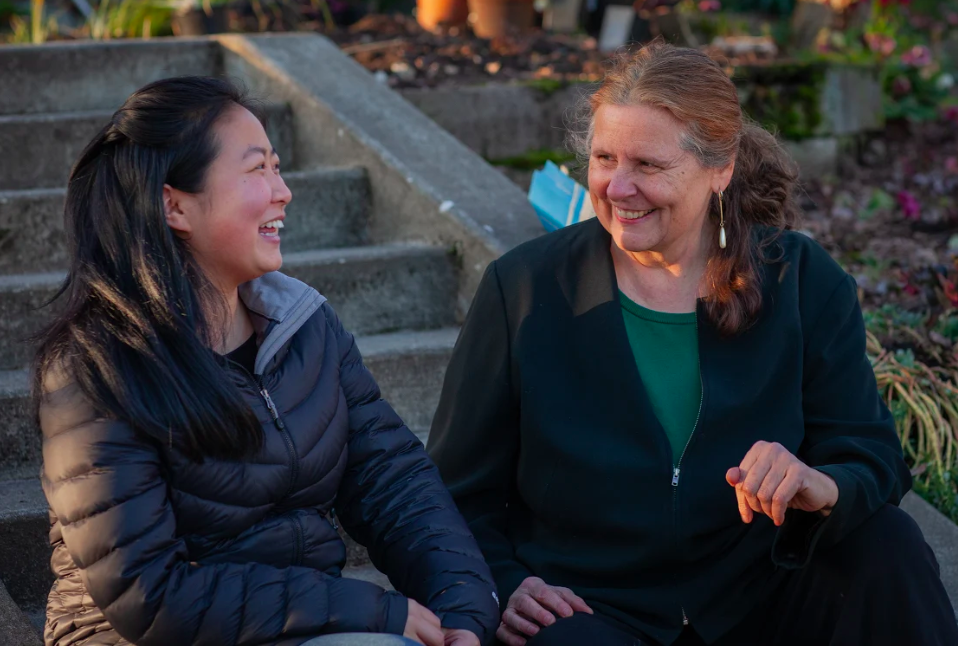 Campaigning is a chance to listen and learn.
Depth of experience in regards to urban planning and design is certainly a strong suit for Tuttle; however, addressing pressing social issues like homelessness, is one area where Tuttle admits that she has some learning to do. During a recent conversation with an advocate for the homeless, Tuttle said she was surprised to learn how homeless shelters are not meeting the needs of all users equally, and that older women in particular confront obstacles to accessing shelter.
In addition to simply not feeling safe, Tuttle said many older women struggle with some of the basics of life in a homeless shelter, such as sleeping on the floor or having limited time to shower.
Tuttle sees campaigning as an opportunity to listen to community members and learn more about the problems that concern them.
"The joy of campaigning is that you get to talk to people," Tuttle said. "Meeting with people and learning about the things that are deeply meaningful to them is something I'm really looking forward to."
Natalie Bicknell is a member of Central Seattle Greenways.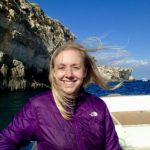 Natalie Bicknell Argerious (she/her) is Managing Editor at The Urbanist. A passionate urban explorer since childhood, she loves learning how to make cities more inclusive, vibrant, and environmentally resilient. You can often find her wandering around Seattle's Central District and Capitol Hill with her dogs and cat. Email her at natalie [at] theurbanist [dot] org.