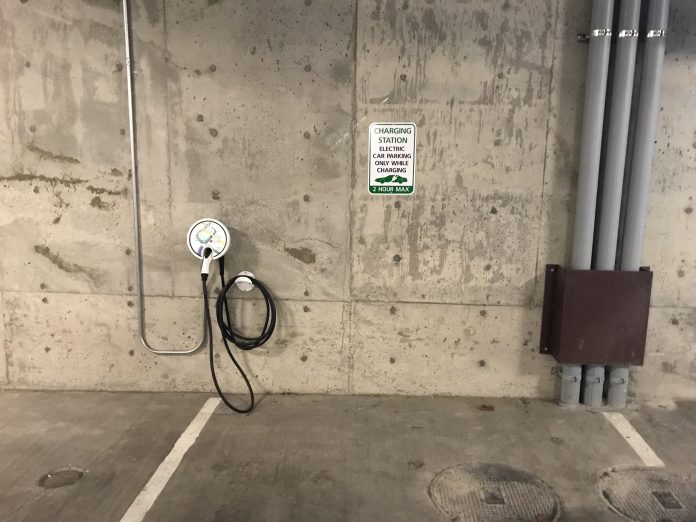 On Monday, the Seattle City Council passed legislation to require to much of new development in the city to provide electric vehicle-ready (EV) equipment. The city council passed a modified version of the legislation, which would require a report by June 1, 2022 to evaluate program implementation and possible recommendations if the program is not operating as intended. The adopted legislation remains otherwise unchanged from the Seattle Department of Construction and Inspections proposal transmitted in March.
In a statement, Mayor Jenny Durkan commended the city council in approving the legislation. "Seattle must continue to take bold action on many fronts to reduce carbon pollution and address the negative impacts of climate change. This includes investing in access to transit, bikes, and housing options near transit. This legislation is an important step forward to making sure Seattleites can reliably charge electric vehicles," Mayor Durkan said. "We need to do more to reduce the number of vehicles on our roads and to move to electric vehicles. It is significantly more cost efficient to include EV infrastructure in construction from the start. Our actions to reduce emissions from transportation will help create a healthier and more just city."
The objective of the legislation is to ensure that new development with parking will provide the basic equipment necessary to install EV chargers. Making the small infrastructural investment upfront greatly reduces the cost of systems installation later since they will not need to rewire, add ports, and other power systems that are expensive and highly disruptive to install after new construction. This should make it more likely that property owners will choose to install EV systems in the future.

In terms of the legislation, "EV-ready" means providing parking spaces that are "designed and constructed to include a fully-wired circuit with a 208/240-volt, 40-amp electric vehicle charging receptacle outlet or termination point." That includes installation of conduit, wiring, and electrical capacity that could facilitate EV charging equipment.
The EV-ready standards developed should provide enough basic equipment so as to power most parking stalls with EV charging stations in the future.
The EV-ready requirement will apply to new development as follows:
Individual residences. At least one EV-ready space for individual residences (e.g., single-family detached, duplex, or townhouse) with private garages, carports, or parking areas.
Multiple residences. Generally, at least 20% of all shared parking spaces in garages or surface parking lots in multifamily developments would need to be EV-ready, except that in the case of surface parking lots with between one and six parking spaces, all spaces would need to be EV-ready, and surface parking lots between seven and 25 parking spaces would need to have at least six EV-ready spaces.
Other residential uses. All other residential uses with parking would need to be provided with at least 20% of parking spaces as EV-ready.
Non-residential uses. At least 10% of all parking spaces for non-residential uses would need to be EV-ready.
If no parking is provided as part of a development, then EV-ready requirements will not apply. The legislation also contains provisions on how rounding of EV-ready parking space requirements operate and discretionary reductions of requirements. Implementation of the requirements will rely upon the Seattle Electrical Code, which already has some standards for EV-charging equipment.
The legislation should help the transition of cars from fossil-fuel powered systems to electric systems, potentially reducing embedded carbon emissions and localized pollution from vehicles. The majority of Washington's carbon emissions come from transportation, so this could help take a bite out of that as a transitional incentive.
However, it is important to note that the best climate change measures to reduce carbon emissions from the transportation system involve getting people not to drive at all. Washington often touts how much renewable, clean energy that the state receives from hydroelectricity. The problem is that production of energy from this source can be devastating from an ecological standpoint. Hydroelectric dams are well known to cause substantial coastal erosion, kill fish species, and force the release of greenhouse gases near hydroelectric dam reservoirs.
So while legislation like this should help reduce highly polluting vehicles, it is by no means a panacea to the environmental woes of Seattle's transportation system. Walking, biking, and transit (and policies to encourage them) as well as land use must still be high on the list of priority and reform to truly put a dent into carbon emissions, protect the environment, and create better cities in the process.

Stephen is a professional urban planner in Puget Sound with a passion for sustainable, livable, and diverse cities. He is especially interested in how policies, regulations, and programs can promote positive outcomes for communities. With stints in great cities like Bellingham and Cork, Stephen currently lives in Seattle. He primarily covers land use and transportation issues and has been with The Urbanist since 2014.