We asked Seattle City Council candidates to submit answers to a questionnaire before meeting with us as The Urbanist Election Board decided which candidate to endorse in each race. Yesterday, we recapped candidates' affordable housing strategy responses. Another issue The Urbanist cares deeply about is protecting people moving through our streets, especially vulnerable users. In February 2015, The City of Seattle adopted a goal of eliminating traffic deaths and serious injuries by the year 2030, dubbing the campaign Vision Zero. Even with a lofty goal set, progress has largely stagnated as street redesigns have been delayed, watered down, abandoned, or even made worse.
Thus, one of the questions we asked them: Do you support Seattle's commitment to Vision Zero, and what legislative strategies would you seek to implement the goal of reducing serious injuries and fatalities on our streets to zero within the next decade? Do you think legislative strategies are sufficient to achieve this goal?
Here's how each of the candidates who answered our questionnaire responded. You can click on each candidate's name to get a PDF of each candidate's entire questionnaire. We will be highlighting some of the other big issues addressed in the questionnaire in the coming days as ballots arrive in your mailboxes. Our primary endorsements are available here.
I support Vision Zero, and reducing traffic fatalities. A key role for the Council is through the budget, and oversight where funds are spent. An example of a legislative strategy outside of the budget the Council's vote to reduce the default speed limit in Seattle. This reduced the speed limit on residential streets from 25 to 20, and on arterials from 30 to 25 in Center City neighborhoods. A pedestrian hit at 20 miles per hour will survive 9 out of 10 times, but one hit at 30 miles per hour will survive only 5 out of 10 times. People hit at 25 miles per hour are twice as likely to survive as 30 miles per hour, so even small differences in speed limits matter. Continuing to evaluate safety and speeds on individual arterials is a good step. Given that most pedestrian accidents occur in or near urban villages, prioritizing safety improvements there makes sense. Measures to reduce crossing distance help, especially with older people, who are most likely to die in accidents. Longer crosswalk times can help where appropriate (I worked with SDOT to increase the crosswalk time across California Ave SW @ SW Oregon Street, adjacent to the Senior Center of West Seattle). Funding Safe Routes to School are important for young people and we need to find ways to increase investments to improve safety and walkability on those necessary walking routes.
The cheapest and fastest thing we can do is lower speed limits on arterials to 25mph city-wide. It's unclear why SDOT has repaved projects but for many they've left the speed limits higher than 25mph. While we know that physical roadway changes are needed to truly ensure that drivers travel at safe speeds, changing speed limits is a good first step.
In addition, simple paint-only changes such as narrowing wide lanes and 4-to-3 lane reconfigurations have an outsized impact on motorist behavior. These solutions don't require increased funding, only the political will to do what is right. We also need to update our Complete Streets policy to ensure that any time we're modifying a street or sidewalk (including basic repaving), we're prioritizing the safety of vulnerable users, folks like our wheelchair users and pedestrians. Too often we repave a dangerous street and leave it without functional sidewalks, and in a configuration that's dangerous to cyclists, pedestrians, and motorists. These are wasted opportunities to drastically improve the lives of people who use Seattle streets.
The city is currently asking the state legislature for permission to install cameras for automated enforcement of bus-only lanes and "box blockers". I've been conflicted about this since communities of color often experience over-policing and surveillance, but after conversations with the folks at Rooted in Rights and the ACLU, I've become more supportive.
Yes, Vision Zero's mission is what I believe we should strive for in the city of Seattle. Legislative strategies I would like to see implemented are placing more radar speed control monitors around District 2 and the city, speed monitors have proved to reduce speeding in areas of traffic

I support Seattle's commitment to Vision Zero and I am in favor of legislative strategies such as block the box which will make pedestrian street crossings safer.

I fully support all steps in order to make zero fatalities and serious injuries by 2030 a concrete reality. This should include projects to address high crash corridors, prioritize pedestrians and bicyclists at signalized intersections, expand protected bike lanes and protected bike intersections, develop safe routes to schools, and expand neighborhood greenways.
Pedestrian improvements are an essential investment in making the city walkable and safe, and are a key part of building a sustainable and healthy Seattle. We need pedestrian safety to be prioritized at intersections and crosswalks.
We also need a dramatic improvement in the quality of sidewalks throughout the city. Indeed, some parts of the city lack sidewalks altogether, and the most impacted are poor and low-income neighborhoods, communities of color, the elderly, and disabled community members.
Achieving Vision Zero will also require a serious and urgent expansion of free mass transit, in order to dramatically reduce car dependency and the city's chronic traffic crisis, and will need to be funded by taxing big business and the rich. In addition, half of all traffic fatalities in the United States are related to drunk driving. We need widely available late-night Metro service, and we should also explore other public transit options, such as making late night ride-shares publicly funded and free.
We have many schools in District 3 that do not have safe walking routes, and that urgently needs to be changed. Most of these projects are small projects on their own, but combined, are vital for a safe and connected city.
The obstacles to progressive funding for sidewalks, bike lanes, and intersection improvements are the same as for other forms of transit funding. We need to expand the revenue base by taxing big business and the rich. We need impact fees on corporate developers. Unfortunately, the political establishment has consistently delayed or refused to take many of the necessary steps to achieve Vision Zero. We need to build a powerful movement of activists and ordinary people to demand progressive and full funding for pedestrian and other essential improvements in transit and to create a world class transit system in Seattle. We also need to elect representatives who will unambiguously fight for working people and our needs.

Seattle needs councilmembers with the political courage to implement Vision Zero. The current Council has both failed to use the legislative tools at its disposal to reduce serious injuries and fatalities on our streets and failed to lay out a vision for their constituents of what safe streets could look like.
Under the Seattle City Charter, the Council has the power "(t)o lay out and improve streets . . . and to regulate and control the use thereof." (Art. I, §14, 6). The Council sets policy via ordinance, and delegates implementation of that policy to SDOT and the executive branch.
When SDOT, or the Mayor's office, takes actions that impede Vision Zero, the Council should step in and correct those actions. Powers that the Council could, but has thus far refused, to exercise include: pass ordinances to require a certain level of pedestrian, bike, transit, or street infrastructure to promote safety on particular street projects; make general road project funding contingent upon completion of Vision Zero corridor projects; or exercise their oversight function and have the City Auditor evaluate the challenges that impede the city's Vision Zero progress.
Informed by my perspective as a regular user of a wide variety of modes of transportation (walking, bus, streetcar, solowheel, car), as well as the extensive feedback I have received from D3 residents over the last few months, I support Vision Zero, and will do everything in my power to help Seattle reduce road fatalities to zero.

I support the commitment and goals of vision zero. We should be reducing speed limits, and acting more urgently to slow down driving on our streets. I was just canvassing near Leschi on 29th and was stunned to see people who drive cars speeding north on 29th. It felt dangerous. These neighbors have been advocated for traffic calming measures but they have not had an advocate for them in the city, which is what a council member should do. Legislative strategies, financial strategies, and environmental design should all be considered and pursued to urgently get us to our goals of vision zero.

I support Seattle's commitment to Vision Zero and believe we have not seen enough leadership from both the City Council and the Mayor's Office on reducing preventable pedestrian deaths. The question before us is which candidate has the requisite experience and backbone to build the political will for a city with safer streets. We can do this by amplifying the voices and stories of those who have felt unsafe on our streets—rather than cater to those who want to continue to see inaction on this question, we need to spotlight those who need change the most. By doing so, we can build compact, interconnected city squares where Seattleites are less car dependent. We can partner with the Office of Economic Development to identify areas where small business can help encourage a less car-centric culture. We can design safer streets with more speedbumps and roundabouts. We can manage speeds, particularly in primarily residential areas. And we can elect City Council officials that show leadership on this issue—not just ones who will take the right stances on paper, only to fold under pressure.
I absolutely support Seattle's committing fully to Vision Zero! While I was director of Seattle Neighborhood Greenways, we got the Vision Zero and 20 MPH passed as two of our key legislative wins.
No, legislation is clearly not sufficient to achieve Vision Zero. Vision Zero is a program of product safety improvements — in this case the product is safer roads.
For the past few years, after being the director of Seattle Neighborhood Greenways, I was hired as a consultant by departments of public health in several US cities that had experienced high levels of pedestrian fatalities. My emphasis is not on teaching drivers to be civil, or getting police to give more speeding tickets. It is street engineering to improve the way people naturally use roads. Engineering improvements that include lane width narrowing, leading pedestrian signals, better signal timing, road rechannelization (road diets), curb extensions, barrier protected bike lanes, speed bump. Vision Zero is a product safety program. This week, I have a paper that is being given in Dublin at the VeloCity conference. A Seattle public health nurse, Merlin Rainwater, is giving it on my behalf. Here's a graphic from the paper.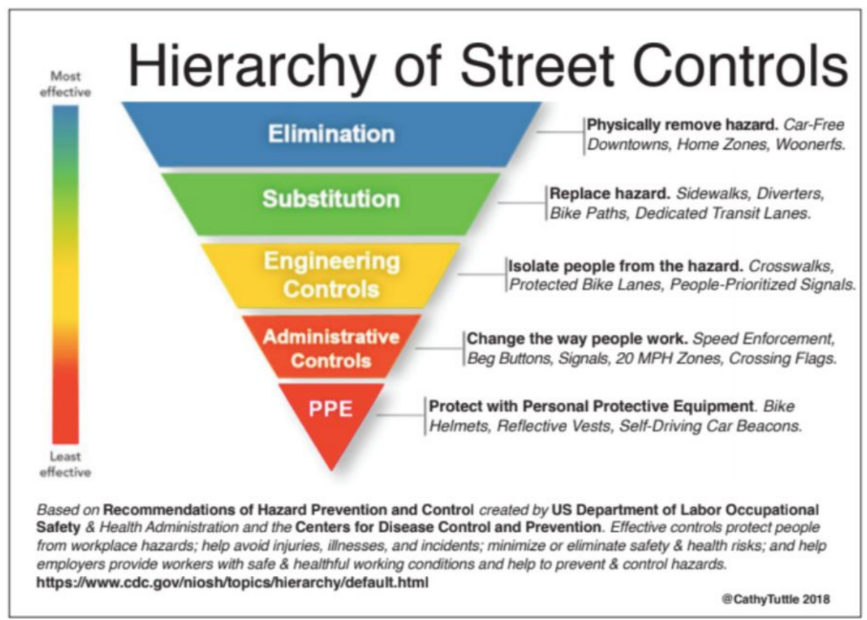 There are some tools Seattle hasn't used yet that I'd like to press for, including Presumption of Liability, more Cameras that record speeding and failure to yield for red lights, and fail to yield in crosswalks. I'd like to see progressive traffic violation fines that reflect a percentage of income, rather than applied at a fixed amount. I'm also interested in the possibility of Restorative Justice or courts of students around schools as a choice for people who routinely violate traffic rules but do not have the means to pay fines.
I'll do my best to ensure Seattle makes road safety improvements that improve climate, as well as life and safety, rather than rely on demands of overly loud voices in specific communities. While some public right of way decisions can and should be decided on by local neighbors, deciding to keep roadways dangerous should not be a community option, any more than Seattle should allow building owners to not meet fire codes or restaurants to disregard health violations. As a case in point, since the construction of 35th Ave NE ended in May 2019, there have been two collisions that resulted in injuries, a fatal motorcycle collision, and three instances of roadway property damage. This is a street that is clearly not functioning for community safety.
I plan to continue to support the work of the Seattle DOT Vision Zero team and Walk/Bike staff. In the seven years I led Seattle Neighborhood Greenways, our advocacy was largely responsible for quadrupling the sizes of both the Vision Zero and Walk/Bike staff from three to 12 people, as well as getting the Vision Zero and 20 mph legislation passed by the City
I do support Seattle's commitment to Vision Zero. I think we need legislative strategies that calm car traffic to prevent collisions and solutions that make it safer for people to walk, bike, and roll. First, I support no right on red and piloting the 'Don't Block the Box' red light cameras in high traffic areas like Downtown and SLU. I support lowering speed limits on arterials. I support legislative solutions that guarantee funds for more bike lanes, ADA accessible sidewalks, pedestrianized roads, and ensuring that protected crosswalk signals prioritize pedestrians and cyclists. I also know that legislative solutions are not enough. If the past few years have shown us anything – it is that we can pass the pedestrian and bike master plans, but without financial and institutional support, leadership can slow-roll, delay, and cancel projects. The recent success of the MASS Coalition with events like the Ride for Safe Streets and UPASS rallies have demonstrated that when you tie Vision Zero to the climate movement, people will turn out to fight for a safer, more equitable, less carbon-dependent city. I am a leader in both UAW4121- that led the fight for UPASS and Seattle 500 Women Scientists – a member of the MASS Coalition, and as a person with a history of organizing on these issues, I plan to be an effective legislator and movement builder from my position in city hall. This type of leadership works. Since the Ride for Safe Streets, city council members have revisited the bike master plan and the 35th Ave NE street plan. They have also held a hearing demanding more from the Mayor's administration, and we've seen SDOT revisit their plans.

I unequivocally support Vision Zero. Human life is my most precious value, and we must prioritize the safety of all Seattleites. The City Council can no longer assume that the current and future Mayors will prioritize pedestrian, cycling, and transit principles. The Bicycle and Pedestrian Master Plans, and a city-wide expansion of bus lanes should be reestablished through legally binding legislation. Political action and support will be required to ensure the transition away from cars supremacy, but our elected representatives must show leadership on this issue.

I support Vision Zero and have voted for its actions, including reducing speed limits across Seattle. I will continue to vote for policies that come before the council to reduce traffic deaths. In addition, I have voted for funding other traffic calming projects, like "home zones" and also worked directly with SDOT to add traffic calming devices to streets in District 5 that were dangerous because of excessive speeding. Legislative strategies are a start and major component, but we also need to have a cultural shift around how people drive.

I support reducing serious injuries and fatalities on our roads. I do not know if legislative strategies are sufficient, but they are an important part of the process. I want to see a service level agreement for right of way that accounts for all the users of the roadway, not just cars. The conversation about priorities is ongoing and I think it is important to be a part of it. I am glad to see leading ped interval signaling being rolled out.

I support Seattle's commitment to vision zero. I am shocked by the statistics that there are about 10,000 crashes in Seattle each year. In 2017, Seattle had 11 pedestrian deaths and 56 serious injuries. We need to do better. Seattle needs to offer residents an array of transportation options and this must include a robust and safe pedestrian and bicycle transportation network.
For many years during and after college, I was solely a bicycle commuter. I appreciate the importance of dedicated bicycle lanes to feeling safe as a cyclist. In the paper recently, it was noted that three times as many men choose to commute by bicycle than women. There are likely many reasons for this, but certainly one of them is concern for safety. To be a city that provides equal opportunities, we should make it safer for everyone to feel safe cycling as a transportation option, including women, children and older people. Now that e-bikes are readily available, it makes it that much more attractive for older people, or people who might otherwise hesitant about our many hills. We should make bicycling safe for every cyclist.
We should encourage bicycle commuters to use helmets. We aren't really enforcing this simple, lifesaving and lightweight safety device. If we do, people will become more mindful.
We should enforce our speed limits with more camera enforcement and other traffic calming measures. I'm concerned that the Move Seattle Levy is falling short of its promises in this regard. We voters were promised improved safety in every school zone with additional signage, crosswalks, signals, enforcement cameras and speed bumps. A young boy in my district was recently hit by a driver while he was simply crossing the street on his way to school. Pedestrian safety needs to be more of a priority.
The City Council should ensure that the Dept. of Transportation adheres to the Complete Streets Ordinance. Anytime there is road maintenance, the department should make the streets safer for all users. It's less expensive to incorporate safety measures when doing maintenance and repair work than to do safety projects separately. We need to find ways to make our revenues go farther.
I am committed to Vision Zero and somewhat frustrated that the City continues to undercut our goal to eliminate traffic deaths and serious injuries by 2030. On its Vision Zero webpage, the City writes "…traffic collisions aren't accidents – they're preventable through smarter street design, targeted enforcement, and thoughtful public engagement." This is true, yet difficult to reconcile with the City's decision to scrap a proposed protected bicycle lane along 35th Ave NE. This decision can be viewed as an example of a more general trend; at times the City compromises the safety of residents for the convenience of those who drive.
The most effective thing we can do to achieve Vision Zero is to reduce the number of cars on the road. People will choose to walk, bike, and bus when these modes are safer, faster, more reliable, better connected, and more fully integrated with each other. The City must do more to expand and upgrade transit service, build out pedestrian and bicycle infrastructure, and implement policy solutions known to keep people safe.
We must reduce speed limits on more arterials, where 90% of traffic casualties occur. We must restore and increase funding for Safe Routes to Schools. We should be creating car-free pedestrian boulevards throughout Seattle's urban centers and villages. We should prohibit right-turns-on red lights more widely across the city. We should modify adaptive signals to prioritize people rather than vehicles. We should better mitigate the impacts of construction to public right of way; sidewalk closures and pedestrian diversions should be an option of last resort. We should be proactive about installing signalized crosswalks, not wait until the MUTCD says enough people have been hit by cars to justify the installation. We should continue to pursue legislative authority for block-the-box camera enforcement and for expanded use of speed cameras outside of school zones.
Strategies like these are necessary to realize Vision Zero, but they are not sufficient. They must be supplemented by an ongoing, coordinated, public communications campaign. We have to do the hard work of convincing people to drive less and more carefully and slowly, and to be aware of their surroundings. We have to reorient people towards safety and inculcate the value of sharing space and looking out for each other, especially those most at risk of harm.
I support Seattle's commitment to Vision Zero and I am in favor of legislative strategies such as block the box which will make pedestrian street crossings safer.
I wholeheartedly support Vision Zero. I support block the box legislation, and enforcement mechanisms to make sure violators are cited. I support grade-separated bike lanes to make sure bikers are not faced with the challenges of mixing with vehicle traffic. I support pedestrian improvements to increase available ramps on curves to improve accessibility, and keeping sidewalks in good repair to maintain walking as a viable first-mile last-mile commute.
I 100% support Vision Zero and will do my utmost to help get us there. Safe streets, especially for folks with disabilities, is a must if we truly want to be a livable city. We need to re-evaluate our loading, unloading, docking, and delivery systems to ensure our sidewalks remain clear and walkable for pedestrians, parents with strollers, and seniors. Additionally, we should also look into legislation that did not pass in the state legislature to better enforce 'blocking the box' policies that often leave pedestrian crossings unpassable or dangerous. While I do think there are clear legislative strategies we can take to get us to Vision Zero, there is also an element of education involved. Most drivers are unaware of the consequences of box blocking, especially for disabled Seattleites, and every one of my neighbors who I've talked to about this almost immediately rectifies their bad habits after learning about the issue. If we can better educate drivers and motorists and make them more aware of the difficulties pedestrians often face on our busy streets, much regulation and enforcement could be avoided, saving us money and preventing injuries that will make our streets safer.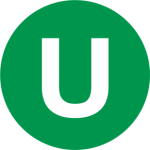 The Urbanist was founded in 2014 to examine and influence urban policies. We believe cities provide unique opportunities for addressing many of the most challenging social, environmental, and economic problems. We serve as a resource for promoting urbanism, increasing political participation, and improving the places we live. The Elections Committee consists of community volunteers and staff members of The Urbanist and is a standing body representing the political values of our organization.