In 2015, after 14 years of car ownership, I decided to go car-free. I had been living in Wallingford for six years, and I was working at the University of Washington, a short walk or bike ride away. The U-District light rail station was about to open, and I realized I could save money and travel healthier while reducing my climate impact. By 2017, Seattle was a national leader in micromobility–transportation provided by very light vehicles such as scooters and bikes. After all, we're a city of innovation known for inventing and adopting technologies that change the world; companies like Amazon, Microsoft, and Boeing were born here.
We were one of the first major cities to launch a dockless bike share program, and with over one million rides in under a year, we were at the beginning of a wave of transportation options that swept across the country. However, we've yet to take advantage of electric scooters, part of the personal transportation revolution occurring thanks to micromobility innovation. Now our city is falling behind on our 2013 Climate Action Plan, which aims to reduce greenhouse emissions while also supporting vibrant neighborhoods, economic prosperity, and social equity. The longer we wait to bring e-scooters to Seattle, the more we continue to fall behind our own climate goals and allow congestion to increase.  
We could have used scooters to aid mobility during the viaduct closure. We could use scooters to alleviate traffic when we face a 10-week partial light rail shutdown in January of 2020. We've remained on the sidelines while many other Pacific Northwest cities such as Portland, Spokane, Tacoma, Everett, Bothell, Redmond, and more have launched popular and successful scooter programs.
E-scooters offer an affordable alternative to other transportation options, like personal car trips and ride sharing. Transportation is currently the second highest household cost after housing, disproportionately affecting cost-burdened households in Seattle. Some e-scooter providers charge as little as 7 cents per minute or provide $5 monthly passes for qualified low-income users, making first/last mile mobility genuinely affordable.
As a result, e-scooters can help increase employment options for job-seekers without cars. A recent study of Seattle shows e-scooter services when added to e-bikes would increase by 35% the jobs reachable by Seattle workers, without lengthening commutes or adding cars to the road. Scooters also serve an important function as a transit connector to both buses and light rail. With half of our city more than a 10-minute walk from high-frequency transit, e-scooters can help fill the gap and increase employment opportunities for all
Increasing transportation options for Seattleites of all socioeconomic backgrounds will help us address our longstanding commuting challenges in a sustainable and equitable manner. The Environmental Protection Agency reports the average passenger vehicle emits 4.6 metric tons of carbon dioxide per year– 404 grams of carbon per mile traveled, whereas e-scooters are emissions free and do not run on fossil fuels. Therefore every one mile that a scooter replaces a car saves 404 grams of CO2 from entering the atmosphere. Considering 60% of American car trips are under six miles, commuters could use clean-powered e-scooters as a greener method of transportation for short trips at a lower environmental and economic cost. Portland has shown that 34% of scooter riders would have otherwise used a car, reducing 200,000 miles of car travel over Portland's small, four-month e-scooter pilot in 2018.
With these new, green transportation options comes the need to modernize infrastructure. City leaders should work on updating our transportation grid to prioritize all green modes of transportation — transit, micromobility, and walking included. We could improve mobility for all and reduce transit delays with additional dedicated lanes; creating a connected, citywide network of bike lanes and multi-use paths for non-vehicle users; and providing more parking for bikes and e-scooters to help protect our sidewalks while increasing access to our multi-billion dollar investment in light rail. All of these measures would further enhance the impact of e-scooters and move us closer to our climate goals.
It is also important to remember that investments in pedestrian and micromobility infrastructure are investments in safe car infrastructure–we've prioritized cars in our urban environments and must also make our city safe for other forms of transportation. As Anna Zivarts, Director of Rooted in Rights notes "These investments are needed not just 'for cyclists' or 'for pedestrians.' They're needed to allow road users to exist with some degree of safety in a transportation system designed for cars." It's with those needs in mind that I'm proposing a $1.4 million investment in on-street micromobility parking corals, to clean up our sidewalks, and make them safer for everyone.
Seattle must take advantage of this crucial opportunity to help solve congestion, decrease carbon emissions, and address equity challenges with this innovative new technology. Bringing e-scooters and micromobility infrastructure to Seattle will firmly position the city as a leader in transportation, proving convenient, affordable, and eco-friendly micromobility is not an unreachable ideal but a modern-day reality.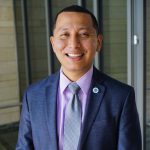 Councilmember Abel Pacheco (Guest Contributor)
Abel Pacheco represents Northeast Seattle's District 4 as its appointed City Councilmember. He has a Masters in Public Administration from the Evans School of Public Policy and Government at the University of Washington. Before his stint on the city council he worked for the University of Washington's Office of Minority Affairs and Diversity. He chairs the Planning, Land Use, and Zoning Committee and serves as vice chair of the Sustainability and Transportation Committee.