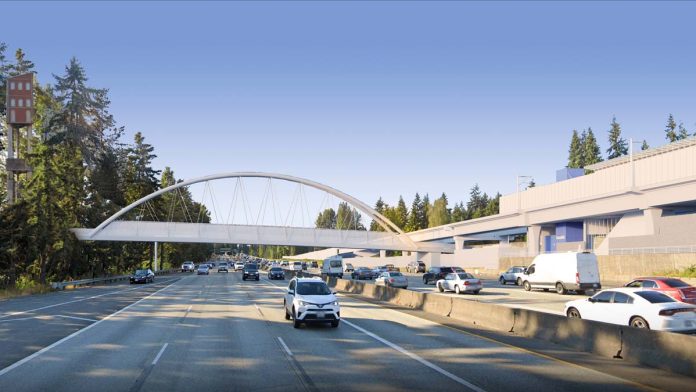 Shoreline is planning a new pedestrian and bicycle bridge across I-5 to connect separated communities and transit riders to the Link light rail station opening in 2024. An online open house highlights several design options that the City is considering, including conceptual layouts, renderings, and tradeoffs. The planned bridge will be located at NE 148th St, connecting the Parkwood and Westminster Triangle neighborhoods. When the Lynnwood Link extension opens, a light rail and bus station will open on the east side of I-5 situated between NE 145th St, NE 148th St, and 5th Ave NE.
Currently, there are two crossings of I-5 at NE 145th St and NE 155th St, though they are not terribly welcoming to people walking and biking–particularly NE 145th St. A separate project may wind up taming N/NE 145th St as part of a multimodal, multi-jurisdictional effort though. Shoreline is also developing plans for a trail, known as the "Trail Along The Rail", that would follow along the east side of the light rail corridor. The trail could run about 60 or so blocks from NE 145th St to NE 195th St, linking neighborhoods in between Shoreline's two future light rail stations.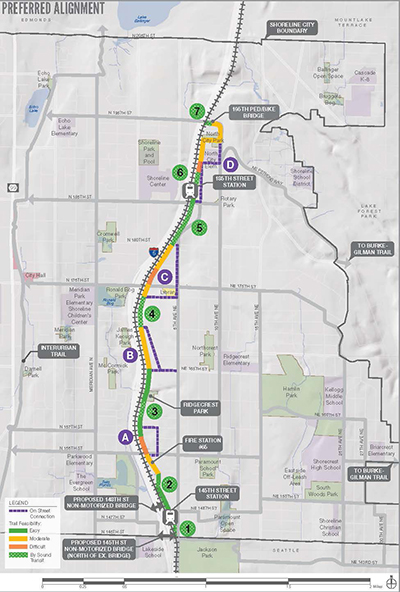 Shoreline has developed three different bridge design options: a combined arch, tied arch, and truss bridge option. All three would ensure that the bridges prevent people throwing things off on traffic below. The arch bridge options would be slightly higher at midpoint than the truss bridge option and require fewer structural components, but ultimately all design approaches should work well for people walking and biking. As can be seen in the following renderings, the bridge tuck under the light rail aerial tracks.
Option 1: Combined Arch Bridge. (City of Shoreline)

Option 2: Tied Arch Bridge. (City of Shoreline)

Option 3: Truss Bridge. (City of Shoreline)
For the west side connection, the bridge has two key options to reach 1st Ave NE. The first option would require minimal interventions to NE 148th St. A small pedestrian trail would be constructed on the north side of the street, which is currently just a parking lot drive aisle. In-street bike sharrow markings would also be added with parking retained. The second option would go much further to create a 16-foot-wide multi-use trail connection and reduce some parking for the drive aisle.
Option 1: Minimal Build-Out. (City of Shoreline)

Option 1 cross-section. (City of Shoreline)

Option 2: Full Build-Out. (City of Shoreline)

Option 2 cross-section. (City of Shoreline)
Shoreline has also drafted some options for how the east side of the bridge would connect to the Trail Along The Rail and station. The three options differ in how the bridge ties into these connections, either directly or switching back.
The first option would make a hard turn on the path toward the station and provide a staircase to the trail. This would result in a 6.5% grade ramp, reducing conflicts with the trail but aggravating energy required for people going uphill. This could also mean fast bike movements to the station plaza and inconvenient to people with mobility challenges trying to reach the trail.
The second option is somewhat similar, but more of switchback resulting in a 4% grade ramp. This would mean less effort going up the ramp but more walking, rolling, and biking distance.
Third option is a T intersection of the bridge and trail with a 4% grade ramp. This would likewise mean less effort going up the ramp, but could present conflicts if people biking through go too quickly. Shoreline has tried to address this by bending the curve near the T intersection to encourage slower movements. The confluence area is also widened, but it may need to be bigger to address safety.
Option 1: A-Frame Ramp. (City of Shoreline)


Option 2: Switchback Ramp. (City of Shoreline)


Option 3: Direct Ramp. (City of Shoreline)

The project cost is expected to come in somewhere between $23 million to $30.2 million with construction costs ranging from $18.1 million and $24.9 million, based upon the City engineer's estimate. Design work and right-of-way acquisition are estimated to range between $4.3 million and $5.9 million. So far the city has been successful in receiving some grants from federal, county, and other sources totaling $10 million. Thus, an additional $13 million to $20.2 million will be necessary to complete the project.
Shoreline is seeking feedback on the conceptual design alternatives through May 1st. The public can provide input through the online open house. Shoreline plans to select design alternatives this summer and then move into deeper design work that will reach 30% design by fall. Touch points for public participation will happen during the year to further inform the ultimate design. Right-of-way acquisition will follow in 2021 and 2022 with construction beginning in 2022. The bridge should open in time for light rail, and possibly well before, in 2023.

Stephen is a professional urban planner in Puget Sound with a passion for sustainable, livable, and diverse cities. He is especially interested in how policies, regulations, and programs can promote positive outcomes for communities. With stints in great cities like Bellingham and Cork, Stephen currently lives in Seattle. He primarily covers land use and transportation issues and has been with The Urbanist since 2014.