For the 50th anniversary of Earth Day, three local leaders weighed in on the most significant actions Seattle can undertake to increase its sustainability.
Today marks the fiftieth anniversary of Earth Day, and due to unforeseen events, the celebration is shaping up to be arguably the greenest yet. With about 99% of the world's population affected by COVID-19 related travel restrictions, some scientists have estimated that global carbon emissions could fall by about 5% in 2020, the largest reduction in demand for fossil fuels in history. Carbon emissions have already decreased by roughly a quarter in China alone during these past couple months.
But we all recognize that these gains could be temporary, and that combatting the climate crisis and other environmental challenges we face will require transformative action that endures beyond a world in lockdown. Hoping to seize on the momentum of the 50th anniversary, Earth Day organizers have moved their work online, and they are urging people around the globe to engage in 24 hours of action for the Earth. Actions promoted on the website include quarantine-friendly activism like contacting local government officials online to advocate in favor of urban green spaces.
On this important anniversary, it's important to reflect on the role that cities play in keeping our natural environment healthy. Since the first Earth Day was celebrated back in 1970, the number of people living in cities across the world has exploded in number, and according to estimates by the United Nations, urban areas are expected to continue to rise substantially in population in the years to come.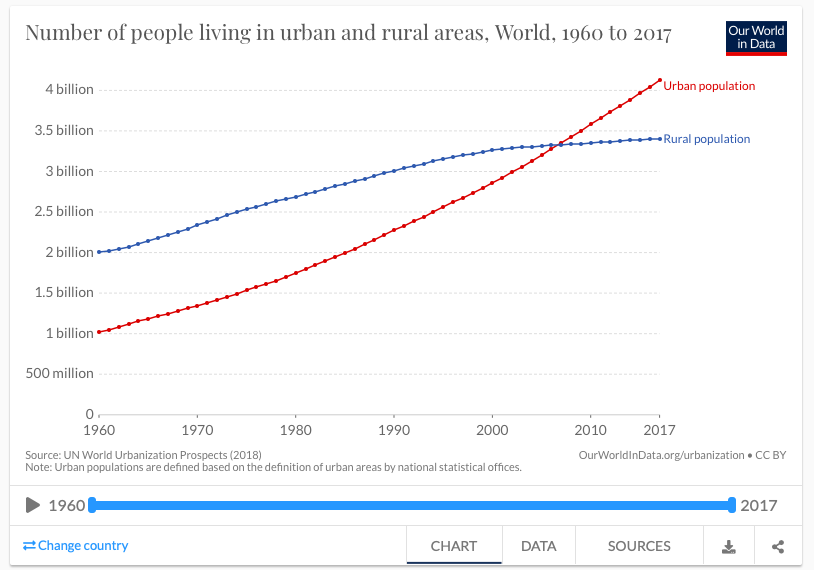 Cities will need to take a leadership role in implementing policies and actions that confront not only today's environmental crises like global warming and mass extinction of species, but also the unforeseen problems that lay in our planet's future.
In her book, Cities That Think Like Planets, University of Washington professor Marina Alberti makes the argument that when it comes to envisioning a greener future, it's time to stretch our imagination beyond the known models towards a future in which cities "think like planets." What exactly it means for a city to "think like a planet" requires a whole lot more explanation than can be included here, but the quality is at least partly defined by urban planning that embraces both the existence of uncertainty and broad expanse of planetary time. In such a city, decision making seeks to "enhance adaptive capacity" and "allow for innovation," rather than adhere to rigidly to planner's vision of the future or import "optimal" solutions from elsewhere. It relies on scenario planning to craft solutions that address a range of plausible futures, each grounded in the conditions of the specific city it was created for.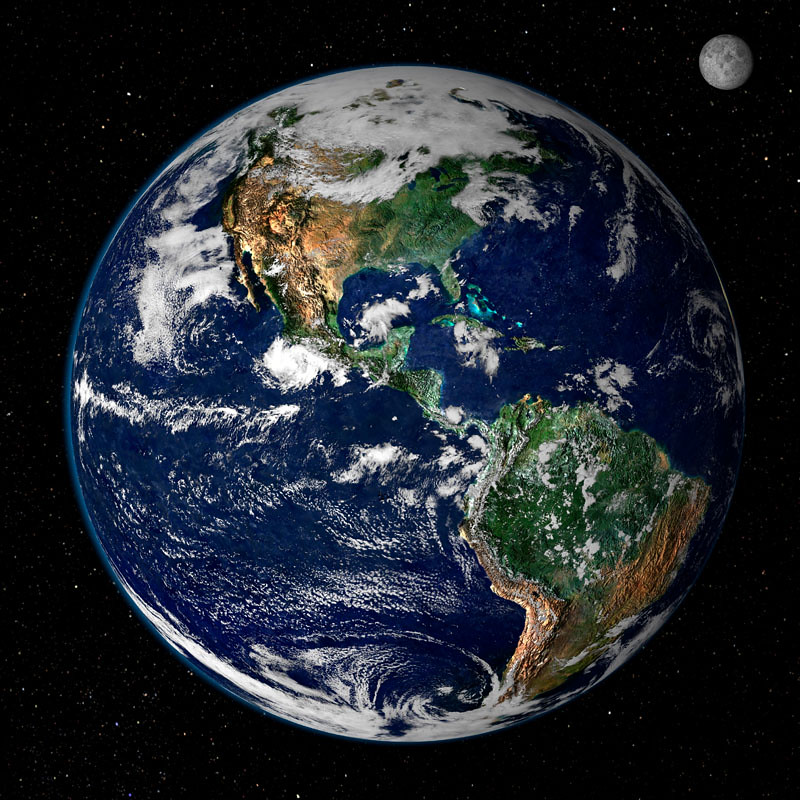 We have all recently witnessed how quickly unexpected events can sweep in and refigure our lives in startling ways. One of things that has been so interesting about the COVID-19 crisis is that in the face of a shared threat, the similarities and differences in how people live across the globe has been laid bare for all to see.
So when we consider how to shift to a greener future, it's important to understand that cities should be wary one-size-fits-all environmental action plans. Yes, Copenhagen's plan to be the world's first carbon neutral is impressive and should serve as a motivator for cities around the world, but solutions that prove to be effective in Copenhagen might not work as well in a city like Mumbai–or for that matter–Seattle.
Keeping this in mind, let's check in with some local environmental leaders to learn what actions they feel would be most impactful now in shifting Seattle toward greener future.
Forterra's Michelle Connor: Increase Green Density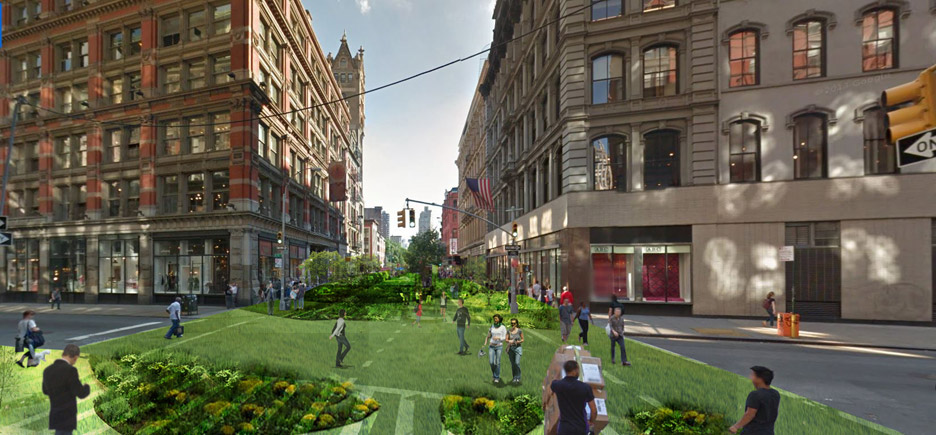 As CEO & President of Forterra, Michelle Connor has stewarded the organization's conservation of wild and rural lands across Washington State, but Forterra has also supported urban projects like the Africatown Community Land Trust in Seattle's Central District.
That might be why when asked what action she felt would be most impactful in increasing Seattle's sustainability, Connor was quick to reference the importance of urban density, albeit with a green angle.
"For me it's two things that push against each other because they both demand space," said Connor. "First we have to accommodate the growth of our population within our existing cities and towns, but we also need to really invest in and expand our natural infrastructure."
One possible solution to the problem of space? Transformation of underutilized urban spaces, like parking lots, into green spaces with permeable surfaces that provide stormwater filtration and remove pollutants from the water supply before they can harm fragile species like juvenile salmon.
"If we are willing to rethink our assumptions about how life must be, I think we will discover there are a lot of opportunities to make changes for the better," said Connor. From creating more green roofs, to repurposing commercial buildings for residential uses as more people telework, Connor believes that Seattle can become denser and greener at the same, two actions that are also critical for preserving ecosystems in our region currently threatened by urban sprawl.
NBBJ's Margaret Montgomery: Zero Carbon Buildings
"If Seattle could take one action to increase citywide sustainability, it would have to be requiring all new construction to be Zero Carbon," said Margaret Montgomery, Principal Architect at NBBJ and Board Member at the International Living Future Institute (ILFI).
In order to meet ILFI's zero carbon standard, 100% of a building's operational energy use must be offset by either onsite or offsite renewable energy. Additionally, 100% of the embodied carbon emissions impacts associated with construction and project materials must also be disclosed and offset by renewables.
According to the City of Seattle's most recent Greenhouse Gas Emissions Inventory, residential and commercial buildings account for about 35% of Seattle's carbon emissions, but that figure is expected to continue to climb as the city grows.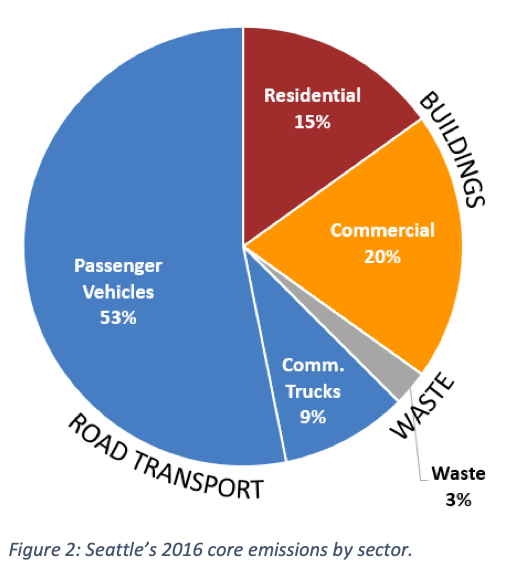 Montgomery said that the Zero Carbon Standard's allowance for buildings' carbon emissions to be offset by offsite renewable energy is critical to shrinking the carbon footprint of more buildings.
"In a dense urban setting, it's not realistic or even idealistic to require all energy to be generated from renewable sources onsite. User density–the number of people per square foot of site–is simply too high," Montgomery said. "We want to encourage density for all sorts of reasons, so the Zero Carbon requirement allows us to depend on renewable energy from other locations, such as wind energy from outside Ellensburg."
In order to ensure transparency around the embodied carbon in building materials, Montgomery advocates for the City of Seattle to adopt a city-wide Zero Carbon Standard policy, a move that would put more pressure on manufacturers to reduce the carbon emissions in their projects. Since the Pacific Northwest already has a lot of data around embodied carbon emissions in building materials, the region is uniquely well suited to take on a leadership role in this area, potentially encouraging green building markets to grow in other regions of the United States and beyond.
Over time, Montgomery believes that the same Zero Carbon Standards could be applied to existing buildings as well, further reducing Seattle's carbon footprint.
With implementation of a city-wide Zero Carbon Standard policy, Montgomery said the City could take on the important role of "promoting transparency, supporting an emerging market, and fighting climate change all at the same time."
Futurewise's Tim Trohimovich: Electrified Public Transportation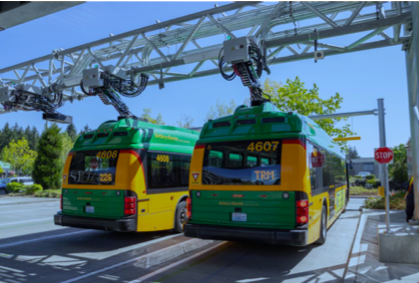 For Tim Trohimovich, Director of Planning and Law at Futurewise (and star of the organization's #TimTalks), the most important action Seattle can take now is to confront the climate crisis by reducing carbon emissions from transportation, which is currently the greatest emissions generator in Seattle.
How do we do accomplish this feat? In Trohimovich's point of view, massively scaling up our zero emissions transportation choices holds the key to emission reduction. "We need electric light rail and bus service within a ten minute walk of everywhere in the city," said Trohimovich.
Until recently, King County Metro bus service has been steadily increasing both its service hours and its zero emissions fleet. However, the agency is still only aiming to transition to a 100% zero emissions fleet by 2040, and many areas of the city lay outside of the ten minute transit walkshed. Sound Transit Link Light Rail has been making steady progress in increasing both ridership and new lines, but delays related to funding and construction could slow down progress in the foreseeable future.
So meeting Trohimovich's goal will require significant increases in funding and support from lawmakers, which may be difficult to achieve as the State deals with the uncertainty posed by last year's passage of Initiative 976.
As an another more modest solution, Trohimovich is also in favor of combatting the climate crisis with street trees, "especially in neighborhoods lacking green spaces to offset the adverse effects of global warming."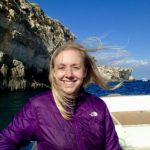 Natalie Bicknell Argerious (she/her) is Managing Editor at The Urbanist. A passionate urban explorer since childhood, she loves learning how to make cities more inclusive, vibrant, and environmentally resilient. You can often find her wandering around Seattle's Central District and Capitol Hill with her dogs and cat. Email her at natalie [at] theurbanist [dot] org.