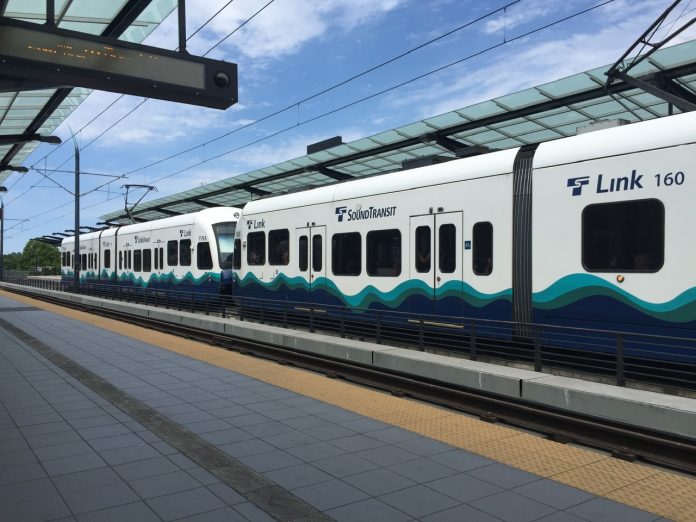 A new income-based fare pilot program will provide help support low-income riders on Sound Transit services for up to two years as the transit agency grapples with rider equity issues and fare enforcement reforms. The Sound Transit Board of Directors recently authorized participation in a regional pilot program and provide $2 million in funding to expand it across the Sound Transit network in King, Snohomish, and Pierce Counties. A separate action to approve new fare enforcement policies, however, was put on hold due to competing ideas of boardmembers for the final policy and a temporary prohibition on certain actions that public agency can make during partial suspension of the Open Public Meetings Act (OPMA).
In February, King County adopted an income-based fare pilot program for King County Metro, which covers low-income individuals on services such as Metro buses, Access, Trailhead Direct, Via, King County Water Taxi, Seattle Streetcar, and Seattle Monorail. Individuals qualify for the pilot program if they are part of a household with income less than 80% of the federal poverty line and are enrolled in one or more of six state social welfare programs, such as Supplemental Security Income and Pregnant Women Assistance, that have the same income eligibility threshold. Sound Transit's eligibility requirements will be the same.
Eligible participants will receive an ORCA card with a preloaded and fully paid ORCA LIFT pass on it. This can then be used across eligible services in King County as well as on Sound Transit-branded services at no cost to riders. When participants use their cards on other services, they may only receive a partial subsidy and in some cases none. Other ORCA LIFT-participating transit agencies which cover a partial subsidy may require additional fare paid out of the ORCA E-purse. Non-ORCA LIFT-participating transit agencies, on the other hand, will charge full fares.
Sound Transit's participation in the income-based fare pilot program is scheduled to launch in July, alongside King County. The program's impact won't really be felt until the agencies resume fare collection, which has been paused to reduce COVID-19 transmission and allow for back-door boarding. At that point, the pilot program will be a significant savings as compared to the $1.50 ORCA LIFT fare or the $2.75 standard Metro bus fare since many eligible people either aren't aware of the reduced fare program or haven't gone to the trouble of applying.
Generally speaking, the proposed resolution related to fare enforcement policy reform involves four key changes by reducing fines to $50, increasing warnings to two within a 12-month period (up from one), modifying the procedures for rider suspensions, allowing fare enforcement officers to provide rider education. Several other technical amendments are also proposed recognizing system operational changes. But the broader policy reform involves many administrative changes.
Sound Transit plans to slow the escalation process for fare enforcement interactions. First and second violations in a 12-month period would result in a warning and information on how to use fare media. Third and fourth violations in a 12-month period would result in citations with a $50 fine each time. A fifth violation in a 12-month period would result in a citation with a $50 fine and suspension. In cases where there is severe weather circumstances or other special circumstances, Sound Transit will establish specific protocols for suspending fare enforcement operations.
Current fare enforcement practice is fairly different. Fare enforcement officers issue a warning for the first violation and citations with $124 fines are issued the second and subsequent violations in 12-month period. Sound Transit previously referred habitual violations by riders for criminal charges, but that practice has been suspended.
Responding to concerns to disparities in fare enforcement impacts on certain communities, Sound Transit is focusing reforms on other equity strategies. These include things like pushing ORCA LIFT and other low-income options hard through marketing avenues, possibly reopening the Westlake Station booth for enrollment, participating in the King County District Court's Community Court program, which could allow alternative citation resolution through community service, and offering Union Station as a centrally accessible Community Court and community fair location.
Focusing on reforms for youth has be been elevated as another key fare enforcement prior. On the first day of school last year, fare enforcement officers issued warnings and violations to students on light rail, leading to significant public outcry and bad press. Sound Transit is therefore planning to create a program dedicated to youth. In instances where youth riders have only violated fare policies, parents and caregivers will be contacted, not law enforcement. A new policy will also be created that would restrain fare enforcement officers from issuing warnings or citations during the start of the school year. Another effort will involve collaboration with youth riders to create communications and educational programs to raise awareness of how to access fare media or use valid fare media.
Sound Transit plans to adjust its operations as part of fare enforcement reform, too. A key set of changes that riders will see are communications. At stations, the transit agency plans to introduce new "Fare Paid Zone" signage so that riders know that they are entering of a gateless, proof-of-payment area when heading to platforms. Renderings show yellow "pay to enter" signage above entryways and on entryway floors. These entryways might also be flanked by a fleet of ORCA card readers. Another change in communications would be general public education and communications on the transit agency's fare enforcement process and how to use fare media.
Work at reforming the management and role of fare enforcement officers will continue. Agency staff have indicated that there will be additional anti-bias and deescalation training to improve relationships with the riding public. A related process for reporting and resolving public complaints of bias and discrimination by fare enforcement will be looked at and perhaps revised. Day-to-day operations will be modified so that it is possible to collect data tracking fare enforcement officer locations and actions. This information would be helpful in providing more transparent information on their work. Lastly, the role of fare enforcement officers will become more customer service-oriented even through their work in maintaining security and enforcement of rules.
Agency staff still plan to follow-up on several policy issues with the Sound Transit Board of Directors later this years. These include accepting transfers from transit partner agencies with non-ORCA fare media, suspending the practice of calling law enforcement on adults over fare enforcement issues, implementing platform fare enforcement, and using a friendlier uniform design for fare enforcement officers.
Agency staff did recommend against three specific policy areas. First among these is in-house citation resolution. The practice of using the local courts is still a preferred means by agency staff, despite many agencies resolving violations quasi-judicially as part of administrative enforcement. Another policy choice not favored by agency staff is bringing enforcement officers in-house since they prefer using contracts with third-party private security entities. Lastly, agency staff do not support allowing people to pay fare on trains during fare enforcement checks by officers or other onboard technology on trains.
To implement fare enforcement reform, Sound Transit believe that three additional full-time staff members will need to be hired. One as a program manager and two as youth-focused specialists. The total cost for implementation, including staffing and other changes, is about $900,000 per year.
Boardmember Bruce Dammeier raised the OPMA issue with agency staff. Sound Transit legal counsel affirmed that Governor Jay Inslee's proclamation related to the OPMA was grounds for holding action on the resolution since it would permanently alter the transit agency's fare enforcement policies without letting the public attend the meeting physically present in-person at the boardroom. Partially suspension of the OPMA is response to the COVID-19 crisis, limiting in-person meetings for public health.
Several boardmembers, including Claudia Balducci and Joe McDermott, said that they wanted to pursue amendments to the final policy. Boardmember Balducci had come with two technical amendments for reporting and analysis while Boardmember McDermott came with a broad striker amendment focused on riders' welfare. But others were still working out what their amendments would be. More debate is likely this summer before final adoption of revised fare enforcement policies are adopted.

Stephen is a professional urban planner in Puget Sound with a passion for sustainable, livable, and diverse cities. He is especially interested in how policies, regulations, and programs can promote positive outcomes for communities. With stints in great cities like Bellingham and Cork, Stephen currently lives in Seattle. He primarily covers land use and transportation issues and has been with The Urbanist since 2014.