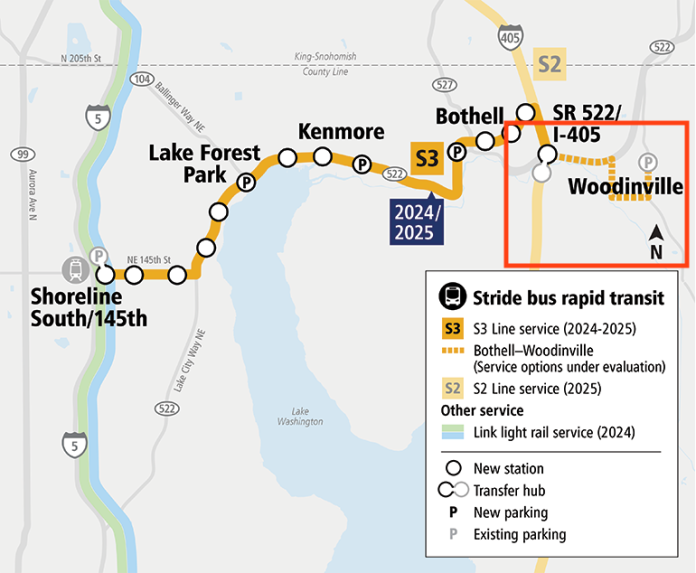 Sound Transit recently provided an update on project design for the Stride S3 Line, a bus rapid transit corridor planned for NE 145th St and SR-522 between the future Shoreline South Link light rail station and Bothell. The agency revealed that the Woodinville tail would be entirely dropped for the corridor and instead spun off as its own ST Express bus route.
The two services are contemplated to meet each other at the edge of Bothell where Sound Transit will build a new transfer hub, which will also serve the Stride S2 Line, which runs on I-405 to Downtown Bellevue. Concepts for the new service are still in the early stages with no final decisions having yet been made and Sound Transit anticipates reaching out soon on more detailed options.
The Woodinville tail has never been an assured component of the main S3 Line. The Sound Transit 3 plans showed service from Bothell to Woodinville, but did not indicate that the segment would meet a specific bus rapid transit standard. The early design process of the S3 Line was also often iffy about the means in serving Bothell. Initial plans in 2018 contemplated a lower service on the tail than the mainline and then by early 2019 the Sound Transit proposed 20-minute frequencies on the tail with specified no specific segment right-of-way improvements.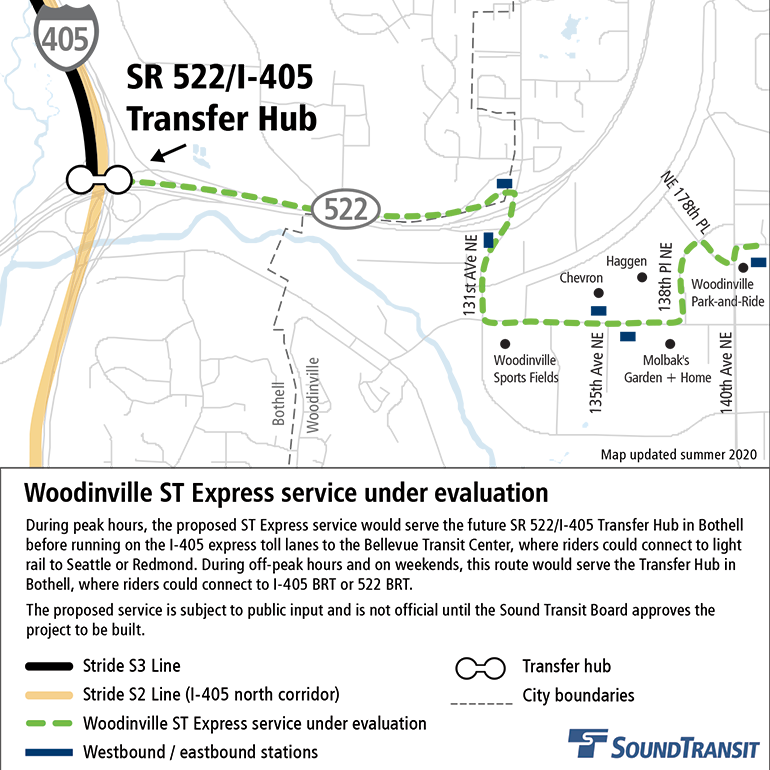 The I-405/SR-522 transfer hub concept entered the equation as significant design work to expand express toll lanes (ELTs) on I-405 was advanced by the state transportation department. Related design refinements unveiled in January for the S2 Line suggested that a transfer hub at the confluence of I-405 and SR-522 was a very real possibility with direct access from new ETLs.
With the tail spun off as its own route, Sound Transit has proposed that the Woodinville ST Express bus service operate in two forms: a peak weekday variant and off-peak weekday and weekend variant. During peak weekday hours, service would run from the Woodinville Park-and-Ride to Bellevue Transit Center with an interim stop at I-405/SR-522 transfer hub. Then during off-peak weekday periods and weekends, service would only run between Woodinville Park-and-Ride and the I-405/SR-522 transfer hub. Frequency under both operational variants would be every 20 minutes and no corridor improvements would be made.
The agency believes that the Woodinville bus service would provide good transfer opportunities for riders to connect with other services to reach communities in Redmond, Bellevue, and Seattle. On paper, the Bellevue Transit Center and the I-405/SR-522 transfer hub would offer many valuable connections by the time the new Woodinville bus service launches. The S2 and S3 Lines will be serving the I-405/SR-522 transfer hub, providing quick rides to Lynnwood, Shoreline South/145th Station, and Downtown Bellevue. The S1 Line and East Link (also known as the 2 Line) will be serving Bellevue Downtown Station connecting riders to Seattle, Redmond, and Burien.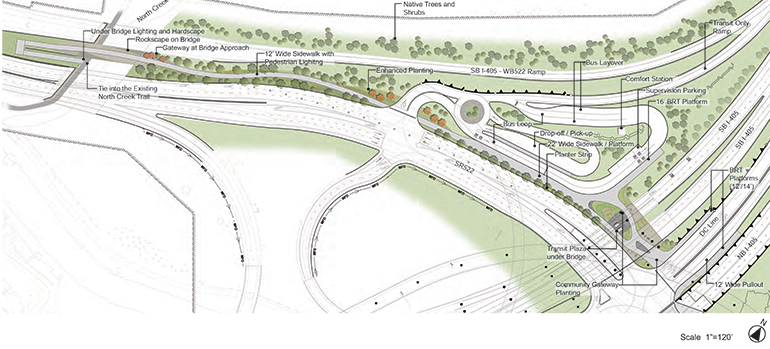 Presumably, there would be realignment of express bus service in the corridor with Routes 237, 311, and 342 that partially or fully overlap the proposed alignment. Service hours from those routes might somehow be reinvested in alternative services for Woodinville or the proposed ST Express bus route. It remains unclear, however, whether or not the proposed alignment–even with the connecting services–is the best solution for getting riders where they want to go. A transfer at Bothell or Bellevue still represents a significant time penalty for riders.
For instance, during off-peak hours to reach the University of Washington in Seattle, a Woodinville rider would have to take an ST Express bus to reach the SR-522/I-405 transfer hub, then take the S3 Line, and then take a light rail service from Shoreline South/145th Station. This trip requires two transfers which introduces two opportunities for time penalties, which can significantly add time over more direct alternatives. Even with the better reliability and faster service of the S3 Line and light rail, total travel time is probably notably higher than today with Routes 522 and 372.
Meanwhile, reaching the same destination from Woodinville during peak hours with the ST Express option via Bellevue Transit Center might not be marginally better despite one fewer time penalty. In this case, the ST Express bus routee would run along I-405 to Downtown Bellevue with the benefit of better speed and reliability of ETLs and riders would transfer to Route 271. The quick service of Route 271 across Lake Washington of SR-520 is not necessarily made up with winding service in suburban neighborhoods of Medina and West Bellevue. On top of that, reaching Downtown Bellevue requires backtracking further south than a more direct connection like Route 311 that already operates from Woodinville to Downtown Seattle via SR-520.
The Woodinville-to-University of Washington-Seattle problem is just one of many origin-destination pairs that might be worse under Sound Transit's service concept than today. That is why it will be critical for Sound Transit to do a proper analysis of origin-destination pairs and understand where ridership markets are headed today and in the future. Doing so would inform how a corresponding service restructure should function in tandem with higher quality services like Link and Stride. It may also mean rethinking the alignment and service levels of the Woodinville ST Express route or simply forgoing a cut to the S3 Line tail.

Stephen is a professional urban planner in Puget Sound with a passion for sustainable, livable, and diverse cities. He is especially interested in how policies, regulations, and programs can promote positive outcomes for communities. With stints in great cities like Bellingham and Cork, Stephen currently lives in Seattle. He primarily covers land use and transportation issues and has been with The Urbanist since 2014.