On Thursday, the Sound Transit Board of Directors met for another briefing on paused actions from the capital expansion program. Staff recommended executing $76.5 million in project actions, but Sound Transit funds for upgrades to RapidRide C and D Line (promised in Sound Transit 3) and RapidRide G Line on Madison Street remain on the paused list. The economic downturn from the coronavirus pandemic triggered the programmatic realignment process that the agency is facing. The focus of the meeting Thursday was on agency staff recommendations to either advance or keep specific actions on pause.
Agency staff went through the actions by programmatic mode. Starting with the Sounder capital program, agency staff recommended the advancement of two parking and access projects. Tied together, the Kent and Auburn Station parking and access improvements are recommended to advance with execution of a design-build project management contract for $4 million. Likewise, the Sumner Station parking and access improvement project is recommended to advance with a similar contract but at $6 million. Agency staff reason that the contractors will be able to "develop lower cost scope and contract packaging options to determine if the projects can be delivered within the Transportation Improvement Sumner Plan (TIP) estimates."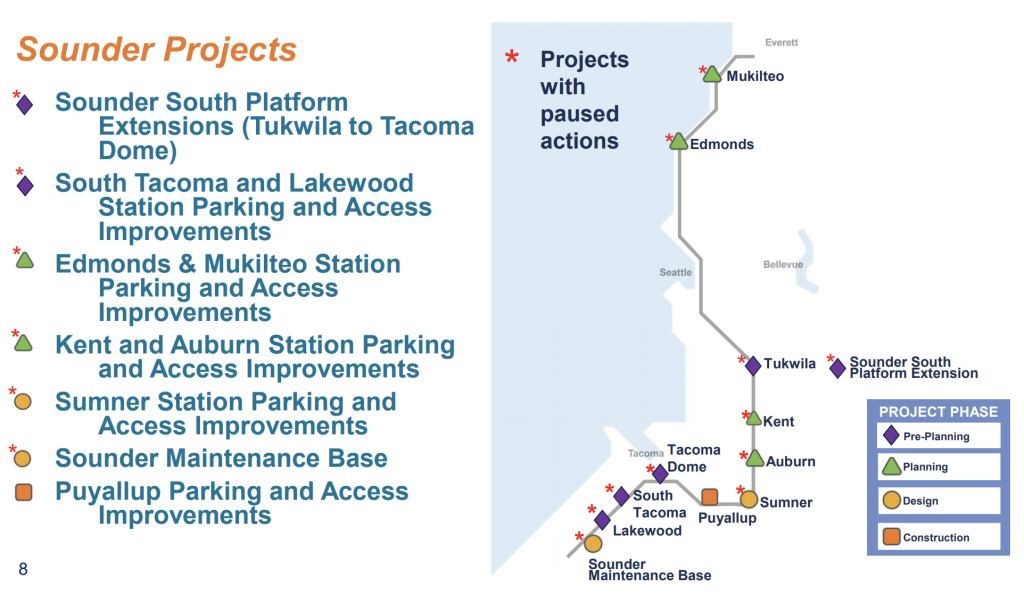 Roger Millar, the Washington State Department of Transportation (WSDOT) Secretary, was skeptical that any contractor would actually deliver a lower cost program based upon his many years as an engineer in the private sector. He also took issue with parking projects that are ultimately very expensive per rider and only likely to serve a small sliver of riders, perhaps around 20%, who drive to transit like Sounder commuter rail. Millar said that focusing on improving access between stations and parking garages, but not walking and biking is a very disproportionate approach when the vast majority of riders reach stations by walking, biking, or taking the bus.
Claudia Balducci, a King County Councilmember, said that it may be worth dusting off the agency-wide policies for station access and parking to have a deeper discussion and updating those policies. Peter Rogoff, the agency chief executive officer, reminded the board that all parking stalls will eventually be a paid access feature.
Agency staff recommended four other Sounder capital projects remain on pause until 2021, which include:
Authorization for environmental review and conceptual engineering for the Edmonds and Mukilteo parking and access improvement projects ($2 million);
Authorization to start project development of the South Tacoma parking and access improvement project and alternatives development for the South Tacoma and Lakewood parking and access improvement projects ($4 million);
Authorization to start project development and alternatives development for Sounder South platform extensions ($3 million); and
Authorization to execute a design-build project management contract ($2 million) and baseline construction ($210 million) for the Sounder Maintenance Base.
Generally, the reasoning for these delays was to allow for more time to pass in order to analyze the impact of teleworking and whether immediate project need has been reduced. Though, the timeliness of other competing projects were also cited as higher priority over these projects.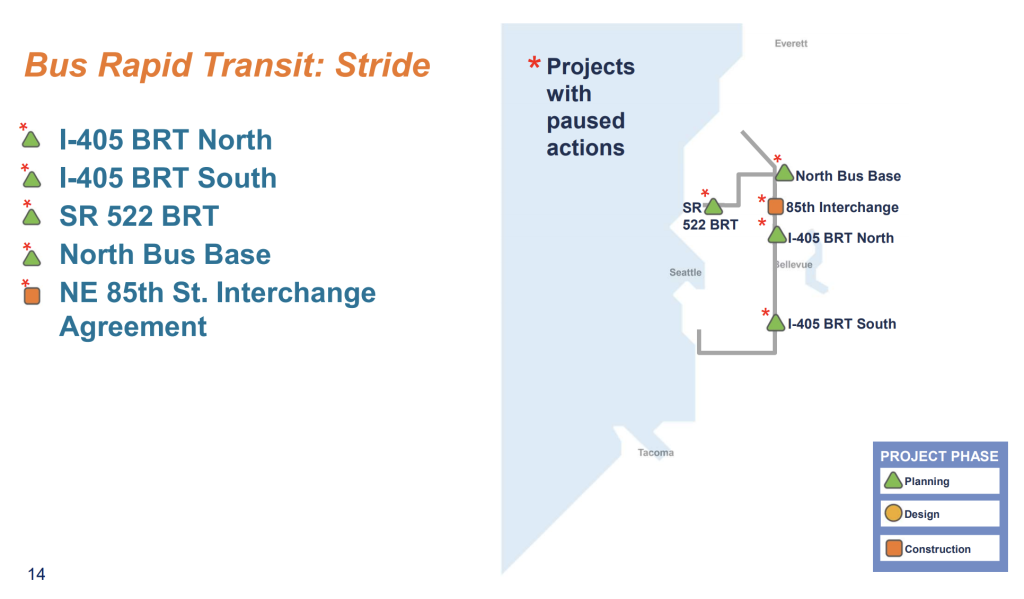 For the Stride capital program, agency staff is recommending advancement of three paused actions. Completing the I-405 bus rapid transit (BRT) North and I-405 BRT South projects are a high priority. Thus, authorization for a preliminary engineering contract and a general engineering contract are being recommended for advancement at the cost of $13 million. Moving these contracts forward will "preserve the option of opening BRT segments as the WSDOT toll lanes are completed and obtain better cost estimates" and ensure that phasing, contracting options, and project scopes are managed and reviewed. Likewise, the SR-522 BRT project is recommended to advance with a general engineering contract for $1 million.
However, agency staff recommend that board maintain a hold on two project actions related to the Bus Base North and NE 85th St Interchange Agreement with the state transportation department until 2021. A $12 million design-build project management contract is recommended to be held back for the Bus Base North project because the phasing options for I-405 and SR-522 Stride projects are still under review and could ultimately impact the over scope and time of the bus base project. The interchange agreement is also being recommended to remain on hold because it represents about a third of the I-405 BRT program ($275 million) and could still be executed in 2021 without affecting delivery of the I-405 BRT North project in 2025.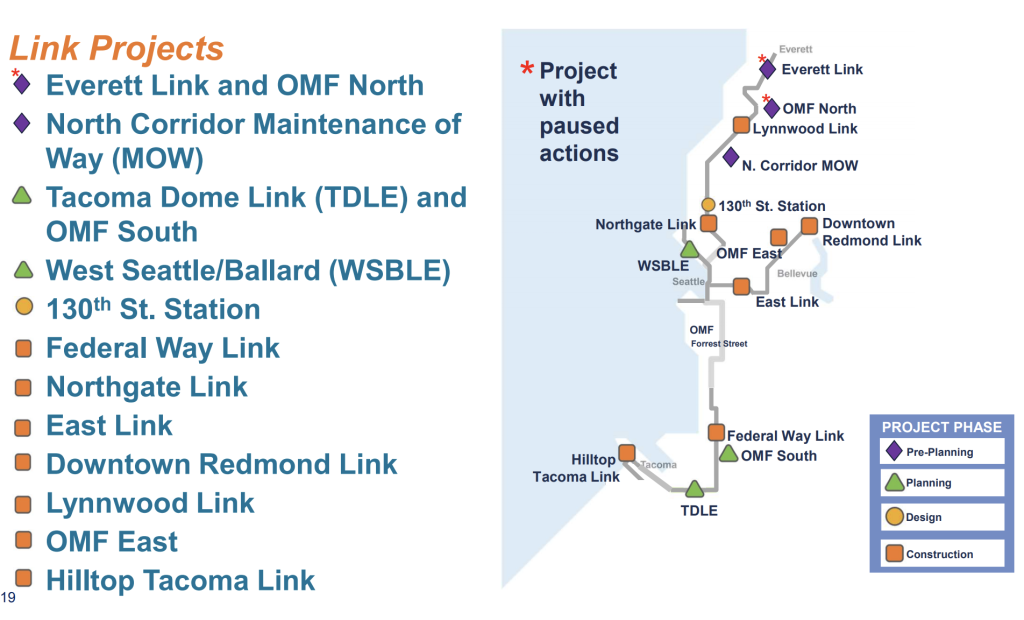 For the Link capital program, only one project action has been put on hold. Agency staff are recommending that the hold be released so that work on the next phase of the Everett Link and Operations and Maintenance Facility (OMF) North project can proceed. Staff do recommend authorization of the consultant contract for project development and alternatives development at a cost of $16 million. This will provide ample planning time for the OMF that supports multiple light rail alignments and development of various phasing options and cost estimates of the extension.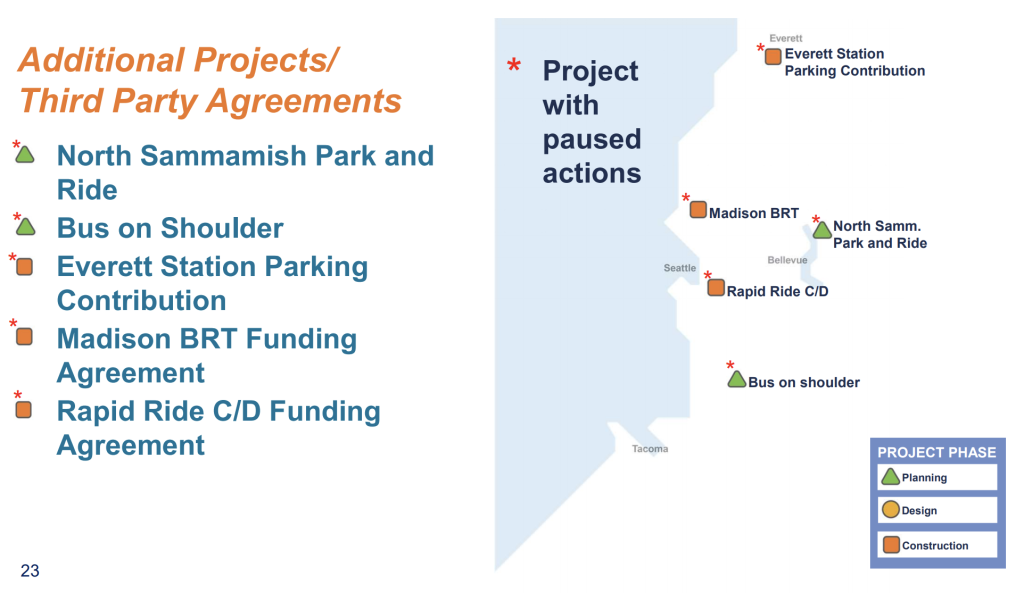 For the additional projects and third-party agreements capital program, agency staff are only recommending two of five project actions to proceed this year. Those include a $700,000 contribution to the City of Everett for the Everett Station parking project and $35.8 million contribution to the City of Seattle for the Madison BRT project, which is dependent upon local match funding from Sound Transit. Everett has already delivered the 90 new parking stalls at Everett Station and Seattle is in pursuit of federal Small Starts grant funding.
However, agency staff recommend that three project actions remain on hold until 2021. These include $2 million for Sammamish Park-and-Ride conceptual engineering and environmental review, $1 million for Bus on Shoulder conceptual engineering and environmental review, and $25 million in contributions for RapidRide C and D Line improvements. Moving ahead on the Sammamish Park-and-Ride project right now is seen as risky since a site preference has not yet been made. The Bus on Shoulder project is of modest benefit for travel time savings, making it a lower priority right now. And the RapidRide C and D Line improvements are still at an early "project definition" stage, according to agency staff.
Seattle Mayor Jenny Durkan and King County Executive Dow Constantine raised concerns over the paused Seattle bus projects. Mayor Durkan said that the City of Seattle had sent a letter earlier this summer requesting release of agency funding for the Madison BRT since Seattle is seeking $60 million in federal grants. She added that if the agency funding is not provided sooner rather than later, the federal grants may wind up in jeopardy.
Executive Constantine disagreed with the characterization that the RapidRide C and D Line project definition was lacking and thus does not merit funding release yet. He said that King County Metro has developed a relatively defined project list but "have not been accepted by Sound Transit staff yet." Executive Constantine said that getting RapidRide C Line projects completed is a high priority due to the West Seattle Bridge disruptions.
In total, the recommended project actions for advancement only represent $76.5 million out of $7.169 billion in total project costs, including future construction work. The board will make a final decision on which project actions to advance in October or November.

Stephen is a professional urban planner in Puget Sound with a passion for sustainable, livable, and diverse cities. He is especially interested in how policies, regulations, and programs can promote positive outcomes for communities. With stints in great cities like Bellingham and Cork, Stephen currently lives in Seattle. He primarily covers land use and transportation issues and has been with The Urbanist since 2014.