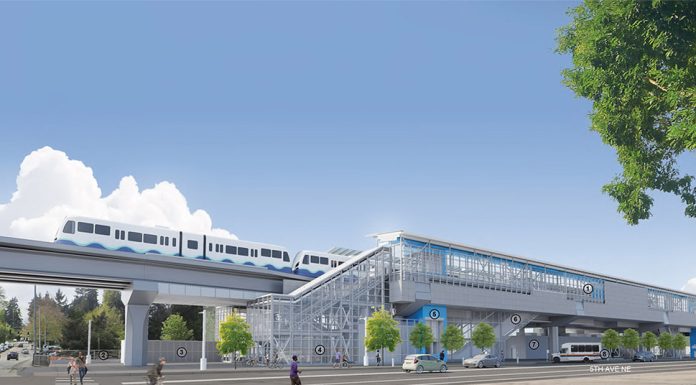 On October 12th, Sound Transit began their online open house for the 130th Street light rail station's design. Approved by voters in 2016, this station will eventually join the Lynnwood Link expansion stations and 145th station to bring light rail to North Seattle. As the name suggests, the station will fall on NE 130th St and will be adjacent to I-5. North Seattle neighborhoods like Bitter Lake, Pinehurst, and Lake City will gain better access to light rail.
The current open house shares Sound Transit's completed design work for the station. A collection of renderings is presented by the transportation agency, showing off an imposing glass and concrete structure contrasting with a landscape of single-family housing bisected by highway. Design choices for the elevated and ground sections seem mostly made.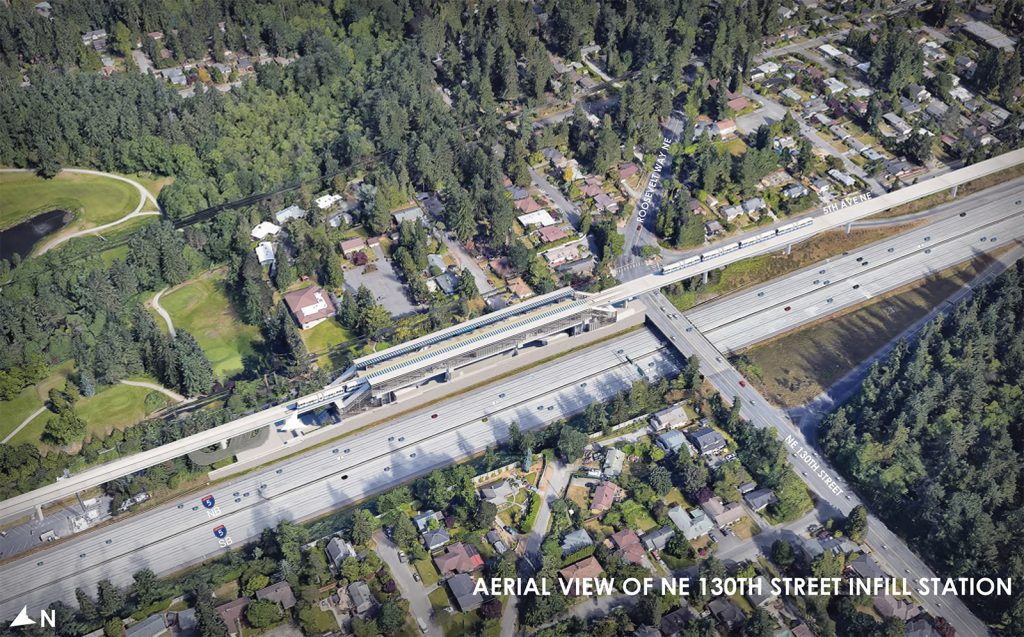 Inspired by nearby Thornton Creek, Sound Transit plans on giving the station greenery and character typical of our region's waterways. Bioretention planters and other stormwater structures will prevent excessive flooding. Native flora and stream cobble finishes will highlight the station.
For the accommodation of other modes of transportation, Sound Transit has shared a ground concept for the station and immediate surroundings. There may well be two bicycle facilities, improved pedestrian conditions, and a drop-off area on site. Two potential bus stops are also shown. Perhaps these additions foreshadow the introduction of an east-west bus route connecting Lake City and Bitter Creek. Maybe North Seattle will get some more sidewalks, or even bike lanes.

For input, the open house doesn't ask much from the communities surrounding the planned station on potential design options. Choice between two colors, seating options, and bollard styles are the most concrete pieces of feedback sought by the agency. Some questions are asked to help with guidance on art direction, but other than an option for general comments on station design, nothing much of substance is asked.
Especially if you're a North Seattleite that values aesthetics, be sure to give your feedback to Sound Transit for the 130th light rail station design in the questionnaire attached to the open house. Be sure to visit the website for more details, and more renders on how the station could turn out looking like. The open house closes on the 28th of October.
Creating a more connected North Seattle
There's also the context of the station as a whole, in 2019 the City began discussions on the 130th and 145th Station Area Planning with the concerned communities. This project hopes to bring in the community to design the critical vision for the area surrounding the future light rail stations. Feedback is also being asked for this project.
Over this past spring and summer, four surveys on Vision, Mobility, Zoning and Transit Oriented Development, and Affordable Housing and Livability have been open for the public and specifically the local community to complete. These surveys close on October 23rd, so be sure to take them and help 130th and 145th stations thrive.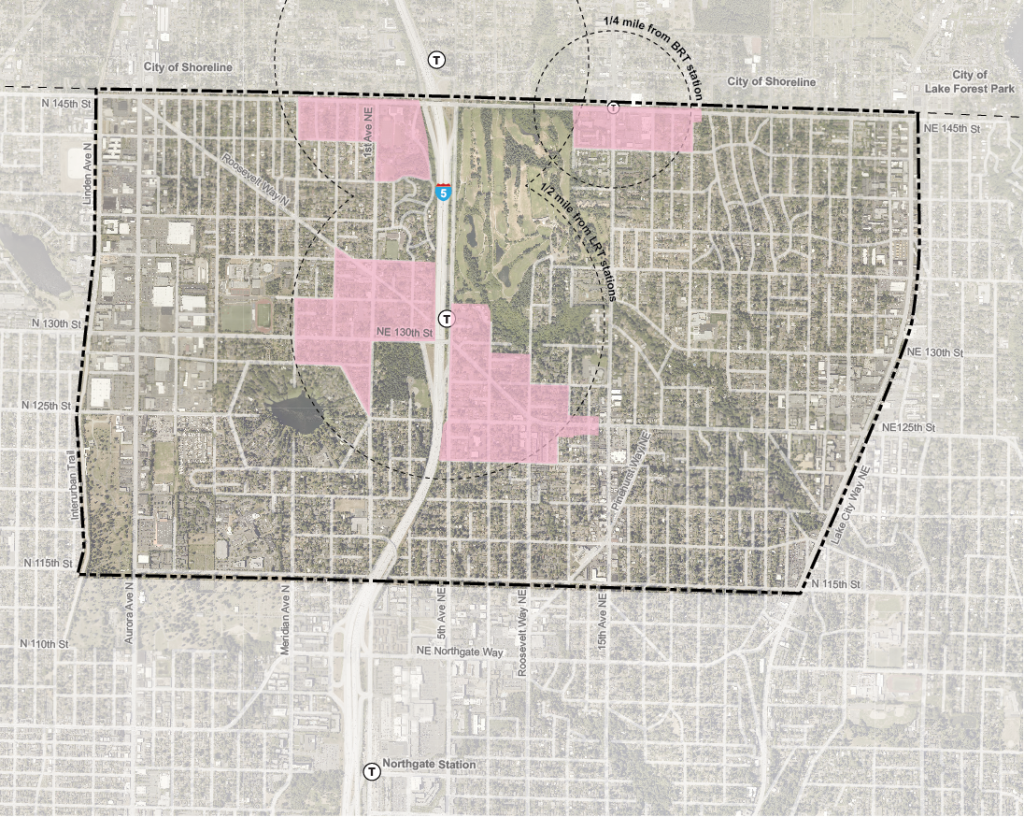 When these concepts and designs will actually be realized is still undecided. In February, the Sound Transit Board of Directors gave staff a year to complete preliminary engineering to determine if it was possible to speed up and finish final design and enough construction of the station by 2024 for a 2024/2025 opening of the station. This would accelerate opening from 2031, but also cost the agency more in the short term and affect their capacity to respond to risk. In our Covid-induced downturn, an early opening of the 130th station is at risk.
Sound Transit is going through a recession-triggered realignment process right now, it may very well determine when Seattle gets the 130th street light rail station in a few year or a decade. The transit agency will be engaging the public in first and second quarters of 2021 on realignment, so be sure to follow and engage with the agency as it makes its way through this difficult time. In the meantime, give them feedback on the NE 130th Street infill station's design and give the City feedback on their 130th and 145th Station Area Planning surveys.
Shaun Kuo is a junior editor at The Urbanist and a recent graduate from the UW Tacoma Master of Arts in Community Planning. He is a urban planner at the Puget Sound Regional Council and a Seattle native that has lived in Wallingford, Northgate, and Lake Forest Park. He enjoys exploring the city by bus and foot.