Like many industries in the past year, air travel has taken a huge hit and Seattle-Tacoma International Airport (SEA) was no exception, seeing an unprecedented decline in passengers. The airport closed out 2020 with 20,061,507 passengers passing through its halls, a 61.29% decline from the record high year of 2019. The last time passenger numbers were that low goes back decades to 1993. Even during the Great Recession, passenger growth was only modestly affected, manifesting as a two-year hiccup whereas growth boomed during the 2010s ranging from 1.04% to 12.91% per year.
The Covid pandemic has been particularly acute for the leisure and business travel sectors as stay-at-home and teleworking orders in addition to state and international travel restrictions have been imposed. Travelers' concern over transmission of Covid on airplanes has also added to the sectoral impacts.
During the pandemic, states like New York, Hawai'i, and Alaska have taken differing approaches to restricting air travel. Hawai'i essentially closed down all non-resident travel unless quarantining for 14 days until the fall when a mandatory advanced Covid test allowed freer travel. Alaska imposed a similar protocol last summer and New York mandated universal quarantines for passengers from higher Covid-positive states but also eventually relaxed this somewhat with advanced testing. Washington's Governor Jay Inslee even recommended a 14-day quarantine for people returning from outside the state and a mandatory 14-day quarantine for people arriving from countries where a more transmissible variant of Covid is known to be circulating.
Early on in 2020, the federal government also halted travel between the United States and Mainland China where the Covid virus had originated. Eventually, travel bans were expanded on short notice with Mexico, Canada, and Europe. Over time, some of these restrictions have been loosened, but general travel is still highly with quarantine requirements upon arrival by foreign governments. The Biden administration, however, began requiring travelers arriving from abroad to take an advanced test within 72 hours of departure starting today (January 26th) and issued a sweeping order yesterday (January 25th) denying non-citizens entry to the United States who have been recently been to countries where more transmissible Covid variants are widely circulating.
Overall, the airlines had a very difficult year with a nearly immediately collapse in travel demand and imposition of travel restrictions. This led many to greatly cut back flights beginning in March and April in North America, though international flights began to see some curtailment in February. Federal aid kept many airlines hanging on financially by a thread and forestalled layoffs, but eventually many airlines began furloughing and laying off staff in the fall as that aid dried up. Yet airlines have increasingly been adding back service—with global capacity reaching nearly 60% of pre-pandemic levels at the end of 2020—and presumably staffing as consumer confidence has risen.
Within the air travel market, demand for international service has dramatically fallen and with it many connections abroad. SEA reports that only 20 of 42 international services are still operating though a handful are poised to resume in the coming months. A few airlines have also indicated that new international services are planned this year.
| | | |
| --- | --- | --- |
| Destination | Operating Airline(s) | Notes |
| Amsterdam | Delta | |
| Bangalore | See notes | American Airlines launches service on November 1st |
| Beijing–Capital | See notes | Hainan Airlines has suspended service and Delta has transferred service to Beijing–Daxing |
| Beijing–Daxing | See notes | Delta launches service on March 27th |
| Calgary | See notes | Alaska Airlines, Air Canada, and Delta have suspended service |
| Cancún | Alaska Airlines and Delta | |
| Doha | See notes | Qatar Airways launches service on January 29th |
| Dubai–International | See notes | Emirates resumes service on February 1st |
| Dublin | See notes | Aer Lingus has suspended service |
| Edmonton | See notes | Alaska Airlines has suspended service |
| Frankfurt | Lufthansa | Condor has suspended service |
| Guadalajara | Volaris | |
| Hong Kong | See notes | Cathay Pacific has suspended service |
| Kelowna | See notes | Alaska Airlines has suspended service |
| London–Gatwick | See notes | Norwegian has cancelled service |
| London–Heathrow | British Airways | Virgin Atlantic has suspended service, Delta resumes service on April 1st, and American Airlines launches service on March 27th |
| Los Cabos | Alaska Airlines and Delta | |
| Manila | See notes | Philippine Airlines planned but never launched service in 2020 |
| Mexico City | Aeroméxico | |
| Montréal–Trudeau | See notes | Air Canada planned but never launched service in 2020 |
| Morelia | See notes | Volaris has suspended service |
| Munich | See notes | Condor and Lufthansa planned but never launched service in 2020 |
| Osaka–Kansai | See notes | Delta has suspended service |
| Paris–Charles de Gaulle | See notes | Air France and Delta have suspended service |
| Puerto Vallarta | Alaska Airlines and Delta | |
| Reykjavík–Keflavík | See notes | Iceland Air has suspended service |
| Seoul–Incheon | Asiana, Delta, and Korean Air | |
| Shanghai–Pudong | Delta | Hainan Airlines has suspended service and American Airlines launches service on March 27th |
| Singapore | See notes | Singapore Airlines has suspended service |
| Taipei–Taoyaun | EVA | |
| Tokyo–Haneda | See notes | All Nippon Airways and Delta have suspended service |
| Tokyo–Narita | See notes | Japanese Airlines resumes service on March 2nd |
| Toronto–Pearson | See notes | Air Canada has suspended service |
| Vancouver | Air Canada, Alaska Airlines, and Delta | |
| Victoria | See notes | Alaska Airlines has suspended service |
Particularly notable in the table are new international services planned by American Airlines, including SEA's first connection to India, to Bangalore (November 1st), London–Heathrow (March 27th), and Shanghai–Pudong (March 27th). The airline has consolidated some international services from Los Angeles as part of a reorganization effort for trans-Pacific routes and a partnership with Alaska Airlines. Later this year, Alaska Airlines will fully join the oneworld airline alliance, of which American Airlines is a founding and senior member. Thus the partnership will lead both airlines to align scheduled flights, connections, and perks. Other new intercontinental service planned includes oneworld member Qatar Airways' Doha (January 29th) and Delta's Beijing–Daxing (March 27th) routes, though service resumptions on many routes should be coming soon.
Aside from the announced international service resumptions and new launches, the list of domestic new routes is very short. Alaska Airlines plans to add service for Monterey (February 1st) and Cincinnati (May 20th), but other domestic airlines undoubtedly will begin making announcements soon as demand ramps back up and more service resumptions have begun.
The Port of Seattle plans to open a new International Arrivals Facility (IAF) this year capable of processing more international travelers and flights. The project has been beleaguered with environmental problems, cost overruns, and delays that have set its opening back nearly year. The IAF is now due to open in September even though estimates only months ago had suggested a March or April opening. The latest budget overrun has pushing the IAF budget to $986 million, ballooning significantly from the $608 million estimate in 2015–putting Sound Transit's cost escalation woes in perspective.
When finished, the IAF will provide a secure corridor connection from the South Satellite to the main terminal via a walkway bridge over the tarmac and secure connections from Concourse A. These corridors will funnel passengers from gates to a new customs and baggage collection area just east of Concourse A in the main terminal. This will allow 20 gates instead of 12 to support international arrivals, double customs capacity to 2,600 passengers per hour, reduce customs processing timeframes, and increase international baggage carousels from four to seven. The improved processing timeframes means that connecting passengers will only need a 75-minute layover instead of the typical 90 minutes.
Of course, need for the new IAF is not exactly high at the moment given reduced passenger demand. This is also true of the North Satellite expansion underway.
In recent years, SEA had been experiencing some strain as passenger growth ballooned. This led to intermediate use of remote hardstands on the tarmac and a special annex at Concourse D to bus passengers back and forth to bridge the time between expansion of formal terminal and satellite gates. Long-range plans call for a new terminal, runway and airfield improvements, and expanded use of remote hardstands.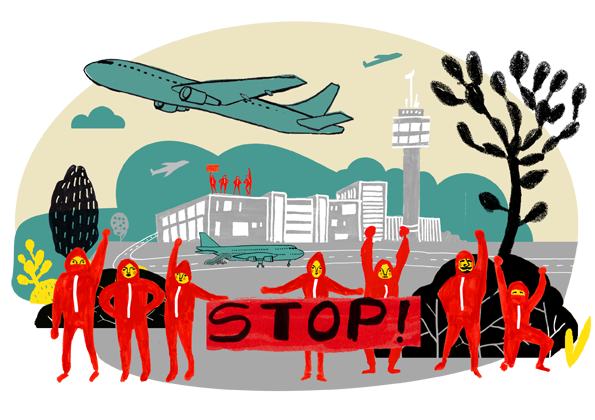 This expansion was predicated on the high pace of passenger growth and assumed that unconstrained demand would reach 66 million passengers as soon as 2034 at a nearly fully maxed out SEA. Now some expansion measures might not seem quite as urgent given that industry analysts believe that it will take several years to recover to the highs of 2019. Moreover, climate groups like 350 Seattle have made the case against airport expansion on the grounds of reducing carbon emissions and local pollution.
Still, state and regional authorities continue to evaluate future aviation demand and possible new locations for major airports.

Stephen is a professional urban planner in Puget Sound with a passion for sustainable, livable, and diverse cities. He is especially interested in how policies, regulations, and programs can promote positive outcomes for communities. With stints in great cities like Bellingham and Cork, Stephen currently lives in Seattle. He primarily covers land use and transportation issues and has been with The Urbanist since 2014.