Yesterday the King County Board of Health made the decision to delay a vote on the county's helmet law, which applies to cyclists of all ages in the county. King County Councilmember Jeanne Kohl-Welles, who had initially called on the Board of Health to revisit law after allegations of biased enforcement, was pleased with the decision, citing the need to consult with the medical community before moving forward. In general, the council appeared open to repealing the law, but felt that more steps first had to be taken to curtail potential negative impacts.
While supporters of the repeal had hoped that a companion resolution affirming the importance wearing helmets would be enough to get the vote across the finish line, it proved to be insufficient against concerns raised by Board of Health members who feared that the public would interpret a repeal as delegitimizing the importance of wearing helmets to prevent injury.
There was far from universal agreement among board members, however, with Seattle City Councilmembers Tammy Morales, Teresa Mosqueda, and Andrew Lewis all urging the board to proceed with the vote. In her remarks, Mosqueda referenced how the Seattle Department of Transportion (SDOT) had also put forth a statement in favor of a repeal.
Lewis said he was open to a delay if it meant building more of a consensus among group members and outlining strategies that encourage helmet use, such as making helmets freely available to low-income residents, a program he said could cost as little as $1,000 to get off the ground. He also mentioned he planned to introduce a "modest commercial parking tax increase" to help fund Vision Zero safety improvements in Seattle.
King Councilmember Girmay Zahilay also opposed delaying the repeal vote. "Getting people to adhere to good public health policy is clearly possible," he said, adhering to the viewpoint that criminal penalties were unnecessary to motivate people to wear helmets.
Because of a schedule conflict as a result of the City of Seattle's budgeting process, the upcoming vote on the repeal appears to be pushed to early 2022. Seattle Councilmembers Mosqueda and Morales expressed strong dissatisfaction with the delay, emphasizing data backing up the negative impacts of the law on Black and Indigenous people, as well as people struggling with homelessness. A December 2020 article from Crosscut's David Kroman laid bare that data and drew attention to the issue of unequal enforcement of the helmet law.
Strong response against repeal from the medical community
The prospect of a repeal of the county's helmet law initiated a strong response from the medical community, with physicians from the UW's Harborview Medical Center and the Seattle Children's Hospital sharing their disagreement during public testimony. This followed an OpEd written by physicians who were against the repeal that had been published in the Seattle Times in the lead up to the scheduled vote. Physician's testimony focused primarily on the negative impacts of traumatic brain injury and the effectiveness of helmets in injury prevention.
"Brain injuries change the entire trajectory of a person's life," Dr. Janna Friedly, a rehabilitation doctor at Harborview, said. She also emphasized that while the negative repercussions are felt at all stages of life some of her most difficult conversations were with youth and their parents. Concerns about negative impacts on youth were a recurrent theme among statements criticizing a repeal.
Debra Crawley, Executive Director of the the Brain Injury Alliance of Washington, was among several speakers who suggested a repeal of the law could actually result in increased harm for BIPOC (Black, Indigenous, people of color) King County residents because data suggests that BIPOC are at increased risk of suffering from a traumatic brain injury. This likely stems from safe infrastructure being less common in communities of color. For example, one of Seattle deadliest roads, Rainier Avenue, bisects the Rainier Valley, which has the highest concentration of BIPOC folks.
Data from the CDC shows that Native Americans and Alaskan Natives, both children and adults, have higher rates of traumatic brain injury related hospitalizations and deaths than other racial or ethnic groups. Additionally, Black and non-White Latino people are less likely to receive follow-up care and rehabilitation following a traumatic brain injury and more likely to have poor psychosocial, functional, and employment-related outcomes after sustaining their injury.
The CDC's data, however, does not identify the cause of the injury beyond resulting from a personal fall, motor vehicle crash, or other incident, thus it is difficult to say how many traumatic brain injuries actually result from lack of helmet compliance among cyclists. Furthermore, statistics related to the role motor vehicles play in causing these injuries is clear, giving weight to the argument that improving road safety conditions would have the most beneficial impact.
Concerns over biased enforcement
During the meeting it felt like two different conversations were taking place. At the same time that medical professionals emphasized risks of physical injury, supporters of the helmet law repeal also reaffirmed the importance of encouraging helmet use, but with the caveat that it should not be subject to penalty by police. They also called into question of the role of the helmet law in preventing injury, citing a dearth of evidence backing up its positive impact.
"The stories here today are heartbreaking, but all of them occurred with the helmet law on the books," said Tiffany McCoy, Advocacy Director for Real Change, which participated in a helmet law repeal working group with Cascade Bicycle Club and Central Seattle Greenways. The working group investigated a large body of research related to helmet policy and cyclist safety which published as a policy document earlier this year alongside a letter addressed to the King County Council requesting a repeal of the law.
Supporters of repealing the law also called on King County to engage in other actions that would have more measurable impact on increasing cyclist safety, such as distributing free helmets, engaging in public education campaigns, and increasing funding for safer streets for cycling. Relying on a helmet law arguably distracts from these potentially more effective interventions.
As it stands, the helmet law repeal vote will wait until early 2022.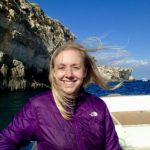 Natalie Bicknell Argerious (she/her) is Managing Editor at The Urbanist. A passionate urban explorer since childhood, she loves learning how to make cities more inclusive, vibrant, and environmentally resilient. You can often find her wandering around Seattle's Central District and Capitol Hill with her dogs and cat. Email her at natalie [at] theurbanist [dot] org.