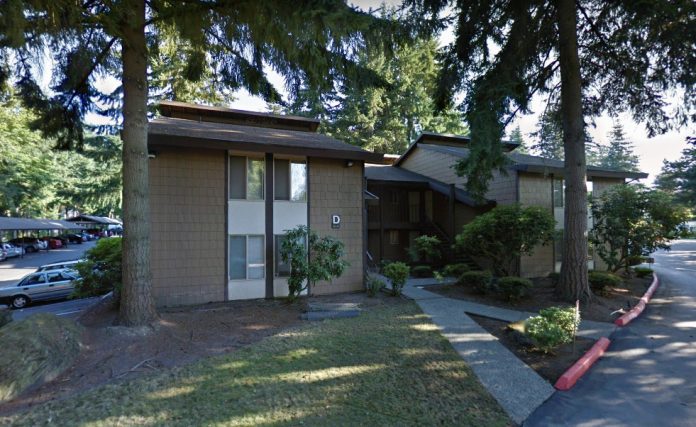 Much advocacy and media focus has been rightly granted to the newly-elected Mayor Bruce Harrell's one-month extension of Seattle's eviction moratorium. However, this level of protection for tenants already expired for the vast majority of Washington state residents when Governor Inslee's statewide bridge moratorium expired this past Halloween. The outcomes of this spooky irony also fell to Bellevue residents, whose City Council chose not to introduce a local extension. Even with nonpayment of rent again a valid reason for eviction in the most expensive city in the state, the mass eviction crisis that many had envisioned would follow moratorium expirations has definitively not yet emerged.
However, not withstanding more widespread rollout of rental assistance and mediation, there still may be gaps that leave people falling through the cracks.
To better understand the issues that may emerge in a post-moratorium city, I spoke with advocates and legal experts to find out what difficulties Bellevue tenants are navigating. Although rental protection tools are more available now than they were several months ago, a universal refrain I heard was an immense uncertainty around the scope and impact that COVID-19 will continue to have on renters.
Bellevue action faced roadblocks – Council dynamics at play
Not too long ago, Bellevue was itself considering local action to extend the eviction moratorium within its borders. At a midsummer's City Council meeting shortly before Governor Inslee's moratorium was set to expire, Councilmember Janice Zahn introduced her initiative for Bellevue to create its own moratorium and for city staff to examine the legal implications of such an action. At the time, Councilmember Zahn noted the uncertainty around whether the governor would take statewide action and that 50% of Bellevue households were renters. The introduction of this initiative was met with ire by fellow Councilmember Jennifer Robertson, who voted against even placing the discussion on the Council's agenda. When it came time for her testimony, Councilmember Robertson cited recently-passed rental protection laws like SB 5160, concerns around potential lawsuits, and fears of divestment in Bellevue as reasons for her opposition to her colleague's motion. She even implied that Councilmember Zahn had had introduced the motion via improper procedure, a claim quickly debunked by Mayor Lynne Robinson.
"As your mom used to say, just because someone jumped off a bridge doesn't mean it's a good idea…. This is not generally how we do things."

Councilmember Jennifer Robertson, Bellevue City Council Meeting, June 14, 2021
In response to her concerns, Councilmember Zahn noted that the capacity to provide the legal protections guaranteed by SB 5160 was not yet sufficient. She noted that her motion would only apply so long as Governor Inslee did not take statewide action, and emphasized the need for swift action in advance of the potential expiration of the governor's moratorium in a couple weeks' time. However, to gain support from the Council's conservative contingency, Mayor Robinson proposed an amendment to expand the scope of Zahn's proposal beyond solely an eviction moratorium. Staff would now be tasked with compiling data on the population at risk of eviction and the need for rental assistance, the effect of state action on eviction moratoriums, and information on Bellevue's response to COVID-related housing insecurity – all within a two week timeline.
Staff warned that these requirements would divert city employees from other important planning work, such as the allocation of funds for addressing the homelessness crisis that the city decided to collect itself rather than through the county, but said they could return with a preliminary report within the required time frame. The motion, which was approved unanimously, represents a frequently-seen pattern in Bellevue politics — actions for progressive policy, such as housing diversity or climate change funding, are often met with delay for further fact-finding and or are watered down to build consensus with conservative members.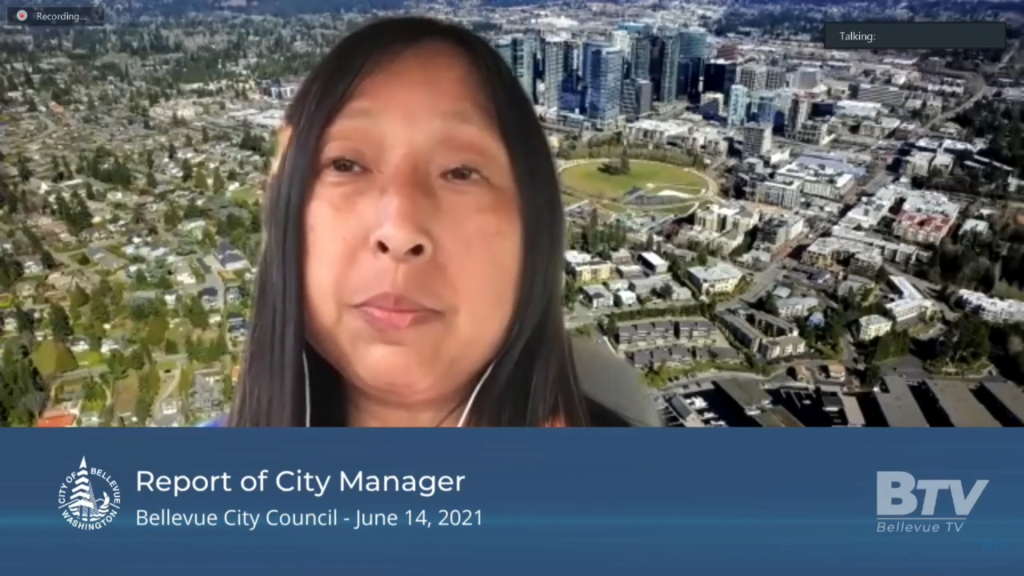 In this case, it ended up not mattering one way or the other. When Governor Inslee announced his bridge moratorium at the end of June, City Manager Brad Miyake took that as significant enough action to stop pursuing Councilmember Zahn's motion, and Council did not direct him otherwise. In spite of advocates pointing out that the governor's bridge offered fewer protections than the previous moratorium, there was likely little appetite to direct staff to continue work on the issue when that would require diverting attention from other matters. And ultimately, conservative opposition on the Council served its purpose – formal discussions around enacting a local moratorium did not materialize again when the governor's statewide bridge finally expired in the fall.
Rental assistance and conflict resolution
What the Council did take action on is rental assistance, dishing out exactly $7.5 million in American Rescue Plan Act (ARPA) funds for local nonprofit organizations to distribute to residents and small businesses. Monik Martinez is the Executive Director of 4 Tomorrow, an organization focused on culturally-sensitive support to the Latino community. Her organization has received roughly $400,000 from the City's pool of ARPA funds and has thus far distributed over $215,000 to 28 households as of January 15th. That averages to approximately $7,500 per family — a staggering figure, but one that reflects the community need. When city staff returned at the end of July with figures on the need for rental assistance in Bellevue, they estimated that 7,600 households in Bellevue (approximately 25% of the city's rental households) were at least somewhat likely to be evicted in the following two months. With the average need for rental assistance in the city between $4,000 and $11,000, staff estimated that allocated funds would be able to help approximately 1,000 households.
A key difference between the King County's Eviction Protection and Rental Assistance Program (EPRAP) system, which has been riddled with technical issues since its launch, and Bellevue's rental assistance program is eligibility. While EPRAP only serves households making up to 50% of Area Median Income (AMI), Bellevue's program is able to help families up to 80% AMI (about $90k for a family of four). Another difference is speed — where technical issues have left some renters waiting months on an answer for King County rental assistance, Martinez shared that Bellevue assistance often takes weeks or days to placate landlords who are waiting on funds. Similar to EPRAP, Bellevue's program does not just cover past due rent, but can also be used to cover up to three months of future rent. This is helpful for tenants who may still be facing economic precarity even after working out a payment plan with their landlord.
"There's gaps between what other cities have pledged for rental assistance and what Bellevue has pledged. I'm super grateful for [the assistance], but then it's also very sad for other cities who don't have those resources, or for the people who don't live in those cities [with more resources]."

Monik Martinez, Executive Director of 4 Tomorrow – January 2022
During our conversation, Martinez highlighted the amount Bellevue has provided for rental assistance when compared with other Eastside cities. Despite all receiving similar amounts of ARPA funding from the federal government, Bellevue has thus far granted significantly more funds to rental assistance than cities like Kirkland and Issaquah. Kirkland did make more funds available explicitly for payment of overdue residential and commercial utility bills, but on the aggregate, funding available in Bellevue for overdue living expenses far exceeds the level of funds provided in other Eastside cities.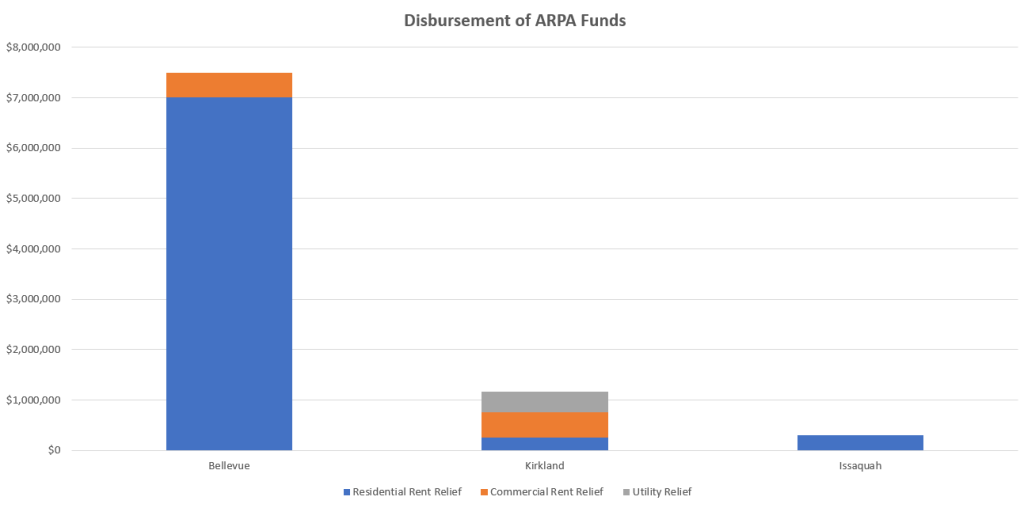 Under the protections offered by SB 5160, landlords are required to offer reasonable repayment plans to tenants before eviction cases can be filed. Mediation and conflict resolution are therefore other important services, and the City of Bellevue's Conflict Resolution Center has seen increased use for payment plan mediation during the pandemic. Of the total 277 Eviction Resolution Pilot Program (ERPP) cases that the office has processed since the start of the pandemic, 124 of those were initiated in the past three months, after the expiration of the bridge moratorium.
When a tenant is served a 14 day notice to pay or vacate, Bellevue landlords must also submit this document to the CRC to initiate a repayment case. If the tenant does not respond to the landlord's case within the posted timeframe, the CRC can issue a certificate allowing the landlord to file an unlawful detainer with the court, which goes on the tenant's record. In a response to questions, city staff shared that the response rate from tenants currently rests at 92%. They also shared that only 14 certificates had been thus far issued, meaning that the majority of cases have resulted in an agreed-upon payment plan between tenant and landlord.
Sart Rowe is a lawyer with the Eastside Legal Assistance Program (ELAP), a non-profit organization that provides free legal assistance for King County residents. Specifically with Bellevue eviction cases, ELAP has, among other things, accompanied tenants during the conflict resolution process and kept tenants informed of their rights. He explained that local programs may provide a more direct resource for community members to access for assistance. In fact, Bellevue's CRC has proven so effective that Kirkland actually uses it as well for fulfillment of the state's mediation requirement.
"I am a huge advocate for mediation and conflict resolution like that. I think that the accessibility to local residents is extremely helpful. So I think it would be a benefit to other cities to seriously consider [having their own conflict resolution centers]."

Sart Rowe, Eastside Legal Assistance Program – January 2021
Remaining uncertainties
In spite of optimistic numbers around rental assistance for the city, everything is not roses for tenants. For one, people are still getting evicted if they don't make contact with their landlord or are unable to come to an agreeable repayment plan. And there's still a lot of uncertainty and confusion around the precise scope of the crisis, but the information we do know isn't pretty. Relying on data from a community survey in early December, Bellevue city staff estimate that 13% of Bellevue rental households are "somewhat or very likely" to face eviction in the next two months. Although a significant drop from the 25% figure in July, back of the napkin calculations reveal that nearly 3,700 households are still at risk of eviction.
In my conversations with lawyers and advocates, I felt a pervasive sense of a looming crisis. Where Rowe's office was fielding five or six housing cases a month last summer, they're now seeing that demand every three days. Tram Tran-Larson, community engagement manager with the Housing Justice Project confirms this outlook. She notes that although the actual eviction numbers may seem small, none of the available figures will include self-evictions. Basically, rather than face the risk of an eviction case on their records (which may impede renters from finding stable housing in the future), renters choose to leave the unit after receiving a pay-or-vacate notice. This presents a particular problem for advocates, because the tenant will still owe the rental debt, but leaving the unit may make one ineligible for rental assistance funds.
Advocates cited unvirtuous behavior from landlords that is exacerbating issues for tenants. From filing evictions just days after the moratorium expired (thus not following proper procedure with developing a repayment plan) to intimidating and harassing tenants, advocates and tenants have had to navigate a system with major power imbalances and few oversight mechanisms. Perhaps worst of all, some landlords have outright refused rental assistance funds because they come with stipulations limiting rent increases for six months. Rowe has seen clients with $10,000 and $20,000 in debt have their rental assistance rejected by their landlords, only for those landlords to raise rents by as much as double.
Given that Bellevue's current funds are estimated to only be able to help approximately 1,000 tenant households, there's concern that the rental assistance that does get accepted by landlords won't be enough to meet the widespread need in the community. The city will have another round of ARPA funds arriving in the near future, and it's possible that those funds could also be allocated to rental assistance. However, concerns remain around communicating the availability of assistance with the wider community, especially Bellevue's diverse immigrant communities.
If this extra assistance doesn't materialize, it's likely that thousands of renters will be left to repay their debt via payment plans. Although certainly better than being evicted outright, it's important to note that in these plans, tenants are still required to pay rent going forward while they pay off their debt. These higher total payments make the situation that much more precarious if the tenant is, for example, laid off or misses work from COVID-19. I heard an immense fear of the eviction crisis that's yet to come for the people who default on their repayment plans through no fault of their own in the wake of the Omicron outbreak.
Although having locally-available resources like mediation and rental assistance are able to provide more direct and nimble help than region-wide responses, advocates have also noted that differences between neighboring communities, both in terms of the amount of rental help that's available and whether an eviction moratorium is in effect, has created confusion on what protections are available to which groups of people. And, like it has with everything, COVID-19 has exacerbated societal inequities related to digital access — forced isolation from the pandemic has made it that much harder for advocates to be able to provide assistance for people who don't have stable internet or technological literacy.
The crisis created by a lack of an eviction moratorium might not have yet manifested itself in a massive, tangible event like what many had been envisioning. However, it's clear that there's still significant risk to thousands of tenants throughout our region who are waiting on rental assistance funds that might not be enough. Society (and government) should calibrate its expectations and understand that housing difficulties created by COVID-19 will likely have ramifications across months, if not years into the future.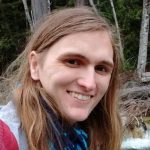 Chris is a UW Environmental Sciences graduate who moved to Bellevue in 2015. When he's not busy being an urbanist fox on the internet, he's working on the Eastside to support efforts reducing greenhouse gas emissions and going to city council meetings to denounce the hegemony of automobile infrastructure. Follow him on Twitter at @Deutski1.