After being 122 votes short from being validated in the April 27, 2021 special election, the Shoreline Parks Bond is back for another shot with voters. The measure was then approved by the Shoreline City Council on June 28, 2021 to place it on the November ballot. However, city staff failed to submit the required documentation to King County Elections by the August 3, 2021 deadline. The parks bond now returns for a February 8, 2022 special election ballot after a November 1, 2021 vote by the City Council. If you are a Shoreline voter, make sure to participate in the election and cast a vote for improving community green spaces. Your participation will be important for getting the parks bond past the finish line.
Since we last covered the bond measure for the 2021 election, the parks bond has not changed minus the easier validation threshold. Briarcrest Community Park, Brugger's Bog, Hillwood Park, James Keogh Park, and Richmond Highlands Parks are still promised their major improvements. More minor improvements to Ridgecrest Park, Shoreview Park, and Kruckeberg Botanical Gardens also return.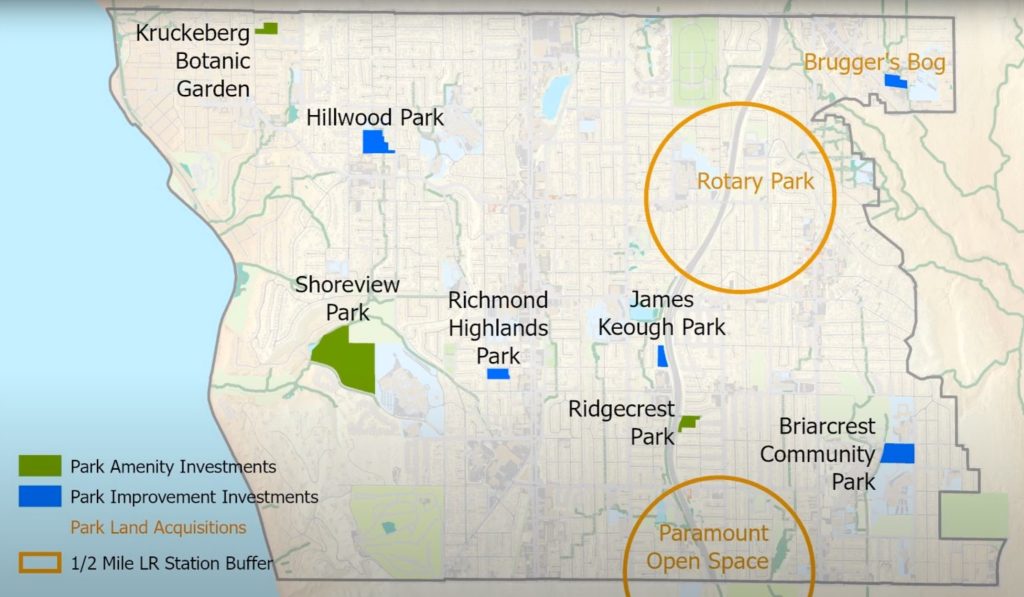 One development since we last covered the bond measure is the purchase of additional land for Brugger's Bog Park, Paramount Open Space, and Rotary Park with Bond Anticipation Notes (BAN). The BANs allow Shoreline to buy the new park land while they're available, before developers can buy them, and before their prices appreciate. If and when the bond measure passes it will pay off the BANs and fund more parkland acquisition around the incoming light rail stations.
Lastly, it will be much easier to pass Proposition 1 this time around. The last time the bond was on the ballot, it was tremendously popular with 72% of voters approving of the measure. It only failed due to a validation requirement for special elections. To pass, special elections require 40% of votes cast in the last general election and 60% yes votes. Comparing the 2020 and 2021 general elections voting figures, there was a stark decline for general election voters. It dropped from 35,231 voters in 2020 down to 15,605 voters in 2021 — perhaps one of the few instances that voter depressing odd-year elections will benefit urbanists. That means the ballot measure only needs 6,242 votes now for validation, way down from the 14,092 votes required in 2020.
It should be easy to pass Shoreline's parks bond, but don't slack off. It's time to get out the vote! For more information, refer to our previous article on Proposition 1 or Shoreline's presentation of the ballot measure below.
Shaun Kuo is a junior editor at The Urbanist and a recent graduate from the UW's Jackson School. He is a Seattle native that has lived in Wallingford, Northgate, and Lake Forest Park. He enjoys exploring the city by bus and foot.