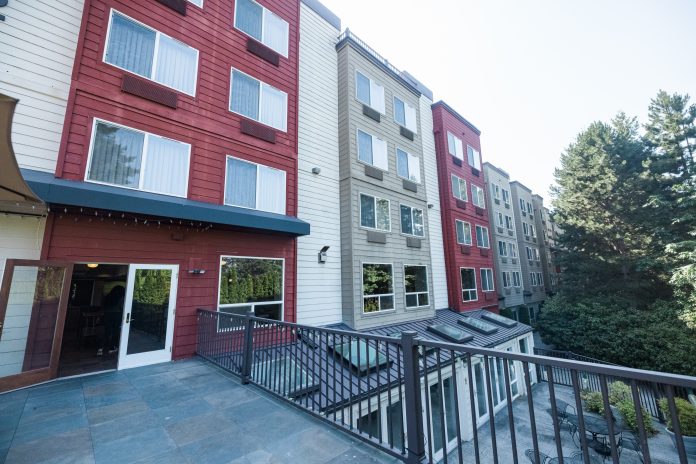 Despite public perception, our region's homelessness crisis affects our Eastside communities and is not just a Seattle problem. Supportive services, including permanent supportive housing and transitional housing, are part of a suite of proven solutions, but recent implementations on the Eastside have faced undue pushback from disgruntled residents. Providers and experts are eager to share their insights into what fuels this opposition and why these supportive facilities are crucial parts of addressing homelessness.
Supportive Housing Works to Address Homelessness
Alison Eisinger gives a slight smile as she reaches off-screen to fetch a visual aid. She returns with a framed photo of two girls on a playground, slightly obscured by her Zoom window reflecting back at me, but easy to see is the joy on her face as she explains, "I refer to these girls as my supervisors." The girls are residents of a public housing project in New York City, the place where Eisinger lived before she moved across the country and completed her education in social work and public health at the University of Washington.
She's now executive director of the Seattle/King County Coalition on Homelessness, an organization that brings service providers around the region together to "advance reasonable solutions and solid program models; to protect and strengthen the civil rights and dignity of people who are homeless and poor; and to accomplish legislative victories that promote housing, human services, and the public good at the local, state and federal levels."
Service providers and partners in this coalition certainly have their work cut out for them. Just as the crisis has been steadily growing in Seattle, so too have needs for services increased in our Eastside communities. At the County's most recent Point-in-Time Count (PIT) in January 2020, there were at least 1,000 homeless people in East King County — a 10% increase from the previous year. However, this figure is assumed to not quite hit the mark; in addition to being from before the economic precarity caused by Covid-19, it was thought at the time to be an undercount for the County's suburban and rural communities, whose homeless populations are more spread out and thus harder to track. Because of this, the County has switched to an approach that combines qualitative metrics with a by-name list. New figures put the County-wide estimate at over 40,000 people, or over three times the previous figure.
Even with the older methodology, the numbers show that homelessness is far from being a Seattle-specific problem. And although the root causes of homelessness are intertwined and complex, it's impossible to disconnect our region's rise in homelessness from the astronomical increase in Eastside housing prices. When combined with historic under-investment in housing units affordable to people making less than 50% of area median income (AMI), a perfect storm of increasing inequality is created that only public policy can solve.
Research shows that supportive services, including permanent supportive housing (PSH) and transitional housing, are proven solutions to keeping people housed. Implementation of state laws like HB 1220, which would legalize supportive housing for homeless people in all districts where housing is allowed, will help reduce historical housing inequities caused by exclusionary zoning. And programs like King County's Health through Housing initiative, which has thus far purchased 10 hotels (including the recent purchase of La Quinta Inn and Suites in Kirkland) that are to be converted into over 1600 PSH units, are efforts to address the burgeoning crisis with the scale required.
Perhaps most importantly, sites with supportive services are what providers and experts say work — and just like we (ought to) listen to experts as we craft climate change policy or make epidemiological decisions, so too should we listen to experts as we work to solve our homelessness crisis.
Misleading Arguments "Other" Vulnerable Groups
However, it would be an understatement to say that the siting of supportive housing on the Eastside has just been met with some ruffled feathers. Organizations like Safe Eastside, using political infrastructure created a few years ago to fight affirmative action at the state level, banded together to oppose the purchase of the Silver Cloud Inn in Redmond last summer. Opposition arguments combined remixed claims from the Eastgate men's shelter fight peppered in with some new and bold (but false) claims; from strongly implying that the site would be a safe injection site to claiming that the County would be mass-bussing Seattle homeless people to live in the facility, misinformation spread throughout the community faster than it could be addressed.
County officials took note of the misleading claims and published factsheets to correct the record, but these did little to stop the groups. Drug injection signs still peppered the roadsides throughout Bellevue and Redmond, chats at virtual community forums still repeated the false claims, which conservative media outlets were still willing to publish uncritically. If one's misinformation is knowingly disproven, but organization leaders still choose to use it, that seems to transition away from good-natured concern into bad-faith fear-mongering.
Coalition leaders like Eisinger, who's been with her organization for over 15 years, are perhaps the most equipped to see this recent backlash as but another in a series going back years. In describing the construction of the first (and only) men's emergency homeless shelter on the Eastside, she explained:
"It took more than one decade to cite one shelter [emphasis hers] for men experiencing homelessness, despite lots of support from business owners, individual residents, institutions like Public Health King County, Congregations [for the Homeless]… The gap is in understanding the need to respond with urgency and at scale… That's a gap that exists in many communities, but it's extremely apparent on the Eastside."

Alison Eisinger, Executive Director of Seattle/King County Coalition on Homelessness
The Eastgate shelter came about from an agreement between Kirkland, Redmond, and Bellevue to each site a facility for different Eastside populations, but it only celebrated its groundbreaking earlier this year after a drawn-out public engagement process incited similar levels of fear-mongering. Meanwhile, shelters in Kirkland and Redmond for women and young adults, respectively, have long since been completed. Notably, Safe Eastside's founder and leader is a resident of Northeast Bellevue.
And unfortunately, the misinformation and fearmongering worked. Hundreds showed up at Redmond City Council meetings with signs and testimony that fundamentally misunderstood the regional nature of our homelessness crisis. And I choose the word "misunderstood" intentionally here — as I sat in Redmond City Hall during that August meeting, seeing signs decrying "Communist Seattle" and condemning the City Council, I took note of several different types of people. Conceivably not everyone in that room was aware of the deception behind statements used by lead organizers. Surely there were some people who do truly want to help homeless people, but combined with misinformation from sources they trust and a lack of information on how homelessness can be solved, they believed that the project wasn't the best way to do so.
But unfortunately, when the end result is the same — people showing up en masse to protest against what is effectively an apartment complex with additional supportive services — it makes a distinction between the groups difficult to discern. And ultimately, it felt like some concerns would never be addressed in a satisfactory way for some opponents. The County is of course unable to guarantee perfect safety or perfect behavior from residents, just like the owners of the hotel were not able to (nor expected to) from groups staying in rooms before the site's purchase. Similarly, the framing of homeless people as uniquely dangerous to children, when income inequality and increasing housing costs bring many millennials and Gen Z'ers closer to homelessness than they are to home ownership, is not an argument that can be engaged with. As Eisinger alluded to, support for the projects has to come down to a values judgement of understanding that these facilities are helpful and an acknowledgement that our communities are better when we're all provided with the care we need.
Tactful Approaches Can Still Do Harm
With both Eastside PSH facilities moving forward into the community engagement process, opposition groups will likely be unable to fully halt the housing from opening like they had originally envisioned. However, anti-housing advocates have not always taken such brazen, "in-your-face" approaches to accomplish their missions. As recent planning commission meetings in Bellevue show, it's often subtle, seemingly reasonable requests to limit housing that can be most influential on the local level.
In 2021, advocates and housing providers celebrated the state legislature passing HB 1220. Among a suite of other provisions, the bill sought to reduce historical housing inequities by allowing for permanent supportive housing and transitional housing in all zones where hotels and housing units are allowed. Importantly, this would include areas zoned for single family, a zoning designation that has its roots in 20th century racism and classism. Cities were required to comply with the new statute by July 25, 2021, so the City of Bellevue, as it often does to comply with state land use mandates, put an Interim Official Control (IOC) in place. This temporary action brought the City in compliance with the law while a more permanent land use ordinance was to be worked on.
Discussions around the structure of that permanent ordinance are currently being led in the City's Planning Commission, and neighbors have taken note. A fair share of misinformation and mischaracterizations have rallied some pretty vocal opposition, but these discussions have also incited a different tactic from advocates and leaders who have sought to preserve single-family zoning.
Spliced between angry testimonies and emails from people who seem to fundamentally misunderstand what the law does, calmer advocates have been rallying behind messaging from Betsi Hummer, former chair of the East Bellevue Community Council. Her asks, which have been circulating across social media and have been cited in several testimonies, have been for restrictive buffers that would limit the number of facilities that could be located near each other, requiring safety plans and conditional use permits, restrictions on the maximum number of bedrooms, and more. She and others have framed these requests as being in the best interest of all residents, including residents of the future facilities.
"Since the populations served by Permanent Supportive Housing are the same as those using the Homeless Shelters as defined in Bellevue City Code 20.20.455, I believe the Land Use Code siting Permanent Supportive Housing in residential zoned neighborhoods should enjoy the same guidelines that were so carefully developed for the shelters… The Homeless Services Uses Land Use Code was developed with extraordinary input from the public, providers, funders, and participants, as well as the City Council and staff."

Betsi Hummer, writing as a private citizen to Bellevue's Planning Commision. Take note of Bellevue City Code 20.20.455. It's a surprise tool that'll help us later.
These arguments echo similar requests made from the very top, when Bellevue City Councilmember Jennifer Robertson asked staff to investigate supportive housing best practices. In sincerely moving testimony, Robertson shared her experience with her late brother, who experienced homelessness and received services from providers near the end of his life. She noted that she was not a service provider, but she was interested in having staff investigate PSH best practices and (importantly) asked for these best practices to be formally codified, either in the City's Land Use Code (LUC) or as a requirement in order to enter into funding agreements with the City.
Staff noted that researching all of her requests would take dedicated staff away from and potentially delay other planning work. Progressive councilmembers were reticent to support her proposal, which originally directed staff to research six topic areas for potential land use control (LUC) incorporation, out of fear it would create additional roadblocks towards addressing Bellevue's supportive housing needs. Ultimately, the body voted 4-3 to advance two of her topic areas for staff review, whose findings were ultimately incorporated into a best practices guide instead of becoming legally-binding parts of the LUC.
It is obviously impossible to know intent, and it is certainly possible that these asks stem from a good-natured desire to most effectively help those in crisis (though I would note that Ms. Hummer, in her capacity as a member of East Bellevue Community Council, voted down the homeless use ordinance that she praised as "carefully developed"). However, as providers and progressive councilmembers have noted, these restrictions can create barriers and rigidity that will limit the ability for providers to build housing. And, since service providers operate as non-profits, there is not a profit incentive to cut costs at the risk of harm to residents.
As noted previously, providers are often the best-informed experts on policy and practice that is effective to their operation. Given the lack of evidence of significant malpractice, it seems more likely that these restrictions might do more harm to people in need of services by limiting the total number of services that are actually available. Alison Eisinger made this connection clear in our conversation, citing the difficulty in finding locations to build affordable housing:
"I think, in a more suburban West like we have here in King County, maybe people imagine that actually there are lots of places where you could build affordable housing… it is not actually that easy to find a piece of land or a building that is suitable to purpose, affordable, and available to do something that is in the public good… There might be prime real estate in a location that doesn't meet those criteria, and 'Oh well, that's a technical reason that we're not going to proceed with the project.'"

Alison Eisinger, Executive Director of Seattle/King County Coalition on Homelessness
Final decisions from the City's planning commission on HB 1220 implementation were originally slated to be completed at the end of February. With several commissioners missing at that meeting however, recommendations have been tentatively postponed to the end of April. Unfortunately, it does seem the commission is open to listening to community members in imposing some restrictions on supportive housing in residential areas, which weakens the intended effect of the law in providing more equitable housing opportunities for vulnerable residents already living in our communities.
People in need are already here
Natalie Reber is executive director of Attain Housing, a nonprofit that provides over 30 transitional housing units throughout Kirkland and Bellevue. The organization's homes, which range from 1 to 3 bedroom apartments in multifamily areas, serve homeless families who might not be ready to make the jump into more permanent housing. Residents are provided with support through case managers, mental health providers, and other services as needed to help them get back on their feet. During our conversation, Reber cited the organization's 85% success rate in getting residents into permanent housing after two years.
And even after 30 years on the Eastside, the organization's scope is growing. Attain is currently constructing six additional units of transitional housing north of Totem Lake in Kirkland, which are planned to open later this year. Notably missing from the permit process, though, has been any significant backlash from the community, for the exact same type of housing that's likely getting curtailed in Bellevue. So what's the difference?
"[HB 1220] doesn't necessarily impact us because all of our housing is already multifamily zoned," Reber said. "And everything that we would build in the future would be multifamily zoned."
Again, in our nation's past, single-family zoning has been used to disallow people of color from owning homes and building wealth in healthy communities. In our nation's present, single-family zoning has contributed to a housing shortage that has led to skyrocketing housing prices, monolithic communities, and ever-increasing wealth stratification. Acknowledging these legacies and fixing these outcomes in an equitable way will require a dismantling of the zoning system that has led to the inequity, which is what laws like HB 1220 were in part trying to accomplish.
However, because problems created by a preponderance of single-family zoning challenge the perceived power of homeowners who have built wealth from a good that has artificially been made scarce, there seems to only be a concerted attempt to "other" certain populations when this historical power dynamic is challenged. Whether intentionally or not, discussions about which types of housing are allowed in which types of zones fundamentally get down to conversations of exclusion and who can feel like they belong in an area, as Eisinger acknowledged in our conversation.
"I think for some people, they're fearful about having to accept the fact that all kinds of people live in their communities, are already in their communities, and need various kinds of resources, support, services, and housing," Eisinger said. "Everybody needs to be near grocery stores, near transit, near sidewalks, not everybody can be, but those are the things we desire for a reason."
This theme of "othering" pervaded all of my discussions with providers, and although almost philosophical in nature, it's an important issue to consider. It's a discussion that gets into how we perceive ourselves as a community, a culture, and a neighborhood. We are often quick to note differences between each other, but there are some universal truths to the human experience:
We all desire to be part of something greater: a family, a community, or a society.
At some point in our lives, all of us will require care and support from other people in our community.
Our life trajectories are not ours alone; where we are and who we become is a product of complex systems that have tangible impacts on people's lives.
Recognizing these truths helps us see how such discussions are not merely philosophical in scope. Creating systems that give access to care to all members of our communities (and in all parts of our communities) helps create more opportunities for people to thrive. And when we do so, we not only create stronger communities. We also provide more people with the agency to live their best lives.
The Work Continues
As long as there are political discussions that challenge existing power dynamics, there are likely to be forces opposing changes to the status quo. And despite the universally recognized need for both housing and a systemic approach to addressing homelessness, these issues are of course not immune from that pushback. But even with this opposition, work is still moving forward to address these crises in holistic ways.
Although Bellevue is not a member city of the King County Health through Housing coalition, Plymouth Housing's upcoming Eastgate PSH location is finally slated to open in a couple years' time. This will help address the gap in services, but the organization's CEO Paul Lambros emphasized that the site's 92 units are "only a first step toward addressing the significant need in Bellevue and East King County communities."
The Health Through Housing facilities in Kirkland and Redmond, slated to contribute over 250 units combined, will also make a difference when they come online later this year. Work continues on Bellevue's implementation of HB 1220 through the City's planning commission, but it will be subject to final approval from the city council, and cities, companies, and other regional partnerships like A Regional Coalition for Housing (ARCH) continue to make meaningful strides and contributions towards solving homelessness in a multi-pronged approach.
However, it certainly would be nice if attempts at progress were not often met by (at best) prescriptive concerns or (at worst) fearmongering and "othering" of vulnerable community members. Although predating my time closely following local politics, I think back to discussions of the Eastgate shelter and the community's desire for a Good Neighbor Agreement with Congregations for the Homeless. The name and implication seem to be focused on ensuring that residents in new housing are on their best behavior, but I think these types of agreements also present opportunities for self-reflection on how we can all be better neighbors to each other. If these discussions also focused on what type of community we want to be, what values we want to practice, and how we ourselves can be good neighbors to vulnerable members of our community, I think we can lead to better outcomes for everyone involved.
Or perhaps Eisinger stated it best at the end of our conversation:
"Housing people experiencing homelessness is a fundamental responsibility of government at every level," Eisinger said. "It is essential in order to take care of our neighbors at every level. Delaying it costs money and people's lives. Generally speaking, people don't get better while they're homeless. People get better when they have a home. Keeping that in mind does simplify some of the things that people are attempting to make complicated."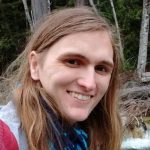 Chris is a UW Environmental Sciences graduate who moved to Bellevue in 2015. When he's not busy being an urbanist fox on the internet, he's working on the Eastside to support efforts reducing greenhouse gas emissions and going to city council meetings to denounce the hegemony of automobile infrastructure. Follow him on Twitter at @Deutski1.