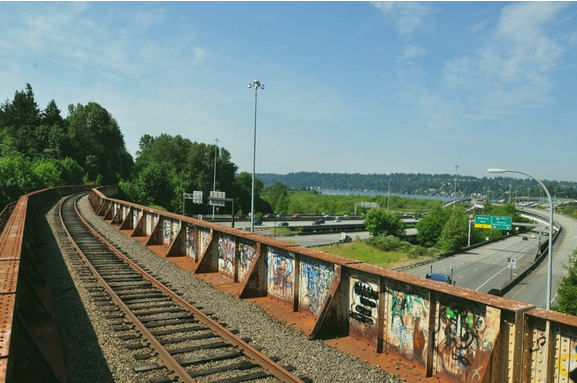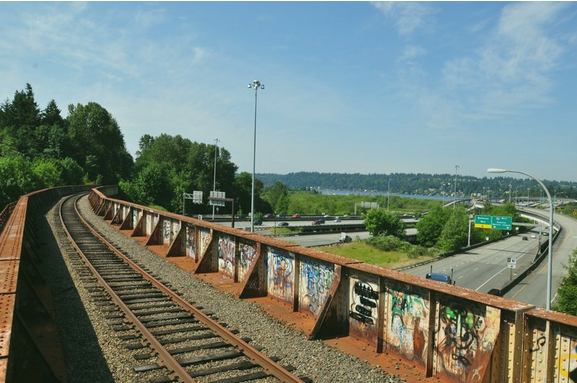 The historic Move Ahead Washington package, a nearly $17 billion investment in transportation infrastructure over the next 16 years, included $29 million in projects for Eastrail. This north-south trail spine, which will span 42 miles when fully completed, will connect Renton to Snohomish through Eastside communities like Bellevue, Kirkland, Woodinville, and Redmond. Significant portions of the trail are already open in Kirkland, Redmond, and South Bellevue.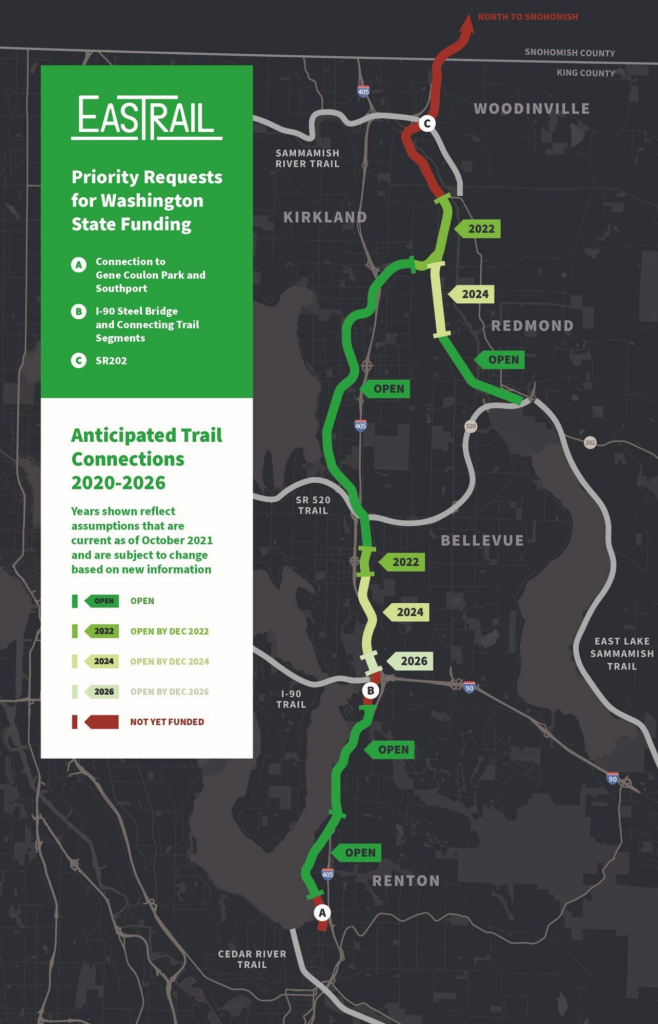 The allocated funding will complement recent high-profile investments from King County and local corporate partners. Back in September, Amazon contributed $7.5 million to fund the completion of Wilburton trail segments, including the conversion of the historic Wilburton Trestle for trail use. In late 2020, Meta (né Facebook) and REI gave a combined $2 million to complement King County funding for the completion of a trail connection with Northup Way and the SR 520 trail. And although work has been slowed due to the ongoing concrete strike, construction on the NE 8th Street pedestrian and bike bridge is still slated to be complete by next year.
According to a press release from Eastrail Partners, an advocacy organization created to "catalyze advocacy and community engagement for the trail," the $29 million from the state will be invested in three main project areas:
$5 million will go to Woodinville for retrofitting and widening a key trestle that crosses over SR 202;
$18 million will go to Bellevue for preparing the I-90 Steel Bridge for trail use, laying the trail in other parts of Wilburton, and covering overages from the Wilburton Trestle; and
$6 million will go to Renton for the acquisition of property to complete a connection near Gene Coulon Park.
To better understand the impact that these projects will have on the overall completion of the trail, I sat down for a conversation with Eastrail Partners Executive Director Katherine Hollis. It still will be a while before residents will be able to walk, jog, or bike the full length of the trail, but in our conversation, Hollis shared her optimism on how funding these key projects will help jumpstart further investment from different organizational partners.
Eastrail Partners hopes funding will catalyze further investment
With different parts of the trail owned by different government entities and the sheer numbers of private and public sector partners that have invested in the growth of Eastrail, finding synergistic funding paths is important but challenging. "The model that might have worked in one section of the trail just might not work in another for a multitude of reasons," Hollis explained. When Eastrail Partners approached State legislators with their funding requests, their strategy in project prioritization therefore needed to be grounded in a two-pronged approach.
For one, the organization sought funding for projects that could catalyze further investments down the line. Hollis identified each of the three main projects (land acquisition in Renton, I-90 bridge work, and trestle work in Woodinville) as linchpins that, if left unfunded, could really impede funding and construction progress for the County and cities along the trail.
Secondly, Eastrail Partners wanted their state funding requests to complement work already being done on the trail. Eastside drivers might have noticed construction work having begun on the I-405 trail overpass — Hollis explained how funding the I-90 Steel bridge provided a way to connect the infrastructure that's under construction with the rest of the trail system. Similarly, land acquisition near Gene Coulon Park will help extend the reach of Eastrail southwards, building off of portions of the trail that opened late last year.
Avid trail users may be excited by the prospect of even more trail segments opening up for public use, but it's important to temper these expectations with caveats. Although the funding in Move Ahead Washington represents a significant win for Eastrail Partners, very little (if any) of the funding will actually lay new trail for residents to enjoy. As mentioned, funding in Renton is dedicated solely to planning work and land acquisition, and Woodinville's portion goes exclusively towards trestle renovations. The portion most likely to be used for actual trail investments is the funding earmarked for Bellevue, but even that's not guaranteed.
Like every aspect of the economy, construction and development have been severely impacted by inflation. After the steel bridge, for which exact final costs will only be known after design work is complete, the second priority for Bellevue funding is for covering cost overruns on the Wilburton Trestle. Only if there's any money remaining will there be funds in this batch for supplementing trail work in Wilburton.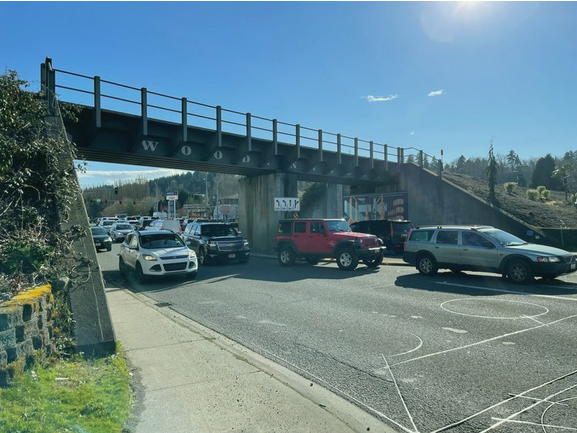 Still, Hollis pointed to this funding as laying important groundwork for further investments down the line. For Woodinville, she noted: "We thought about 'What are barriers that we can get out of the way [to help construction]'… Woodinville's going to have the funds for their Downtown trestle, and they couldn't approach the rest of the trail section through the city without doing that first." The hope is that, by getting funding for the difficult projects out of the way, work can continue to find funding sources for the easier portions of trail planning and construction.
Building momentum and public support
The projects cited earlier, which Eastrail Partners helped facilitate, are strong evidence that the organization can make this synergistic approach between stakeholders in the private and public sectors work. And although additions to the trail happen in a piecemeal fashion, these projects often complement each other in ways that increase the utility of the whole trail system. For example, Hollis was excited to show me a satellite map of a soon-to-be open trail segment near the Chateau St. Michelle Winery. A portion of Eastrail connecting northeast Kirkland with southern Woodinville is slated to open this summer, so the City of Woodinville has been working on a dedicated off-street path (set to open at a similar time) that will facilitate connections with the nearby Sammamish River Trail. Users can then travel south towards Redmond or north towards the Burke Gilman Trail and Seattle.
Set to open later this year, a segment of Eastrail immediately to the east of Chateau St. Michelle is only a few hundred yards from the Sammamish River Trail. (Credit: Google Maps)

Construction has begun on expanding a path north of 145th St NE to provide a separated right of way connecting Eastrail with the Sammamish River Trail. (Credit: City of Woodinville)
And Hollis believes these connections and recent openings that the organization has helped find funding for have driven further community interest in the trail. In describing recent meetings of the Eastrail Regional Advisory Council, she mentioned how "public comment has included questions like, 'Is there going to be parking here?', 'How will I be able to access there?', and 'When will this be open?' We're at this point where Eastrail has gone from an idea to: 'This is happening.' "
This increased public awareness (and excitement) for the trail has helped identify one of the organization's next priorities: improving public-facing information on opening dates, access points, and parking locations. Later this year, Hollis hopes to combine a map on Eastrail Partners' website with information from King County Parks into one comprehensive resource to make it easier for people to access the trail.
The organization is also looking towards upcoming work in the Wilburton corridor as crucial towards bolstering the trail's success. As the most urban part of the entire corridor, the neighborhood presents a unique opportunity for trail-oriented development and community-led placemaking that, when combined with the trail's connections to East Link Light Rail, can transform it into a true community asset.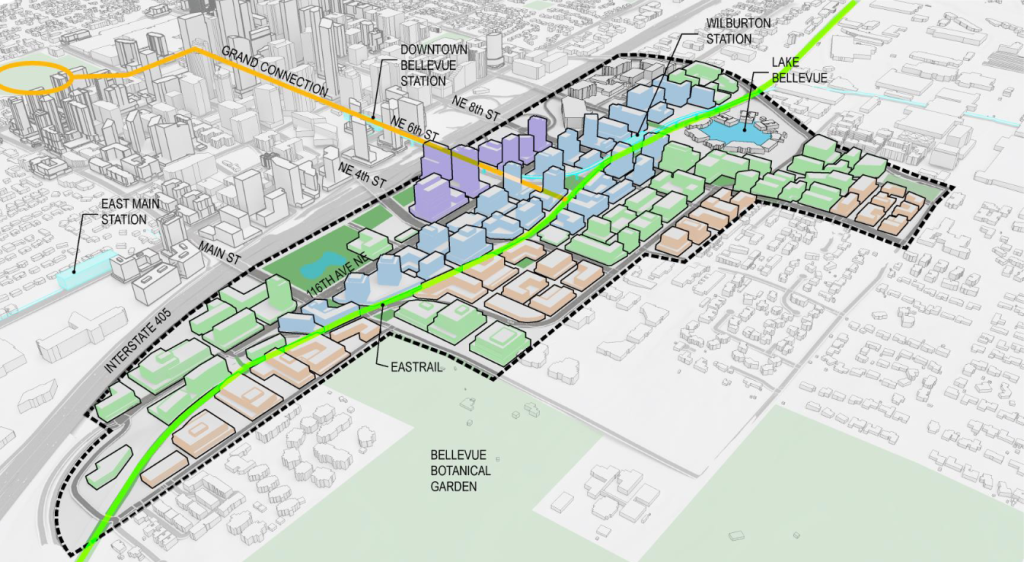 But in the meantime, getting the remaining trail portions funded remains a top priority for the organization. And although economic precarity makes the total amount of the remaining funding gaps unclear, successes like this state-level investment in multi-modal infrastructure should give trail enthusiasts optimism about Eastrail's future.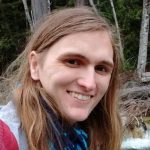 Chris is a UW Environmental Sciences graduate who moved to Bellevue in 2015. When he's not busy being an urbanist fox on the internet, he's working on the Eastside to support efforts reducing greenhouse gas emissions and going to city council meetings to denounce the hegemony of automobile infrastructure. Follow him on Twitter at @Deutski1.