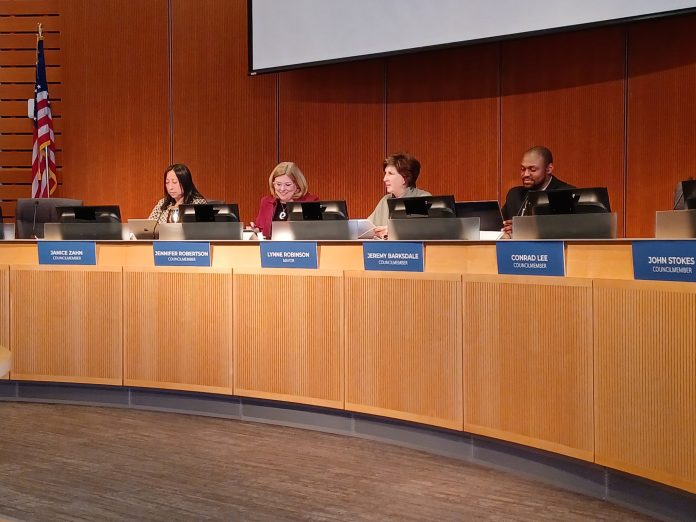 In a meeting that will likely be remembered for antivax firefighters and some… interesting… public comment, Bellevue City Council actually discussed some important urbanist topics. The body advanced further study into a parks levy that would go onto the November ballot, and staff provided an update on upcoming actions to implement the City's Vision Zero plan.
Widespread Council Support for a New Parks Levy
Following Council's direction at their March 7th meeting, staff returned last night with more details on the levy options that the body could send to Bellevue voters in November for approval. The current parks levy, passed with 67% support in 2008, is slated to only provide approximately $20 million over the next eight years and fund just two additional projects. However, the recent update to the City's Parks and Open Spaces Plan identifies capital and maintenance projects that will total $880 million over the next 20 years. With only $300 million in revenue expected to go to parks during that same time frame, the city would be left with a half-billion dollar funding gap if no action is taken.
By staff's estimates, a new 20-year parks levy could provide up to $15.4 million annually ($308 million over the life of the levy) by assessing a 0.02% property tax rate ($200 on an assessed value of $1,000,000). For comparison, Bellevue's 2008 levy assessed a 0.012% tax ($120 per $1,000,000 in assessed value).
A "Pay as you go" levy with changing interest rates or a regular levy bond would only require a simple majority from voters, but an excess levy bond would require a supermajority (i.e. 60% approval). Decisions on which levy to bring to voters, what its tax rate would be, and how long it would last are still to come from Council and will need to balance revenue concerns with the political calculus of what's palatable to Bellevue voters. However, given the 2:1 support for the previous levy and residents' continued prioritization of parks and green spaces, Council has an opportunity to go bold to fund the City's public spaces.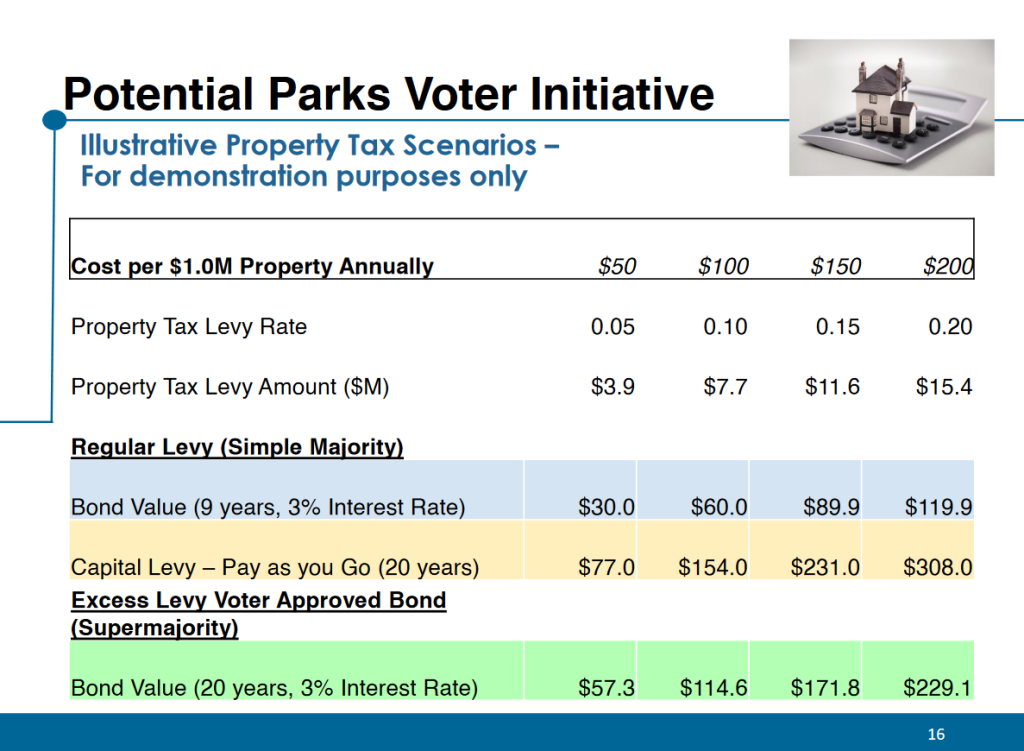 A decision on these issues is not due until before an August 2nd filing deadline, but Council directed staff to continue work exploring the different levy options while weighing the tradeoffs of different tax rates and levy lengths. To further plug the parks revenue gap, staff have also been researching impact fees on new residential and commercial development. In neighboring Eastside cities, these fees help bring in thousands of dollars for each new unit of housing, with some providing exemptions for affordable housing developments.
Council as a whole seemed open to impact fees, though Mayor Lynne Robinson shared her reticence to support fees on anything other than commercial development. Since more work is needed and the timeline is not as pressing as it is for the levy, staff noted that the issue won't be brought to Council for a decision until budget season comes around, either during this fall's discussions or during next year's mid-biennium update.
Serious Injuries Rise on Bellevue Streets, but Staff Remain Optimistic
Mirroring trends seen across the country, serious injuries on Bellevue streets rose significantly in 2021. In total, 26 people were seriously injured and one was killed; of the people injured, seven were people walking and three were people on bicycles. Although the precise causes will be studied for some time, staff and councilmembers have anecdotally observed increased speeding during Covid times that has likely contributed to the increased injury toll.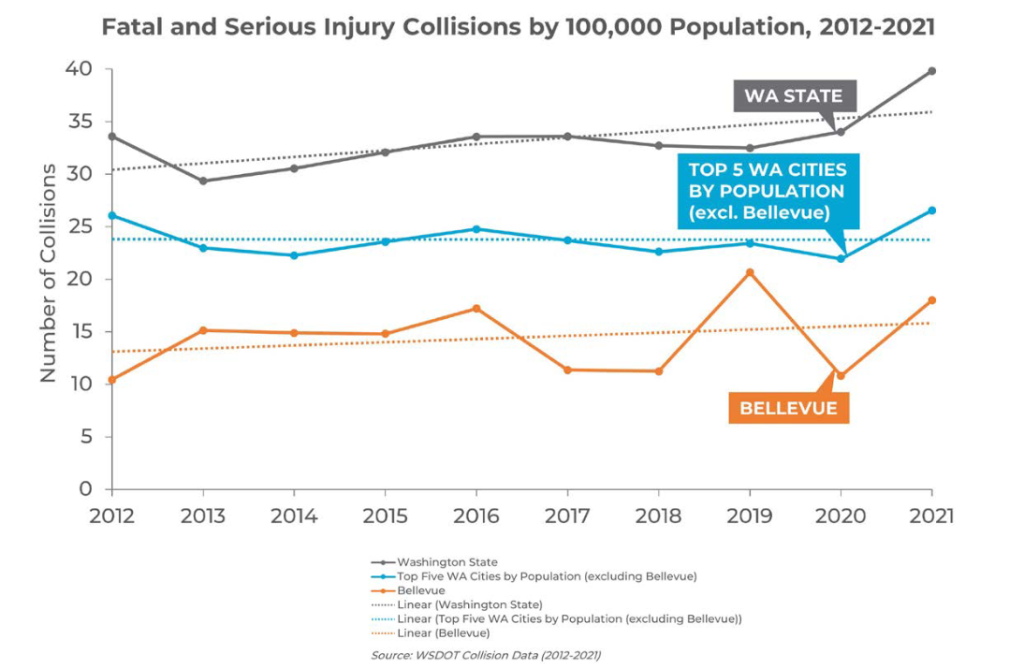 Despite the setbacks, staff remained optimistic that upcoming actions will help the city reach its goal of zero deaths and serious injuries on city streets by 2030. Last week, staff initiated phase one of a three-part rollout of leading pedestrian intervals at Downtown intersections. A pilot program across select Downtown and Crossroads intersections saw a 42% reduction in pedestrian and vehicle conflicts by giving pedestrians time to enter a crosswalk (and thus be more visible) before vehicles are given a green light. Additionally, staff expect to begin outreach in September to businesses and organizations in Bellevue's growth areas regarding options for rapid-build bicycle infrastructure. This work will use $1.5 million allocated during Council's 2020 budget process and will help provide safer bicycle connections in Wilburton, BelRed, and Downtown.
To build off of recent work reducing speed limits near Tyee Middle School, Bellevue is working with contractors and the Federal Highway Administration to develop a Speed Management Plan, which could help introduce 20 mph speed limits on residential streets citywide. Staff and Council were quick to point out how Bellevue's work, and its recognition on the national stage, position the city well to receive grants and dollars from the Bipartisan Infrastructure Law, whether for implementation of novel technologies or for safe streets infrastructure.
In spite of the optimism, there seemed to be recognition from Council and staff for the need to do more. Councilmember Janice Zahn asked Transportation Director Andrew Singelakis what financial resources the department would need to further implement the program. Singelakis replied that the department would still need to work on its proposed budget in advance of decisions later this year. Notably, it was Zahn's amendments to the City Manager's budget in 2020 that brought increased funding to the Growth Corridor Bicycle Network and enabled Vision Zero funds to be used last year instead of starting in 2023. Similar pushes for additional and expedited funding during Council budget discussions this fall could build on that momentum.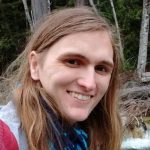 Chris is a UW Environmental Sciences graduate who moved to Bellevue in 2015. When he's not busy being an urbanist fox on the internet, he's working on the Eastside to support efforts reducing greenhouse gas emissions and going to city council meetings to denounce the hegemony of automobile infrastructure. Follow him on Twitter at @Deutski1.