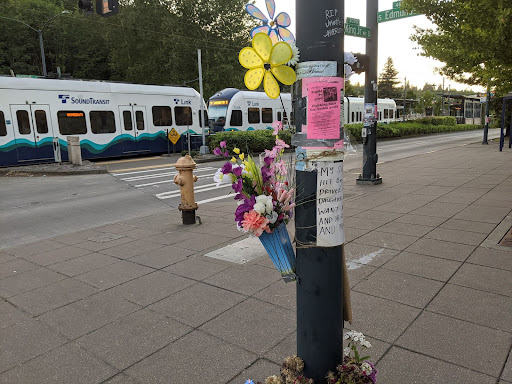 On Sunday, June 6, 2021, Jennette, a young mother, was struck by two drivers and killed while exiting the Columbia City light rail station and crossing Martin Luther King Jr Way S. Her sister left a memorial at the intersection of Edmunds and Martin Luther King Way S with a note that said, "My sister Jennette was hit by 2 cars on June 6. One driver hit and ran. She was a daughter, aunt, and mother. We want justice for our family and her son. Forever loved and missed."
Over a year later, no one has been held accountable for her death, and nothing has been done to prevent a similar death from occurring again.
This is the reality of Seattle's Vision Zero plan. According to a recent presentation given to City Council, 87 serious injury or fatal crashes have occurred on Seattle's streets in the past six months. As a result of these preventable crashes, 12 people have died and 12 families have been torn apart. These are not random events. People who die and are injured in traffic crashes are disproportionately Black, elderly, disabled, and unhoused. In part, this is because people impacted by crashes frequently live, work, or play near unsafe roads like Rainier Avenue and Martin Luther King Way in the South End.
This is why from 2019 to 2021 nearly half of Seattle's fatal crashes occurred in District 2, which covers most of the area south of I-90 and east of the Duwamish Waterway. In 2021 alone, 56% of fatal crashes occurred here. We know that vehicular deaths are a consequence of infrastructure, yet almost nothing has been done in Seattle to tame our most dangerous roads.
Rainier Valley Greenways and Safe Streets (RVGSS) is an organization that, among other projects, aims to eliminate traffic deaths in the Rainier Valley. After Jennette's death, RVGSS wrote a letter to the Seattle Department of Transportation and Sound Transit asking them to take steps to prioritize transit riders crossing Martin Luther King Way. Riders are forced to wait at long signals that prioritize north-south car traffic, and frequently cross against the light to avoid watching a train pull away without them. This design affects each of the at-grade light rail stations in the South End, namely Columbia City, Othello, and Rainier Beach.
The recently announced 20-minute headways through the Rainier Valley resulting from Sound Transit's "Future Ready" Link light rail repair work will only exacerbate this issue by drastically increasing the cost of missing a train. To this point, a coalition of Beacon Hill and South End organizations have submitted a letter asking for Sound Transit to mitigate the long headways, which have already been cut in half north of the Stadium station.
But more needs to be done. These traffic deaths are the direct consequence of building the light rail at street level to save money, and it's past time for the City and Sound Transit to acknowledge the problem and develop a plan to address it.
RVGSS Sound Transit Letter by Natalie Bicknell on Scribd
On many streets, crossing against the light is not a problem, but Martin Luther King Way S is not many streets. While signed as a 25 mile per hour street, it's built like a highway, and drivers respond to infrastructure, not signage. Speeding is rampant as a result, and high speeds drastically increase the likelihood of a lethal mistake. A person struck by a car at 35 miles per hour is 300% more likely to die than a person struck at 25 miles per hour.
Speeds on Martin Luther King Jr. Way S must come down and we ask that Seattle achieve this by changing the infrastructure, not through police enforcement. The Reimagine Aurora Avenue project serves as a roadmap for how the city and state can work together to fix a broken street, though even this project has moved too slowly to prevent the next death. Projects to fix our broken roads must be sped up and the South End deserves these investments too.
The person hit did not survive.https://t.co/6atDJ7fhwr

— Ryan Packer (@typewriteralley) July 4, 2022
In the words of District 2 Councilmember Tammy Morales, "Our streets are not safe. They are not safe for kids. They are not safe for elders. They are not safe for people with low vision or those who are blind. They are not safe for anyone who cannot drive for health-related or economic reasons. The fact of the matter is that South End streets were built for the ease and speed of heavy large vehicles, not for the safety of people outside of them… Until the City values the lives of people in the South End at the same level as those in wealthier, whiter areas of the city, they aren't doing enough."
If you live or work in the South End and you want to join us in the important work of calling on our elected leaders to fix our unsafe roads, please reach out. RVGSS is a member of the Seattle Neighborhood Greenways coalition and the best way to get involved is to join our email list.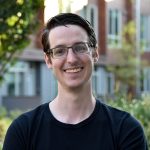 Jason Rock (Guest Contributor)
Jason Rock is a Machine Learning Engineer who has lived in Columbia City between Rainier and MLK Way with his wife for more than two years. He is an active member and organizer with Rainier Valley Greenways and Safe Streets.