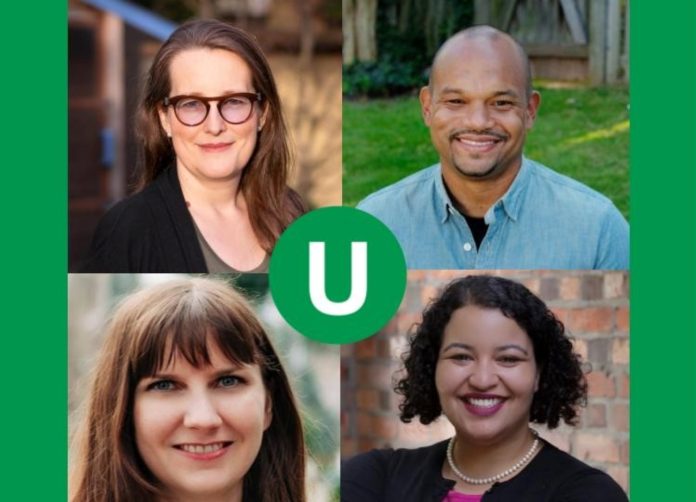 Saying the stakes are high might be more of an understatement than an exaggeration this year. A renegade Supreme Court is goose-stepping toward fascism, enabling racists and misogynists, stripping civil rights, and strip-mining the planet with glee. It really is time for states to step up and elect people who actually want to do something to ensure the future of humanity and of American democracy.
Facing federal gridlock, urbanists have long argued that cities and states can forge ahead to lead on climate action, housing affordability, transit, racial justice, and other progressive priorities. Washington State's record is mixed on that front, with several housing bills flaming out, and some recently passed police accountability measures being rescinded this session despite Democrats controlling both chambers.
Still, Democrats did use their majorities to deliver a transportation bill, dubbed Move Ahead Washington, that placed greater emphasis on transit and built on the Climate Commitment Act cap-and-trade program they passed in 2021. Facing Midterm headwinds, those Democratic majorities could be in jeopardy, but it's imperative the state continues to make progress and combat the creep of fascism. That means electing good leaders who understand what cities need to thrive, which is what we sought to identify in our primary election endorsements.
Our endorsement process is an arduous one. We pored over more than 40 questionnaire responses and spent two sunny summer Saturdays, and a few evenings indoors, in follow-up candidate virtual interviews. Our Zoom-fatigued brains turned to mush, but we kept the probing and, okay, sometimes meandering, questions coming. After all the work, we debated the merits of the contenders and feel pretty confident that the slate we put before you are solid urbanists ready to make a difference.
Check out the questionnaires for yourself: LD34, LD36, LD37, and LD46, the South Sound, and Eastside, North Sound, and the rest.
Please note: One measuring stick we used for candidates is whether they support ending exclusionary zoning, which for state legislators we gauged by their take on House Bill 1782, the promising statewide missing middle housing bill introduced by Rep. Jessica Bateman but rejected by a handful of suburbanist snob Democrats and of course sprawl-happy, own-the-libs Republicans. If we say a candidate is for HB 1782, that means they support the state setting a minimum zoning standard to ensure missing middle housing, such as fourplexes, stacked flats, and courtyard apartments, is legal, particularly in transit-rich areas of the state. With housing prices skyrocketing across the state at an alarming rate, more affordable housing options really isn't too much to ask.
We'll start with the King County Prosecutor race, and then work our way through our state legislature endorsements roughly from south to north, or Legislative District 22 (LD22) to LD44, as it were. We close with our endorsement in the 9th Congressional District. Get your ballot postmarked by 8pm August 2nd to ensure it counts. Register to vote or check voter information here.
The Urbanist Elections Committee consists of Lizzy Jessup, Ryan Packer, Hannah Sabio-Howell, Jazmine Smith, Doug Trumm, Rian Watt, and Anita Yandle. Smith recused herself from voting on state legislative races due to a work conflict.
The Urbanist Elections Committee Endorsement Overview
King County Prosecutor: Leesa Manion
This year we have the job up for grabs that City Attorney Ann Davison was trying to actually apply for: The Prosecutor, which handles felony cases in the county. This is an important race because the prosecutor decides whether or not we focus on criminalizing poverty and homelessness or work on meeting people's needs and holding former Seattle Mayor Jenny Durkan accountable for destroying public records during the tumultuous summer of 2020. The decision in this race is easy. On one hand, you have a highly competent person who's worked in the prosecutor's office for 27 years and knows where the room for growth and improvement is.
On the other hand, you have Tough on Crime® Federal Way Mayor Jim Farrell, endorsed by Seattle Police Officers Guild (SPOG) and King County Police Officers Guild (KCPOG). Manion has implemented programs to improve the prosecutor's office, whereas Farrell has been too busy being affiliated with a GOP fundraiser apparently. The committee was particularly pleased by Manion's plans to ensure that prosecutors in the office do not feel like their advancement in the office is tied to their "wins" in court, when we know that incarcerating people is not how we achieve safe communities and should not be how young attorneys advance their careers.
Of course, we should not forget that the King County Prosecutor also looks over an expansive civil division. While the criminal division is often the center of attention (the name of the role would cause that to be the case), the civil division handles cases on behalf of the county. Manion is not one to let you forget that the job here does not stop at incarcerating people; there is actually much more to it than that. Given Manion's emphasis on repairing the broken legal system to a place where it can be at least somewhat more just, she is the obvious choice for this position. Vote Manion.
LD22-1: Jessica Bateman
Representative Bateman, who we endorsed in 2020 on the strength of her progressive record on taxation, on climate, and on transportation, solidified her grip on our hearts last year when she spearheaded an (ultimately unsuccessful) effort to deliver statewide missing middle housing through HB 1782, which would have created the land use framework for large amounts of additional housing near transit and in areas now dedicated to single-family detached housing. She's running functionally unopposed this year (her opponents are a Republican and a Democrat who's reported raising $0), so this endorsement was never really in doubt, but it is nonetheless delivered with conviction on the strength of 1782, which we expect to return in 2023 and which would unlock opportunities for the housing Washington sorely needs.
LD22-2: Beth Doglio
We loved Doglio when she previously held this seat (well, technically speaking, Position 1) from 2017 to 2021 and we loved her when she ran for Congress in 2020. We see no reason the voters of the 22nd should fail to return her to the legislature this year, either, and despite a smattering of opposition that's jumped into the race we believe she remains the strongest possible urbanist candidate for this seat. Doglio's ability to translate clear climate vision into strong climate policy is hard to equal among other candidates for this seat (or, indeed, in the rest of the state), and we love her increasing commitment to other key planks of The Urbanist's policy agenda, including missing middle housing and statewide rent stabilization legislation. By sending Doglio back to the legislature to join Representative Bateman, LD22's voters would have created perhaps the most consistently effective progressive pairing of State Representatives outside of Seattle. We strongly encourage them to do so.
LD26-2: Matthew Macklin
Democrat Matthew Macklin is looking to unseat Republican Michelle Caldier in the 26th. He's not the most seasoned candidate we've ever seen, but he is an enthusiastic transit supporter and would make a heckuva improvement over a do-nothing Republican. Macklin gets that adding more car lanes generally means adding car traffic, despite greenwashing attempts to sell highway expansion as climate action. Troublingly, Macklin suggests repealing the Growth Management Act, which suggests he is a novice on land use policy, something that hardly makes him unique in the legislature and could be rectified. On a positive note, he supports statewide zoning reform and expanding housing options in all neighborhoods.
Believe us when we say Caldier is a dud. She's a climate-denying gun nut who has opposed much-needed common-sense reforms like a ghost gun ban, expanded background checks, baseline police accountability measures, clean fuels, and just about every piece of climate legislation to come her way. Macklin might not be perfect, but he'd be a big improvement. Vote Macklin.
LD29-2: Sharlett Mena
Sharlett Mena scared an incumbent into retiring, an iconic and timeless move in the world of progressive politics. She is running to represent the 29th Legislative District, a majority-minority, working class district that deserves representation by people who will advocate for affordable, liveable communities. We strongly believe that Mena will advocate for affordability, given her support for passing the HB 1782, expanding emergency housing and shelters, and lifting the ban on rent control. It is also clear that she will advocate for climate-conscious policies, not just due to her background at the Department of Ecology but also because she expressly calls out the effects of environmental racism on the 29th LD and has enumerated specific efforts to reduce carbon emissions that she supports.
Mena is also clearly thoughtful about creating safe communities. She recognizes that public safety comes from preventing dangerous incidents in the first instance, such as through keeping people stably housed and expanding public services. No stranger to danger — she was herself the victim of a serious road rage earlier this year — Mena knows that people deserve to feel secure at home. Through the expansion of public transit and walkable, visible pedestrian routes, she believes we can reduce traffic fatalities, and through public advocacy campaigns, she believes we can encourage safe driving behavior.
There are two other candidates in this race — a Democrat and a Republican. We believe Mena is the right fit for this position, and will be a strong pro-housing, pro-transit, pro-environment legislator. Vote for Sharlett Mena.
LD27 Senate: Yasmin Trudeau
Sen. Yasmin Trudeau has been a progressive voice and housing champion and deserves another term. She supported HB 1782 and HB 1099 and the push to end exclusionary zoning and promote denser sustainable housing in transit-rich areas. Trudeau has been an advocate for upstream solutions to public safety and of increasing police accountability. She noted she has family members who are disabled and some who prefer not to drive, so she understands the need for improving transit and multimodal options at a personal level. She faces three Republican challengers of little merit. This is a no-brainer. Vote Trudeau.
LD30 Senate: Claire Wilson
The 30th Legislative District trading fundamentalist Democrat-turned-Republican Mark Miloscia for Senator Claire Wilson in 2018 may be one of the best upgrades the Washington State Legislature has seen in recent decades. Wilson has done a great job distinguishing herself during a tumultuous first term. Prime sponsoring numerous bills around education, childcare, and other urgent issues impacting her district, we're so enthusiastic to be endorsing Senator Wilson for a second. We're particularly glad to see Wilson working on the issue of traffic safety, one issue many legislators leave to local cities but which is truly a statewide crisis. In 2022, Wilson worked with the Washington Traffic Safety Commission to pass a bill granting cities new tools to be able to make their streets safer. We can't wait to see what Wilson can accomplish in her next term. Vote Wilson.
LD47-2: Shukri Olow
Shukri Olow is our affordable housing champion. She is not afraid to draw attention to the inequities in our systems, specifically the impacts of exclusionary zoning within the Puget Sound region. In her questionnaire, Olow namedropped zoning mastermind Harland Bartholomew as she expertly traced single-family zoning's racist roots. With her experience working at King County and now at the City of Seattle as the Youth and Family Empowerment Division director, Olow is no stranger to the downstream impacts of bills passed at the state level.
Last year, we endorsed Olow in her progressive challenge of King County Councilmember Dave Upthegrove. Upthegrove circled the Democratic establishment wagons and fended her off. In this race, the wagons are circling around Auburn City Councilmember Chris Stearns, who is Olow's competition for Democratic support, but whose campaign appears rather moribund nonetheless. Stearns skipped our questionnaire and his website currently lacks an issues page.
Three Republicans are also in the race, and best-funded is Carmen Goers, an Auburn bank executive who wants to "encourage policies that include real consequences for violent crime" and keep taxes (and thus social investments) low. With Republicans pouring money into this race, defending this seat will be imperative for whichever Democrat makes it through. Olow has the grassroots energy and the robust campaign operation to stand up to the challenge, while Stearns is still trying to get his footing. Olow has also displayed the backbone to fight on key issues like upzoning urban areas, progressive taxation, and investing in transit instead of endless highway expansions. Vote Olow for a true community leader to represent the 47th.
LD33-2: Mia Gregerson
Rep. Mia Gregerson has been a leader on housing and homelessness, and we also appreciated her introducing even year elections reform last session. Gregerson said "I support HB 1782 in its most bold and progressive form," which was music to our ears. She's unabashedly for implementing a state income tax and other forms of progressive tax reform. She is critical of criminalizing poverty, and backs HB 1099, the climate bill which will likely be coming back next session. One weakness she has as an urbanist candidate is being a bit more car focused than we'd like. She wrote she supports SR-509 highway expansion because she thinks it will lead to less idling and therefore less pollution in communities of color along the route, which sounds like highway lobby greenwashing. In actuality, the relationship typically goes more lanes leads to more cars and more pollution. Idling is not a magic wand. Still, she is a proponent of making transit free for all, and overall she's been a great progressive voice. She is running unopposed. Vote Gregerson.
LD11-1: David Hackney
Rep. David Hackney had the audacity to challenge a sitting centrist Democrat from the left and win in 2020. This cycle has seen almost no progressive challenges of Democratic incumbents, so we didn't realize how lucky we were in 2020. As billed, Hackney has been a reliable progressive, and he deserves another term. Hackney has advocated for fully funding transit and improving service reliability. In his first year, Rep. Hackney partnered with Seattle Subway on a bill to increase light rail funding options, and that push bore fruit this year with passage of a similar measure. Hackney wants to increase missing middle housing, but he backed a compromise version of HB 1782 that would give municipalities more options to customize where denser housing would go. He still wants the missing middle requirement to be mandatory at the municipal level, so this could be workable, but we worry that many cities would use the wiggle room to channel growth away from wealthy areas and into diverse working class neighborhoods, as opposed to the opposite. He opposes highway widening and backs an income tax and other progressive tax reform. He faces one obscure Republican. Vote Hackney.
LD34 Senate: Joe Nguyen
In Senator Joe Nguyen's first full term as a first-time lawmaker, he's been a vocal and effective progressive champion. He has led the work on sorely-needed tax reform, helping shape the passage of the Working Families Tax Credit and expanding access to Temporary Assistance for Needy Families (TANF). He's also been a strong urbanist ally while serving on the Senate Transportation Committee, tirelessly centering environmental stewardship, transit access, and safer roads. With Nguyen's leadership on his committees and as the Senate's assistant floor leader, our state has seen police become more accountable to the people they serve, our justice system become more humane, our community and technical college system become more accessible. His progressive record was so strong after just the first two years of his four-year term that we endorsed him in his bid for King County Executive, and in the second half of his time in the Senate he hasn't let us down. We're proud to endorse him again.
LD34-1: Leah Griffin
This was a hard choice for the committee — because the 34th will be well represented with either Leah Griffin or Emily Alvarado in the legislature. Griffin is a longtime victims' advocate who has shown she has the chops to create and pass laws. Alvarado was the Director of the City of Seattle Office of Housing and has built her career on housing people. This has created quite the conundrum: who to pick between two great candidates?
Alvarado is smart on all of the issues that make The Urbanist tick: safe, healthy, affordable communities, brought together through smart and sustainable policies. She knows that adding highway lanes increases traffic while destroying the planet and endangering commuters. She knows that rent has skyrocketed and if left unchecked, will only result in more people losing their homes, livelihoods, and lives. In short, she is and will continue to be a great advocate.
Meanwhile, Griffin comes from the public safety side. A sexual violence victim, she saw the failings of the criminal legal system and chose to take action to change it, successfully advocating to pass bills to better protect survivors. Her housing platform puts too much emphasis on home ownership for our tastes, but she clearly is a vote for missing middle reform. She, like Alvarado, is supportive of efforts to expand housing, protect renters, increase transit, and improve ferry service, which is important in the 34th. Additionally, she has not only indicated that she is against adding highway miles, but that she would support efforts to remove particularly harmful highways.
Both candidates had excellent interviews. Both had excellent questionnaires. The committee does not make it a habit to dual endorse, unfortunately. As such, we have given the slight edge to Leah Griffin and endorsed her. We were impressed by her unwavering passion to create laws that are more just and accessible to the people who will be navigating them — often people in crisis. We can only hope to see more of this energy.
LD34-2: Joe Fitzgibbon
Representative Fitzgibbon, a climate and land use champion since arriving in Olympia in 2011, is opposed in this race only by a Republican whose website asks voters to "take [their] life back from the radical left" by voting him into office. Suffice it to say we will not be taking that advice, and will instead endorse Fitzgibbon with conviction and in expectation of his continued leadership on a range of key urbanist priorities. In particular, we welcome his leadership on building decarbonization, allocation of revenues arriving in the wake of the Climate Commitment Act, and a renewed effort to get HB 1099, Futurewise's climate and land use bill, over the final finish line this year. The 34th is lucky to have Fitzgibbon's brand of wonky vision in its corner in Olympia, and so are we.
LD36 Senate: Noel Frame
​​Since 2016, we have been lucky enough to have Noel Frame represent the 36th in the State Legislature. In her service as the House Finance Chair, she's been a champion for progressive tax reform. Now she is making a State Senate run following Sen. Reuven Carlyle's announcement that he would not be seeking reelection. We expect Rep. Frame to make a seamless transition from the House to the Senate. Wealth tax, income tax, inheritance tax, you name it — Rep. Frame is our local expert. Throughout the interview process, countless candidates quoted Frame and their intent to follow her lead on progressive taxation in the upcoming session. As Rep Frame said, "we are morally bankrupt in the state of Washington when it comes to our tax code." We look forward to seeing Rep. Frame make the jump to the senate and (*hopefully*) getting a wealth tax passed. This endorsement is essentially a no-brainer as Frame's opponent, Kate Martin, is a former Republican and a supporter of "gentle density" according to their LinkedIn. In contrast, Frame is a strong proponent of missing middle housing reform and pledged to back legislation like Rep. Jessica Bateman's 1782 that would guarantee greater housing choices in cities statewide. Vote Frame as our best hope of finally easing the burden on the working class by making progressive tax reform a reality in Washington State.
LD36-1: Julia Reed
Julia Reed is an e-bike commuter! She is unafraid to call out that it was lack of Democratic support that caused the failure of the missing middle housing bill. She cares deeply about the climate and supports transit-oriented solutions to reducing carbon emission. And, she knows that the key to safe communities is through providing people the housing, services, and other support they need.
The committee also interviewed Nicole Gomez, Tyler Crone, and Jeff Manson — there is quite the bench of potential legislators in the 36th Legislative District with urbanist credentials. Gomez in particular we hope to see running for office again down the road.
Even in a strong field, we were especially impressed with Reed, however. She seems to be a pragmatist going into Olympia with her eyes wide open, while being willing to hold the line on climate-friendly, community-centered policies. Her priorities are essentially our priorities verbatim, and we hope to see her work some magic in Olympia. Vote Reed.
LD36-2: Liz Berry
Representative Berry, who took this open seat convincingly two years ago, has worn her incumbency well, joining with colleagues to pass major progressive legislation. She has consistently supported the efforts of her seatmate and soon-to-be State Senator, Rep. Noel Frame, to advance the cause of progressive revenue in Washington State, and also sought out under-covered and technical issue areas to build consensus around, such as model legislation to ban toxic PFSA chemicals last year. Plus, she serves on the transportation committee and helped broker multimodal improvements to the Move Ahead Washington that included $50 million to improve safety on crash-prone Aurora Avenue in North Seattle. We are delighted to support her for re-election this year and, should she assume the chairmanship of the House Labor Committee (for which she is a contender), we expect her strong labor credentials will continue to build bridges between the urbanist and labor movements that are beneficial to both.
LD37-2: Chipalo Street
The retirement of Rep. Kirsten Harris-Talley after just one term brought several new contenders into the fold. Plenty of progressives scrambled into the race, but Chipalo Street appears the most prepared to be a progressive urbanist standard-bearer in Olympia. In his interview, he impressed us with his firm grip of the issues, from housing abundance to transportation to police accountability.
Andrew Ashiofu, Nimco Bulale, and Emijah Smith seem like intriguing candidates in their own ways, but they skipped our process so weren't able to get a closer look at what makes them tick. A Nigerian immigrant who has experienced homelessness, Ashiofu is a flight attendant who serves on Seattle's LGBTQ commission. Bulale is a Somali refugee, a former One America immigrants rights organizer, and founder of an equity consulting firm. Smith is a longtime community advocate who has extensive organizing experience with the Washington Children's Alliance, Solid Ground, and King County Equity Now, but she has yet to add a housing or transportation plank to her platform.
Street is a Microsoft tech manager and a landlord, which might turn off some voters at first glance. But Street's housing answers were on point from his support of rent control to rental assistance and missing middle housing. His experiences navigating the bureaucratic maze as a homebuilder have sharpened his understanding of what zoning and housing policies need fixing to boost housing production. He's a strong supporter of HB 1782 and of further police reform efforts. In college, he experienced police brutality firsthand; Street got beat up and sent to the hospital by campus cops who mistook him for a suspect and quickly escalated the situation. He said the traumatic incident drove home the need for de-escalation training and real police accountability. Vote Street.
LD37 Senate: Rebecca Saldaña
Senator Rebecca Saldaña has shot through the ranks of her caucus after just a handful of years in the Senate because she brings an organizer's grit and energy to the progressive work she leads. As Deputy Majority Leader alongside Senator Manka Dhingra, Saldaña has led the Senate in the right (by which we mean, left) direction, championing democracy reforms, environmental sustainability, workers' rights, and many priorities brought to the table by communities of color from around the state. Most recently, Saldaña was one of our 2022 Heroes for her work to improve the Move Ahead Washington transportation package and ensure it delivered on greener investments like mass transit and pedestrian safety. Her progressive leadership and her tireless focus on justice and equity for all makes her undoubtedly the best choice for the 37th, and we're proud to give her our endorsement.
LD43-1: Nicole Macri
We've endorsed Nicole Macri in three straight runs and we see no reason to stop now. Macri moved into caucus leadership over the past term and we hope that greater role can help pull the Democratic caucus along on key initiatives like passing missing middle housing reform and writing climate action into the Growth Management Act. Marci is a trusted housing leader on the frontlines of the homelessness crisis at her day job at the Downtown Emergency Services Center. Addressing homelessness remains Macri's top priority and she's uniquely qualified to make headway; she understands that exclusionary zoning has driven up housing prices and exacerbated the crisis, and was an early co-sponsor of HB 1782 to tackle the problem. She has fought to increase investments in the state affordable housing trust fund, and was the author of the last attempt to repeal the state ban on residential rent control. She puts in the work, as evidenced by showing up to our endorsement interview despite running unopposed. Vote Macri and hope we get more like her.
LD46 Senate: Javier Valdez
As Rep. Javier Valdez seeks to become Sen. Javier Valdez, he's made it clear that he plans to bring with him his experience applying an equity lens to legislation, whether he's working on firearm safety, racial justice in housing, or diversity and equity in the state patrol workforce. We appreciated his consideration of protecting communities from displacement and his commitment to supporting strong housing reform, like the senate companion to HB 1782, which he cosponsored.
Running against Valdez is Matthew Gross, a first-time candidate who is solidly in support of good transportation and housing policy. We appreciated getting to speak with him and believe he'd be a steady advocate for his district. But the committee sees Valdez's experience and record of fighting for safer, more equitable, more green, and more dense communities as invaluable boons to the 46th. We endorse Valdez.
LD46-1: Hadeel Jeanne
While we agree with Rep. Gerry Pollet, in office since 2011, on some things, including increasing government accountability and transparency, we're not down with Rep. Pollet's efforts to stymie statewide housing reform efforts. Fewer legislators did more to prevent Washington from joining California and Oregon in eliminating single-family-only zoning than Pollet. Rep. Pollet's efforts in helping to cancel protected bike lanes on 35th Avenue NE in Wedgwood are also inexcusable. Also aggravating is Rep. Pollet's stance against high-speed rail in Washington. Add that up and you've got a candidate we could never endorse.
We were incredibly excited to see pro-housing, pro-transit, pro-bike candidate Hadeel Jeanne jump into the race. Her questionnaire and interview showed her to be a thoughtful progressive urbanist with a strong grasp of the issues. Unfortunately, Jeanne decided to make the tough decision to suspend her campaign due to family reasons, a decision we know was incredibly hard to make. With that, we're hoping to press the issues Jeanne advocated for in holding Rep. Pollet accountable in his next term in the state legislature. Seattle should be electing candidates striving to solve the housing affordability crisis. We hope next time the 46th gets that candidate.
LD46-2: Melissa Taylor
Presented with an open seat, several great candidates step forward in the 46th. While Darya Farivar wowed us with her policy chops and recently won the coveted endorsement from The Stranger, we ultimately were most impressed with Melissa Taylor. Taylor exhibits not just policy chops and urbanist credentials, but also the campaign chops to win should she face a tough well-funded centrist in the general election — and it looks likely she will.
We interviewed Taylor, Farivar, and Nancy Connelly in this race, and we were heartened to see the consensus that Seattle and cities statewide need zoning reform to provide more missing middle housing options. Nina Martinez also filled out our questionnaire and emphasized gun control and reducing youth violence, but seemed raw on other issues, particularly transportation. Unfortunately, the other major contender, Lelach Rave, skipped our endorsement process and seems to be running in the Sara Nelson centrist lane, which is gonna be a no from us, dawg.
We certainly hope Farivar runs again and would gladly vote for her if she ends up making it through the primary instead of Taylor. The daughter of Iranian immigrants, Farivar brings valuable experience as policy director at Disability Rights Washington, which is a powerhouse organization advocating for street safety and mobility justice. Connelly seemed to get it on most urbanist issues, even though, as a doctor, healthcare seemed to be her focus. Her opposition to lifting the state rent control ban and hesitancy around broad zoning reform leave her a lap behind the competition.
Taylor is the full package, bringing extensive experience as a community organizer, retail politics skills to grow her base of support in the general, a tight progressive urbanist agenda, and she's also neck and neck with Rave in fundraising. Taylor's campaign staff was the first to unionize this cycle, showing she lives her values. She has the campaign operation and indefatigable energy to win in November. Progressives sorely need to win in the 46th rather than see another Gerry Pollet installed in the district. We need to pick a winner who will carry our values to Olympia. Melissa Taylor is that winner.
LD48 Senate: Patty Kuderer
In a region and state that was already experiencing a housing crisis made so much worse by the pandemic, Senator Patty Kuderer proved to be a fierce and steadfast advocate for affordable housing and tenant protections. Thanks to Kuderer's leadership on legislation like her right to counsel law — protecting many tenants from eviction — and her bill to expand eligibility for youth housing, more of our Washington neighbors were able to keep a roof over their heads.
And even though the missing middle housing reform that Kuderer cosponsored in the Senate didn't ultimately become law, we're grateful to her for using her position as chair of the Senate Housing & Local Government Committee to move the needle on density and housing affordability. Beyond that, Kuderer has proven to be a bold (and if you're on Twitter, one might say a downright ferocious) advocate for gun safety legislation, leading on potentially life-saving policy to keep deadly weapons away from public demonstrations and our state capitol. Kuderer faces one challenger, a tough-on-crime, anti-transit Republican who is giving it the college try but has no business representing this district. Vote Kuderer to keep her brave and effective leadership at work for us in Olympia.
LD48-2 Amy Walen
Rep. Amy Walen is running unopposed and she has done enough to earn our endorsement. Walen said her top priority in her next term would be to get her bill, HB 2020, across the finish line after it came up short this year. Writing an affordable housing requirement and enforcement mechanism in the Growth Management Act (GMA) is a worthy cause and we support it. We're glad she's embraced the Washington Can't Wait campaign to reform the GMA, including climate-focused HB 1099. That said, we urge even bolder reforms to solve the housing crisis. She opposed rent stabilization because she believes it "disguises a supply problem." Nonetheless, she clings to the idea that some neighborhoods, even in rapidly growing Bellevue, Kirkland, Redmond, and Seattle, still need to have single family zoning and aren't appropriate for growth. We'd hope that the former Kirkland mayor and councilmember would have seen the folly of appeasement and incrementalism and embraced full-bore reform. Building our way out of an affordability crisis won't work with a timid approach. Though she and her husband own and operate a car dealership, she took an unequivocal stand against adding new highway lane miles, which certainly impressed us. A car dealer may seem an odd pick for an urbanist endorsement, but her voting record and her questionnaire shows her to be solidly progressive. Vote Walen.
LD45 Senate: Manka Dhingra
Senator Manka Dhingra is forever a legend in our books for flipping the Senate from red to blue in a 2017 special election. Thanks to Dhingra, State Democrats could usher in a suite of democracy reforms, abortion protections, and LGBTQ healthcare access. Washington's a sanctuary state now in many ways due to her decision to run (and her ability to win). Beyond that, Dhingra's been a supporter of some key urbanist priorities, even though her expertise lies in civil and criminal justice system reform, strengthening police accountability, and mitigating gender-based violence.
Dhingra knows we need to create more housing options at all price points with high density housing near transit, and believes the state should step in to make that possible. She also supports her colleagues' climate protection policies, progressive tax reform policies, and Growth Management Act reform policies. Dhingra isn't an urbanism expert but she's an urbanism ally. As such, she's earned our endorsement.
LD32-1: Cindy Ryu
Since 2011, Rep. Ryu has been a solid voice in the state legislature. Running for reelection this year with no serious challenger, Ryu is successfully representing the interests and voices of her district. With her tenure, Rep. Ryu is well versed on the inner workings of state government and her veteran experience shouldn't be discounted. She has shown a penchant to dive into technical issues and get legislation across the finish line, as she did with her bill deterring catalytic converter theft. While rendering cars unuseable does speak to our urbanist souls, we believe mode shift should happen through legitimate means and give kudos to Ryu. She's pledged to tackle organized retail theft rings as her top priority this upcoming term.
Over the years, we've seen Ryu grow into urbanist positions. Ryu is anti highway widening, pro income tax, and a cosponsor of HB 1782. We wish she took a stronger stance on repealing the rent control ban in Washington, but Ryu expressed concerns about impacts on smaller landlords, lost rental homes, and gentrification. She did leave open the possibility of voting for rent stabilization (like Oregon passed statewide in 2019) if those concerns are assuaged. We encourage her colleagues to get assuaging. Vote Ryu!
LD01-1: Davina Duerr
As the prime sponsor of HB 1099, which would have fully equipped the Growth Management Act to handle the era of climate change and set Washington cities up for smarter growth over the coming decades, we named Rep. Duerr our #1 hero of the 2022 legislative session. When 1099 defied the odds and made it to the end of the session, only to be killed for fear of a Republican filibuster by leadership, Duerr didn't rest. She pushed cities to implement the requirements of the bill on their own, most recently appearing at Seattle's Land Use Committee to bolster the case for a council resolution on the topic.
Rep. Duerr has been fighting for issues urbanists care about, from both the legislature and the Bothell City Council, where she recently resigned her seat, for a long time. From safe streets to preserving open space to tax reform, we know Rep. Duerr's vote in the legislature is one we can count on. Vote Duerr.
LD21-1: Strom Peterson
Rep. Strom Peterson said housing would be his priority in his next term, and his leadership on housing and tenant issues has been much appreciated. He co-sponsored HB 1782 and understands the need to add more affordable "missing middle" housing types in every urban and suburban neighborhood. He supports repealing the rent control ban, and appeared open to a Oregon-style statewide rent stabilization. He sees HB 1099 climate measures as a needed reform to the Growth Management Act, and pledged on only support highway widening if public transit took an even greater share of investment. It's not a full "no new highways" pledge, but we do appreciate the prioritization of transit and support for free fares for youth. Peterson is also an income tax and progressive tax reform supporter. He faces one poorly-funded Republican challenger. Vote Peterson.
LD44 Senate: John Lovick
John Lovick had probably the shortest answers to our questionnaire that we received. And yet, sometimes brevity is king. Lovick supports the missing middle housing, is open to discussions on lifting the ban on rent control, and is enthusiastic about expanding transit, building housing near transit, and free transit for youth.
We will note that Lovick does not support a statewide income tax, which is unfortunate; we hope he will come back around on that issue and be open to conversations on creating a better tax structure. Even so, Lovick is the right choice for this race. Three Republicans are lined up against him. Vote Lovick.
LD44-1: Brandy Donaghy
Brandy Donaghy has been the beneficiary of musical chairs. The Snohomish County Council appointed her to fill the vacancy created when John Lovick filled Steve Hobbs' senate seat after the governor promoted Hobbs to fill a Secretary of State vacancy when Kim Wyman joined the Biden administration. While not technically a full-blown incumbent yet, Donaghy was already dancing around questions and saying next to nothing like a seasoned politician in our questionnaire. Nonetheless, we were able to see enough substance there to confirm she would indeed be better than Republican retread Mark Harmsworth, who is the sole challenger for the seat. Harmworth spent his legislative retirement pedaling Republican propaganda with the Washington Policy Center, a conservative think tank. Some people just can't give it a rest.
Donaghy is a far better choice, despite some waffling. A yes or no would have sufficed when asked if she supports HB 1782. Instead Donaghy wrote, "We need more housing at all levels, and we need to find creative ways [to] address it. Part of this requires an greater expansion of transit and other required infrastructure to allow for growth." Meanwhile, the best part of her answer on rent control was when she said "I am not an expert on rent control." At least that shows self awareness. That said, her support of a lower blood alcohol limit to decrease deadly drunk driving crashes is commendable, as is her promise to be a proactive legislator — if not questionnaire answerer. She brings a valuable perspective as a Black woman and a Navy vet, and she was generally a reliable vote this session on progressive legislation. In the 44th, that is more than enough to punch your return ticket. Vote Donaghy.
WA-09: Stephanie Gallardo
The committee was impressed with educator, advocate, and challenger to Rep. Adam Smith, Stephanie Gallardo. In the battle for Congressional District 9, we were swayed by her anti-imperialist approach to foriegn policy, as opposed to Smith's war hawkishness. When it comes to density, she's been growing and learning more as a candidate and is in support of a Green New Deal that would support organized labor through building social housing and high speed rail. Gallardo's top priority is raising the minimum wage to $20 an hour, which speaks to her working class roots. Gallardo understands that we shouldn't be expanding highways when we are in a climate crisis.
We appreciate Smith's willingness to hear from us on urbanist priorities and engage with our endorsement process. Despite the criticisms we'll never be too shy to share, we recognize the hard work Smith puts in to serve his district and his state amidst the absolute cluster that is Congress. We appreciate his support of housing density and his signing on to the Green New Deal and Medicare For All. Should he remain, we hope Smith goes beyond mere co-signage and applies his senior position and his relationships in both the centrist and progressive caucasus to make those policy dreams a reality however long it takes. Affordable health care for all and a decarbonized green economy that gives younger generations a future isn't too much to ask.
Accomplishing anything in Congress is an uphill battle, but it helps to commit to the fight rather than business as usual. Gallardo is a bold challenger demanding urgent action, and someone who would fight for our collective wellbeing both at home and abroad. Vote Gallardo.